As we begin summer training camps, it's a time when all teams like to think they can compete for a Super Bowl. Sure, some are longshots while others are favored to get there, but everyone thinks if things just come together and our quarterback plays really well … anything can happen.

But in truth, some quarterbacks always play well. Some always compete for a championship and their spot under center is assured. For others, 2022 will be a very important year because in this era of "immediate gratification," if your quarterback struggles for more than a season or two, rest assured the owner, GM and fans are already thinking about his replacement. For those quarterbacks under pressure for their job, this season is particularly important because the 2023 college draft is expected to be loaded with high quality options.

Obviously, the "GOAT," Tom Brady is safe. He can play as long as he wants to… assuming Gisele says it's OK. In fact, almost all of the top-10 fantasy quarterbacks are safe.

The exception being No.10 last season – Jalen Hurts (359.4 fantasy points). His is an interesting story. The fans and experts like him personally, like his character and his work ethic, but they also are concerned with his accuracy and decision-making. This, despite in his first full season leading his team into the playoffs before getting blown out by Tampa. There were extenuating circumstances in 2021 as the Eagles avoided a number of starting quarterbacks due to injuries. And ran the ball better than everyone. Still, Hurts' arms and legs produced the 10th-best fantasy total averaging 24 FPts/G. He's on the block because management has accumulated additional draft capital for next season and should things go sideways, could be in position to draft one of the elite rookies like Alabama's Bryce Young or Ohio State's C.J. Stroud. The Eagles also were apparently in on at least checking out the Deshaun Watson situation.

I think Hurts will be better than last year, in particular in the passing game where the team added talented A.J. Brown. Yet, with a tougher schedule they could still miss the playoffs. Our updated projection has Hurts producing 375.5 fantasy points and ranking seventh at the position. I think he needs closer to 400 fantasy points to assure a long-term role as Eagles starting quarterback - read multi-year deal for at least $35 million per annum. That's a lot to pay unless you are completely sure the man is a franchise quarterback.

In the middle of the pack last season, from No. 10 to No. 20 (based on fantasy points per game) are four possible hot seats of varying degree; Derek Carr, Jameis Winston, Daniel Jones and Carson Wentz.

I'm not sure Carr (20.2 FPts/G) belongs on this list after brilliantly holding the Raiders together last season through all their coaching and player issues and still grabbing a wildcard spot. He'll have one of the best trio of receivers in the league (Davante Adams, Hunter Renfrow and Darren Waller) so there will be no excuses for not putting together a great season through the air and multi-playoff games. Except, of course, that he's probably the fourth-best quarterback in the toughest division in the NFL. Being in a division with Patrick Mahomes, Justin Herbert and Russell Wilson is a lot of pressure to perform at an elite level and should he and the Raiders falter, management may think they need more at the position to compete in the AFC West over the next few years. In that case, they would be looking to trade up for an elite veteran (only Brady or Lamar Jackson have contracts ending at the end of this season and would qualify as an improvement) or draft a young star.

Next up on the list is the Saints' Winston. Winston wasn't having a great statistical season based on passing yardage when he was injured (185.7 ypg for the first six games), but he was doing three things really well. He was winning; going 4-2 including a blowout win against Green Bay in the season opener (38-3) and a win at New England before getting injured in the seventh game. He also averaged two passing touchdowns a game while not turning the ball over which has been his downfall in the past (14 TD passes, three INTs and two fumbles). Unless he performs well, the team may look at his $15.6 million 2023 salary and prefer to go with a youngster. If Michael Thomas comes back and is the 2019 version of himself (149-1,725-9), along with new additions Jarvis Landry and rookie Chris Olave, Winston could lead the team into the playoffs and at the same time bring back some of the passing production he showed in Tampa during his final season there (5,109 yards and 33 TD passes). Unfortunately for fantasy owners, until we know which Thomas is on the 2022 roster, I don't think we can accurately predict Winston's fantasy value. Since predictability is the No. 1 goal for fantasy owners, Winston cannot be your "ride-or-die guy," he can only be drafted as your "backup with upside."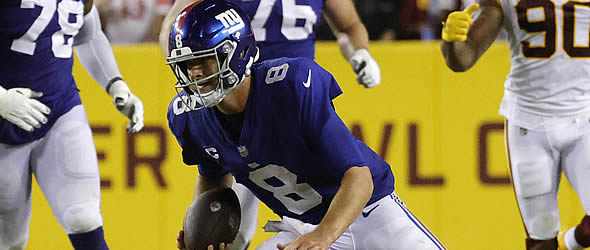 Daniel Jones ranked 18th in FPts/G (18.5) and has yet to show the promise management saw at Duke when they selected him sixth overall in the 2019 draft. Of course, his OL has been horrible for all three seasons, Saquon Barkley has mostly been injured and the receiving corps has come up small. Jones owns a 12-25 record, is averaging 221 passing yards per game with 45 touchdowns in 37 starts. He's also rushed for 1,000 yards and five touchdowns in those 37 games. None of these are great statistics and with the current coaching staff having "inherited" Jones, they may want to choose their own guy moving forward. Based on FFToday projections (285.5 fantasy points), that's exactly what will happen after this season.
A third member of the NFC East quarterback group, Wentz is the fourth mid-tier QB on the hot seat. This will be Wentz's third team in three seasons (Philadelphia, Indianapolis and now Washington) and he's likely in a prove it or be replaced year. Wentz's issue isn't lack of talent, it may be too much talent. He frequently doesn't know when a play should be over and tries too hard to make something out of nothing and it backfires on him. Yes, it worked for him in 2017 when he was a leading MVP candidate, but it has been getting him into trouble ever since. His 18.5 FPts/G was ranked just 19th-best last season. I think he will actually play decently in Washington where he has a good running game (behind Antonio Gibson) and one outstanding receiver (Terry McLaurin). Sound familiar? He had a great running game with the Colts (Jonathan Taylor) and one outstanding receiver (Michael Pittman Jr.). Expect more of the same, fantasy-wise, meaning under 20 FPts/G and that's not start-worthy.
The bottom third of the league, from No. 21 down, should all be looking over their shoulder with a few exceptions. Second-year starter Trevor Lawrence gets a "bye" because his head coach last season (Urban Meyer) was one of the worst hires in the history of the NFL. He gets Doug Pederson for 2022 and that should help. He also gets help on offense in the form of free agent signee WR Christian Kirk and RB Travis Etienne returns from injury.
Also getting "byes" should be Zach Wilson and Justin Fields. A lot of things conspired against rookie quarterbacks in 2021 including the lack of pre-season practice and their inferior rosters. Neither team figures to throw away their first-round selection after just two seasons.
Jared Goff, however, is a six-year veteran and doesn't get that "protection." Goff's 17.6 FPts/G was his lowest total since his 2016 rookie season. The team brought in D.J. Chark and spent the 12th overall pick on Alabama wideout Jameson Williams. Williams won't likely be ready until about six games into the season, but with those two newcomers plus Amon-Ra St. Brown and tight end T.J. Hockenson, the Lions' management has surrounded Goff with pass-receiving talent. It's put up or shut up time. FFToday projections (3,766 yards, 24 TDs, 13 INTs) show improvement, but it may not be enough to help the Lions to an improved record or save his job.
Tua Tagovailoa gets more "love and hate" than any quarterback in recent memory. Dolphins' management toyed with the opportunity to trade for Deshaun Watson, but in the end, they decided to go with Tua. But for how long if they obviously were "kicking the tires" on another quarterback? One thing for sure, Tagovailoa can't cry about lack of weapons. The team traded for one of the best deep threats in the last decade in Tyreek Hill and strengthened the running back room with the addition of Chase Edmonds, Raheem Mostert and Sony Michel. Hill, added to second-year starter Jaylen Waddle and pass-catching tight end Mike Gesicki provide plenty of guys to turn Tua passes into yards and scores. But ownership has made it clear that Tagovailoa better take a big step forward or the team will look elsewhere for 2023.
In Seattle, Geno Smith went 1-2 in a three-game stint as the starter for injured Russell Wilson. He owns a career 13-21 record having played mostly a backup role since leaving the Jets. He begins training camp as the starter ahead of former Broncos' quarterback Drew Lock and former Colts' backup Jacob Eason. Whether he can even make it out of camp as the starter is in question, but if he doesn't produce from the start, he'll surely lose the starting role. Long-term, the Seahawks 2023 starting quarterback is probably not on the current roster.
Other quarterback on the hot seat, who also might be considered "bridge" quarterbacks since each of their teams drafted a quarterback early this April include; the winner of the Carolina Panthers starting job battle between Sam Darnold and Baker Mayfield (drafted Matt Corral), Atlanta's Marcus Mariota (selected Desmond Ridder) and Mitchell Trubisky in Pittsburgh where the team chose Kenny Pickett in the first round. In each case, if the starter stumbles at any point, expect the rookie to get a shot this season.