As I stated last week, one of the biggest truths in football is that players are going to get injured. Wide receivers pull hamstrings, quarterbacks hurt shoulders and ankles when giant guys fall on them and running backs, who are targeted for a hit on almost every play, probably take the most punishment of any skill position.

It is therefore extremely important to have backups at running back. But a backup who can't produce is useless. A roster spot wasted. A backup who ends up sharing the starter's roll in an RBBC with the third-string running back on the depth chart is also useless. Only the ones can who can fill in for the starter and produce enough so that the injury doesn't cause your team's downfall have value.

Which ones are these? Let's take a look at the AFC since we analyzed the NFC last week.
AFC
East
Buffalo – The Bills don't run the ball much, other than quarterback Josh Allen, but it's been a successful formula as they scored 483 points last season despite a 57/43 pass-to-run ratio. Devin Singletary led the RB group with 188 rushing attempts (11.1 per game) and 50 targets (2.9 per game). GM Brandon Beane said rookie James Cook (Dalvin's little brother) had a similar skill set to the Commanders' J.D. McKissic which would indicate he'll fill the receiving/third-and-long role. They still have Zack Moss, who would likely fill in early downs if Singletary is injured, making Cook only a weak flex option in PPR leagues at best.
Miami – The Dolphins needed to bring in more folding chairs to accommodate everyone in the running back room this spring. It will be a bit confusing for a while as Chase Edmonds, Raheem Mostert and Sony Michel all have start-worthy talent and the team still has last year's primary back in Myles Gaskin (177-612-3 rushing and 49-234-4 receiving). Edmonds was signed to a $6 million deal and should begin the season as the starter, because he's the best combination of run and catch in the room. Mostert played under head coach Mike McDaniel in San Francisco (former run game coordinator and then OC in 2021) and might end up being the starter, but that's the only way he has fantasy value even at RB52 (ADP 141.7) because he isn't a pass receiver and neither is Michel. If Edmonds is sidelined it's an RBBC of Mostert/Gaskin or Michel/Gaskin.
New England – Fantasy football and Bill Belichick's running backs are like oil and water… they don't mix well. But the 2022 backfield seems pretty clear with Damien Harris and second-year tailback Rhamondre Stevenson. Harris finished 14th at the position with 214.1 fantasy points (14.3 FPts/G), but 15 rushing touchdowns make him overly touchdown-dependent. Stevenson finished ranked 47th, but when given a full workload was extremely productive (in three games of 19 or more rushing attempts he averaged 19.3 FPts/G). The Patriots didn't throw to their backs last season – just 62 targets all season. Stevenson is a must handcuff if you draft Harris.
New York Jets – Rookie Michael Carter held down the primary running back role in 2021 (147-639-4 rushing and 36-325-0 receiving) finishing 36th at the position with 11.2 FPts/G, but the drafting of Breece Hall at No.36 is a strong indication that the team wasn't happy enough with his production as a starter. Hall was a do-everything back at Iowa State which wouldn't leave much work for Carter unless the rookie can't block or gets injured.
North
Baltimore – The latest news out of Baltimore is J.K. Dobbins (ACL) getting off the PUP list and likely ready to go Week 1. His backup Gus Edwards, however, doesn't appear ready leaving Mike Davis as the only option and that's not much of a choice given how poorly he ran last season. If Dobbins and Edwards are sidelined just avoid this backfield because quarterback Lamar Jackson will end up handling everything.
Cincinnati – Mixon had the best season of his career with personal bests in rushing yards (1205), rushing touchdowns (13), receptions (42), receiving yards (314) and fantasy points per game (18.1). Neither Chris Evans or Samaje Perine have proven they could replace Mixon if needed and neither gets enough work to be a viable flex option when Mixon is healthy.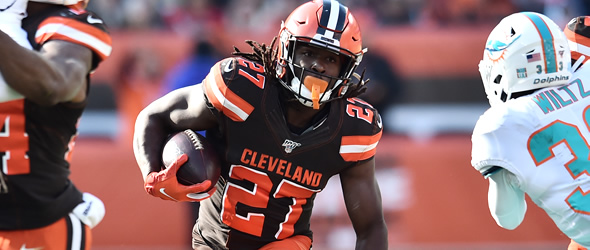 Cleveland – Nick Chubb (228-1259-8) is a beast of a runner, but his receiving skills have never really progressed. That's what makes Kareem Hunt so valuable for fantasy owners. He's not only a good runner, but he's a great receiving back and has produced 13.4 fantasy points a game over 32 games for the Browns. But there is a giant question mark this season because Hunt has requested a trade. He's still a standalone option in Cleveland, but depending on where he landed in a trade might increase his value significantly. Additionally, if Hunt were to leave (which I don't think will happen during the season), D'Ernest Johnson would be a viable handcuff though not worthy of standalone status. In games Johnson saw at least 19 carries last season he averaged 22.6 FPts/G.
Pittsburgh – Rookie Najee Harris saw the most touches of any running back in the league last season (381), which will take a long-term toll on his career for dynasty players, but he's likely to continue his workload in 2022 because there are so question marks at the Steelers' quarterback position. Harris' workhorse status left backup Benny Snell with hardly anything to do (38 touches over 17 games) and he's never proven he could produce if Harris goes down.
South
Houston – At one point, Marlon Mack looked like the "man" for the Indianapolis Colts, but injuries over the past two season derailed a promising career. Just 26, Mack finds himself with a new team and an old moniker – starter. Whether he can stay healthy is a big question. Early in the season his backup is likely journeyman Rex Burkhead, but if the Texans are out of the playoff picture they could turn to rookie fourth-round pick Dameon Pierce, out of Florida, to see if he has a future. A very late round flyer on Pierce shouldn't be overlooked.
Indianapolis – Jonathan Taylor had everything working for him last season and led all running backs with 377.1 fantasy points. But he was ridden pretty hard and the Colts might effort to give backup Nyheim Hines a similar workload to what he had in 2020 when he produced 12 FPts/G. However, if something were to happen to Taylor, Hines would likely share the early down work with newcomer Phillip Lindsay. Lindsay was barely used in Miami last season but had a couple of solid years in Denver before the arrival of Melvin Gordon. If the Colts lighten the load on Taylor, Hines can have some standalone value, but I'm not excited about those prospects at this point.
Jacksonville – All the off-season talk was about the return of former first-rounder Travis Etienne, but James Robinson (Achilles) took a big step toward being ready early in the season by taking some reps on Tuesday and that should concern all those picking Etienne early in their draft. Robinson has never gotten the respect he deserves for his production in his first two seasons (17.9 FPts/G in 2020) and he played solidly when fired coach Urban Meyer finally gave him a chance. It's currently a confusing picture, so a handcuff is a must, but Etienne should get the first shot at starting because he's simply healthier.
Tennessee – If Derrick Henry stays healthy, he's an elite running back, but two-and-a-half hard years of work (955 touches) finally caught up to him and Henry missed the last eight games of the season. Last year's backup D'Onta Foreman is gone to Carolina leaving a huge hole if Henry misses time. Dontrell Hilliard (56-350-2) and rookie Haasan Haskins are untested at this point. If I drafted Henry, I'd add Hilliard later on in the draft, but I'd be praying I never used him.
West
Denver – Javonte Williams' loyalists were excited this off-season at the prospect of being alone in the backfield without free agent Gordon, but the veteran returned to the Broncos on a one-year deal. They both carried the ball 203 times last season, but Williams should be closer to a 60/40 split in his second season. Gordon averaged slightly more fantasy points last season (12.6 vs. 12.2), but should lose a little value this season. He's still flex-worthy as the backup and a good option if Williams isn't in uniform.
Kansas City – The Chiefs keep waiting for 2020 first-round pick Clyde Edwards-Helaire to arrive, but I'm not sure that's ever going to happen. Andy Reid can use veterans like Jerick McKinnon and Ronald Jones or experiment with rookie Isiah Pacheco, but the head coach really just wants to throw the ball. If CEH is injured or can't get it done, I'd expect Jones to cover the early downs and McKinnon as the receiving back. Those hearing Pacheco talk this summer should know it's just that … training camp talk. He's unlikely to be fantasy-worthy this season.
Las Vegas – The Raiders backfield appears in flux. Head coach Josh McDaniels was forced to say the team in not trying to trade starter Josh Jacobs, but the rumors continue. The new regime isn't tied to Jacobs and, in fact, drafted a running back in the fourth round (Zamir White). The Raiders also paid Kenyan Drake handsomely a year ago ($11 million guaranteed over two years), and added Brandon Bolden and Ameer Abdullah this off-season. Someone has to go. McDaniels, being a Bill Belichick disciple, will likely use the "running-back-by-committee" strategy of his mentor. Best advice is stay away.
Los Angeles Chargers – Austin Ekeler is the man in the Chargers backfield, but even he said his workload should be reduced. Management agreed and drafted Isaiah Spiller to take the pressure off the starter. First, he has to beat out Joshua Kelley, but that should happen soon enough. Spiller is a handcuff, but not a standalone option.
Bottom line:
In the AFC, only Hunt and Gordon are viable standalones to go along with three from the NFC we analyzed last week; Tony Pollard, AJ Dillon and Kenneth Walker. Meanwhile, of the "handcuff-only" backups; Stevenson and Robinson can be added to Alexander Mattison in Minnesota and Khalil Herbert of the Bears.
AFC | NFC