One of the biggest truths in fantasy football is that players get injured. Wide receivers pull hamstrings, quarterbacks hurt shoulders and ankles when giant guys fall on them and running backs, who are targeted for a hit on almost every play, probably take the most punishment of any skill position.

It therefore behooves fantasy owners to have backups, particularly, at running back. But a backup who can't produce is useless. A backup who ends up sharing the starter's roll in an RBBC with the third-string running back on the depth chart is also useless. Only the ones who can fill in for the starter and produce enough so that the injury doesn't cause the team's downfall have value.

Which ones are these? Let's take a look at the NFC this week and the AFC next week.
NFC
East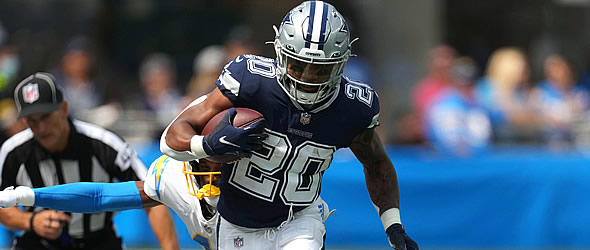 Dallas - Tony Pollard is Ezekiel Elliott's backup and a popular fantasy choice, but he's got a few factors working against him. First, Zeke doesn't miss games because of injury, only suspension (63 of 65 the past four seasons). Additionally, Pollard as a starter replacement or backup has never rushed more than 14 times in any game in his pro career. Could he carry it 20-25 times and be successful? Still, he's a decent bye-week fill-in and averaged 10.4 FPts/G last season as a full-time backup.
Philadelphia – There has been a lot of good coming out of Eagles camp in the first week concerning Miles Sanders, but the future may be with Kenneth Gainwell heading into 2023 as Sanders will be looking for a big contract after this season. Should an injury catch up to Sanders, the workload would likely be split between Gainwell and Boston Scott. Scott actually saw the ball at the goal line more often than any RB on the Eagles and rewarded the team with seven rushing touchdowns from inside the 4-yard line. Although Gainwell is getting some interest in the 14th round (ADP 137.7), it's probably better to look elsewhere.
New York Giants – Matt Breida as a starter has averaged a very good 82 ypg (19 games), but a majority of those were behind the San Francisco 49ers in 2018-19. This Giants offensive line isn't nearly as good as the Niners, nor Brian Daboll's running game as sophisticated as Kyle Shanahan, therefore I doubt Breida could produce at this level in Saquon Barkley's absence.
Washington – Antonio Gibson finished eighth in total fantasy points at his position (235.1 fantasy points), but 17th in FPts/G (14.7) due to the elite catching ability of J.D. McKissic. But should Gibson be sidelined for any length of time, I believe McKissic would remain in his pass-catching role and rookie Brian Robinson Jr. (Alabama) would work the early downs, negating either as a good handcuff.
North
Green Bay – AJ Dillon ranked 37th in PPR fantasy (11.0 FPts/G) despite starting just two games for Aaron Jones. In truth, he averaged barely more in his two games as a starter than in his regular role (11.7 vs. 11.0). He was already a viable bye-week and flex option last season and this season there is a chance he gets more rushing attempts if the Packers elect to use Jones more as a receiver to help compensate for the loss of "All-World" Davante Adams. As a sixth-round pick (ADP 56.7) you have to draft him as your every week second starter and if something happens to Jones it's a bonus.
Detroit – Jamaal Williams is on the second year of a two-year deal to be the backup to D'Andre Swift. But he actually rushed the ball two more times than Swift (each played 13 games). Should Swift go down (he's played 26-of-33 games in his career), Williams would become start-worthy with only former Chargers' backup Justin Jackson as the third-stringer, but you can't use him if he's not starting.
Minnesota – There's a reason Alexander Mattison is one of the first handcuffs off the board on draft day. In his last five starts for an injured Dalvin Cook, Mattison has averaged 23.7 fantasy points. He's not a standalone guy, he can't start with Cook active, but he's a "must-have" if you rostered Cook.
Chicago – Like Mattison, Khalil Herbert excelled in games he played for injured David Montgomery posting 344 rushing yards in four games (13.5 FPts/G). But that was 79.4% of his season total, proving he's not anything but a handcuff for Montgomery.
South
Carolina – The backup to Christian McCaffrey has been a busy guy the past two season (he's missed 23-of-33 games), so it's an important handcuff for whoever drafts CMC in the first round. D'Onta Foreman was signed in the off-season after Chuba Hubbard manned the role in 2021. Hubbard is still on the roster so it's probable that this would be a shared position if CMC is again sidelined with Foreman for the early downs and Hubbard as the receiving back.
New Orleans – Mark Ingram returned to the Saints at mid-season last year and comes back to New Orleans in an important role with a possible suspension hanging over starter Alvin Kamara. He proven to be a low end RB1 when Kamara missed time in 2021, averaging 16.5 FPts/G, in three starts. He's only useable in a starting role, so only as a handcuff.
Atlanta – The Falcons were so disappointed with Mike Davis last season they converted Cordarrelle Patterson into a hybrid RB/WR. Patterson was great for fantasy owners … until the playoffs when he disappeared. He averaged 18.1 FPts/G over the first 13 weeks, but just 7.2 from Weeks 14-18. Rookie Tyler Allgeier (BYU) should eventually beat out journeyman Damien Williams for the backup role and could see even more usage if Atlanta chooses to have Patterson help the questionable depth in the wide receiver room (rookie Drake London, Bryan Edwards and Olamide Zaccheaus). This will require watching preseason to see who wins the backup job and how the receiving corps performs.
Tampa Bay – The Twitter universe and fantasy owners reacted quickly when starter Leonard Fournette came into camp weighing 260 pounds, but a week later he's already down to 247 and things have returned to normal. Rachaad White, a rookie out of Arizona State (1,000 yards rushing, 43 receptions for 456 yards, 16 TDs) is expected to beat out Ke'Shawn Vaughn for the backup early down role and in college showed to be a three-down back which could put pass-receiving specialist Giovani Bernard out of business too. Given that Fournette has averaged 12.6 games a season, White is a necessary handcuff for anyone with Fournette on their roster.
West
Los Angeles Rams – Everyone is excited to see Cam Akers back for a full season after missing almost the entire 2021 season, but it would be a mistake to forget Darrell Henderson, who averaged 13.6 FPts/G. Unfortunately, Henderson also dealt with injuries last season which forced the Rams to bring Sony Michel in from the Patriots. Michel is now in Miami and Henderson will again be Akers backup, but not worthy of standalone status.
Seattle – Will the real Rashaad Penny please stand up? Is he the guy who was pretty much a flop for three and a half seasons (32 games averaging 5.1 FPts/G) or the guy who dominated in four of the final five games of his fourth season (22 FPts/G)? That answer will determine how long rookie Kenneth Walker plays backup to Penny and his one-year deal. If you look deeper into those four big games they were against mediocre run defenses (Houston ranked 31st in yards allowed, Chicago 24th, Detroit 28th and Arizona 20th). If Walker is anything like what he produced at Michigan State he should certainly be worth his ninth-round ADP as he likely transforms from handcuff backup to starter.
San Francisco – A healthy Elijah Mitchell is the starter, but anyone who says they know the depth chart for the 49ers backfield should probably play the Mega Millions lottery not fantasy football. San Francisco spent a third-round pick on rookie Tyrion Davis-Price so he should be in the mix, but they also used a third-round pick on Trey Sermon last year and still have Jeff Wilson and JaMycal Hasty in camp. I can't recommend any of the backups at this time.
Arizona – Since James Conner has never played 16 games in a season, his backup could end up being important. Darrel Williams is a fifth-year journeyman, but did manage nine double-digit games and averaged 11.5 points for the high-powered Chiefs offense. The two have similar running styles so it's unlikely Williams has value unless/until Conner goes down.
Bottom line:
In the NFC only three backups could be worthy of starting on a semi-regular basis; Tony Pollard, AJ Dillon and Kenneth Walker. Meanwhile, of the handcuff-only backups, the top two will be; Alexander Mattison in Minnesota and Khalil Herbert of the Bears.
AFC | NFC