Note: Salary amounts are DraftKings pricing
Quarterbacks
H2H/Cash - Russell Wilson @ Atlanta - $7,200
I'm paying a premium on Russ this week with the Seahawks heading to Atlanta to take on a dreadful Falcons defense that gives up the most points to quarterbacks. Wilson is going to bounce back from last week's disappointing performance at home against the Ravens with a monster game against Atlanta. The last four quarterbacks to play against Dan Quinn's beat-up defense finished with at least 268 passing yards and three total scores, including Jared Goff and Kyler Murray. The Falcons are a gold mine for fantasy points, and Wilson provides a high floor perfect for cash games.
Other options to consider - Jared Goff vs. Cincinnati & Matthew Stafford vs. NY Giants
GPP - Ryan Tannehill vs. Tampa Bay - $5,100
Starting Tannehill may be too difficult for some fantasy owners to swallow. I get it. He is a lousy quarterback with a history of destroying fantasy dreams and is a torn ACL waiting to happen. A guy like him should only be started at home against a defense that is terrible against the pass, stout against the run, and against an opposing offense that should turn the ball over and give short fields for easy scoring drives. If you are looking for a cheap GPP play, Tannehill ticks all the boxes this week and is dirt cheap.
Other options to consider - Gardner Minshew vs. NY Jets & Josh Allen vs. Philadelphia
Fade - Baker Mayfield @ New England- $5,000
I'm sure the Patriots and Bill Belichick got a good laugh when Jarvis Landry guaranteed a win this week for the visiting Browns. The Pats have been the best at pressuring the opposing quarterbacks to make bad decisions with the ball, and Mayfield leads the league in interceptions. This is a recipe for disaster, and the Pats are going to torment Baker all day long.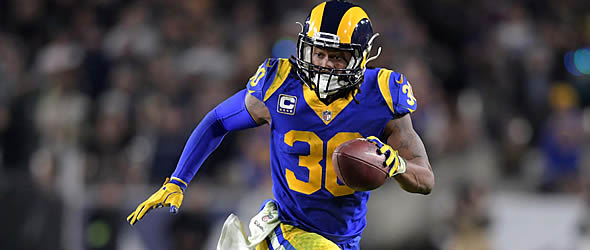 Running Backs
H2H/Cash - Todd Gurley vs. Cincinnati - $7,400
As a Gurley owner in season-long leagues, I know full well how terrible he has been with regards to efficiency. Touchdowns have saved his bacon on a number of occasions, but he is still a good play when the matchup is right. This week's game in London against the Bengals, a team that is second in the league behind Miami in fantasy points allowed, is one of those times to play Gurley in what could be a monster game for the former fantasy stud.
Other options to consider - Marlon Mack vs. Denver & Leonard Fournette vs. NY Jets
GPP - Ty Johnson vs. NY Giants - $4,900
Johnson is going to be a favorite GPP play game this week as the presumed starting running back at home against the Giants. While I can see this split more as a 50-50 in neutral game scripts, I anticipate the Lions will be up big, and Johnson, not J.D. McKissic, will get the close our touches to end the game.
Other options to consider - DeAndre Washington @ Houston & Austin Ekeler @ Chicago
Fade - Derrick Henry vs. Tampa Bay - $6,000
What do Christian McCaffrey, Alvin Kamara, Saquon Barkley, Todd Gurley, and the three-headed monster of the 49ers all have in common? They are all shut down by the Tampa Bay Bucs defense, a team that has allowed the fewest rushing yards on the season despite playing against the best running backs in the NFL. If you think Henry has a chance to perform better than those running backs I mentioned, feel free to start him this week in DFS.
Wide Receivers
H2H/Cash - Kenny Golladay vs. NY Giants - $6,400
Kenny G went from eight or more targets in all of his games leading up to Week 7, only to garner two targets against the Vikings. This is a prime matchup for a player who will bounce back big time this week at home against the Giants, a team that has given up five 100-yard games and eight receiving touchdowns this year.
Other options to consider - Tyler Lockett @ Atlanta & Cooper Kupp vs. Cincinnati
GPP - Kenny Stills vs. Oakland - $4,700
It is much easier to pass on the Raiders than it is to run (Just ask Aaron Rodgers and the Packers). Stills is set to start and get a ton of snaps now that Will Fuller is out yet again with an injury. Pair Stills with Watson for a monster stack that could bring a finish in the money this week in GPP.
Other options to consider - D.K. Metcalf @ Atlanta & John Brown vs. Philadelphia
Fade - Mike Evans @ Tennessee - $6,600
Evans is coming off a ridiculous 17-target game against Carolina two weeks ago. While the volume is attractive, teams have found more success passing to tight ends and slot receivers that outside receivers like Evans. He could score three touchdowns or he could goose you. I would rather spend my money elsewhere.
Tight End
H2H/Cash - Hunter Henry @ Chicago - $4,900
Henry's price tag has yet to catch up with his performance on the field. With 14 catches for 197 yards and two touchdowns in his first two games back from injury, Henry is clearly a favorite target of Philip Rivers in the middle of the field. Teams have found success as of late running the ball and passing to tight ends against Chicago.
Other options to consider - Austin Hooper vs. Seattle
GPP - Cameron Brate @ Tennessee - $2,600
O.J. Howard is out with an injury, Jameis Winston loves throwing to Brate, and the Titans are one of the most difficult teams to pass on when targeting wide receivers. The formula is there for Brate to have a big game, and his bottom-barrel price tag is juicy.

Other options to consider - Jonnu Smith vs. Tampa Bay
Fade - Zach Ertz @ Buffalo - $5,100
Ertz has been a massive disappointment over the previous two weeks and has a tough road matchup against a Bills team that is stout against tight ends. I'd rather save the money and go with Brate against Tennessee.
Defense & Special Teams
High Priced Option Worthy of the Cost: Rams ($3,800) vs. Bengals
Well Priced with Upside: Lions ($2,600) vs. Giants