8/24/11



Note: This article also appears in USA Today's 2011 fantasy football magazine.

In every draft, there are "blue-chippers" – young amateur players who possess such incredible skill they are often considered essential building blocks in order to build a winning team. In fantasy football, blue-chip prospects are often established veteran players who possess a decorated professional resume. Much like their NFL counterparts, fantasy owners cannot win their league by simply landing a blue-chipper with each of their early picks. However, they can almost guarantee themselves a non-championship season if they miss on a player or two in the first few rounds.

Considering the highlight-heavy culture we live in nowadays, consistent can often be mistaken for boring. With that in mind, many fantasy pundits find more value in trying to unearth the next fantasy superstar rather than emphasize the importance of building a solid core. While owners need to spend time identifying the 2011 version of Arian Foster, the difference between winning and losing in fantasy each week can come down to the failure of a player or two on one team living up to their usual production. As tempting as it is to chase the aesthetically-pleasing and sometimes overhyped playmakers in the first few rounds, choosing players who consistently post good games wins more fantasy titles.

Along with many other factors – such as talent, playing time, supporting cast and scheme – player consistency in fantasy warrants a great deal of consideration on draft day. Sadly, most owners build their draft board each year based primarily on the previous season's statistics, regardless of how a player achieved those numbers. High roster turnover and coaching changes often dramatically affects a player's ability to meet or exceed his production from the previous season because it can alter many of the aforementioned factors vital to a player's fantasy production. So it stands to reason that owners can leave themselves in great shape by selecting one consistent player after another as opposed to the one-year wonder.

Just like the stock market, no investment is guaranteed to perform at the highest level every year, but some have a better foundation for continued success than others. Fortunately, just like investment firms, fantasy owners have a tool at their disposal to help them identify which stocks stand the greatest chance to deliver solid returns year after year – consistency rankings. Just like a portfolio of consistent stocks often leads to a happy retirement, a portfolio of consistent fantasy players often finds itself challenging for the league title.

With the theory of drafting consistent fantasy players now explained, it may be beneficial to review the top 10 most consistent players by position courtesy of the Consistency Calculator found on FF Today. The first table will feature the best 2010 had to offer while the second table will highlight the most trustworthy players over the past three seasons.

For the purposes of this article, all touchdowns are worth six points. Otherwise, standard point-per-reception scoring will be applied to this format that requires two starting running backs and three receivers in a 12-team league. In order to qualify, a player must have played in at least 75% of his team's games.



In what can only be described as an incredible coincidence, exactly five players at each position made both lists. As amazing of an occurrence as this is, it does speak to the conventional wisdom that approximately 50% of players will fail to live up to their fantasy draft position each year. Assuming that axiom holds steady on a yearly basis, it becomes clearer why owners are better served starting their draft preparation with consistency rankings as opposed to just observing a player's final numbers and rankings from the previous season. Therefore, let's take a deeper look at the 20 players who appeared on both lists. What becomes apparent very quickly is that on-field consistency – in terms of supporting cast, scheme and the like – quite often leads to fantasy consistency.

At quarterback, the five-man honor roll reads like a who's who at the position: Aaron Rodgers, Peyton Manning, Philip Rivers, Ben Roethlisberger and Drew Brees. It should come as no surprise that each player has essentially played in the same system since 2007 and also enjoyed the benefit of playing with his top receiver in every season. The five most consistent rushers are also considered fantasy royalty: Chris Johnson, Adrian Peterson, Ray Rice, Maurice Jones-Drew and Steven Jackson. While consistency in terms of system and coaching staff doesn't affect runners as much as the other positions, opportunity does. Since 2009 – when Jones-Drew, Johnson and Rice joined the other two at his team's unquestioned full-time starter – not one of the backs has registered fewer than 333 touches. This kind of workload not only speaks volumes about their talent and team's trust in them, but also their durability.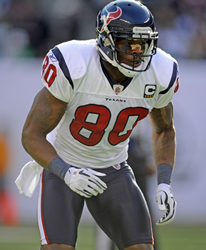 Andre: As consistent as they come.

Wide receivers can be considered an odd combination of quarterbacks and running backs, at least as it relates to consistency in fantasy. Because a receiver's production is invariably tied to impeccable timing with the quarterback, supporting cast and experience in the same offensive system are vital for their success. And since a receiver's production is almost entirely reliant upon his durability and opportunity, tracking receptions and targets goes a long way in identifying what players stand the best chance of being the most consistent. Although Calvin Johnson has dealt with a myriad of injuries – his own as well as his quarterbacks' – over the last three years, Andre Johnson, Roddy White, Reggie Wayne and Greg Jennings have each had the benefit of playing with the same signal-caller for at least three seasons. Not surprisingly, all five receivers have averaged at least 7.3 targets per game every season since 2008.

The same logic that allows receivers to succeed usually applies to tight ends as well, however, the 2010 season was a rough one for tight ends as both Antonio Gates and Dallas Clark could not reach the 12-game benchmark established above due to injury. While inaccurate quarterbacks usually spell disaster for receivers, their presence can sometimes result in solid numbers for the team's best tight end in fantasy because they often run shorter routes against overmatched linebackers and safeties, which helps explain the presence of players like Vernon Davis, Chris Cooley and Zach Miller on the list of the five most consistent tight ends since 2008. However, relying on tight ends playing with average quarterbacks does not lend itself to consistency. Had Gates and Clark met the minimum-games qualification, they would have joined Jason Witten and Tony Gonzalez on this list.

So, what bearing does all this information have on fantasy owners as they prepare for the 2011 season? First of all, always keep upside in mind when considering a player while remembering the chances that a player like Roethlisberger will let his owners down next season is much less than someone like Tampa Bay's Josh Freeman, who will have the full attention of opposing defensive coordinators next season as well as a tougher schedule than he did in 2010. Freeman may very well outperform Roethlisberger, but is the former's upside so high that it outweighs the fact that the latter has been posting top-end numbers longer than Freeman has been in the NFL?

Fantasy owners who consistently win year after year tend to possess the most consistent players. As a rule, most of these fantasy blue-chippers are spoken for by the end of the fourth round, therefore owners can be excused for drafting for upside after that point. However, it is rarely ever a bad idea to look for scheme, coach and supporting cast consistency even when making upside picks because talent does not always win the day. In the end, fantasy championships are won when owners mix consistent performers with potential breakout players. So while very few people strive to be boring, everyone loves a winner – which is exactly what fantasy owners have a good shot of being when they load up on consistent players.


Suggestions, comments, musings about the article or fantasy football in general? E-mail me.
---
Doug Orth has written for FF Today since 2006, appeared in USA Today's Fantasy Football Preview magazine in each of the last two seasons and served as a weekly fantasy football analyst for 106.7 The Fan in Washington, D.C. this past season. He is also a member of the Fantasy Sports Writers Association. You can also follow him on Twitter.