Outside of kickers, perhaps no position gets less respect from fantasy owners than tight end. Although there are plenty of intelligent football fans, it is probably safe to say there are more "casual" ones that still live under the belief that tight ends are still extensions of the offensive line who occasionally will run a 5-10 yard hook- or out-route. And those folks aren't entirely wrong; there will always be at least a few of those tight ends in the NFL.

However, it shouldn't come as a surprise to anyone in a league where teams are becoming more reliant on the passing game that front offices aren't working overtime to find those athletic mismatches that give them a consistent advantage every time their quarterback drops back. Over the last five seasons (2008-2012), the percentage of league-wide targets to players listed at tight end has increased from 19.7% to 21.5%. While that might not seem like a giant shift, it is a notable one considering that not every team has a player at the position worth targeting on a regular basis. That percentage will continue to increase in the coming years as more teams place a higher priority on creating mismatches with some of the athletic marvels college football has sent the NFL in recent years.

Barring a record-breaking season from a quarterback, running back or receiver, securing an elite tight end is still the easiest way to secure a significant weekly advantage over a fantasy opponent. It is probably even more important in dynasty leagues. Why? Very few tight ends ever evolve into elite players and almost none do so in their first 2-3 years. Similarly, very few produce at the same level as top receivers. But perhaps most importantly, elite tight ends all seem to stick around into their mid-30s – making the position one of the more stable investments one can make in dynasty. Owners can generally nab a solid running back or wide receiver in their rookie drafts in any given year with any luck, but the same can rarely be said about tight ends.

Keep in mind the rankings below are based on PPR leagues where all touchdowns are worth six points. Let's review the criteria for the basis of these rankings once again:


Considerations for TE
Six years of elite production remaining (priority given to younger players)
Age
Age/skill of supporting cast
Talent
Durability
Proven consistency
Coaching/scheme stability
Tier 1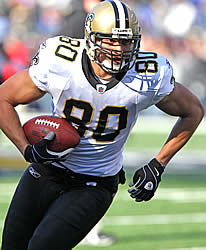 Graham is in a class of his own.
Despite a down year by the standard he set in 2011, Graham belongs in a class of his own among tight ends in dynasty leagues. The former University of Miami basketball player dealt with a wrist injury for most of 2012 that required surgery in the offseason, the suspension of his ultra-aggressive offensive-minded head coach and still delivered 85 catches for 982 yards and nine touchdowns. With his nearest competition either recovering from back surgery or in jail for the foreseeable future, Graham is easily a cut above the rest at his position. Put another way, Graham offers WR1 production at a position where there are less than a handful of players capable of producing elite tight end numbers.

Tier 2
Only entering his fourth year in the NFL, Gronkowski is already something of a legend in fantasy circles and for his carefree lifestyle off the field. The 24-year-old Arizona alum has scored 37 touchdowns in 42 games, but has seen each of his last two seasons end due to injury. However, it is this offseason that has dropped Gronk into his own tier. Four arm surgeries since the end of last season was enough cause for worry, but it is his most recent visit to the doctor for back surgery that should concern fantasy owners the most. Gronkowski missed his final year of college with a back injury, suggesting this might be an issue that will dog him throughout the rest of his career. Owners who draft later in the summer will undoubtedly have a better read on his readiness than we have now in early July, but there is just too much uncertainty these days in New England to consider Gronk on the same level as Graham.

Tier 3
This is where it starts getting a bit interesting. Rudolph had an inconsistent 2012 season to say the least, but clearly established himself as the Vikings' best red-zone weapon in the passing game. Only 23 years old, Rudolph should be a big part of the Minnesota offense for some time, with his biggest question being the play (and maturation) of quarterback Christian Ponder. The third-year tight end has been the talk of the offseason in Vikings' camp thus far, so with more talent around him than he has seen in his short NFL career – not to mention one of the NFL's best running backs – Rudolph could be poised to join the elite players at his position in 2013. Perhaps the biggest early shocker on this list is Cook. For about three of his four years in the NFL, Cook has been on the cusp of announcing his presence as a top-level tight end only to see his talent wasted by a poor offensive coordinator and below-average quarterbacking. Cook's new contract with the Rams ensures he will be a focal point of the offense while Sam Bradford will represent the most accurate quarterback he will have played with in his career. The ex-Titan isn't a high-volume receiver, but he is a rare big-play, so he won't require the 70-80 catches some of the other players on this list will to have a huge impact in PPR leagues.
If Pitta had not just turned 28, he would likely rank ahead of Rudolph. Few QB-TE pairs have a stronger connection than Joe Flacco does with Pitta, who scored eight of his 10 total touchdowns (including postseason) after Week 9 last season. The 2010 fourth-round selection saw his reception total spike from 40 in 2011 to 61 last season and another surge should be expected with fellow slot man Anquan Boldin in San Francisco. Davis is a curious case in dynasty. The 2006 first-round pick will turn 30 at the end of the season and has seen his fantasy point totals and averages decline in each of the last three seasons following his breakout 2009 campaign. But his stock appears to be back on the upswing with his performance in the playoffs plus the news that he could spend some time at receiver this season while the Niners attempt to fill the void left by Michael Crabtree. Still, it appears to be a one-year fix (or less) at best. Despite going through two quarterbacks (Alex Smith and Colin Kaepernick), neither player saw fit to target Davis more than eight times in a game last season. He's a wonderful talent, so he can't be allowed to slip too far, but owners need to recognize him for the fantasy player he has become, not the one he could be.
Bennett gave fantasy owners just a hint of what he was capable of last season with touchdowns and solid PPR fantasy totals in each of his first three games with the Giants. Defenses adjusted somewhat, but his somewhat disappointing performance the rest of the way had more to do with a Week 5 knee injury that involved a torn capsule and bruising to the ACL and PCL. Assuming a similar injury does not occur in 2013, defenses will be hard-pressed to stop all the different weapons Chicago will be able to throw at them in the passing game and Bennett figures to be one of the players to benefit the most from that. In the irony of ironies, the 26-year-old Bennett gets a slight nod over the man he used to back up in Witten. The 31-year-old Witten is coming off his first 100-catch and fourth 1,000-yard season, but has not been a frequent visitor in the end zone for most of his career. That fact doesn't hurt him nearly as much in PPR leagues as it does in standard formats, but with Dez Bryant emerging and more emphasis expected to be placed on the running game, Witten's catch totals could drop down to around the 80-85 range. Witten does not create many big plays anymore and is primarily a short-area option only at this point of his career, traits that only figure to decline further as he begins to decline in the coming years.
Eifert is unproven and didn't exactly land in the best spot for immediate production, but patient dynasty owners may have the third- or fourth-best option on their hands in about two years. The rookie will have little choice but to share snaps with Jermaine Gresham in 2013 and (most likely) 2014, but he is every bit as good as Rudolph with a better quarterback. There is little doubt that Eifert will be good; it is more of a matter of how quickly Cincinnati will clear the way and allow it to happen. Olsen is a bit of a frustrating fantasy option from the standpoint that his final numbers are typically pretty solid, but his consistency always seems to be lacking. He's also the second-best receiving option on a team that wants to run the ball and trusts its quarterback to convert most of the short-yardage scores, further capping his scoring upside. Olsen is coming off a career year and is quite capable of repeating it over the next 2-3 seasons, but it is hard to imagine he'll top last season's numbers with OC Rod Chudzinski – who loves his tight ends – now in Cleveland.
Early in Finley's career, he couldn't stay healthy. Now, he can't find the end zone on a regular basis. Following a less-than-stellar first half in 2012, Finley gave his dynasty owners some optimism with 33 catches for 402 yards over the final eight games of the season and has carried that momentum into this offseason. The 26-year-old Texas product is a wild-card to say the least, combining the talent of an elite tight end with the career production of a slight above-average one. In Green Bay's offense, there is no reason to force-feed him the ball with such a plethora of capable receivers, but his size and ability make him a prime red-zone target. If/when he finally decides to turn it on full-time, his owners could have a Tier 2 tight end.

Tier 4
Since Tier 3 featured an early surprise, it is only fair to kick off this tier in the same manner. Typically, tight ends with 26 catches through two NFL seasons aren't considered to be on the verge of a breakout season, but Cameron has not had much going for him thus far into his pro career. However, that is about to change. Chudzinski and new OC Norv Turner have both made their names in part by maximizing the abilities of their tight ends – something Cameron has in spades. Cameron, who will turn 25 in August, is a downfield tight end in a vertical-based scheme with virtually no competition for catches at his position. It's a recipe for fantasy success. Allen outperformed the more heralded Fleener in their rookie seasons, but Allen's complete game may actually hurt him in short term. With former Stanford OC Pep Hamilton joining Cardinal alums Fleener and Andrew Luck, there's a very good chance Fleener will cut into Allen's production, especially if Allen is asked to block more often this season. Allen isn't going away anytime soon since he is a three-down tight end, but it is unlikely that he'll experience a huge increase over last year's production with the likes of Fleener and Ahmad Bradshaw receiving passes in the short and intermediate areas.
Housler is another interesting case in the sense that new HC Bruce Arians doesn't have much of a track record when it comes to using his tight end in the passing game. But Arians has been effusive in his praise of Housler's potential and believes he is a "wideout playing tight end". Like Cameron, the 25-year-old tight end is a downfield threat in a vertical offense for the first time in his career. It is entirely possible that Housler even sees a bit of time in the slot and on the outside of the formation, which speaks to the likelihood he won't come off the field very much. Although he lacks the upside of fellow rookie Eifert, Kelce may actually be a more complete tight end. The first pick in the third round of April's draft may not be an immediate contributor and will probably be asked to share time with Anthony Fasano as well as Tony Moeaki, but he'll be the unquestioned starter soon enough. New HC Andy Reid got a lot of production from Brent Celek in Philadelphia and Kelce profiles as a similar player on a team with fewer offensive weapons.
Fleener is another high-upside vertical threat, but one whose fantasy potential will be capped as long as Allen is with him. Injuries as well as Arians' stubbornness in using Fleener in-line last season contributed to his disappointing 26-catch rookie season, but he has a realistic shot at moving into the 40-50 catch range because Hamilton already has a good sense on how to use him. He should be a long-term TE2 with low-TE1 upside.

Tier 5
Few players needed to get out of New York more than Keller, whose upside was always going to be limited with a quarterback like Mark Sanchez. While Keller isn't an elite talent and Ryan Tannehill isn't exactly a proven commodity in the NFL, the former is in the best situation he has been in during his pro career and the latter has much more talent to work with than he did last year. Keller could push his career high in receptions (65) and touchdowns (five) since he should easily be Tannehill's favorite red-zone option. Daniels has seemingly settled in as a 50-60 catch, 5-6 touchdown player in Houston's run-heavy attack. Durability, age (will turn 31 during the season) and contract status (expires at the end of the 2014 season) are all reasons why Daniels finds himself this low on the list despite being a relatively consistent fantasy option. The addition of rookie DeAndre Hopkins will probably make 2012 the last season in which Daniels tops 60 catches with the Texans.
There may be no bigger gap that exists between one player's redraft and dynasty value than Gonzalez. In the former, he should be about as money-in-the-bank as Graham. In the latter, owners will only likely approach him near the trade deadline in a push for their league's title this year because the odds are quite strong 2013 will be his final season. Still, his final run – if it is in fact his last – figures to be another good one: Gonzo hasn't caught fewer than 70 passes in a season since 2002. All the players in this tier are here for one obvious reason or another and Ertz is no different. The second-round rookie should be a great fit in new HC Chip Kelly's offense insomuch that he can split the seams and make plays downfield. But while he has the size to be a decent blocker, it is that part of his game that remains a serious question mark. He is a lot like Fleener in that way, making it hard to pinpoint exactly when the Eagles will trust him enough to be anything more than a part-time player.
Pettigrew has repeatedly shown himself to be a better fantasy than football player, benefiting from volume as much as anything else. The 28-year-old former first-round pick, who has finished among the top10 among players at his position in drops in each of his first four years in the league, ranks this high only because of the PPR format, but could see his fantasy floor fall out from him any day since the Lions should have the services of reliable pass catchers Reggie Bush and Ryan Broyles for the foreseeable future – assuming both can stay healthy. The Giants' revolving door at the tight end position hasn't stopped it from being a sneaky source of fantasy value – a trend Myers will look to continue in 2013. Myers isn't nearly the blocker Bennett was, but the ex-Raider certainly proved he can handle the pass-catching chores of the position. Although raw second-year player Adrien Robinson is likely the future at the position in New York, Myers has already shown enough to generate interest on the open market next season and remain a starter for his new team (if he leaves). He's not an exciting option, but he'll definitely be a solid candidate for 50-60 catches.
Gresham's floor should be about 10 spots higher as a tight end who has caught at least 52 balls in each of the first three seasons and been named to the Pro Bowl twice, but the addition of Eifert is bad news for his dynasty stock. Gresham has two years left on his rookie contract and probably isn't going anywhere during that time, meaning it will likely be 2015 before we know what team he will playing for and what his future holds. That is a lot of uncertainty for a player with the resume Gresham has built so far. Gates enjoyed a long run as the premier player at his position, but time and injuries have begun to wear on the 33-year-old. With $5 M due to him in 2014 (and $5.9 M due in 2015), Gates could actually be looking at his final year in San Diego, especially since the Chargers drafted his likely replacement last offseason in Ladarius Green. One area in which he has yet to experience falloff is scoring touchdowns, with at least seven every season since his breakout campaign in 2004.
Miller suffered ACL, MCL and PCL tears in his right knee during Week 16 last season, making it highly unlikely he will have an early-season impact. Combined with his age (will turn 31 in October), a best-case scenario for Miller might be to come off the PUP list around midseason. Either way, owners should prepare to not him available at any point this season and certainly not at the level he was contributing prior to the injury. Miller was already a plodding tight end pre-injury, but he's made his living mostly as an outlet receiver for Ben Roethlisberger anyway.

Tier 6
Davis' long-term home is in doubt, he is coming off a torn Achilles and Washington seemingly spent much of its time using him as a decoy or not using him at all before his injury last year. Jordan Reed will likely replace him in the lineup after this year is over, but Davis should be able to secure a decent pass-catching role with another team in 2014 assuming he does well with the prove-it-again one-year contract he signed this offseason. Flacco has clearly established that Pitta is his best friend on and off the field, but we are only one season removed from a year where Dickson posted better totals than his counterpart. While that is unlikely to happen again anytime soon, Dickson fought through an early-season shoulder injury and his production declined in a big way as a result. With Boldin gone and no established second receiver to speak of, Dickson has an outside shot to approach his 54-528-5 line of 2011. His ability to maintain that level of production, however, will depend heavily on how quickly Baltimore is able to find its long-term starter opposite Torrey Smith.
Lewis enjoyed a bit of a bounce-back campaign in 2012 after a scoreless 39-catch season in 2011. Lewis has emerged as one of the best blockers at his position in the league, but his pass-catching talents have been wasted thanks to the quarterback play in Jacksonville throughout most of his career. Entering his age-29 season, Lewis is still waiting for a quarterback to secure the job long-term and is thus running out of time to become anything more than an average fantasy tight end. Casey was quickly discarded by many fantasy owners as soon as the Eagles drafted Ertz, but Casey is easily a more complete player at this point. Casey spent the latter part of his four years in Houston as a fullback, but he's always been a highly athletic player whose best fit is as a "move" tight end. New HC Chip Kelly will almost certainly use Ertz in that role long-term, but Casey was promised a bigger role than he had with the Texans and there is plenty of room in Kelly's offense for two tight ends who can make plays downfield. If Zach Miller simply carries over his receiving totals from last year and adds the final numbers posted by Anthony McCoy – likely out for the season with a torn Achilles' tendon – he will be a more-than-serviceable fantasy tight end in 2013. However, we know such things rarely work out in that manner and McCoy's stats could (and probably should) all go to Percy Harvin. Miller showed an amazing amount of grit playing through a torn left plantar fascia – and starring – in Seattle's playoff loss to the Falcons, but he's probably going to be the fourth-best receiving option on a running team for the foreseeable future.

Tier 7
This tier features a load of young talent that is mostly too raw to rank any higher, although any or all of them could find themselves as a Tier 3 player next year should they develop quickly. The first such player is Thompson, who is in his second year of a transition from college defensive end but has Gronkowski-like upside. Thompson probably saw more snaps that should have been expected (265, per Pro Football Focus), but didn't play more than 20 until Week 16. His role figures to grow this year with the departure of Jared Cook, although he is probably still another year away from having a true impact. His closest competitor is probably Robinson, who is probably also a year away from making a dent in fantasy as well thanks the signing of Myers. Reading between the lines, it is quite possible New York is simply buying time in hopes that Robinson – who is expected to take over the blocking tight end duties this season – will evolve into a Martellus Bennett clone by 2014. The talent is certainly there.
Similar to Casey, McDonald made his name at Rice University as a tight end that was hardly just a tight end. The second-round pick was reportedly the most impressive rookie in the team's offseason program and was a capable blocker when asked to do so in college. In the wake of Michael Crabtree's injury, McDonald could see fairly significant action in 2013 if he proves to be a good enough blocker at the pro level, which would allow San Francisco to use Vernon Davis more often as a receiver. Green is no threat to Gates this season, but as the veteran's salary begins to exceed his production over the final two years of his contract, the Louisiana-Lafayette alum's chances of becoming a starter by no later than 2015 increase. It isn't fair to say he'll ever approach Gates' level, but the 6-6, 238-pound Green is a gifted receiver that has a bright future as a matchup nightmare.
Gragg is highly unlikely to be on many dynasty owners' radars as a seventh-rounder in April's draft, but on a tight end depth chart that lacks any hint of athleticism, the University of Arkansas product could have a bright future as a "move" tight end in new HC Doug Marrone's up-tempo offense. Although Scott Chandler is reportedly well ahead of schedule in his recovery from an ACL tear, he's really the only other receiving option Buffalo has at the position on its roster. Thomas hasn't really had a chance to display his skills as a former basketball player at Portland State due to injuries, so his ranking is based purely on potential. Joel Dreessen is a solid but unspectacular option while Jacob Tamme is purely a "move" tight end and oversized slot, meaning Denver could possibly save a roster spot and get the best of both players if Thomas stays healthy and follows up his strong showing in offseason workouts with a solid training camp.
Reed was almost certainly drafted to start in 2014 when Fred Davis likely leaves as a free agent. The third-rounder is not going to be used in-line at 6-2 and 236 pounds, so it is fair to assume Washington will use him as the "move" tight end in hopes of creating mismatches. His straight-line speed at the NFL Combine was unimpressive (4.72-40), so he will either need to add weight in an effort to become a more complete tight end or increase his speed in order to force the defense's hand.

Tier 8
Dreessen appeared to be in a great spot for fantasy production when he signed with the Broncos last season, but will almost certainly see his numbers drop due to the presence of Wes Welker – although not to the degree Jacob Tamme will. As the best blocker at his position in Denver, Dreessen will see plenty of snaps, but his value figures to be based almost entirely on red-zone touchdowns. Even then, he'll be the fourth option at best. Walker signed a relatively big four-year contract with the Titans, but the 6-0, 242-pounder is unlikely to have much impact in fantasy beyond 2013. Entering his age-29 season, Walker struggled with drops in 2012 and isn't such an athletic marvel that he can overcome the (likely) inaccuracy he will have to face playing with Jake Locker. Taylor Thompson is much more athletic and could relegate Walker to a high-priced blocking tight end role as early as 2014 if he develops as quickly as the Titans hope he will. Chandler was a favorite of ex-Bill QB Ryan Fitzpatrick in the red zone, but is coming off an ACL tear. Although Chandler's size will help him remain involved in the red zone for the foreseeable future, rookie Chris Gragg is a much better bet to create mismatches and be used in between the 20s in the new fast-paced offense.
Garrett Graham didn't exactly "bust out" in 2012, but he saw his role expand quite a bit. It's unclear if Graham will take over for Daniels at some point in the near future, although he is as good of bet as any Texans to pick up most of the 34 receptions left behind by former Houston FB/TE James Casey. Cumberland isn't a name many fantasy leaguers are familiar with, but with Keller in Miami and a shortage of talent/health at receiver, he's a player that could be seeing a lot of action over the next year or two. Kellen Winslow was signed – possibly in hopes he could buy the Jets some time to bridge the gap to Hayden Smith – but Cumberland hauled in 29 passes last year and should be considered the likely favorite to win the job.
Sometimes, an average talent finds a situation in which there is somewhat significant opportunity and no one else on the roster that can fill his spot. Tom Crabtree – mostly a blocking tight end from Green Bay – will almost certainly get his chance to fill the same role Dallas Clark enjoyed last year, which led to 47 catches, 435 yards and four scores. Starter Luke Stocker is nothing more than a run-blocker and only oft-injured ex-Jaguar Zach Miller can really push Crabtree as the pass-catching tight end in this offense. He's not a high-upside option by any stretch, but he's the best bet to be the most valuable tight end for the Bucs by a wide margin. At various points throughout the draft process, it was argued that Escobar was the second-best (or best) receiving tight end available. Although Witten is getting older and Dallas wants to use more two tight-end sets, it is unlikely that any young tight end is going to make a dent in fantasy when Tony Romo has Witten, Dez Bryant and Miles Austin around. Like Martellus Bennett before him, Escobar is going to have a hard time getting Romo's attention even if the Cowboys commit to two tight ends on the field at the same time more often.
If Hayden Smith wasn't already 28 years old, he might actually be a Tier 6 or Tier 7 option. The former rugby player has been lighting up Jets' practices for a while now, but is still plenty rough around the edges. On a team that lacks a player that can create mismatches in the passing game, New York could do much worse than giving a highly athletic 6-8, 240-pound ex-Division II basketball player a shot. Fasano has never been a high-volume player in his career and probably won't be now in Kansas City either. What he has done is find the end zone, which makes his 30-40 receptions each year a bit more palatable. He's a good blocker, which will keep him on the roster (possibly at the cost of Tony Moeaki). Given the lack of playmakers at receiver beyond Dwayne Bowe, Fasano could remain a 30-40 catch player for the Chiefs. Tamme has been a big slot receiver for most of his career despite his tight-end designation. With Welker now in Denver, Tamme goes from 50-catch potential to about 15, needing a Welker injury to even remain somewhat relevant in fantasy. Seeing Celek this low seems like it is an error, but the Eagles loaded up "move" tight ends in free agency (Casey) and the draft (Ertz), which will probably reduce Celek to little more than a blocking tight end.
Sims is a longshot at production in his rookie year as a player who mostly blocked at Michigan State and stuck behind Dustin Keller. While it is highly unlikely he'll ever be known as a weapon in the passing game, he has soft-enough hands to be an outlet receiver for Ryan Tannehill, particularly if Keller leaves Miami after his one-year contract is up. The release of Aaron Hernandez removed a vital part of the ability New England had to create mismatches and no other player behind Gronkowski can even begin to fill that void. Although Michael Hoomanawanui is the next man up Hernandez's old "F" spot, Sudfeld may actually be the team's short-term answer. A 6-7, 255-pound undrafted free agent from Nevada, Sudfeld has proven to be a smooth pass catcher in offseason workouts – which is probably more than can be said about Daniel Fells and Hoomanawanui, both of which are far better blockers than receivers. Jake Ballard would seem to be the natural choice, but he's listed as Gronkowski's direct backup. The ex-Giant was already an average athlete at best – by NFL standards – before his ACL injury and isn't even a lock to make the final roster.

Suggestions, comments, about the article or fantasy football in general? E-mail me or follow me on Twitter.

---
Doug Orth has written for FF Today since 2006 and appeared in USA Today's Fantasy Football Preview magazine in 2010 and 2011. He hosted USA Today's hour-long, pre-kickoff fantasy football internet chat every Sunday this past season. Doug regularly appears as a fantasy football analyst on Sirius XM's "Fantasy Drive" and for 106.7 The Fan (WJFK – Washington, D.C). He is also a member of the Fantasy Sports Writers Association.