The trade deadline in just about every league is coming soon in just about all leagues in the next week or two. As such, it makes sense to use the next two weeks to see which stocks need to be bought, sold or held.

Last week, I chose to take the top 20 overall scorers at quarterback and top 30 at running back and summarized what I would do if I had them on my team. This week, I chose to give the same treatment to the top 30 overall scorers at wide receiver and top 15 players at tight end.

Following each player's name, you will find his remaining schedule and which matchups are positive (green), neutral (no color) or negative (red), just as it appears on the FFToday Strength of Schedule page. Just as the page states, the positive-neutral-negative scores are generated from results over the last five weeks.

Perhaps I'm the only impressed by the following nuggets, although I do believe they are noteworthy:

1) Only three of the top 15 tight ends don't have at least one wide receiver counterpart in the top 30 and
2) Eight teammates (i.e. 16 overall) find themselves among the top 30 receivers.


Note: PPR scoring is assumed.


Wide Receivers

1. Antonio Brown (BAL, @NYJ, @TEN, bye, NO, @CIN, @ATL, KC) – Hold. Brown has caught at least five passes for 50 yards in a NFL-record 24 consecutive games, which effectively guarantees his owners double-digit fantasy points. The five-year veteran is almost impossible to cover for more than three seconds, which makes him a great tag-team partner for Ben Roethlisberger, who has long been one of the league's best at extending plays.

2. Demaryius Thomas (@NE, @OAK, @STL, MIA, @KC, BUF, @SD, @CIN) – Hold. Any Thomas owner serious about winning a title isn't moving him right now unless he/she is getting a top RB1 and top WR1 in return. Pretty much everything I just said about Brown applies here as well. The Broncos don't have it particularly favorable receiver schedule the rest of the way, but is there any other receiver besides Dez Bryant or a healthy Calvin Johnson that can produce regardless of the matchup?

3. Jordy Nelson (bye, CHI, PHI, @MIN, NE, ATL, @BUF, @TB) – Hold (or buy from a panicky/desperate owner). I'm really still trying to wrap my mind around how Aaron Rodgers could throw for 418 yards against the Saints in Week 8 and how his top receiver accounted for six percent of that total. Perhaps his owner(s) – likely heading into the Packers' bye week with a loss in part because of Nelson – is growing weary that his numbers are declining due to Cobb, when the real reason(s) have more to do with game flow (two blowouts over the last four games) and an injured Rodgers for most of the second half of the game in New Orleans.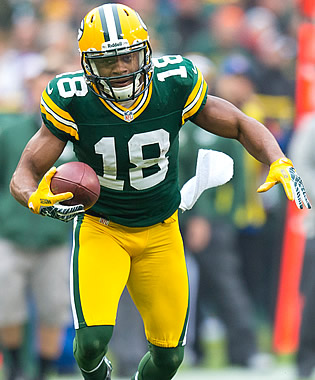 You should be shopping Randall Cobb (40 rec, 9 TDs).
4. Randall Cobb (bye, CHI, PHI, @MIN, NE, ATL, @BUF, @TB) – Sell. Since I don't want to diminish his accomplishments, I will say that Cobb is tied for 13th amongst receivers with 40 catches and has already surpassed his previous career high with nine touchdown catches. Does anyone want to bet he can maintain that touchdown pace? In this offense, it is possible. What is also possible is that more of his red-zone touchdowns (seven of his scores are from eight yards or fewer) will start going to Nelson, Davante Adams or Eddie Lacy when the weather gets colder. It seems hard to believe Cobb will finish with 18 touchdowns, which is the pace he is on at the moment.
5. Golden Tate (bye, MIA, @ARI, @NE, CHI, TB, MIN, @CHI) – Sell. If owners can find someone in their league that believes Tate will continue to catch 7-10 balls per game after Calvin Johnson returns and is willing to pay that price, go ahead and make a move. There's no question at this point whether Tate is a capable WR2, but look for Detroit to lean on Megatron, the running game and its defense when all of its walking wounded finally get healthy.
6. T.Y. Hilton (@NYG, bye, NE, JAC, WAS, @CLE, HOU, @DAL) – Hold. Were it not for his fluky inability to consistently score touchdowns (although he has scored his only two TDs of the season over the last three weeks) despite his ability to get behind the coverage, the argument could be made that Hilton is the next or new Antonio Brown. The 183-pound speedster has been tearing it up in PPR leagues over the last three weeks in particular. Despite three red matchups, I don't see a single opponent that has a defensive back capable of keeping up with Hilton all game long on the Colts' second-half schedule.
7. Julio Jones (bye, @TB, @CAR, CLE, ARI, @GB, PIT, @NO) – Hold. Jones isn't just going to fall off the fantasy map, but since receivers are tied to the well-being of their quarterbacks, it shouldn't come as a surprise that his numbers are probably going to suffer behind Atlanta's beat-up offensive line. On the plus side, Atlanta has enough soft NFC South opponents remaining on its schedule that Jones will likely mix in high-quality WR1 numbers with WR2 efforts.
8. Jeremy Maclin (@HOU, CAR, @GB, TEN, @DAL, SEA, DAL, @WAS) – Sell. Maclin's role and schedule are both very good, so what gives? I don't trust Nick Foles nor do I trust Maclin's ability to stay healthy, pure and simple. If his owners do, he is a good "hold" and should be a potential low-end WR1 the rest of the season.
9. Dez Bryant (ARI, @JAC, bye, @NYG, PHI, @CHI, @PHI, IND) – Hold. Unless Bryant's owners can work out a deal for Demaryius Thomas, I don't see much reason to deal away the Cowboys' stud receiver. Dallas has run the ball so well – and probably will continue to even if DeMarco Murray gets hurt – that Bryant is going to see his fair share of 1-on-1 battles with overmatched cornerbacks. (And with the exception of Week 16, there figures to be a lot of those.)
10. Emmanuel Sanders (@NE, @OAK, @STL, MIA, @KC, BUF, @SD, @CIN) – Hold. Had this article been written before his Thursday Night Football explosion against San Diego, he would have been among the strongest buys on here. Owners need to remember that while receivers playing in a Peyton Manning offense can get shortchanged one week, he often makes it up to them over the next week or two.
11. Steve Smith (@PIT, TEN, bye, @NO, SD, @MIA, JAC, @HOU) – Sell. Owners are quick to panic whenever an older receiver has a couple of poor fantasy efforts in a short amount of time, like Smith has endured in Weeks 5 and 7. But how much do owners really want to buy into a 35-year-old receiver tearing up the second half of the season like he did the first half. The Ravens have an easy enough slate ahead of them that Smith is probably a good hold as a WR2, but in the off-chance another owner is willing to trade any one of the other receivers listed in the top 13 for him, I would do it.
12. Sammy Watkins (bye, KC, @MIA, NYJ, CLE, @DEN, GB, @OAK) – Hold. It is easy to cherry-pick stats, but it is notable that Watkins is a top 10 receiver in fantasy since Kyle Orton was named the starting quarterback. Although the combination of a rookie receiver and the Buffalo winter is a scary proposition when it comes to counting on fantasy numbers, Watkins has quickly proven he is not the usual first-year player. Even better, the Bills do not have a negative matchup after Week 10.
13. Kelvin Benjamin (NO, @PHI, ATL, bye, @MIN, @NO, TB, CLE) – Hold. It seems unlikely that many of this rookie's owners will part with him for anything less than an established WR1 in return. And while a handful of rookie receivers are enjoying solid production halfway through this season, there isn't a very good track record to suggest they will remain there. With that said, the reason he is a "hold" is because Carolina's schedule suggests he could be the exception to the rule.
14. Mohamed Sanu (JAC, CLE, @NO, @HOU, @TB, PIT, @CLE, DEN) – Sell. The eventual return of A.J. Green – even at less than 100 percent – should allow Sanu to return to the fantasy production he enjoyed with Green in the lineup. Unlike Golden Tate, Sanu shouldn't consistently be expected to be a lead receiver with his superstar sidekick out of action. Perhaps there are some owners that will look at Sanu's point totals and think differently. The way I see it, Sanu's ability to maintain this lofty perch depends solely on whether or not Green proves to be an effective decoy for however long it takes for him to return to full health.
15. DeSean Jackson (@MIN, bye, TB, @SF, @IND, STL, @NYG, PHI) – Sell. Jackson has returned to be the lovable boom-or-bust WR3 he was during most of his time in Philadelphia. In three of his eight games, he has tallied no more than 7.9 points in PPR. In his other five games, he has exceeded 19.6. It's the kind of inconsistency I don't mind getting out of my flex spot, but I don't want it in my WR2 slot. The likely return of Robert Griffin III this week probably means more production for Pierre Garcon and Jordan Reed going forward.
16. Alshon Jeffery (bye, @GB, MIN, TB, @DET, DAL, NO, DET) – Buy. Chicago's aerial attack is going to be a bit of a rollercoaster ride every so often simply because that is about how often it seems like Jay Cutler implodes. The Bears face Detroit twice late in the season – making Jeffery a possible low-end WR2 in those contests – but should otherwise be a rock-solid WR2 against what should be a mostly favorable slate.
17. DeAndre Hopkins (PHI, bye, @CLE, CIN, TEN, @JAC, @IND, BAL) – Buy. No matter how often we look, some players' consistent production seems to get lost in the wash; Hopkins is one of those players. With the exception of one Thursday Night Football game, the second-year wideout has scored at least 11.2 points in every other contest. As far as I'm concerned, I feel good about winning my fantasy matchups a lot of the time if I can just pencil in double-digit points from each of my receivers every week.
18. Andre Johnson (PHI, bye, @CLE, CIN, TEN, @JAC, @IND, BAL) – Buy. The same thing that was just said about Hopkins can be repeated here. Houston has a very favorable second-half schedule and, despite the fact that Ryan Fitzpatrick isn't even an average starting quarterback in the league, Johnson and Hopkins have only turned in one single-digit fantasy performance apiece through eight games.
19. Julian Edelman (DEN, bye, @IND, DET, @GB, @SD, MIA, @NYJ) – Sell. Edelman's stock was always going to hinge on how long Rob Gronkowski could stay healthy and whether or not New England could find some other viable receiving options. Brady has taken a liking to Brandon LaFell in recent weeks and will have more snaps in which to throw the ball to Shane Vereen as a result of Stevan Ridley's season-ending knee injury. Edelman remains a good bet to finish with around 80 receptions (he's at 45 through eight games), but he isn't going to score many touchdowns or do much after the catch.
20. Brandin Cooks (@CAR, SF, CIN, BAL, @PIT, CAR, @CHI, ATL) – Hold. Before last week's explosion against the Packers, Cooks would have been a strong "buy". Although I hate to put much stock into such things with such limited sample sizes, it is hard not to notice this rookie is averaging 19.8 fantasy points in three home games versus 6.7 in four road contests. Five of the Saints' final eight games during the fantasy season are at home.
21. Terrance Williams (ARI, @JAC, bye, @NYG, PHI, @CHI, @PHI, IND) – Sell. Every year, a select few receivers make the most of their catches (i.e. possess a low catch-to-touchdown ratio). Williams is averaging a score every 4.16 catches – a rate that is even better than Jerricho Cotchery's 4.6:1 ratio last year or Jordy Nelson's 4.53:1 ratio during his 68-catch, 15-TD campaign in 2011. Perhaps he can keep it up with Dallas' running game working so well, but do owners really want to count on DeMarco Murray and Tony Romo remaining healthy?
22. Mike Wallace (SD, @DET, BUF, @DEN, @NYJ, BAL, @NE, MIN) – Sell. Wallace has been a more-targeted version of the Cowboys' Williams above and I tend to steer clear or trade away any receivers that I believe are putting up unsustainable numbers (i.e. high number of touchdowns with relatively small catch and yardage totals). Ryan Tannehill is still struggling with the deep ball, which takes away one of Wallace's biggest strengths, and Wallace isn't exactly a size mismatch, which makes it unlikely he will continue his first-half red-zone prowess.
23. Pierre Garcon (@MIN, bye, TB, @SF, @IND, STL, @NYG, PHI) – Buy. There's not much recent evidence to suggest he is still the lead receiver in Washington, but Griffin has established a pretty solid working relationship with him over two-plus years and is expected back as soon as this week. DeSean Jackson isn't going away anytime soon and Jordan Reed may end up being the player that benefits the most from RG3's return, so keep expectations around the low-end WR2/high-end WR3 level.
24. Brandon Marshall (bye, @GB, MIN, TB, @DET, DAL, NO, DET) – Buy (reasonably). Marshall and Jeffery combined for a season-high 53 percent of the targets in the Bears' offense last week after averaging 55 percent last year, so there is reason for optimism. It should come as no surprise that in a season where Matt Forte is on pace to become only the third 1,000/1,000 (rushing and receiving) player in league history and Martellus Bennett is on track to catch 94 balls for 1,034 yards and 10 touchdowns that Marshall and Jeffery are failing to meet expectations. However, it seems unlikely that Marshall will continue to be shut out of the end zone (no scores in four straight after scoring five times through four weeks). Given his history with Cutler and somewhat soft second-half schedule, there is reason to believe he'll finish strong.
25. Brandon LaFell (DEN, bye, @IND, DET, @GB, @SD, MIA, @NYJ) – Hold. A strong case could be made for a "buy" recommendation here, although putting much weekly faith into any Patriot outside of Tom Brady and Rob Gronkowski is usually followed by banging one's head against the wall. LaFell has traded extremely useful fantasy totals with mostly disappointing totals over the last five weeks against mostly plus-matchups. Now, New England faces three of the tougher defenses on its schedule over the next four weeks, which could make LaFell even more of an inconsistent fantasy play. Still, the fact that he has caught 19 of his 22 targets over the last three weeks makes it hard to believe he hasn't earned Tom Brady's trust.
26. Kendall Wright (bye, @BAL, PIT, @PHI, @HOU, NYG, NYJ, @JAC) – Buy. One game and five targets with new starting QB Zach Mettenberger is much too small of a sample size, but it is somewhat promising that Wright came away from last week's game with a 17.7 YPC in his first regular-season action with the rookie. The third-year wideout has succeeded as a possession receiver thus far in his NFL career, but made his name as a deep threat at Baylor and should see that part of his game blossom as Mettenberger becomes more comfortable in the offense.
27. Allen Robinson (@CIN, DAL, bye, @IND, NYG, HOU, @BAL, TEN) – Hold. The Jaguars have been the kings of garbage time for over a year, although Robinson has enough talent to hang in the neighborhood he is currently occupying in these rankings. However, the reason he is a "hold" is because most owners treat players on bad offenses as bye-week replacements at best, at least until they generate "name value". In other words, it is unlikely he would bring all that much back in a trade, so feel relatively comfortable that he will deliver steady WR3 production over the second half of the season.
28. James Jones (@SEA, DEN, @SD, KC, @STL, SF, @KC, BUF) – Hold. There are a few parallels between Jones and Allen Robinson (top target thus far on a bad team, for example), but one gets the feeling that Andre Holmes will eventually overtake the ex-Packer for that title – if he hasn't already. Still, Jones has 20 targets over the last two weeks and already surpassed fantasy expectations in a lot of ways. He can probably be counted on to maintain his current level of WR3 production as the Raiders find themselves in garbage time for a good part of the second half of the season.
29. Eddie Royal (@MIA, bye, OAK, STL, @BAL, NE, DEN, @SF) – Hold (assuming he is even on a roster). By now, Royal has established a reputation for falling back to earth quickly after multi-score games. In fact, in my biggest money league, he is the only receiver among the top 43 overall scorers at his position that is not owned.
30. Roddy White (bye, @TB, @CAR, CLE, ARI, @GB, PIT, @NO) – Hold. I like White probably about as much as any receiver in the bottom third of this group to finish in the top 20 (along with Brandon Marshall), but there's no doubt he comes with a fair amount of risk due to Atlanta's porous offensive line. Whereas the Falcons can throw Julio Jones a few quick-hitting screen passes to help keep his fantasy numbers from completely plummeting, White is mostly used nowadays in the intermediate passing game. White's saving grace may be the remaining schedule, which doesn't contain many high-quality pass defenses.

Tight Ends
1. Rob Gronkowski (DEN, bye, @IND, DET, @GB, @SD, MIA, @NYJ) – Hold. A pretty strong case could be made for "sell" here given his injury history, but this season is shaping up as one of those where very little is holding to form. Gronkowski has pretty much been the tight end equivalent of Demaryius Thomas over the last month, so if owners are inclined to believe he'll last a full season for the first time since 2011, they should enjoy the ride for as long as it lasts.
2. Martellus Bennett (bye, @GB, MIN, TB, @DET, DAL, NO, DET) – Hold. It appears Bennett has shed his "Mr. September" label, carrying his early-season success into October for the first time in his career. While owners should probably expect the Bears to find a way to get their receivers more involved (and lessen their reliance on Bennett and Forte in the passing game), the seven-year veteran has at least seven targets in all but one game and is all but assured of setting career highs across the board.
3. Antonio Gates (@MIA, bye, OAK, STL, @BAL, NE, DEN, @SF) – Sell. In a year of oddities, Gates may be one of most unlikely success stories. The 34-year-old is enjoying his best PPR season since playing 10 games back in 2010. This after appeared to be in serious decline during the second half of 2013. Remarkably, Gates is tied with Julius Thomas, Arian Foster and Cobb for the league lead in touchdowns with nine. Can he maintain that pace? Considering his age, the likelihood that Keenan Allen and Royal to find the end zone a little bit more over the second half of the season and the return of Ryan Mathews, recent history suggests Gates probably isn't a good bet to score 4-5 more times.
4. Greg Olsen (NO, @PHI, ATL, bye, @MIN, @NO, TB, CLE) – Buy. With all the red matchups, this one needs a bit of explanation, but it really boils down to the fact that New Orleans, Philadelphia, Atlanta and Minnesota haven't really faced many (any, in some cases) top tight ends. Perhaps perspective owners can sell Olsen's current owners that his Week 8 one-catch performance was a sign of things to come, although I'm not so naïve to believe that will work in 99 percent of leagues. Regardless, not every team will be able to use Richard Sherman to shadow Kelvin Benjamin and roll the rest of its coverage over to Olsen like Seattle did. Carolina's remaining schedule is perhaps the least intimidating one in the NFL, making Cam Newton, Benjamin and Olsen all likely to be significant parts of many fantasy championship runs.
5. Julius Thomas (@NE, @OAK, @STL, MIA, @KC, BUF, @SD, @CIN) – Buy. There aren't too many windows to acquire top-tier players during the course of the fantasy season, although Thomas may be giving his potential new owners one as we speak with consecutive disappointing performances. At the very least, it is safe to say he probably will not come this cheap the rest of the season as he will at this moment (not that I expect him to come cheap now). Unlike Gates, it doesn't seem impossible that Thomas could approach 18-20 scores.
6. Delanie Walker (bye, @BAL, PIT, @PHI, @HOU, NYG, NYJ, @JAC) – Sell. In terms of his current ranking, Walker is mostly living off two big games in September. The case could be made that a young quarterback like Zach Mettenberger will rely heavily on his tight end, but the rookie has a big arm and shown an affinity for Justin Hunter since the preseason.
7. Jimmy Graham (@CAR, SF, CIN, BAL, @PIT, CAR, @CHI, ATL) – Buy. As with any player that is still recovering from an injury, caution needs to be exercised. Owners would be foolish to believe his shoulder injury is a thing of the past after seeing him post a 5-59-1 line last week as Graham made it clear he was still favoring his right shoulder, from the way he blocked to the way he landed when he was tackled. As long as owners are willing to deal with a potential aggravation of the injury over the next 2-4 weeks, he should be worth the risk if can avoid a setback.
8. Dwayne Allen (@NYG, bye, NE, JAC, WAS, @CLE, HOU, @DAL) – Hold. Unlike many of the other players in this article, it should come as no surprise if Allen continues (or improves) on his 44-652-12 pace. The 2012 third-round pick is Andrew Luck's clear go-to guy in the red zone and is probably only a Coby Fleener injury away from becoming a top-five player at his position. Even if that doesn't happen, it seems obvious that Allen's usage in the passing game will pick up, only because it would be a waste if it doesn't.
9. Larry Donnell (IND, @SEA, SF, DAL, @JAC, @TEN, WAS, @STL) – Hold. Was Week 7's seven-catch, 90-yard effort the beginning of another run that took a nasty turn after this three-score explosion in Week 4? Chances are his owners aren't going to get what they are looking for in return in a trade, but Eli Manning's willingness to keep his tight end involved over the years is reason enough to keep starting him, especially considering what limited other options his owners likely have available to them at the position.
10. Heath Miller (BAL, @NYJ, @TEN, bye, NO, @CIN, @ATL, KC) – Sell (if you can). Miller has enjoyed two huge fantasy performances and posted a lot of duds in between. The Steelers' offensive priorities nowadays are getting Antonio Brown and Le'Veon Bell the ball in between the 20s and things are quickly trending towards getting Martavis Bryant the ball in the red zone. Take away the short dump-off passes and red-zone usage that has been Miller's bread-and-butter over the years and his owners have the inconsistent fantasy tight end he has proven to be this year.
11. Travis Kelce (NYJ, @BUF, SEA, @OAK, DEN, @ARI, OAK, @PIT) – Buy. Kelce paces the team with 28 catches and is tied for the lead with 37 targets despite playing roughly half of his team's snaps, meaning two things are keeping him from exploding onto the fantasy scene: 1) the recent success of the running game and 2) HC Andy Reid's unwillingness to give him more snaps. Virtually everyone that has more than a passing interest in football has seen the talent, but Reid has only moderately bumped up his snaps in the two weeks since the Chiefs' bye. Keep the faith, as perhaps his best remaining matchup takes place this weekend.
12. Jason Witten (ARI, @JAC, bye, @NYG, PHI, @CHI, @PHI, IND) – Sell (now if you can or next week at the latest). Despite perhaps its best defensive effort of the season on Monday Night Football, Washington has shown little ability to guard the middle of the field or defend a capable tight end this year. In short, I wouldn't expect to see too many more 5-70-1 lines from Witten this year. One such effort might come this week against Arizona, although I wouldn't bet too much on it either. Given the success of the running game, Witten has settled into a low-end fantasy TE1 at best.
13. Niles Paul (@MIN, bye, TB, @SF, @IND, STL, @NYG, PHI) – N/A. A true testament to how few consistent performers there are at the position, Paul really hasn't scored more than 7.8 points in PPR since Week 3. Jordan Reed is healthy (for now), so Paul can be dropped in most leagues.
14. Owen Daniels (@PIT, TEN, bye, @NO, SD, @MIA, JAC, @HOU) – Hold. Daniels was reportedly back at practice on Wednesday, less than a week after undergoing a knee scope, so "at practice" figures to be the key words for the 32-year-old. Players usually need at least 2-3 weeks to recover from such a procedure, so it is unlikely he did much of anything. At any rate, he shouldn't be expected back before Week 10. As sad as it is, he's probably a top-10 option at the position when he does return, although he gave us reason to believe with two double-digit efforts prior to the scope.
15. Jace Amaro (@KC, PIT, bye, @BUF, MIA, @MIN, @TEN, NE) – Hold. Chances are not too many owners have to deal for Amaro, not that he would bring much in return. The rookie has been a bit of an every-other-week proposition for most of the season, although he did see his snap count spike to 55 last week (previous high was 36). Theoretically, the addition of Percy Harvin and insertion of Michael Vick into the lineup at quarterback should extend plays, buying more time for players like Harvin and Amaro to get open. However, for that to work, Vick is going to need to show the ability to come off his first read more than he did against Buffalo.

Suggestions, comments, about the article or fantasy football in general? E-mail me or follow me on Twitter.

---
Doug Orth has written for FF Today since 2006 and has been featured in USA Today's Fantasy Football Preview magazine since 2010. He has hosted USA Today's hour-long, pre-kickoff fantasy football internet chat every Sunday over the past two seasons and appears as a guest analyst before and during the season on Sirius XM's "Fantasy Drive" as well as 106.7 The Fan (WJFK – Washington, D.C). Doug is also a member of the Fantasy Sports Writers Association.