Deadlines spur action in just about every walk of life, so why should fantasy football be any different?

With the fantasy season hitting its midpoint this week, the trade deadline is approaching very quickly in many leagues. In my most important leagues, Friday is the last day we can trade. As such, it makes sense to use the next two weeks to see which stocks need to be bought, sold or held.

This week, I chose to take the top 20 overall scorers at quarterback and top 30 at running back and briefly summarize what I would do if I had them on my team. Next week, I will tackle the wide receiver and tight end positions.

Following each player's name, you will find his remaining schedule and which matchups are positive (green), neutral (no color) or negative (red), just as it appears on the FFToday Strength of Schedule page. Just as the page states, the positive-neutral-negative scores are generated from results over the last five weeks.

Note: PPR scoring is assumed.


Quarterbacks

1. Andrew Luck (@PIT, @NYG, bye, NE, JAC, WAS, @CLE, HOU, @DAL) – Hold. Unless his owners are in a truly desperate position to upgrade some other position on their team, there's not really much of a reason to believe Luck can't maintain his current pace with a plethora of weapons against one of the softer second-half pass schedules in fantasy.

2. Peyton Manning (SD, @NE, @OAK, @STL, MIA, @KC, BUF, @SD, @CIN) – Hold. Manning essentially breezed through what should have been a brutal first-half schedule. Ronnie Hillman has been able to give the Broncos a bit of a ground game and Manning is doing a masterful job keeping all of his receivers and tight ends happy and healthy.

3. Aaron Rodgers (@NO, bye, CHI, PHI, @MIN, NE, ATL, @BUF, @TB) – Hold. Not only does the schedule suggest Rodgers will have a second half to remember, but the three-time Pro Bowler also has a 17:0 touchdown-to-interception ratio since Week 1. Furthermore, the emergence of rookie Davante Adams gives Rodgers three receivers that no remaining opponent has much of a prayer to stop.

4. Philip Rivers (@DEN, @MIA, bye, OAK, STL, @BAL, NE, DEN, @SF) – Hold. About the only thing that has managed to slow down this potential NFL MVP are teams that do a better job of playing ball-control offense than the Chargers, who do it about as well as any team in the game today.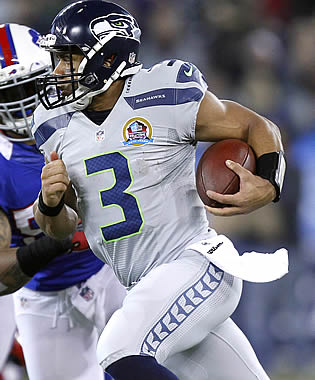 Russell Wilson has likely hit his fantasy peak in 2014.
5. Russell Wilson (@CAR, OAK, NYG, @KC, ARI, @SF, @PHI, SF, @ARI) – Sell. Wilson has collected 240 of his 327 rushing yards and all three of his ground scores over the last three weeks, which has taken him from a low-end QB1 to high-end QB1 status. It seems highly unlikely Seattle wants its quarterback running that often when it knows its offense functions best when it goes through Marshawn Lynch. If the opportunity presents itself to package Wilson in a deal for any of the four aforementioned signal-callers, take advantage of it.
6. Jay Cutler (@NE, bye, @GB, MIN, TB, @DET, DAL, NO, DET) – Sell. Although his play on the field has sporadic, Cutler had been a pillar of fantasy consistency before last week's debacle against Miami. Cutler has been very good on the road this season for what it is worth, so perhaps away games versus the Patriots and Packers will help rebuild his stock. With that said, the Bears face the Lions' vaunted pass defense (twice) and the Cowboys over the last four contests of the fantasy season.
7. Matt Ryan (DET, bye, @TB, @CAR, CLE, ARI, @GB, PIT, @NO) – Sell. It's no coincidence that once the Falcons started losing offensive linemen left and right that Ryan's fantasy totals have suffered. His remaining schedule isn't overly daunting once Atlanta returns from London this week, but he's a prime candidate to get beat up in the second half behind the Falcons' decimated front five.
8. Joe Flacco (@CIN, @PIT, TEN, bye, @NO, SD, @MIA, JAC, @HOU) – Sell. Nearly half of Flacco's fantasy production has come in two games (Carolina and Tampa Bay). In every other game, he has yet to score 20 points, which is typically the benchmark I expect my quarterbacks to hit on a regular basis.
9. Colin Kaepernick (bye, STL, @NO, @NYG, WAS, SEA, @OAK, @SEA, SD) – Hold. Although Kaepernick teases us from time to time with truly special performances, he has quietly become a pretty consistent mid-level fantasy QB1 this year as he is regularly throwing at least 30 passes per game (he only hit that mark once during the 2013 regular season). San Francisco's final two – and three of its last four – games of the fantasy season will be no picnic, but it shouldn't be impossible for him to hold his own in those contests either.
10. Tony Romo (WAS, ARI, @JAC, bye, @NYG, PHI, @CHI, @PHI, IND) – Buy. The Cowboys are running the ball so effectively and efficiently, it doesn't matter that he is on track for a career low in passing attempts (for a full season). A strong case can also be made to sell Romo considering how many injuries he is currently dealing with, but he has a nice second-half schedule in front of him if he can remain on the field.
11. Eli Manning (bye, IND, @SEA, SF, DAL, @JAC, @TEN, WAS, @STL) – Sell now, buy later (if you can). Few quarterbacks have an easier path throughout the fantasy playoffs than Manning, but he's going to be hard-pressed to achieve any level of consistency before then without Victor Cruz over the next month-plus with a number of difficult opponents.
12. Tom Brady (CHI, DEN, bye, @IND, DET, @GB, @SD, MIA, @NYJ) – Hold. I find myself doubting Brady's fantasy "resurgence" since all three of his bounce-back efforts have come against somewhat suspect secondaries. We should get a gauge on his ability to sustain his current level of production in Week 9 against Denver, which should give us a good idea as to whether or not he can three of the four red matchups he has coming out of the Week 10 bye.
13. Matthew Stafford (@ATL, bye, MIA, @ARI, @NE, CHI, TB, MIN, @CHI) – Buy. It should come as no shock that Stafford has been mediocre since Calvin Johnson has been limited or unable to play due to his high ankle sprain. Megatron could be back as early as this week, meaning life should get back to normal either this week or after the Week 9 bye. Either way, Detroit does not have a red matchup for its passing game the rest of the way.
14. Drew Brees (GB, @CAR, SF, CIN, BAL, @PIT, CAR, @CHI, ATL) – Buy. It's not so much as if Brees has struggled this season as it is that he has yet to deliver one or two of those "wow" games (usually at home) that really inflate his overall numbers. With that said, he's going to have his fair share of softer matchups over the second half of the season and it bears mentioning that six of his final nine games during the fantasy season will be played in the Superdome.
15. Ben Roethlisberger (IND, BAL, @NYJ, @TEN, bye, NO, @CIN, @ATL, KC) – Buy. "Big Ben" has been a fairly predictable quarterback thus far, scoring more than 20 fantasy points in each of his three home contests and fewer than 20 in his four road games. His two remaining red matchups are at Heinz Field, while none of his four away tilts are against opponents that have been all that great at defending the pass.
16. Cam Newton (SEA, NO, @PHI, ATL, bye, @MIN, @NO, TB, CLE) – Buy. After this week, Newton is about as strong of a buy as there is at the quarterback position. The defenses of the NFC South have been largely pathetic to this point of the season and it is fair to say that none of the Panthers' remaining opponents should be all that effective in stopping Greg Olsen or Kelvin Benjamin. Carolina's own defense has been a disappointment, which makes it likely the Panthers could be in a few shootouts the rest of the way.
17. Ryan Tannehill (@JAC, SD, @DET, BUF, @DEN, @NYJ, BAL, @NE, MIN) – Buy. Ever since HC Joe Philbin publicly declined to endorse him as a starter prior to Miami's Week 4 rout of Oakland in London, Tannehill has been among the best quarterbacks in fantasy. While it bears mentioning that none of the three foes during his "hot streak" possess dominant defenses, it is also notable that most of the Dolphins' remaining opponents are neutral matchups for quarterbacks.
18. Nick Foles (@ARI, @HOU, CAR, @GB, TEN, @DAL, SEA, DAL, @WAS) – Sell. To this point of the season, something appears off about Foles and it's not just because DeSean Jackson is no longer around. His owners can take some solace in the fact that he doesn't have another red matchup for the rest of 2014, while his detractors can point to the fact he was average in fantasy for three straight games before the Eagles' Week 7 bye. Perhaps Foles has been unsettled by all of Philadelphia's offensive line injuries. What I do know is that I would not want him as the only quarterback on my roster right now.
19. Alex Smith* (STL, NYJ, @BUF, SEA, @OAK, DEN, @ARI, OAK, @PIT) – Buy. Smith probably isn't going to lead many teams to their league's title game. What he should be able to do, however, is help just about any owner get solid production during the major bye weeks. Four of the next five weeks feature defenses with struggling secondaries, as do the three teams Kansas City will face in the fantasy playoffs.
20. Ryan Fitzpatrick (@TEN, PHI, bye, @CLE, CIN, TEN, @JAC, @IND, BAL) – Sell. Frankly, outside of two-quarterback leagues, Fitzpatrick should not be owned. In fact, about the only reason he appears on this list is because he has played at least one more game than any other quarterback below him.
* Denotes that Kirk Cousins was skipped after HC Jay Gruden first announced that Robert Griffin III would return as the starter. Gruden later stated that if RG3 could not go in Week 8, Colt McCoy would draw the start.

Running Backs
1. Matt Forte (@NE, bye, @GB, MIN, TB, @DET, DAL, NO, DET) – Hold. It really doesn't matter if his 7.4 catches per game is sustainable (he has a league-leading 52 receptions). What does matter is that HC Marc Trestman is using him in a manner in which he can maintain his current level of fantasy production and stay healthy, unlike the player right below him on this list. It also helps the Bears don't have another red matchup for the remainder of the season in the running game.
2. DeMarco Murray (WAS, ARI, @JAC, bye, @NYG, PHI, @CHI, @PHI, IND) – Sell. If his owners have already handcuffed him with Joseph Randle and Lance Dunbar, then enjoy the ride. Otherwise, this is your weekly reminder to do so (assuming Murray's non-contact ankle injury scare last week wasn't enough). Murray has a pair of difficult matchups over the next two weeks and is on pace for a NFL-record 427 carries. And to be clear, it isn't if a player with his workload can remain healthy – three other backs in NFL history had more touches through seven games – but whether or not his owners want to believe someone with Murray's durability issues can do it.
3. Le'Veon Bell ** (IND, BAL, @NYJ, @TEN, bye, NO, @CIN, @ATL, KC) – Buy. Bell is almost a lighter version (in a fantasy sense) of Forte in that much of his usage is coming as a receiver. The second-year back has proven he can deliver in difficult spots (Week 2 at Baltimore) and could be in line for a potentially dominant stretch around the fantasy playoffs.
4. Arian Foster (@TEN, PHI, bye, @CLE, CIN, TEN, @JAC, @IND, BAL) – Hold. Given how public his injury history is, it is unlikely Foster's owners are going to be able to sell for what a player that is producing as much and as consistently as he is. Conversely, he is enough of an injury risk that he is a definite gamble to acquire. Handcuff him with Alfred Blue and hope his back and hamstrings have another half-season in them.
5. Ahmad Bradshaw (@PIT, @NYG, bye, NE, JAC, WAS, @CLE, HOU, @DAL) – Sell. A strong case could be made either way for the ex-Giant, who is tied for fourth in the league among players at all positions with six receiving touchdowns. Can owners really expect a part-time running back with an extensive injury history to stay healthy long enough to keep turning red-zone passes in the flat into touchdowns? Given where he was drafted this summer, I'd be happy to turn this likely RB3 in August into a WR1 in a trade.
6. Marshawn Lynch (@CAR, OAK, NYG, @KC, ARI, @SF, @PHI, SF, @ARI) – Buy now, sell in about three weeks (if you can). I've said for years that Lynch is interesting because he is one of the few physical running backs in the league that has proven to be pretty darn close to matchup-proof. With that said, after a nice three-game stretch against mostly below-average defenses, Seattle has a potentially brutal running-game schedule for the remainder of the season.
7. Justin Forsett (@CIN, @PIT, TEN, bye, @NO, SD, @MIA, JAC, @HOU) – Buy. Perhaps consecutive down weeks have Forsett's owners questioning his ability to keep the lead-back job in Baltimore. While it is possible that his workload may soon catch up with him (his career high in touches is 156; he has 110 through seven games), it seems just as likely that his schedule (no red matchups left) will help him stay very relevant.
8. Giovani Bernard (BAL, JAC, CLE, @NO, @HOU, @TB, PIT, @CLE, DEN) – Hold. Owners have probably gotten a pretty good sense of what will happen with the second-year back when opponents can contain (or don't have to deal with) A.J. Green over the last three weeks. Fortunately for Bernard, it appears only two more teams left on the Bengals' schedule can realistically expect to bottle up Green (even if he is limited for the rest of the season): Baltimore and Denver.
9. Andre Ellington (PHI, @DAL, STL, DET, @SEA, @ATL, KC, @STL, SEA) – Hold. There's plenty of reason to sell with Ellington (remaining schedule/foot/ribs/low TD upside) and also plenty of reason to buy (good offense/consistent workload/big-play threat). In the end, the combination of those factors probably makes him a good RB2 hold, as does his yeoman's work in the passing game.
10. Fred Jackson (@NYJ, bye, KC, @MIA, NYJ, CLE, @DEN, GB, @OAK) – Buy. Demand to acquire a 33-year-old back that will likely miss the next 2-4 weeks with a groin injury doesn't figure to be all that high, so his immediate "sell window" has closed. If and when he returns healthy, though, it is possible he will do so as a featured back with C.J. Spiller out until at least late December. Better yet, Buffalo does not have a red run-game matchup the rest of the way.
11. Lamar Miller (@JAC, SD, @DET, BUF, @DEN, @NYJ, BAL, @NE, MIN) – Hold. It seems unlikely that Miller's owners will be all that likely to part with the Dolphins' new clear-cut lead back, especially considering that he is probably their RB2 at worst and possibly even a flex. Just be aware that while the schedule only shows two red matchups, Miller cannot be expected to be dominant against the likes of the Lions, Broncos or Jets either.
12. Shane Vereen (CHI, DEN, bye, @IND, DET, @GB, @SD, MIA, @NYJ) – Sell. Owners travel down this road seemingly every year. If owners could trust Vereen to hold up for more than 11 games for the first time in his four-year career in 2014, then he is a strong RB2 buy because this version of the Patriots will almost certainly need to pass to win. On the other hand, putting any kind of faith in a Bill Belichick backfield usually leads to a great deal of frustration.
13. Chris Ivory (BUF, @KC, PIT, bye, @BUF, MIA, @MIN, @TEN, NE) – Sell. Although I don't get much of a chance to discuss him, I'm an unabashed Ivory fan because he runs the ball like every carry will be his last. It is also the one reason why I am open to trading him because his style tends to lead to missed time. In terms of his situation, however, he's in a great spot now; Ivory is edging every so close to a feature-back workload and should benefit from the arrival of Percy Harvin.
14. Trent Richardson (@PIT, @NYG, bye, NE, JAC, WAS, @CLE, HOU, @DAL) – Buy. This recommendation is based almost solely on Bradshaw getting hurt, which was the one reason why I suggested selling him earlier. It would be wrong to suggest that Richardson would absorb Bradshaw's fantasy numbers in such a scenario, but perfectly fine to believe he take on much of the ex-Giant's work in the passing game (albeit with less effectiveness). The Colts should be able to play with the lead a fair amount moving forward, which should help ensure that Richardson remain a solid flex play at the very least.
15. Eddie Lacy (@NO, bye, CHI, PHI, @MIN, NE, ATL, @BUF, @TB) – Buy. This one is tricky and has very little to do with my opinion of Lacy as a runner and much more to do with the Packers' recent insistence on keeping James Starks involved. Excluding Week 4, Lacy has not carried the ball more than 14 times, which makes it virtually impossible for him to impose his punishing runs on the defense. However, if owners can simply view him as a RB2 going forward with occasional RB1 upside in a high-scoring offense, then he could key a number of fantasy championship runs. With the exception of Buffalo in Week 15, Green Bay has a very favorable remaining schedule.
16. Pierre Thomas (GB, @CAR, SF, CIN, BAL, @PIT, CAR, @CHI, ATL) – Hold. There's not much owners can do here except pick up Travaris Cadet in the wake of Thomas' shoulder injury, which is expected to sideline him 2-3 weeks. Cadet has been targeted 20 times (in 55 snaps!) over the last three games, so it is realistic to believe his usage will increase in that regard while Thomas is out. It doesn't seem likely that Thomas will get bumped from the Saints' ever-expanding backfield committee during his absence, but it is clear New Orleans likes what it has in Cadet.
17. Branden Oliver (@DEN, @MIA, bye, OAK, STL, @BAL, NE, DEN, @SF) – Hold. Owners should enjoy this ride as long as possible, if for no other reason because we really don't have any kind of firm idea as to when Ryan Mathews will return. If Oliver's owners can fetch an established RB2 or top-notch WR2 now, they probably should because San Diego seems to favor a committee backfield approach. The Chargers' run-game schedule is also quite difficult in the second half of the season, so Oliver is unlikely to dominate (with 30 or so snaps per game when Mathews returns) moving forward.
18. Antone Smith (DET, bye, @TB, @CAR, CLE, ARI, @GB, PIT, @NO) – Buy (but very cheaply). In case you missed it earlier, no team in the NFC South is playing particularly well defensively. There's no guarantee Smith is going to see more than five touches in any game this season, although it would not shock me at all if he is able to score 3-4 times against the Falcons' mostly unchallenging second-half slate.
19. Matt Asiata (@TB, WAS, bye, @CHI, GB, CAR, NYJ, @DET, @MIA) – Hold or sell (presumably to the Jerick McKinnon owner). I'd be hesitant to drop the Week 4 star since the only thing keeping him from being valuable once again is an injury (or perhaps a few pass protection breakdowns by the rookie), although it goes without saying the Vikings have determined the future is now by turning to McKinnon. The Vikings have a pretty favorable run-game schedule in the second half, so Asiata's owners would be well-served to hold him if they have the bench space to do so. As for McKinnon, he should be able to be a solid (and sometimes spectacular) RB2 until the fantasy playoffs, when he could very easily struggle.
20. Darren Sproles (@ARI, @HOU, CAR, @GB, TEN, @DAL, SEA, DAL, @WAS) – Buy. Sproles really dodged a bullet in regards to his knee injury and will probably be limited (if not ineffective) this weekend against Arizona. With that said, the cavalry (i.e. the offensive line) should be returning to Philadelphia over the next few weeks, which may enable Sproles to revisit some of the value he enjoyed over the first two games of the season –before the Eagles suffered a rash of injuries up front.
21. Rashad Jennings (bye, IND, @SEA, SF, DAL, @JAC, @TEN, WAS, @STL) – Sell (when healthy). Jennings was performing at a RB1 level until he got hurt and could revisit that level a few times down the stretch, but a front five that was blocking so well through four games (especially in the run game) has fallen off in each of the last three. Without Cruz around to threaten defenses, Jennings could be in for some tough times against the stouter defenses on the Giants' second-half slate.
22. Alfred Morris (@DAL, @MIN, bye, TB, @SF, @IND, STL, @NYG, PHI) – Hold. There's probably not going to be a vast market for Morris, who has scored 6.5 or fewer points in each of his last three games in PPR formats. As a bit of a one-trick pony, he is often the unfortunate victim of Washington's inability to play with and/or hold onto a lead. Morris' upcoming run-game schedule is favorable, but how likely will his team be in front against the likes of Dallas, San Francisco and Indianapolis?
23. LeSean McCoy (@ARI, @HOU, CAR, @GB, TEN, @DAL, SEA, DAL, @WAS) – Buy. Owners were treated to McCoy's finest fantasy effort in four games right before his Week 7 bye, but even with all the injuries on the Eagles' offensive line, it seems hard to believe "Shady" has one game in which he has averaged more than four yards per carry. Still, in the RBBC world we live these days, McCoy still needs to be treated as a top-10 back because he is a good bet for 20 touches every week. If there is an owner in your league getting tired of hoping for a return to his 2013 form (especially when it comes to scoring touchdowns), make an offer. It may be end up being an exercise in futility, but I'd be willing to bet the price isn't as high as you might think.
24. Jamaal Charles (STL, NYJ, @BUF, SEA, @OAK, DEN, @ARI, OAK, @PIT) – Buy. At the halfway point of the season, more owners than not simply compare point totals and base much of their judgment on a trade possibility on the difference. Charles has essentially played three-plus games (underused in Week 1, injured in Week 2 and sat out Week 3), meaning he could actually be undervalued in more than a handful of leagues. There's virtually no chance he comes anywhere close to last year's spectacular production, although HC Andy Reid seems more committed to the run this year than in any I can remember since his early days in Philadelphia.
25. Joique Bell (@ATL, bye, MIA, @ARI, @NE, CHI, TB, MIN, @CHI) – Buy. Bell may not be my strongest "buy" at the position, but he's close to the top. (Same goes for Reggie Bush.) Bell's production and snaps have increased since Bush's ankle injury, but the first four games of the season indicate the Lions want the duo to pretty much split snaps right down the middle. Detroit gets a dream matchup this week, goes on a bye in Week 9 and faces only one red matchup thereafter.
26. Darren McFadden (@CLE, @SEA, DEN, @SD, KC, @STL, SF, @KC, BUF) – Buy. In a bit of a stunning development, McFadden has made it nearly half the season without pulling his troublesome hamstring. Even more surprising is the fact that he has been moderately productive in PPR formats, delivering double-digit point totals in five straight weeks. He looks to be the clear lead back in Oakland and, as most of us are well aware, there aren't many of those anymore. However, a quick look at his fantasy playoff schedule should tell his owners they need to have another option in place by then.
27. Knile Davis (STL, NYJ, @BUF, SEA, @OAK, DEN, @ARI, OAK, @PIT) – Hold (or buy cheaply now if you are a Charles owner). There's not much explanation needed here. If Charles gets hurt anytime soon, Davis is an every-week RB1 for as long as he is out. For a non-Charles owner, Davis is just a high-upside handcuff with limited standalone value.
28. Frank Gore (bye, STL, @NO, @NYG, WAS, SEA, @OAK, @SEA, SD) – Hold. It is highly doubtful Gore is going to bring any amount of solid return in a trade at the moment. He's coming off two games in which the Niners didn't open up many holes for him, appears to be losing more carries than usual to rookie Carlos Hyde and doesn't contribute much in the passing game anymore. Furthermore, reports surfaced Wednesday that Marcus Lattimore will be allowed to practice in the near future. Gore is still the main back in San Francisco for now, but it sure seems like the Niners aren't far away from making this backfield a committee.
29. Reggie Bush (@ATL, bye, MIA, @ARI, @NE, CHI, TB, MIN, @CHI) – Buy. Even though their games are different in a lot of ways, I'm going to recommend Bush just as much as his teammate Bell, thanks in large part to a highly favorable schedule. In a PPR format, I'll be plenty happy to use Bush as my flex and take the chance that he can do more with his likely 10 carries and five catches (when healthy) than Bell can with his 15 touches. With its top-notch defense, I expect Detroit to lean on Bell and Bush a lot even after Calvin Johnson returns. Bush owners that want to play it safe should handcuff him to Theo Riddick.
30. Roy Helu (@DAL, @MIN, bye, TB, @SF, @IND, STL, @NYG, PHI) – Buy. There is no threat of a coup taking place at the running back position in Washington, although given its upcoming schedule and inability to stick with the run all game, it is reasonable to assume that Helu and Morris will trade off leading the position in fantasy points. Helu's true value, like Knile Davis', is as a high-upside handcuff who could deliver high-end RB2/low-end RB1 numbers in the event of an injury to Morris.
** - It is fair to ask how one of fantasy's top backs could be a "buy". One reason for this was a trade I was able to pull off in my biggest PPR money league earlier this week in which I was able to deal Lacy, Asiata and Mike Wallace for Bell, Bush and Harvin. For reasons I'll get into next week, I'm not overly high on Wallace going forward and have Jordy Nelson as my WR1, meaning I didn't feel like I was giving up a whole lot to get a top-five back, a top-end flex/low-end RB2 option and a player in Harvin that I believe could be usable in fantasy in 2-4 weeks.

In short, let this be a reminder that owners never really know how much potential trade partners value players unless they ask.
Suggestions, comments, about the article or fantasy football in general? E-mail me or follow me on Twitter.

---
Doug Orth has written for FF Today since 2006 and has been featured in USA Today's Fantasy Football Preview magazine since 2010. He has hosted USA Today's hour-long, pre-kickoff fantasy football internet chat every Sunday over the past two seasons and appears as a guest analyst before and during the season on Sirius XM's "Fantasy Drive" as well as 106.7 The Fan (WJFK – Washington, D.C). Doug is also a member of the Fantasy Sports Writers Association.