"It's like gambling somehow. You go out for a night of drinking and you don't know where you're going to end up the next day. It could work out good or it could be disastrous. It's like the throw of the dice."

- Jim Morrison

Success in any walk of life rarely comes as a result of waiting your turn or hoping luck will find you. Certainly, there are plenty of instances in which patience pays off, but life typically rewards the bold more often than the meek. Then again, it is often the people that find the happy medium between the two that find consistent success in areas where most people do not. That certainly tends to be the case when it comes to fantasy football, where understanding a good draft is only the start of the journey. Composers can create the most beautiful music on a sheet of paper, but they need to find the right cast of players to bring their art to life. Similarly, owners can feel they nailed their draft, only to discover they need to continue tweaking the members of their symphony in order to achieve the desired result.

New Pro Football Hall of Famer Aeneas Williams used a quote during his induction speech this summer that really summarizes how I choose to live my life and also encapsulates my approach to fantasy football:

"Begin with the end in mind…"

I understand why many fantasy owners don't like to look too far ahead. It's unpredictable and scary…I get it. But I have yet to meet a fantasy owner who doesn't want to win, so why do so many use the approach, "I'll worry about the playoffs when I get there."? In other words, rather than expecting success, most owners are satisfied leaving their playoff fate to chance rather than exercising what little control they have over it. Ask any of the greats in any team sport and I'm sure they will say their preparation for a title run didn't start by letting the chips fall where they may.

Most of my regular readers will remember that my last Bold Predictions column was heavy on the Denver Broncos and for good reason. This year's piece won't be a repeat of that, although the Green Bay Packers are definitely set up for a great deal of offensive success.

For what is worth, I approach my Big Boards each year as if I am attending a suit-and-tie affair and my Bold Predictions as if I'm going business-casual. In other words, I take May-August pretty seriously and try to relax a bit with my final preseason contribution. As you make your way through the rest of this column, I ask that you consider the prediction and the rationale behind it (and remember it only if I am correct). After all, it doesn't do my reputation any good if you remember everything I get right AND everything I get wrong…

Note: I receive e-mails about this column every year, so allow me to issue this disclaimer for those that will inevitably ask: my Big Boards are what I believe will happen. These predictions should be considered more what I believe could happen. Additionally, all these predictions were made with PPR scoring in mind. Also, bold does not mean ridiculous, so I apologize in advance if the following predictions don't meet your expectations as it relates to being bold.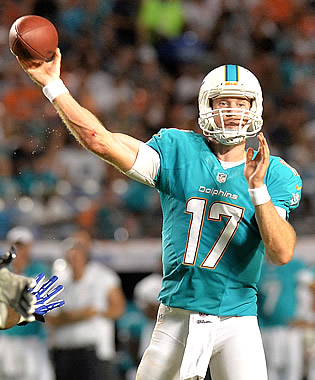 Ryan Tanehill will fit just fine into Bill Lazor's offense.
1. Ryan Tannehill will end up among the top 10 quarterbacks in fantasy AND Matt Cassel will finish among the top 15.
I might as well start off with a bit of an eyebrow-raiser. As much as former OC Mike Sherman should have been good for Tannehill, he wasn't. Sherman knew he had an athletic quarterback and one of the best deep threats in the game in Mike Wallace behind a bad offensive line. If you think that sounds like a recipe for a play-caller to lean on the running game and utilize a lot of play-action passing while getting Tannehill outside the pocket, you're not the only one. Instead, Tannehill ranked 17th (out of 22 qualifying quarterbacks) in play-action percentage (14.8) and only three teams attempted a higher percentage of pass plays (62.99) than Miami. The result: a league-high 58 sacks. This year, new OC Bill Lazor takes over for Sherman and has installed the up-tempo, shotgun-heavy spread attack that Chip Kelly used with great success as a rookie head coach last year (with Lazor serving as his QB coach). And although Dolphins HC Joe Philbin publicly stated last week that he thought his offense would move at a faster pace than it has to this point, it is already very clear from preseason action that Tannehill is going to have the same kind of running lanes that allowed a limited athlete like Nick Foles (who is not a former college receiver like the Dolphins' quarterback) to run for 221 yards and four touchdowns in 13 games (10 starts) last year. Let's also not forget that Wallace also won't be used solely as the league's most highly-paid clear-out receiver anymore and that Miami added significant talent to the front five as well. Last but not least, Tannehill will have bigger passing windows to throw through because of the wide-open nature of the new offense, while his athleticism will allow him to extend plays. It would not surprise me at all if the third-year pro surpassed 4,000 yards passing, 500 yards rushing and 30 total touchdowns.
So maybe the notion of Tannehill ascending into the top 10 fantasy quarterbacks isn't bold enough for your liking since he is rated as my No. 17 signal-caller. Fine. Let's take a quarterback that isn't an overwhelming favorite to keep his job all season long and have him crack the top 15. I remain firmly in on the Teddy Bridgewater bandwagon and believe he is easily the better quarterback long-term, but the new starter in Minnesota is most definitely set up for success if he can keep his job through the first five weeks of the season against a brutal schedule (Rams, Patriots, Saints, Falcons and Packers). Cassel doesn't exactly wow me and could easily give way to Bridgewater around Week 6 if the Vikings start out 2-3 or worse, but the reason I like the veteran here is because his supporting cast (including new OC Norv Turner) will probably be too good to fail. Assuming good health, it is pretty much a given Adrian Peterson will give him a ground game. Cordarrelle Patterson has already emerged as a dynamic playmaker. Kyle Rudolph is already a beast in the red zone and will be utilized heavily downfield. Greg Jennings, who was the clear top option on a poor receiving corps this time last year, will be the third man on the totem pole this year. That is a lot of firepower for any quarterback to have at his disposal, so when one considers that Peterson will almost guarantee each of those playmakers will draw single coverage on a fairly regular basis, it seems incredibly likely that Cassel will thrive.
2. Both Eddie Lacy and Montee Ball will be among the first five picks in most fantasy drafts next season.
The boldness of this prediction isn't so much that either Lacy or Ball will go off the board early in 2015, but that they both will. Adrian Peterson will turn 30 next March and has his sights set on retiring in Dallas (allegedly), although if any back is a good bet for top-five production going into his early 30s, it is "All Day". At any rate, the odds the trio of Matt Forte, Jamaal Charles and LeSean McCoy all come out of 2014 unscathed are somewhat long considering Forte played his first full season in three years last year, Charles will be operating behind a much weaker offensive line and McCoy has already suffered supposedly minor thumb and toe injuries throughout the preseason. The only reason I downgraded Lacy on my Big Boards throughout August has to do more with his physical running style and injury history in college, so if he proves to play through pain as well as he did last season and can avoid another head shot like the one Brandon Meriweather delivered last year, he's going to get the rock a lot.
Ball is a much more curious case in that owners seem to be lukewarm on him despite the fact Denver didn't bother to address his position, even after letting Knowshon Moreno go without a fight. Some have suggested he has a fumbling problem (he had 655 carries and 802 touches in college before he lost his first one), so I believe whatever issues he had early in his rookie season, they are no longer an issue (one fumble after Week 3). Others have expressed concern that Ball, who was supposed to be the man as a rookie, will get upstaged by the next Moreno in Denver. Sorry folks, I'm not sure I'm buying that one either. Moreno actually had a modicum of success in the NFL before last year; Ronnie Hillman may finally be turning the corner in his third season, but I think he is a long ways away from even earning a split role with Ball. And while I do like former undrafted free agents C.J. Anderson and Juwan Thompson, I don't think Denver is going to put its hopes of making another Super Bowl run in their hands if it has the choice. Ball may not be the 300-carry back he was in college anytime soon for the Broncos, but 300-plus touches, 1,500 total yards and 12-15 touchdowns are more than doable – even against Denver's very challenging 2014 schedule.
3. Arian Foster will play all 16 games and produce his final elite RB1 season.
Judging by most people's reaction whenever Foster's name is mentioned, it seems as if he is a lock to miss some time due to injury this year. Will we all look back at the hamstring concerns or the career workload worries of Foster at the end of the year and hate ourselves for not rolling the dice on him? I find it odd that new HC Bill O'Brien hasn't expressed more concern about Foster than he has, especially since the sixth-year back is supposed to be the centerpiece of the Texans' offense. And for what little it is worth, Foster didn't appear to be all that concerned on the sidelines during preseason games either. This year marked the third straight preseason Adrian Peterson hasn't logged a carry and while I acknowledge that "All Day" and Foster are two different cats when it comes to any number of things, would it really surprise any of us if O'Brien – a Bill Belichick pupil – decided to play up (note I did not say make up) an injury to his star offensive player (how long has Tom Brady had a shoulder issue?). Even with a healthy Foster, Houston's offense probably is going to finish in the bottom half of the league, but that doesn't mean Foster isn't capable of another top-five finish at his position since he should have the backfield to himself, has a solid defense to keep games close and has the potential to haul in 60-70 passes.
4. Toby Gerhart will be a top-10 running back in all leagues.
Over the last three years, there have been 37 instances in which a running back has carried the ball at least 250 times in one season. Of those 37 instances, 27 times that back has finished among the top 12 at his position in standard leagues. In other words, if you agree that Gerhart is in line for roughly 15.6 carries per game in 2014 but don't believe he will be a RB1 for some owner in a 12-team league, recent history suggests you have about a 27 percent chance of being right. Going one step further, none of the nine instances over that same time has a back with at least 300 rushing attempts finished lower than sixth in standard scoring. There are a myriad of reasons being tossed around as to why Gerhart won't succeed in Jacksonville, including the ridiculous notion that the Jaguars' offense will stink because it has pretty much ever since Jimmy Smith and Fred Taylor moved on or retired. Gerhart served as the third-down back on a regular basis in Minnesota – bumping Peterson to the sideline – so let's dismiss the idea that he isn't adept in the passing game. Gerhart is a 230-pound bulldozer that will grind out yards after contact, has a career 4.7 YPC and broke off three runs of 26 yards or more on 36 carries last year. Is he a big-play back? No, at least not in the same way that C.J. Spiller or Chris Johnson are (or were). But the Jaguars didn't sign him to be a big-play back either. It should be fairly clear from its personnel moves over the last year or so that Jacksonville is trying to emulate Seattle (where HC Gus Bradley left to join the Jags). Part of that blueprint includes establishing a punishing ground game, which locks Gerhart into a big-time role. Perhaps Denard Robinson, Jordan Todman or even recent addition Henry Josey end up stealing some passing- down snaps as the season progresses when the Jags need a big play late, but in terms of likely workload, it is going to be difficult to find a RB2 available in the third or fourth round that rivals Gerhart's.
5. More owners will kick themselves for passing on Bishop Sankey in the middle rounds than just about any other player.
I'll stop just short of proclaiming him my pick for NFL Rookie of the Year. And yes, I'll acknowledge that Shonn Greene has looked better in the preseason than at any time in recent memory, but to say he has taken a firm hold of lead-back duties would be more of a stretch than just about any prediction I'm going to make in this article. Greene may be built like a workhorse, but he is not one – at least not anymore. Dexter McCluster has some Danny Woodhead in his game, but he isn't quite his equal either. Leon Washington is the other back (excluding converted FB Jackie Battle) and saw some early third-down work in preseason action, although his long-term home is likely in the return game. In short, Tennessee has a fair amount of quantity, but not much quality, keeping Sankey from a 15-touch role in this offense. New HC Ken Whisenhunt can play the veteran deference card all he wants now, but Greene's right knee is unlikely to hold up all season and no other back on the roster can be expected to assume more than 10 carries on a regular basis besides Sankey. Furthermore, the rookie is clearly a better all-around player than Greene and it's not even really much of an argument in my mind. The Titans anticipated a three-back committee upon Sankey's arrival and that is what Tennessee will get back to in relatively short order, with the University of Washington standout operating in the Ryan Mathews' lead-back role in the offense Whisenhunt used with great success in San Diego. I chose Sankey at the top of the seventh round in my first money-league draft last week and will do the same in my remaining drafts if he continues to slide that far. While no one should expect Sankey to match Mathews' 2013 production or become the featured back at any point this season, he should be good for somewhere around 1,200 total yards and six touchdowns. At a spot of the draft where most owners are taking aging and/or injury-prone backs, owners should feel good about landing a young, high-end flex option like Sankey at a RB4 price.
6. Deep-league owners are going to use Kyle Juszczyk as a desperation play or bye-week fill-in more often than they care to admit.
Shame on you if you aren't already familiar with the second-year Harvard alum, who is listed as a fullback but will more than likely be a Swiss Army knife kind of player for the Baltimore Ravens. Kyle Juszczyk (pronounced USE-chick) has been likened to another athletic player that made a bit of a fantasy impact in Houston under new OC Gary Kubiak in James Casey, who evolved into a bit of a hybrid player before signing with Philadelphia in free agency before last season. What makes the second-year pro unique is that he checks in 6-1 and 248 pounds and is lining up at fullback, H-back and tight end this year. While preseason stats aren't worth much in the overall scheme of things, it is still fairly notable that Juszczyk leads the team with 10 receptions. Why? Another former Kubiak protégé, TE Owen Daniels, is expected to be a big part of the offense because the ex-Texans coach loves to utilize two-tight sets, but Daniels missed most of August with leg soreness and wasn't exactly drawing raves prior to sitting out. Admittedly, Casey wasn't exactly a big draw even in his heyday with Houston and was strictly a tight end in most fantasy leagues, but is it really that hard to imagine a troubled Baltimore backfield using its versatile fullback as a goal-line option or as a fill-in to Daniels? It shouldn't be. Juszczyk probably has 30-40 catch upside and we've seen backs (even fullbacks on occasion) with that kind of involvement in the passing game come in handy from time to time.
7. Jordy Nelson will give A.J. Green a run for his money as a top-five receiver in fantasy.
(Of course, this assumes Calvin Johnson, Dez Bryant, Demaryius Thomas and Julio Jones all stay healthy and are the first four receivers.) After years of underestimating Nelson because of the many mouths Aaron Rodgers had to feed in Green Bay, I'm done selling him short. The seventh-year pro averaged 6.1 catches for 101.2 yards and scored seven times in the eight full games Rodgers played last season, so it is very much possible that he could be primed for a career year almost across the board (his 15 touchdowns from 2011 will be hard to top). Even though HC Mike McCarthy has gushed about Jarrett Boykin, it seems unlikely he will be able to fill the James Jones role in this offense quite as well as the current Raider did. If that is in fact the case, perhaps half of the 13 red-zone targets that went to Jones last year could fall into the lap of Nelson, who had only two fewer red-zone targets than NFL leader Larry Fitzgerald (24) a season ago. But even if Nelson simply matches last year's production in the red zone (six scores), the odds of him being more involved in the regular offense are high this year because the Packers want to move at a faster tempo. This could be incredibly good news for owners of Randall Cobb and Nelson, the latter of which I ranked right below Green and above Brandon Marshall on my final PPR Big Board.
8. John Brown may sound like a common name for a receiver, but his uncommon game – especially for a rookie – will allow him to finish as a top 40 receiver in standard leagues.
If Rudolph has stolen my fantasy heart at the tight end position, I suppose I could probably be accused of loving this rookie wide receiver from Pittsburg State a little too much as well. In a world in which it seems just about every fantasy owner is quick to jump on any rookie that creates a bit of a buzz, the third-round rookie is just now starting to break into 18-round drafts despite drawing the praise of HC Bruce Arians from the time he arrived at rookie minicamp. I'm not going to proclaim him as every-week starter material in fantasy leagues right away or even at any point this season, but there is reason to make sure he is attached to your bench and not some other owners'. While I have grown tired of some of Arians' recent ramblings about his players (Rob Housler last year, for example, or the notion that Andre Ellington will touch the ball 25-30 times a game this spring), Brown is more than just another speed demon. Carson Palmer and GM Steve Keim have joined in on the praise and Arians even suggested Brown could play up to 60 percent of the Cardinals' offensive snaps. Even if that number ends up being closer to 50 percent, the rookie – who Arians has compared to former pupils T.Y. Hilton and Antonio Brown – should be a more than capable bye-week fill-in for a team that will probably throw it a lot this year.
10. Kyle Rudolph will finish No. 2 overall at his position behind Jimmy Graham and Jordan Reed will also wind up among the top five at his position in PPR leagues.
By now, just about every loyal reader knows how optimistic I am about Rudolph's ability to thrive under new OC Norv Turner. However, I am going to take it one step further and suggest that he could possibly rival Graham (in the same way Julius Thomas did a season ago) at tight end. One of the reasons this prediction has a relatively decent chance of playing out is that most of Rudolph's main competition at his position (Rob Gronkowski, Thomas and Reed) all either have trouble staying healthy or have significant injury histories. The other reason is because defenses aren't going to take their eyes off Adrian Peterson or move bodies around to double team Rudolph at the goal line in the same way Tony Gonzalez was at times last year when Roddy White and Julio Jones were hurt. Rudolph's floor should be 10-12 touchdowns if he plays all 16 games (with 13-14 scores a realistic possibility) considering he will probably have at least two or three multi-touchdown games.
Reed being a top-five tight end isn't so much a bold prediction as it relates to his skill as it is a bold prediction that he will remain healthy enough to do so after suffering four documented concussions over the last four years. Were it not for that, the University of Florida alum would probably be in the same tier of tight ends (in PPR leagues) as Thomas and Gronkowski…and rightfully so. There is some thought in the fantasy community that the addition of DeSean Jackson will hurt Reed's potential for major fantasy production, although I'm not sure why a quarterback who seems to be struggling as much as Robert Griffin III did during the preseason is going to spend a lot of time throwing the ball 20-plus yards down the field when Reed is routinely beating a linebacker 5-10 yards from the line of scrimmage. If RG3's struggles carry over into the regular season, it will be Reed and Pierre Garcon that will benefit the most (and probably in that order).
11. The consensus top pick in rookie drafts next spring will be University of Georgia junior RB Todd Gurley, who will also break the two-year drought of a running back not going in the first round.
This is typically where I pronounce which team will end up with the No. 1 overall pick in the NFL Draft next spring, but I'm going in a different direction this time around. One reason for the change is because I'm torn between about four teams that could really stink up the joint this year (Dallas, New York Giants, New York Jets and Oakland – potentially none of which might feel the need to draft Florida State QB Jameis Winston, who I'm not even sure will be the consensus top pick anyway because of his off-field decision-making. The other reason (and more significant) reason is because those of us in dynasty leagues always need to keep one eye on the future and acquire draft picks whenever the opportunity presents itself. Let's just say that what the 2014 draft was for wide receivers, the 2015 draft could/should be for the running back position. Gurley, Wisconsin's Melvin Gordon III (MG3?), Alabama's T.J. Yeldon, South Carolina's Mike Davis and Miami's Duke Johnson are all unique talents that I would rank above any back that was taken in May's draft. The crown jewel figures to be Gurley, who combines impressive size (6-1, 226) and speed with an ability to be an asset in the passing game. As far as I'm concerned, Gurley is the most talented college back I have seen since probably Adrian Peterson. Now let's be clear: he is not Peterson and that is not what I will project him to be. He runs high and doesn't go out of his way to avoid contact, which could lead to injuries down the road. Outside of that, he's about as solid of a running back prospect as one could hope for in a college game that has been overtaken by spread offenses. At any rate, if the five players I mentioned earlier (Gurley, Gordon, Yeldon, Davis and Johnson – all of whom are juniors) all opt for the draft at the end of the college season, I would suspect that nearly all of them will be first-round picks in 12-team rookie drafts…and legitimate ones at that.

Suggestions, comments, about the article or fantasy football in general? E-mail me or follow me on Twitter.

---
Doug Orth has written for FF Today since 2006 and has been featured in USA Today's Fantasy Football Preview magazine since 2010. He has hosted USA Today's hour-long, pre-kickoff fantasy football internet chat every Sunday over the past two seasons and appears as a guest analyst before and during the season on Sirius XM's "Fantasy Drive" as well as 106.7 The Fan (WJFK – Washington, D.C). Doug is also a member of the Fantasy Sports Writers Association.