The fantasy playoffs begin in earnest in most leagues this week. Generally speaking, the players that have carried their teams to the brink of a fantasy championship are the same ones owners must (or will) trust to take them the rest of the way.

There's something to be said for consistency and the peace of mind that comes along with it, but I think it has been well-established this year that the former is in very short supply at just about every position. "Never bench your studs" or "don't get too cute" are novel concepts for owners in 10-team leagues in which only half of the owners might be active, but those pieces of advice are trickier for owners in deeper leagues that have to strongly consider starting someone like Brian Hartline, who I will discuss later because of the somewhat unusual situation in which he finds himself this week.

I always tend to work under the assumption that most owners play in highly competitive leagues of at least 12 teams. While roughly 75 percent of the players that have carried their fantasy teams to the postseason have been on rosters since at least October, it is reasonable to suggest that about a quarter of players have forced their way into our fantasy lineups since then. Just because the amount of owners vying for players in December drops as half of the league or more is eliminated from contention, it doesn't stop the lesser-known players in the NFL from taking advantage of their opportunity.

Below you will find a list of 28 players that I feel are capable of carrying (or at least contributing greatly) to title runs this fantasy postseason. Most of my selections will be based on the remaining matchups and/or be proven commodities, although some will require a "feel" since they have yet to truly break out. Think of the names (sorted by position and placed in alphabetical order) below as the ones I believe have the best chance of appearing high on the end-of-season lists that feature the ownership rates of players on fantasy championship teams.

Quarterbacks

Cam Newton – vs. ATL, @NYG, @ATL

Atlanta ranks as the second-most difficult defense for opposing fantasy quarterbacks, so Newton's challenge to dominate the fantasy playoffs is a formidable one since he will see the Falcons twice over the next three weeks. However, his status as the team's top goal-line option combined with the dominance of Greg Olsen gives him a pretty safe floor. I don't anticipate a repeat of the two five-touchdown performances he's managed over his last three games, but it seems like the only thing that can stop him from being a fantasy force is if his own defense scores and doesn't give him a chance to get into the red zone.

Carson Palmer – vs. MIN, @PHI, vs. GB

Palmer has been pretty much matchup-proof all season (he was the fantasy QB5 in Week 10 at Seattle and the overall QB3 in Week 11 versus Cincinnati, for example) and none of the remaining teams on his schedule are of the caliber of the Seahawks or Bengals in terms of their pass defense. The most difficult matchup should have been the Vikings, but three key starters – one at each level of their defense (NT Linval Joseph, SLB Anthony Barr and FS Harrison Smith) – have already been ruled out this week. Philadelphia has surrendered at least four touchdowns to opposing quarterbacks in three straight weeks, giving Palmer potentially two juicy matchups leading into a home game against Green Bay in Week 16.

Matthew Stafford - @STL, @NO, vs. SF

When the Lions made the transition from previous OC Joe Lombardi to first-time play caller Jim Bob Cooter, they made protecting Stafford a priority. (A novel concept, I know.) In the four games under Cooter, Stafford has thrown for nine touchdowns versus one interception. Assuming Detroit can bounce back from its shocking Hail Mary loss to Green Bay last week, it is easy to see why so many believed the Lions could have made a push for the playoffs if they had just been able to beat the Packers. The Rams can't score anymore, the Saints are on a historically-bad pace defending the pass and the 49ers are allowing an average of 32.7 points in six road games. Further bolstering Stafford's fantasy stock is that Detroit running backs have only accounted for three rushing touchdowns this season (Stafford has thrown for 23 and ran for one himself).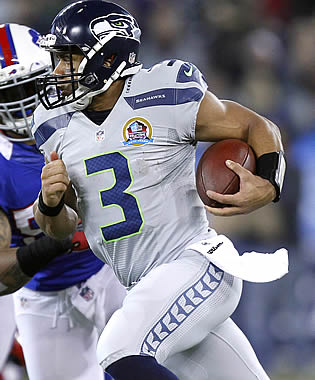 Wilson has picked up the pace over the last 3 weeks.
Russell Wilson - @BAL, vs. CLE, vs. STL
Forgive me if I'm a little bit upset with the Seahawks regarding Wilson, who is seventh in scoring at his position and playing as well as any quarterback in the league right now. I ranked the fourth-year signal-caller at No. 3 before the start of the season and suffice it to say that his regular presence in the starting lineup of all three of my main money league teams until Seattle's Week 9 bye essentially sunk my playoff hopes in those leagues. It took the Seahawks until after their week to replace converted defensive lineman Drew Nowak with Patrick Lewis at center, which has solidified the problematic offensive line and helped set the stage for Wilson's recent surge. The upcoming schedule speaks for itself, with only the Rams, who have consistently kept Wilson contained throughout his career, serving as the only likely obstacle for the offensive machine Seattle has become.

Running Backs
Adrian Peterson - @ARI, vs. CHI, vs. NYG
Peterson has been handcuffed a bit by his own offense's ineptitude over two of the last three games, but he is still as good of a bet as any back to post 125-plus yards and two touchdowns against any opponent. I expect a heavy workload in a less-than-favorable matchup against the Cardinals in Week 14 and a similar amount of touches in a pair of more favorable matchups (for Peterson anyway) that Minnesota knows it needs to win.
David Johnson - vs. MIN, @PHI, vs. GB
Arizona's remaining schedule is actually not very favorable for running backs on paper, but the rookie is going to have a great shot to leave an impression on HC Bruce Arians against the injury-depleted Vikings defense. Assuming that happens, it doesn't take a great leap of faith to believe Johnson could nail down the feature-back job for the rest of the regular season, leaving Andre Ellington to serve as his change-of-pace back when he returns from injury. Johnson possesses a ton of big-play ability, is an adept receiver and benefits from one of the best passing games in the league, meaning even the most stout run defense will have trouble keeping him under wraps for a full 60 minutes.
DeAngelo Williams – @CIN, vs. DEN, @BAL
Very little explanation needed here, despite a string of brutal matchups. The Steelers can move the ball on any opponent and Williams has been utilized heavily in the passing game of late, which has contributed greatly to his ability to score at least 20 PPR fantasy points in four of his six starts this season.
Doug Martin - vs. NO, @STL, vs. CHI
Second to only Peterson in the race for the rushing title, Martin has consecutive highly-favorable matchups over the next two weeks before wrapping up with a Bears' run defense that coughed up consecutive 100-yard games to Ronnie Hillman and Eddie Lacy before making Shaun Draughn look a bit like a fantasy stud last week.
James White – @HOU, vs. TEN, @NYJ
Sometimes in fantasy, the perfect storm happens. White saw virtually no time on the field during the first half of the season as Dion Lewis emerged as a force in fantasy as well as reality. The utter decimation of the Patriots' offense (on the offensive line as much as at receiver and tight end) as well as the continued woes of Brandon LaFell has essentially left Tom Brady with Danny Amendola and White as his only two reliable playmakers. New England's remaining schedule is quite unfavorable for running backs, although that is actually a good thing for White since it should mean more passing-down situations for him and fewer early-down opportunities for LeGarrette Blount. I fully expect another blowup game from Brandon Bolden (just to mess with fantasy owners' minds), but the Wisconsin product could push for 8-10 catches per game for as long as Rob Gronkowski is out.
Lamar Miller – vs. NYG, @SD, vs. IND
It says a lot about the running back position nowadays that Miller is fifth in PPR scoring and has been severely underutilized in about half of his games. He received 20 carries for only the second time in his four-year career last week in a bad matchup against Baltimore in the debut of new OC Zac Taylor and rushed for over 100 yards anyway, which bodes well for him going forward as he faces three defenses that rank in the top 13 in terms of most PPR points allowed to opposing running backs. If Miami shows similar commitment running the ball over the next three weeks, Miller could end up being the highest-scoring running back during the fantasy playoffs and make a strong argument for being a fantasy first-rounder next year.
LeSean McCoy – @PHI, @WAS, vs. DAL
It seems hard to believe that McCoy was a virtual non-factor during the first half of the season. He's healthy now and is one of the few backs left in the game today that owners can count on to get his 20 touches and produce regardless of the matchup. As luck would have it, his run during the fantasy playoffs will be exclusively against NFC East opponents he either played for (Philadelphia) or against (Washington and Dallas) twice a season up until this year.
Thomas Rawls – @BAL, vs. CLE, vs. STL
Congratulations if you beat the rest of the crowd on Rawls, who has probably done enough this year to make it possible for the Seahawks to cut ties with Marshawn Lynch. The matchup against the Ravens is a difficult one, but Lamar Miller proved last week that natural talent and a decent workload are probably more than enough to produce against the Baltimore defense. The Browns have tightened up against the run in recent weeks, but have still yielded the most rushing yards to opposing running backs. St. Louis has begun to show some cracks on defense lately as well. When one factors in the combined ineptitude of the three offenses Seattle will face during the fantasy playoffs, Rawls should easily hit the 20-carry mark in every game.
Wild-Card Selection
Tim Hightower – @TB, vs. DET, vs. JAC
Common sense, contract status and talent all would dictate that C.J. Spiller will finally get his shot at taking over the Saints' backfield after New Orleans put Mark Ingram on IR this week. Somehow, I don't think HC Sean Payton will see it the same way; despite being given very little reason as to why his prized free-agent toy has been little more than a bit player, Spiller has essentially been mothballed this season. Hightower is the only "power" back left on the roster and actually shares some similarities to Ingram, but owners need to remember the former is a 29-year-old that was only signed to the roster after the Saints lost Khiry Robinson to injury. The reason Hightower gets a mention here is because he figures to be the early-down option for New Orleans going forward at a time where a lot of fantasy owners could use a back that could potentially see 15 or so touches per week. Even in a number of games in which they were noncompetitive, the Saints showed impressive commitment in getting Ingram his carries. There's a strong likelihood that Hightower and Spiller end up splitting snaps almost evenly down the stretch, but it is just as possible that Payton opts to use Hightower in the same way he utilized Ingram.
Wide Receivers
Alshon Jeffery – vs. WAS, @MIN, @TB
A lot of Jeffery's owners were disappointed last week, especially those of us who used him in DFS. (Here's a recap of what went wrong if it makes you feel better.) The few owners that would like some kind of reassurance about him need only look at his FF Today player page: he has seen at least 11 targets in all but one game (the one exception was a Week 10 contest against the Rams in which St. Louis went to great lengths to take a less-than-100 percent Jeffery out of the game). Washington's Bashaud Breeland will be the highest-ranked cornerback (per Pro Football Focus) Jeffrey will face the rest of the way, but he won't be enough of an obstacle to keep Jay Cutler from firing it in his direction. The loss of TE Martellus Bennett to a season-ending rib injury should also ensure that Chicago's top receiver dwarfs the rest of his teammates in terms of targets.
Calvin Johnson/Golden Tate – @STL, @NO, vs. SF
Johnson has endured two different three-game stretches in which he wasn't able to find the end zone, although he is to come very familiar with it over the last two weeks. Megatron is a WR1 play every week when he is healthy and has been for years, but could easily remind all of his owners of his best years over this final stretch. The Rams just got done allowing for different Arizona receivers to score double-digit fantasy points and were burned by A.J. Green the week before. New Orleans is laughably bad at defending the pass and San Francisco's combination of 5-10 Tramaine Brock and former sixth-round pick Kenneth Acker don't figure to be much of a challenge for Johnson. Everything just I just wrote about Megatron basically applies to Tate as well, with the added bonus of running a lot of his routes out of the slot against Kyle Wilson in Week 15 and Jimmie Ward in Week 16.
Danny Amendola – @HOU, vs. TEN, @NYJ
Sometimes opportunity comes as a result of incredible talent and other times it comes as a result of a depleted supporting cast. New England isn't going to stop throwing the ball simply because it is missing Julian Edelman, Dion Lewis and Rob Gronkowski. The Patriots run a slot-heavy passing offense and likely matchups against Kareem Jackson, Coty Sensabaugh and Buster Skrine will be the softest of all the matchups that New England receivers will face during the fantasy playoffs.
Doug Baldwin – @BAL, vs. CLE, vs. STL
If this article seems a bit heavy on Seahawks, look no further than the remaining competition. Baldwin has caught 24 of his 31 targets in the four weeks since Seattle's bye and has consistently been in a position to do something after the catch on seemingly every reception. The former undrafted free agent should be expected to see plenty of Lardarius Webb, K'Waun Williams and Lamarcus Joyner out of the slot during the fantasy playoffs. While none can be considered "easy" matchups, it should be noted that PFF has Baldwin graded out 11th among receivers – higher than wideouts such as Julian Edelman and Brandon Marshall. Rawls' ability (as well as the offensive line's) to make the ground game relevant again factored in with the loss of TE Jimmy Graham should ensure Baldwin sees the majority of targets over the middle for the rest of the season, meaning he very easily could maintain his current second-half pace until the start of the NFL Playoffs.
Jarvis Landry – vs. NYG, @SD, vs. IND
Prior to last week's two-catch, five-yard dud against the Ravens in a game in which the Dolphins attempted only 19 passes, Landry has been a rock for his PPR owners. That should remain the case for the rest of the season as Landry spends the bulk of his time in the slot, where he should square off against Trevin Wade, Patrick Robinson and Darius Butler most of the time. Even (and especially) if rookie DeVante Parker continues to impress, Landry figures to remain Ryan Tannehill's favorite target and will almost always have the best matchup of any Miami receiver on the field.
Jeremy Maclin – vs. SD, @BAL, vs. CLE
When a wideout scores on two short-range receiver screens – particularly on one from a yard out – in the same game, it is a pretty good indication that he has earned the trust of the coaching staff and the quarterback. But there is more to it than that: Maclin has also done enough to earn the trust of Alex Smith, who is tied for fourth in the league with 28 completions of 25 yards or more – a number and a ranking that would have been unthinkable even a month ago. While this could be a slow week for Maclin – particularly if the Chiefs dominate the Chargers on the ground again – the Ravens and Browns over the next two weeks present incredibly soft matchups for the ex-Eagle to exploit.
Mike Evans – vs. NO, @STL, vs. CHI
Evans may be worth including on this list just for what he could do this week to the Saints' Brandon Browner, who is PFF's lowest-ranked cornerback. The second-year wideout has settled in as a pretty consistent fantasy WR2 over the last five weeks in large part because the inefficiency (drops as well as the early scattershot accuracy of Jameis Winston) that plagued him early has dissipated recently. Evans will likely draw gambling CB Janoris Jenkins in Week 15 and Tracy Porter in Week 16. Both players are among PFF's top 40 cornerbacks this season, but it would be a tall order for either one or both of them to contain the 6-5, 230-pound manchild that is Evans.
Sammy Watkins – @PHI, @WAS, vs. DAL
It says a great deal about Watkins's ability that he is not only incredibly underutilized, but also mostly miscast as a deep-ball receiver (he has elite after-the-catch ability) and still able to dominate the box score from time to time. Even considering everything that is working against him, a lack of consistent targets is about the only thing really keeping from the former No. 4 overall pick from being considered one of the top two or three young receivers in the game. Watkins' upcoming schedule is no cakewalk, although he should have his way this week against the Eagles. Breeland has drawn a top-10 grade from PFF this season and is the overwhelming favorite to spend significant time defending Watkins in Week 15, but he doesn't pose any more of a threat than Kansas City's Sean Smith did to Watkins in Week 12 (6-158-2 in the first half). Dallas' scheme tends to prevent big pass plays, so the Bills may have to be a bit more creative in order to get their lead receiver involved in Week 16.
One-week rental
Brian Hartline – vs. SF
The Ohio State product may not only be the de facto No. 1 receiver in Cleveland this week, but about the only legitimate wideout the team has at its disposal that can catch Johnny Manziel's passes. Travis Benjamin (shoulder) isn't practicing while Taylor Gabriel (concussion) and Andrew Hawkins (concussion) haven't played since Week 10. Even Gary Barnidge (ankle) is being limited in practice this week. Hartline is almost always an uninspiring choice because he has never possessed much touchdown upside (and has even less now in a declining offense). With that said, he's seen at least nine targets in each of his last four games and may not have any realistic competition for targets this week in a fairly soft matchup.
Tight Ends
Ben Watson – @TB, vs. DET, vs. JAC
Watson's midseason fantasy-scoring binge has slowed in recent weeks, although some of that can be attributed to the quality of defenses he has faced. Outside of a middling matchup against the Bucs this week, the Lions and Jaguars are among the five most favorable defenses for opposing tight ends to face the season. Watson's targets have remained reasonably high since Week 6 and New Orleans' defense is pathetic enough that Drew Brees & Co. will probably need to throw all game every game the rest of the way.
Greg Olsen - vs. ATL, @NYG, @ATL
No tight end has a better end-of-season schedule than Olsen. I stated last week that I stopped just short of predicting him to score a touchdown in every remaining game of the fantasy season, but it sure would not surprise me if he did. His 104 targets this season lead the NFL (two more than Julio Jones) and are 11 more than any other tight end. In short, not only does he have exploitable matchups, but he is also getting plenty of opportunities to take advantage of them.
Julius Thomas – vs. IND, vs. ATL, @NO
Somewhere around the same time the Jaguars defeated the Titans on Thursday Night Football in Week 11, the Jacksonville coaching staff decided it was time to force-feed Thomas the ball, particularly in the red zone. He has scored in every game since and may continue to do so against his remaining schedule. His yardage totals are hardly inspiring (28 or fewer yards in six of his eight games as a Jaguar), but the likelihood that he finds the end zone in each of his team's remaining games probably trails only Olsen. The best news of all: the Saints are Jacksonville's Week 16 matchup and the league's worst defense at defending opposing tight ends.
Wild-Card Selections
Ryan Griffin – vs. NE, @IND, @TEN
Looking past this week's game against a Patriots' defense that is quite stingy versus opposing tight ends, Griffin finishes the season with a pair of favorable matchups. It would take quite a leap of faith to put much trust into a Texans tight end, but it is also very noteworthy that Griffin has seen at least five targets in three of his last four games since coming off short-term IR and caught a touchdown in each of his last two – matching the number Houston tight ends managed during his absence.
Zach Miller – vs. WAS, @MIN, @TB
This recommendation comes as a result of Martellus Bennett going on IR earlier this week. None of Miller's remaining matchups are particularly favorable, but the University of Nebraska-Omaha product should be a good bet for 6-7 targets every week with Bennett no longer around and the Bears dealing with their fair share of injuries at receiver. Miller has turned four of his 16 receptions into touchdowns and should be no worse than Jay Cutler's second option in the red zone.

---
Doug Orth has written for FF Today since 2006 and been featured in USA Today's Fantasy Football Preview magazine since 2010. He hosted USA Today's hour-long, pre-kickoff fantasy football internet chat every Sunday in 2012-13 and appears as a guest analyst on a number of national sports radio shows, including Sirius XM's "Fantasy Drive". Doug is also a member of the Fantasy Sports Writers Association.