As a pre-Thanksgiving treat, I gave you The Delicious Dozen last week. Of course, the holidays aren't the holidays unless your blood pressure spikes a bit, so it only makes sense I provide the negative half of the passing-game picture this week.

Receiver-cornerback matchups are among the most critical ones in the real game, yet very few fantasy analysts spend any time breaking them down in much (if any) detail for what I can only imagine is a fear of being wrong or a general lack of readily available information. That's not a shot at the fantasy industry, it's just the cold hard truth in a lot of cases. I hate being wrong more than anyone I know, but that doesn't mean I shouldn't take a shot at being right … no?

In a team game, the receiver vs. cornerback battle is often as individual as it gets at the skill positions. Without getting into too much of a philosophical discussion about how individual it is, we can generally assume that a defense will remain either a team that uses a "shadow" cornerback or opts to "play sides" and not change its method during the course of a game. Receivers tend to move all around the formation and many of the top receivers nowadays spend time in the slot, so the most any analyst can say with any certainty is that a certain receiver should see a lot of a certain receiver in coverage based on where he has lined up in the past.

While the receiver position will probably always remain the most difficult fantasy position to predict from week to week, we do have some tools at our disposal to evaluate just how difficult their upcoming matchups are. Pro Football Focus has many stats that can help us to make informed decisions about what receiver vs. cornerback matchups we should target, and I am using their coverage grade (as opposed to their overall grade) as a tool to help discern what receivers could be in for a slow day. Below is a list of the 12 cornerbacks most likely to slow down fantasy receivers, ranked from the 12th-best to the best.

Last week, I focused on the best individual receiver vs. cornerback matchups owners can shoot for in the coming weeks. This week, we will discuss the ones owners need to try to avoid.

Note: The average number of coverage snaps for the 111 cornerbacks to qualify (as in the player isn't currently suspended, on IR, no longer employed, etc.) for PFF's rankings was 296 this week, so I chose to use that number to eliminate players who aren't or haven't been "full-timers". Below each write-up is the remaining schedule and the projected matchups each corner should see in coverage in that week. Please note while I do watch enough film to feel confident about my projected matchups, I am not so naïve to believe I've got each one pegged. Receivers move across the formation a lot nowadays, while most defensive coordinators seem to favor keeping their corners on one side of the formation.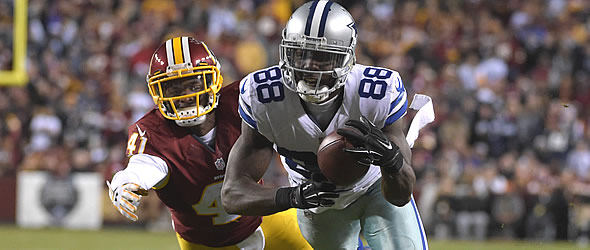 Dez Bryant has a difficult schedule ahead including battles with Josh Norman and Janoris Jenkins.
12. Tramaine Brock, San Francisco (PFF Coverage Grade: 81.7)
The 49ers defense has become something of a punching bag in recent weeks, but very little of the blame should fall on Brock. Despite playing the second-most snaps of any cornerback in the league (and over 100 more than most of the players on this list), he is allowing only 49.2 percent of the passes thrown in his direction to be completed. He has allowed five touchdowns to be thrown in his coverage, so he hasn't exactly been a shutdown type. Brock was the corner who got beat by Michael Floyd on his critical 26-yard grab late in the Week 10 game that set up the game-winning field goal, but it should be noted he started out the play lined up across from Larry Fitzgerald until Fitzgerald motioned behind Floyd in a stack prior the snap, leaving Brock with whichever receiver took the out-breaking route. Carson Palmer had over five seconds to throw on the play and it took a great catch by Floyd in order to make the play happen. In reviewing the last three games, Brock does not appear to be a stationary corner, nor does he appear to be a shadow corner either, making him something of an enigma when it comes to predicting what receiver he will line up across most often.
Week 12: Kenny Stills (Miami)
Week 13: Cameron Meredith (Chicago)
Week 14: Brandon Marshall (NY Jets)
Week 15: Julio Jones/Taylor Gabriel (Atlanta)
Week 16: Kenny Britt (Los Angeles)
11. Brent Grimes, Tampa Bay (PFF Coverage Grade: 82.8)
Long known as perhaps the scrappiest corner in the league, the 33-year-old Grimes has been the lone bright spot in a poor secondary in 2016, although his stellar play hasn't come without giving up a few big plays as well. (For comparison's sake as to how relatively good he has been versus other Bucs, rookie Vernon Hargreaves III starts opposite him and took the No. 1 spot in The Delicious Dozen last week. Suspended CB Jude Adjei-Barimah has logged the third-most coverage snaps for Tampa Bay and has a 62.9 coverage grade.) The 5-10, 185-pounder has been more good than bad, however, breaking up eight passes and intercepting two while yielding four scores and a completion percentage of 55.6. Grimes gave the Bucs a scare last week when he suffered a quad injury and did not return, but he appears to be on track to return to his usual LCB spot in Week 12 against the Seattle Seahawks.
Week 12: Doug Baldwin/Jermaine Kearse (Seattle)
Week 13: Tyrell Williams (San Diego)
Week 14: Michael Thomas/Willie Snead (New Orleans)
Week 15: Terrance Williams (Dallas)
Week 16: Michael Thomas / Willie Snead (New Orleans)
10. Dominique Rodgers-Cromartie, NY Giants (PFF Coverage Grade: 83.6)
Rodgers-Cromartie has dabbled with being considered a top-flight corner throughout his nine-year NFL career, but he has struggled to put it together for consecutive seasons for a whole host of reasons. With the organization choosing to use its first-round pick this spring on CB Eli Apple, DRC was asked to play the slot on a more regular basis and has done a good job with it (137 of his 309 coverage snaps have taken place inside, as opposed to 32 all of last season). Janoris Jenkins has evolved into a near-shutdown force in his first season with Big Blue and been asked to "shadow" on occasion, which usually leaves the 6-2 Rodgers-Cromartie with a substantial size advantage over most slot receivers and a talent edge over many No. 2 wideouts after spending most of his career squaring off against other teams' top receivers. My film study reveals DRC tends to line up at LCB in two-wide sets in games in which Jenkins doesn't shadow, so the odds are high the former will spend nearly all of his time defending at least two different receivers the rest of the way (given how often he appears in the slot).
Week 12: Corey Coleman/Andrew Hawkins (Cleveland)
Week 13: Eli Rogers/Sammie Coates (Pittsburgh)
Week 14: Terrance Williams/Cole Beasley (Dallas)
Week 15: Golden Tate/Anquan Boldin (Detroit)
Week 16: Jordan Matthews/Nelson Agholor (Philadelphia)
9. David Amerson, Oakland (PFF Coverage Grade: 83.7)
The Washington Redskins' fan base may feel like their team hasn't done much wrong over the last two years, but one move the front office probably regrets more and more is waiving their 2013 second-round selection in late September of his third season. He was claimed by the Raiders shortly thereafter and immediately installed as a starter. The rest, as they say, is history. Amerson finished last season as PFF's No. 9 cover corner and inked a four-year, $38 million deal to remain in California. The 2016 season hasn't been quite as good as 2015 (he gave up one touchdown after signing with Oakland prior to Week 4 last year and has coughed up four scores this season), but he has tallied 10 pass breakups and two interceptions while forcing a multitude of tough catches. With free-agent signee Sean Smith capably manning the right side of the defensive formation, Amerson spends the bulk of his time on the left. Owners should take note that DC Ken Norton Jr. is a product of the Pete Carroll coaching tree and, as such, tends to use his fair share of Cover-3 zone coverages.
Week 12: Ted Ginn Jr. (Carolina)
Week 13: Kenny Britt (Los Angeles)
Week 14: Jeremy Maclin (Kansas City)
Week 15: Tyrell Williams (San Diego)
Week 16: T.Y. Hilton (Indianapolis)
8. Sean Smith, Oakland (PFF Coverage Grade: 83.8)
Remember when this guy was a free-agent bust after Brandin Cooks abused him for a 98-yard score in Week 1 and he was benched after surrendering 183 yards in his coverage against the New Orleans Saints? Well, his life has gotten better since then. Smith has yielded only 282 yards in nine games following Week 1, not allowing a catch in his coverage in two games over that stretch. In two other games, he gave up one reception. He is also riding an eight-game streak in which he hasnít surrendered a touchdown. In short, he is probably the first player on this list owners really need to consider avoiding when it comes to individual matchups, especially since Amerson has shown a bit more vulnerability and slot corner D.J. Hayden made an appearance in last week's Delicious Dozen. As noted above, Smith spends the majority of his time on the right side of the defensive formation, which figures to be a big deal for owners during fantasy playoff time when the Raiders face the San Diego Chargers and Indianapolis Colts in Weeks 15 and 16, respectively.
Week 12: Kelvin Benjamin (Carolina)
Week 13: Brian Quick/Tavon Austin (Los Angeles)
Week 14: Tyreek Hill (Kansas City)
Week 15: Travis Benjamin (San Diego)
Week 16: Donte Moncrief (Indianapolis)
7. Patrick Peterson, Arizona (PFF Coverage Grade: 84.1)
With shadow corners becoming a dying breed and shutdown corners virtually extinct, it's good to know the league still has a few players like Peterson who can sometimes be both. Some readers may be surprised by his relatively low ranking on the list considering his reputation, but the sixth-year pro is actually asked to shut down No. 1 receivers every week as opposed to playing a side, unlike so many of the other top players at his position. He followed Stefon Diggs all over the field last week - including the slot - and held him in check after Diggs had posted back-to-back 13-catch games, and he has more than held his own in individual matchups against Brandon Marshall, Kelvin Benjamin and Mike Evans this season. Unlike a player like Sean Smith in the preceding paragraph, Peterson is one of the handful of corners owners can pretty much expect to stay attached to the opponent's top threat on every play, which obviously makes about every WR1 he faces a WR2 at best that week. Need proof? Peterson has yet to allow more than 73 receiving yards in a game this season and surrendered only two touchdowns in his coverage.
Week 12: Julio Jones (Atlanta)
Week 13: DeSean Jackson (Washington)
Week 14: DeVante Parker (Miami)
Week 15: Michael Thomas (New Orleans); could easily be Brandin Cooks, but I think the Cardinals will want Peterson's size on Thomas
Week 16: Doug Baldwin/Tyler Lockett (Seattle)
6. Casey Hayward, San Diego (PFF Coverage Grade: 84.3)
Note to all 2017 fantasy owners: Assuming Joey Bosa continues to develop and contributes to an improving pass rush AND CB Jason Verrett can stay healthy, the Chargers have a great shot of being one of the best defenses in the league next year. Verrett has already established himself as a fine corner, but his injury forced Hayward to prove he was more than a slot corner, and he has done exactly that. Hayward has allowed one TD in his coverage and a passer rating of 55.6, which is several points better than more highly regarded corners such as Marcus Peters (64.4) and Richard Sherman (59.1). The ex-Green Bay Packer hasn't been untouchable by any stretch of imagination, however, as the Tennessee Titans burned him in the slot with Tajae Sharpe, Kendall Wright and even Harry Douglas, although it should be noted Hayward simply did not look right in that game despite making a second-quarter interception. While Hayward hasn't received much publicity for following No. 1 receivers, he has seen significant time on Julio Jones and Demaryius Thomas in recent weeks, so I'll make the assumption below the Chargers are will use him as a "shadow" at least part of the time.
Week 12: DeAndre Hopkins (Houston)
Week 13: Mike Evans (Tampa Bay)
Week 14: Kelvin Benjamin (Carolina)
Week 15: Michael Crabtree (Oakland)
Week 16: Terrelle Pryor (Cleveland)
5. Janoris Jenkins, NY Giants (PFF Coverage Grade: 84.4)
Jenkins earned a reputation as a big-play cornerback (for both the offense and defense) during his days in St. Louis (here is an example of one of his more notable breakdowns a few years ago), but he has been mostly rock-solid in his first year with the Giants, occasionally being asked to shadow the other team's top receiver. He has allowed only one touchdown through 10 games after yielding at least five in each of his first four seasons with the Rams. Despite his sometimes-shadow usage, Jenkins is giving up the lowest passer rating into his coverage (64.4) and completion percentage (53.2) of his career. He made Dez Bryant a virtual afterthought in Week 1 and has done little but earn a ton of praise from teammates and coaches since. As noted earlier, Jenkins doesn't need to be a shadow corner for the Giants thanks to Dominique Rodgers-Cromartie, but it is a good bet they'll use him like one for most of the rest of the year.
Week 12: Terrelle Pryor (Cleveland)
Week 13: Antonio Brown (Pittsburgh)
Week 14: Dez Bryant (NY Giants)
Week 15: Marvin Jones (Detroit)
Week 16: Jordan Matthews/Dorial Green-Beckham (Philadelphia)
4. Josh Norman, Washington (PFF Coverage Grade: 85.4)
Every week, I am reminded of a belief I had when I was first became a football fan: NFL coaches must be some of the smartest people in the world. Every week of football I have watched over the last 10 years or so, I am reminded how glad I am not as naÔve as I used to be. I mention this because Washington chose not to use its new $15 M/year corner in shadow coverage against Antonio Brown or Dez Bryant in Weeks 1 or 2, opting to stick with DC Joe Barry's preferred method of having his corners staying mostly on one side. The results were predictable and Barry has since occasionally used Norman as a shadow. While he has obviously still been very good, the All-Pro corner hasn't quite performed at the level he did during his 2015 breakout campaign, giving up three touchdowns after allowing two all of last season with the Carolina Panthers. His league-high 12 penalties also don't help his overall grade either, but quarterbacks are only completing 52 percent of their passes against him. Considering Barry cannot be trusted to put his best corner on the opponent's top receiver each week, there's a decent chance in any given week a player like Dez Bryant will be able to use and abuse Bashaud Breeland enough early on that he'll be worthy of a fantasy start even though he shouldn't have been. For now, I'm choosing to believe Norman will shadow the elite wideouts remaining on Washington's schedule and remain a left cornerback against teams that do not have such a receiver.
Week 12: Dez Bryant (Dallas)
Week 13: Larry Fitzgerald/Michael Floyd (Arizona)
Week 14: Jordan Matthews/Dorial Green-Beckham (Philadelphia)
Week 15: Kelvin Benjamin (Carolina)
Week 16: Alshon Jeffery (Chicago)
3. Terence Newman, Minnesota (PFF Coverage Grade: 85.5)
While the fantasy world has been focused on the play of teammate Xavier Rhodes (noted in the "other" section below), the old guy (38 to be exact) opposite him continues to age like fine wine. Newman is doing things right now that most 28-year-old corners shouldn't be expected to do. The two-time Pro Bowler is allowing a measly 8.6 yards per catch, has been beat for only one touchdown and surrendered a ridiculously low 23 yards after the catch for the season. (You are reading that correctly.) Meanwhile, he has seven pass breakups and one interception. So, in case owners were wondering why the Vikings have shut down so many receivers over the course of the year, hopefully this information sheds some light on the topic. Now comes the bad news (at least for football fans and owners of the Detroit Lions' receivers), at least in the short term: Newman is doubtful for Thanksgiving Day with a neck injury. Moreover, S Harrison Smith and usual slot CB Captain Munnerlyn (the latter of which would likely replace Newman if he can't go) are both questionable with ankle injuries, so owners expecting Minnesota's defense to "bring it" in front of a national audience may instead be witness to a Golden Tate highlight reel. I will list Newman's likely matchup for Turkey Day below, but it appears Trae Wayans will be needed to step up in a big way if the Vikings hope to ride their vaunted defense to another win.
Week 12: Golden Tate (Detroit)
Week 13: Terrance Williams (Dallas)
Week 14: Allen Hurns/Marqise Lee (Jacksonville)
Week 15: Donte Moncrief (Indianapolis)
Week 16: Davante Adams (Green Bay)
2. Malcolm Butler, New England (PFF Coverage Grade: 86.6)
Butler received some mention in last week's piece as a result of Logan Ryan's struggles, but he'll get some more love here as well. As noted last week, it isn't always the easiest thing to figure out what HC Bill Belichick or his coordinators have up their sleeve in a given week, but the usual method of madness in regards to defending elite wideouts in New England is to have Butler shadow an opponent's No. 2 receiver, while Ryan takes the No. 1 option and almost always receives safety help. When the other team doesn't possess such a threat, Butler will usually line up as a LCB and stay put. But as I've already implied, that isn't always the case and, as such, it makes it very difficult to say with any degree of certainty which receiver Butler will face the most in any given week. What we do "know" is that the West Alabama product has yielded 35 or fewer yards in his coverage six times in 10 outings this season and quarterbacks are completing only 52.9 percent of their passes against him.
Week 12: Quincy Enunwa/Robby Anderson (NY Jets)
Week 13: Brian Quick/Tavon Austin (Los Angeles)
Week 14: Mike Wallace (Baltimore)
Week 15: Emmanuel Sanders (Denver)
Week 16: Quincy Enunwa / Robby Anderson (NY Jets)

1. Chris Harris Jr., Denver (PFF Coverage Grade: 87.5)

According to PFF, Aqib Talib has been the league's best corner by a wide margin, and it is hard to argue with that notion. He has yet to allow a touchdown while intercepting three passes and quarterbacks have a passer rating of 37.0 (!!!!) when throwing in his direction. (However, he has missed some games recently and doesn't qualify for this list as a result.) Usually that would mean the player opposite him would typically get targeted like crazy, except for the fact Harris is simply better than most of the receivers he lines across from too. (It also helps explain why Bradley Roby is the Broncos CB that gets picked on.) Like Talib, Harris is allowing fewer than 10 yards per catch and less than 54 percent of the passes thrown in his direction to get caught. Because Harris has been so good in recent years, Denver often feels comfortable leaving Talib on the left side, while Harris takes the defensive right side and moves inside against three-wide sets. In short, third receivers who line up exclusively on the outside and face the likelihood of running routes against Roby have the best chance of success against the Broncos. Thatís a pretty small hook to hang your hat on, so the easy lesson to learn here is one we already knew: avoid using receivers facing Denver as much as possible.
Week 12: Tyreek Hill (Kansas City)
Week 13: Allen Hurns / Marqise Lee (Jacksonville)
Week 14: Tajae Sharpe / Rishard Matthews (Tennessee)
Week 15: Chris Hogan / Malcolm Mitchell (New England)
Week 16: Tyreek Hill (Kansas City)

Other thriving CBs who fell short of the total coverage snaps threshold: Aqib Talib, Denver (89.9); A.J. Bouye, Houston (87.8); Morris Claiborne, Dallas (85.1); Darius Slay, Detroit (81.9); Xavier Rhodes, Minnesota (81.8), Prince Amukamara, Jacksonville (81.2); James Bradberry, Carolina (80.7); Aaron Colvin, Jacksonville (80.7)
---
Doug Orth has written for FF Today since 2006 and been featured in USA Today's Fantasy Football Preview magazine since 2010. He hosted USA Today's hour-long, pre-kickoff fantasy football internet chat every Sunday in 2012-13 and appears as a guest analyst on a number of national sports radio shows, including Sirius XM's "Fantasy Drive". Doug is also a member of the Fantasy Sports Writers Association.