Draft season is in full effect and the name of the game is finding value. With so many good players available, often winners and losers in fantasy drafts turn out to be the owners that maximize value on every single pick. Below is my list of 10 players who I believe are getting drafted too high based on ADP in 12 team standard scoring leagues. I donít necessarily think these players are guys to be avoided entirely, although some I would, but taking them at their current ADP means you are reaching for them at or above their ceilings. A good, current ADP list is an essential tool to use in your draft, so pairing this list with current ADPís could save you from wasting value and instead, steer you in the right direction when your bargain hunting on draft day.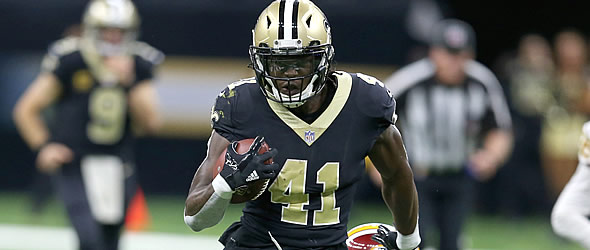 Kamara's workload isn't inline with traditional workhorse RBs making him overvalued in Round 1.


Alvin Kamara (1.07)

Kamara burst on the scene as a rookie and surprised just about everyone on his way to a top 5 RB fantasy season in most formats. What was remarkable about Kamara was the way he did it, not as a workhorse, but with extreme efficiency, averaging 6.1 YPC and 10.2 YPR. These numbers are historically efficient and are very unlikely to go anywhere but down this season, based not only on historical trends, but also on the fact that defenses can now scheme against the Saints biggest playmaker.

For Kamara fans who believe he will get a significantly bigger workload this season, making up for a drop in efficiency, I would strongly disagree and point to he fact that head coach Sean Payton has stated numerous times that he doesnít see Kamara getting any more work than he did last year. The bottom line: Kamara is a solid player that should have continued success based on his situation and talent but using a top 10 overall pick on him based on one historically fluky season is a recipe for disaster. Iíd feel much safer taking more traditional workhorse backs like Melvin Gordon, Leonard Fournette, and Kareem Hunt who all have similar upside with higher floors based on usage.

Jerick McKinnon (3.05)

I will preface this by saying I have loved McKinnon since he was drafted and own in him several dynasty leagues. His athletic profile is off the charts and when the 49ers signed him to a relatively big deal this offseason I was as excited as one can get about his prospects.

The problem with McKinnon is his ADP. Taking him in the early third round, especially in a standard scoring league, is betting on him hitting his absolute ceiling in production and health. While McKinnonís athleticism has never been in question, he has not produced more than mediocre numbers at a consistent rate as a runner in his first four years in the NFL, averaging 4.0 YPC and just 7 rushing touchdowns with nearly 500 carries. Heís been more efficient as a receiver, but still has only 5 touchdowns with nearly 150 receptions.

While the 49ers may have a better scheme, it is likely his efficiency on the ground will not increase and it remains to be seen if he will get enough total touches in standard leagues to be anything more than a flex player. Add this to the concern that McKinnonís body type may not be ideal to hold up to a rigorous workload, and you have too many red flags for a 3rd round pick. In his range Iíd prefer Derrick Henry, Mike Evans, and probably even Alex Collins.

Aaron Rodgers (3.05)

I have nothing against Aaron Rodgers, as he is one of, if not the very best at his position. Rodgers just happens to be the first QB taken in most drafts and in the third round that is extremely bad value, and almost a wasted pick.

I could nitpick here and point out that he lost Jordy Nelson and that his receiving corps is underwhelming. I could possibly argue that his defense is improved which might lead to fewer passing attempts. I might even touch on his age (34) and his injury history to try to convince you a drop-off may be coming, but I wonít. The reason Rodgers is on this list is because the QB position is deeper than ever and the third round is filled with players that have legit chances to be top 12 at more important positions.

In standard leagues I have been waiting until the 9th round to take a quarterback and have been thrilled to see the quality available, from Philip Rivers, to Jimmy Garoppolo, to Ben Roethlisberger, and Patrick Mahomes. There is a great mix of proven vets to high-ceiling youth available after you fill out all the rest of your RB/WR starters and even key reserves.

In the third and fourth rounds I count at least 7 players that have a realistic chance to be top 12 at their respective positions where the depth dries up very quickly. Taking those positions gives you a real advantage over owners who taking quarterbacks in rounds 3 through 6. Last year the number one fantasy QB and the 12th fantasy QB were separated by less than a hundred fantasy points, whereas the difference between the top RB and the 24th RB was nearly two hundred. Getting top players at more shallow positions should be a top priority and avoiding any QBs, even Rodgers, in the first five rounds is a sound strategy.

Deshaun Watson (4.04)

The second and final QB on this list is also a very bad value for much of the same reasons explained above: quality depth at the QB position and the heightened value of the RB and WR positions. But what makes Watson is an even worse value is his lack of proven track record.

Watsonís situation is similar to Kamara, in that they both hit unsustainable levels of efficiency. Watson is being drafted high based on a five-game stretch where he averaged over 30 fantasy points per game. In those five games Watson accounted for 19 touchdowns and averaged well over 300 total yards per game. Besides the fact that these numbers are historically unsustainable there are two additional factors that I see that make these numbers misleading and unlikely to be repeated.

First, four of the five the defenses he played (NE, TEN, KC, CLE,) were bad defenses verses the pass, all finishing in the bottom 15 of the league.

Second, Watson did not enter the season as the starter and teams were unprepared for his style and tendencies. With tougher opponents in 2018 and a full offseason for defenses to prepare, the chances Watson comes close to repeating that five-game stretch are remote to say the least.
Throw in a subpar offensive line and you have a recipe for a disaster. While Iím not writing off Watson as a talent that can put up good fantasy numbers as a dual-threat QB, there is zero chance I am going anywhere near him in the first eight rounds. Do yourself a favor and let someone else take a chance on Watson in the first five rounds while you gather high-upside players at more shallow positions in that range like Brandin Cooks, Royce Freeman, and Allen Robinson.

JuJu Smith-Schuster (4.05)

JuJu burst on the scene last year as a rookie and finished as a top 20 fantasy WR even though he missed a couple games and was not fully trusted by his QB until several weeks into the season. While I like JuJu and think he can be productive, I see him constantly being drafted as a high-end WR2 instead of a low-end WR2, which is where I think his production lies. While the distinction may mean the difference of only a round or two, it is small differences that can determine you winning or losing several games during the season and maximizing the value in your draft.
What I see is a player whose numbers were skewed because of two huge games (32 fantasy points in each) vs terrible pass defenses (Detroit and Cleveland), with one of those games coming in a meaningless Week 17 matchup.

I also see an offense that will have trouble feeding JuJu with any kind of legitimate consistency, as he is going to be the third option, with some weeks being the 5th option, depending on Vance McDonaldís health and rookie James Washingtonís development.

In a best-ball format I love JuJu this year but I fear he is going to be too inconsistent, especially if you are counting on WR2 numbers from him every week. If Iím picking in the 4th round Iím looking at players that offer a similar upside but more consistency. Players that fit this bill would include Larry Fitzgerald, Jarvis Landry, and even Chris Hogan.

Mark Ingram (4.08)

Two Saints RBís on the list?! You must think I hate the Saints, which is totally not true, but I do think their success last season has fantasy owners overly excited making their RBs bad values in drafts.

There are several reason why I am not taking Ingram in the first five rounds this year. First, the four-game suspension means Ingram is missing 25% of the fantasy season right off the bat. Thatís not something to take lightly, as you can easily take another top 50 player who wonít be squandered on your bench during the first month of the season.

Second, if youíve paid attention to Ingram and the Saints the past couple years you know that they havenít fully trusted him as their workhorse. The signing of Adrian Peterson last offseason was curious despite Ingram coming off a solid season and we all know Kamara is going to have his piece of the offense. Itís possible the Saints run game gets going without Ingram (Jonathan Williams?) and wonít be given as big a piece of the pie as you might think.

Third, Ingram will be 29 by the end of the season and with over 1,300 career touches, itís not outside the realm of possibilities that Ingram could get off to a slow start when he does return. Would it be a surprise if his productivity started to decline? While Iím not writing him off - I initially thought heíd be a value after his suspension - the 4th round is just way too soon for a player that has had one elite fantasy year in 7 seasons and that is guaranteed to miss a quarter of the season. In the range Iíd much rather have Zach Ertz, Royce Freeman, Larry Fitzgerald, Allen Robinson, and probably even Marshawn Lynch.

Josh Gordon (4.12)

I get why thereís always one owner in every league that drafts Gordon this high. His 2013 season was absurdly amazing, posting a 87-1646-9 line in just 14 games. That kind of upside comes around once in a decade and even though it was five years ago, thereís still that glimmer of hope that he may return to those lofty heights. The problem is, the chance is very small and sure, in the late rounds itís worth the gamble that he may stay clean, get himself together, play 14+ games, and live up to the hype. But, spending a top 50 on that happening is a waste of value. The 3 main reasons I am staying clear of Gordon in the first 7 rounds are...

First, in the two seasons Gordon managed to play since that magical 2013 season (2014 and 2017), Gordon has 42 catches for 638 yards and 1 touchdown in 10 games, averaging 15 yards per reception. Decent numbers, but nowhere near 4th round worthy. Is it possible he lost something since that 2013 season? Could 2013 just be a fluke?

This leads me to point number two, Gordonís baggage. I think we all hope he can get his act together and overcome whatever issues he has off the field, but the fact remains we have to take this into account the risk. The bottom line is heís probably one mistake away from a significant, possibly lifetime ban from the NFL.

Finally, even if Gordon keeps his nose clean and replicates the talent that we saw back in 2013, the Browns situation has changed. In 2013 Gordon was the lead dog, amassing 159 targets in 14 games (11 per game). That is simply not going to happen this season. The team added target-hog Jarvis Landry, drafted a highly talented rookie receiver in Antonio Callaway, has one of the gameís best receiving threats out of the backfield in Duke Johnson, and one of the most physically talented young tight ends in the league in David Njoku. With this many mouths to feed Gordon may find it difficult to get half the amount of targets he did in his best season.

Overall the risk just simply outweighs the reward in this case and there are simply much safer options in the late fourth round.

Alshon Jeffery (5.11)

Strangely enough, Jeffery had his best season five years ago, in 2013, but has mostly failed to live up to expectations since then. As the supposed number one receiver on an elite Eagles offense you would think the 5th round would actually be a good value but I donít see it that way for several reasons.

First, there are injury concerns, as he is still recovering from rotator cuff surgery and has yet to fully practice in training camp. While it is possible he returns to full health by Week 1, we are getting awfully close to the season and there are whispers he could be put on PUP. Even if Jeffery heals quickly it is likely he will need to be eased into action the first few weeks after missing so much time.

Besides health, Jeffery is coming off a very disappointing season that was only ďsavedĒ by the 9 touchdowns he caught. Even though Jeffery had 120 targets he only caught 57 balls for less than 800 yards, amassing the worst catch percentage of his career and the second lowest YPR. While the touchdowns are obviously nice, they are often fluky and Jeffery, despite his size, has never been a big touchdown guy, totaling double digit scores just once in his six-year career.

With Nelson Agholor and Zach Ertz being possession options and the team relying on its running backs for a big chunk of their offense, the Eagles ďnumber one receiverĒ is not really used as a traditional number one guy. Based on his usage, his decline in production, and his injury risk Jeffery should be drafted as more of a mid-range WR3, but is being taken as a mid-range WR2. Thatís too high in my opinion and he simply hasnít put up the numbers to justify that kind of draft capital. I wouldnít touch Jeffery before the mid-6th and I prefer quite a few guys in the 4th and 5th including Golden Tate, Allen Robinson, Jarvis Landry, Dion Lewis, and even Corey Davis.

Rashaad Penny (5.11)

A lot of people were surprised when Seattle took Penny in the first round of the NFL draft but with that kind of draft capital, Penny has climbed ADP lists this summer and has settled in to being taken as a low-end RB2. While there is certainly some upside, Penny is being taken several rounds too early based on several factors.

First, as most people have been reading, Penny is not currently at the top of the Seahawks depth chart, Chris Carson is. While many are dismissing this as simply motivating the rookie, the word from Seahawks camp is clear that Carson has been the better back consistently through the preseason. While it would not be a surprise to eventually see Penny become the starter, Carson has showed enough to earn a role tand if both players are healthy they will both get work. Besides Carson the Seahawks also have C.J. Prosise who has flashed previously, especially as a receiving threat making the Seattle backfield a dreaded RBBC.

Second, the Seahawks have one of the worst offensive lines in the league and an offense that might be forced to throw even more now that their once powerful defense has become a shell of its former self.

Finally, one of Pennyís biggest weaknesses coming out of college was pass blocking and with golden boy Russell Wilson behind center all it may take is a missed block or two to get the rookie benched.

While I tend to like Pennyís long term prospects the fact that he put up gaudy college numbers and was drafted in the first round have people overly excited about a guy who has yet to show anything at the NFL level. I could see a scenario where his rookie season is more of a redshirt year despite the capital the team spent on him. As a later round flier I see why Penny would be drafted but as the 26th or so RB off the board you are banking on a lot of scenarios going perfectly in Seattle and thatís unlikely. At the range heís being taken Iíd prefer Marshawn Lynch, Dion Lewis, and even fellow rookie Kerryon Johnson, who as at least shown some positives in training camp.

Evan Engram (6.08)

I really like Engram as a prospect and think he has a bright fantasy future but is being over-drafted based on unrealistic expectations set by last yearís surprising production. My personal draft strategy for tight ends this year is to grab Gronk, Kelce, or Ertz if they fall to a reasonable range in the first four rounds, or to simply wait till the last 4-5 rounds where there is plenty of value with George Kittle, Tyler Eifert, and Jack Doyle, to name a few. Engram is in ďno manís landĒ in terms of his ADP, as he will likely have about the same production as the guys I just mentioned. While Engram may have a slightly higher floor than some of the late-round tight ends, I think the ceilings are similar making Engram overvalued in the 6th round.

Detractors will point to Engramís season last year and argue that the 6th round is a bargain for a player that had a 64/722/6 line as a rookie but Engram also dropped a team-high six passes and only caught 56% of balls thrown his way. Add that to the fact that he did a lot of his damage with no OBJ, and/or no Sterling Shepard, and no running back of consequence, and you really had a perfect storm for Engramís production.

This season both OBJ and Shepard are healthy and the Giants drafted legend-in-the-making Saquan Barkley so it is conceivable that Engram will go from first or second in targets, to third or fourth this coming season. There will certainly be games where Engram looks like a fantasy stud, but it is hard to picture a scenario where he will put up consistent numbers unless more injuries to the offense. In the 6th/7th rounds there are still solid starter players at RB/WR and that is where I prefer to go: Marquise Goodwin, Corey Davis, Jamaal Williams, and Michael Crabtree.