Targeting weekly waiver picks is a completely subjective business, but this column hopes to point out some obvious and not-so-obvious selections to help your team from week to week while you strive to collect fantasy wins, reach your league playoffs and win the elusive title that your friends say is out of your grasp. While I'm a big proponent of making trades to bolster your roster, the waiver wire can be an almost limitless resource when it comes to discovering fantasy value in strange places. Each week, I'll highlight some of the popular (and not-so-popular) players who can help your squad and may still be available in your league.

Feedback is always welcome, appreciated and encouraged. I'll get to as many e-mails as I can.


---
Quarterbacks
Matthew Stafford, DET – Stafford had a terrible 2018 and slipped or went undrafted in many leagues (15-20 percent owned). In Week 1, he answered a lot of his critics with an OT-aided performance against an admittedly weak Cardinals pass defense. The veteran signal caller wasn't accurate (completed 27-of-45 passes) but ended up being quite productive with for 385-3-0 in the bizarre Week 1 tie with Arizona.
Gardner Minshew, JAX – Minshew (0.1 percent owned) took the reins after Nick Foles suffered a broken collarbone, completing 22-of-25 passes for 275-2-1 in the Jaguars' Week 1 loss to the Chiefs. He'll be the QB for the 6-8-week timetable that Foles will need to recover, and is a risky add with some upside considering his impressive performance on Sunday. Minshew was the 178th overall selection by the Jags in the 2019 after he quarterbacked Mike Leach's Air Raid spread at Washington State for one season, going 11-2 over 13 starts and finishing fifth in Heisman voting by completing 71 percent of his throws (.2 yards per attempt) with a 38:9 TD-to-INT ratio and four additional rushing scores. This could get interesting!
Marcus Mariota, TEN – I've had a complicated history with Mariota (5-10 percent owned), who completed 14-of-24 passes for 248 yards and three TDs (24 rushing yards on three carries) Sunday in the Week 1 victory over the Browns. I've been burned by him before, so I'll try not to get too excited by this one outing. Still, he looked in sync with perennial safety valve Delanie Walker and should be in for another decent performance against the division-rival Colts in Week 2.
Other QBs to consider: Case Keenum, Andy Dalton, Jacoby Brissett
Updates:
Mitchell Trubisky, CHI – Trubisky had a horrific game in the season opener, throwing for just 228-0-1 in the 10-3 loss to Green Bay. For a home game against a division rival, this wasn't very encouraging.
Kirk Cousins, MIN – Cousins was efficient on Sunday, throwing for 98 yards a TD and 0 INTs on 8-for-10 passing in a game that was pretty much decided by halftime. The Vikings will rely on their running game and defense – not asking too much of Cousins in games when they can easily grind out wins.
Derek Carr, OAK – UPDATE: Carr was solid in the late MNF game, completing 22-of-26 passes for 259 yards and a TD in the Raiders' Week 1 win over the Broncos. This was a huge win for the Raiders against a tough divisional foe, and Carr showed excellent rapport with his receivers, including WR Tyrell Williams, TE Darren Waller and rookie RB Josh Jacobs, who had a big 28-yard reception to help seal the victory.
Running Backs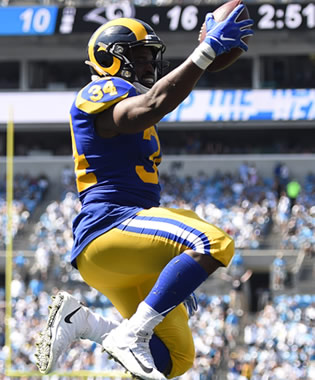 Malcolm Brown, LAR – Brown (just 5-10 percent owned) vultured two TDs from Todd Gurley in what looks to be more of a timeshare among the Rams backs than an uneven split. Gurley seemed fine with sharing the workload with Brown, who immediately becomes a standalone value at RB3/4 and needs to be added all formats.
Giovani Bernard, CIN – Benefitting from an injury to Joe Mixon (ankle) Bernard rushed seven times for 21 yards and caught 2-of-3 targets for 42 yards in the Bengals' Week 1 loss to the Seahawks. At this point Mixon's status is unknown, but Bernard (30-35 percent owned) would be shouldering a big workload and be in the RB2 conversation if Mixon misses any time.
Rex Burkhead, NE – Burkhead (2-5 percent owned) was a popular target for Tom Brady Sunday night, finishing with eight carries for 44 yards and 5-41-0 on eight targets in the win over the Steelers. While likely just a change-of-pace back behind Sony Michel and James White on the depth/usage chart, he's got plenty of upside and should be rostered in all PPR formats.
Justin Jackson, LAC – Jackson is about 40 percent owned and should remain part of the offense with Melvin Gordon not expected to report until between weeks 6 and 8. Austin Ekeler stole the show in Week 1, but Jackson rushed six times for 57 yards and caught 1-of-3 targets for 4 yards. He's a good short-yardage runner who could get some goal lien carries and work between the 20s on traditional rushing downs.
Wayne Gallman, NYG – Speaking of vultures, Gallman – a personal favorite of mine in this column – rushed twice for 17 yards and a TD in a game that was out of hand by the end of the third quarter. He's nearly universally available and is the better handcuff for Saquon Barkley with Paul Perkins inactive in Week 1 and Rod Smith on IR.
Other RBs to consider: Chris Thompson (PPR), Raheem Mostert, Darren Sproles (PPR), Dontrell Hilliard
Updates:
Matt Breida, SF – Tevin Coleman is injured again (surprise, surprise) and Breida will take over most of the workload after a relatively quiet Week 1 performance (15 carries for 37 yards).
UPDATE: Coleman has a high ankle sprain and will likely miss multiple games as this injury typically comes with a 2-6 week recovery. Breida will be getting lots of work the next few weeks.
Devin Singletary, BUF – Singletary had a promising debut for the Bills and looked way better than old war dog Frank Gore, rushing four times for 70 yards and 5-28-0 on six targets in the Bills' 17-16 win over the Jets in Week 1. He's a solid RB3 and has plenty of upside in PPR leagues.
LeSean McCoy, KC – McCoy had a solid first game with the Chiefs rushing for 81 yards on just 10 carries and adding a 12-yard reception on his lone target. This is going to be a committee, albeit on a very potent offense, so temper your expectations and stay tuned for any developments on hot hand/roles going forward.
Nyheim Hines, IND – Hines finished Sunday's loss to the Chargers with four rushes for 13 yards and 4-4-0 on four targets. He's a good change-of-pace and passing option for Marlon Mack, who really exceled in the workhorse role in Week 1.
Tony Pollard, DAL – Ezekiel Elliott's signing essentially ruins most of Pollard's value, and the rookie RB couldn't get much going with his 13 carries Sunday, rushing for just 24 yards (1.8 YPC). He'll likely get more passing game work as the season moves forward but he's mostly a Zeke handcuff now.
Wide Receivers / Tight Ends
Marquise Brown, BAL – Ravens rookie WR "Hollywood" Brown is currently owned in 25-30 percent of leagues and had a monster Week 1 (4-147-2), hauling in a pair of long TD passes from Lamar Jackson. He's fast and he's looking like the Ravens made an excellent late-round first pick. Anybody with this much speed an upside on a burgeoning offense needs to be owned in all formats, even if this production came at the expense of the pathetic Dolphins.
D.K. Metcalf, SEA – Metcalf (60-65 percent owned) caught 4-of-6 targets for 89 yards in the Seahawks' Week 1 win over the Bengals, an impressive debut for the large-target WR. While the Seahawks run the ball a lot and Metcalf's week-to-week value will vary considerably, he's got plenty of upside and should be owned in all formats moving forward.
D.J. Chark, JAX – A former LSU wideout who caught just 14-174-0 in 32 targets in the 2018 season for the Jags, Chark (10-15 percent owned) got off to an excellent start in 2019, catching 4-146-1 in the loss to the Chiefs. With Foles on the shelf for the next couple of months, he'll be working with Minshew and may not have the same upside he had going into Week 1. He's still a must-add ion 12-team leagues.
John Brown, BUF – What a Bills debut! The speedy WR caught 7-of-10 targets for 123 yards and the game-winning TD in Buffalo's 17-16 victory over the Jets and looks like he'll be a frequent target for Josh Allen this season. The Bills offense has a slew of young playmakers and Brown makes for a productive veteran presence among them.
John Ross, CIN – Ross (just 5 percent owned) saw 12 targets Sunday and finished with 7-158-2 in the Bengals' Week 1 loss to the Seahawks. We've been waiting for a Ross breakout for a couple years now, but this was the first time he's really broken out, shattering his single-game career highs in catches, yards and TDs up to this point. With A.J. Green out for an extended period, Ross makes for a worthy WR3/4 next week against San Francisco and should be owned in all 12-team leagues.
Terry McLaurin, WAS – McLaurin (7-10 percent owned) caught 5-125-1 on seven targets from Keenum and looks like a steal in both the real draft (3rd round pick for Washington) and fantasy formats.
Danny Amendola, DET – Amendola, a newcomer who's poised to assume the "security blanket" role in this offense, went for 7-104-1 on 13 targets – a solid first game with the Lions. He's an upside-laden WR4 and could have some big weeks.
TE Darren Waller, OAK – UPDATE: Playing the Jared Cook role in the Raiders' offense, Waller caught 7-of-8 targets for 70 yards on MNF, leading the team in targets and appearing to be ready to assume a big role this year. He's about 25-30 percent owned and should be rostered in 12-team leagues that allow TEs at the flex position.
Other WRs/TEs to consider: A.J. Brown, TE Blake Jarwin, Randall Cobb
Updates:
Michael Gallup, DAL – The Cowboys showed off a new and exciting passing attack under the direction of offensive coordinator Kellen Moore, unveiling more downfield throws and a commitment to getting Gallup the ball. The talented WR caught all seven of his targets for 7-158-0, including completions of 62, 36 and 23 yards. It's possible that Gallup (still available in 20-25 percent of leagues) matures into a WR2 right before our eyes this season.
James Washington, PIT – Washington caught 2-of-5 passes for 51 yards in a 33-3 Week 1 loss to the Patriots. He did have a 45-yard reception that saved his fantasy day, but the Steelers don't look like the offensive juggernaut of years past.
Jamison Crowder, NYJ – PPR leaguers rejoice! Crowder caught 14-of-17 targets for 99 yards in the Jets' 17-16 collapse to the Bills in Week 1, though his massive 41.4 percent target share was likely due to a less-than-100-percent Robby Anderson facing the shutdown skills of Bills CB Tre'Davious White. Still, we had some excellent recommendations in our Week 1 column and Crowder's 14 receptions was one of the highlights.
Tyrell Williams, OAK – UPDATE: Antonio who? Williams hauled in 6-of-7 targets for 105 yards and a TD in the Raiders' Week 1 win over the Broncos, showing he can be a go-to No. 1 for Carr and a viable fantasy option this season. With Brown out the door, Williams has massive upside in an offense that could be playing some games from behind. He makes for a sneaky high-upside WR3 for Week 2 against Chiefs in both season-long and DFS.
Adam Humphries, TEN – Humphries was an unmitigated bust in Week 1, catching just one pass on his lone target for 5 yards. He's off my radar in favor of rookie WR A.J. Brown (3-100-0 on four targets). Corey Davis ended up with a goose-egg on three targets.
TE Mark Andrews, BAL – Wow. Andrews caught all eight of his targets for 8-108-1 and basically tripled his output projections for Week 1. He's a bona fide TE1 until we see anything different in terms of how he'll be used.
TE T.J. Hockenson, DET – Hockensen made quite the debut for the Lions with 6-131-1 in the Week 1 tie (!) against the Cards. There's plenty to like about his skillset and upside, and one play in the fourth quarter summed up what he brings to the table, when Stafford scrambled out of the pocket and found him at the back of the end zone on a long throw. He's projecting as a possible weekly TE1 play.