Last Weekís Question: Does your league rate teams before the season begins?



In my column for Week 9, I asked if there were any leagues that made a habit of having owners rank teams after the draft and before the season. I heard from several commissioners like Dave, whose league does this in an informal way:

After the draft is over, I will usually post a poll asking which team (other than their own) had the best draft. Most owners will respond, and it provides for some chatter later in the season, But the primary reason I do it is to give the owners a reason to go looking at each other's rosters after the draft & become familiar with each of the teams.

There's a lot to like about Dave's approach here. Instead of requiring owners to do something, he simply makes it easy for them to participate in an exercise that is likely to have value for all of them down the road. But since his poll isn't obligatory, the level of participation presumably varies from year to year, so it's not even clear whether any conclusions about the accuracy of the predictions of owners could be reached even if he kept records of the poll (which it's not clear that he does).

Unfortunately, I didn't hear from any leagues that take a more rigorous approach to grading teams before the season begins. It would be interesting to know if consensus favorites consistently make or miss the playoffs, but these aren't the kinds of records that leagues seem likely to keep or evaluate. My apologies to Bruce for not being able to produce a better answer, but this question instantly struck me as a longshot.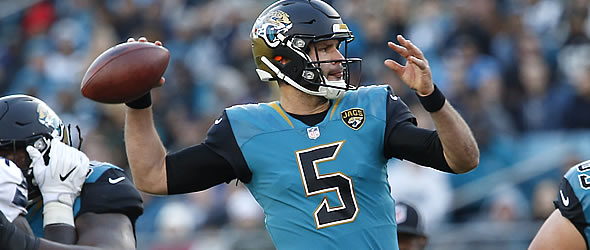 This week's question: Are you glad about a trade you made for a QB in 2018?



I have a confession to make about my approach to QBs in fantasy: I donít really care about them. In the FFToday staff league, I didnít pull the trigger on a QB until the 17th round of our 18-round draft. I ended up with Blake Bortlesówhich was fine with me, even when he was benched. When a QB doesnít work out or is on a bye, I can always stream a replacement based on a favorable matchup.

Thatís how I ended up with Ryan Fitzpatrick filling in for Bortles in Week 9. Sure, Fitzmagic got off to a great start this year, but of course his owner cut him when Jameis Winston took back over in Tampa. Thatís just how it goes with QBs; nobody really has room on their roster to store a backup. Thatís just one reason that there are always quality QBs available on waivers. (A second reason is that every week thereís a new QB playing against the Browns.)

When it comes to scarcity, thereís simply no comparison between productive running backs and productive QBs. I ended up with just 1 QB drafted in the 17th round in the staff league precisely because I wanted to focus on depth at RB & WR. I needed that depth at RB, since I drafted Jerick McKinnon, Devonta Freeman, Marshawn Lynch, Ty Montgomery, James White, and Doug Martin. I lost McKinnon before the season began, Freeman early, and Lynch not much later. Montgomery was a dice roll that didnít work out. After spending 6 draft picks on RBs, I was unable to meet the requirement of starting 2 RBs in Week 7 (with McKinnon, Freeman and Lynch injured and both Martin and Montgomery on their bye). I had to snag Kapri Bibbs from waivers just to submit a full lineupóand I felt lucky to land Bibbs under the circumstances.

I never have that much trouble finding a starting QB. Never.

Which is why I donít understand the temptation to blow a lot of draft capital on QBs. If you took Aaron Rodgers or Deshaun Watson with an early pick in 2018, how does it feel knowing that you could have gotten about the same level of productivity out of Mitchell Trubisky? Tom Brady and Russell Wilson tended to go in the middle roundsówell ahead of Philip Rivers and Ben Roethlisberger, but Rivers and Big Ben are currently high-end QB1s, whereas Brady and Wilson and high-end QB2s.

Iím not saying that I knew for certain how much more effective Rivers would be than Wilson in 2018, but I am saying that I had zero temptation to target either QB in the middle rounds because the one true unchanging fact of fantasy football is that solid QB production is available on the waiver wire almost every week in almost every league.

Even so, I have competitors in the staff league who seem to think that even though QBs are a dime a dozen & RBs are impossible to come by, I should trade James White (a monster in this PPR format and the only workhorse RB on my team) for a high-end QB. For instance, Doug Orth offered me Patrick Mahomes for White.

Now Mahomes is clearly a massive upgrade over either of my QBs (Bortles/Fitzpatrick), but going from White + Martin to Martin + Montgomery at RB is an even bigger downgrade. And yet that comparison still fails to address the real disparity between the positions, since I can probably find at least 1 QB on waivers each week who will perform within a few points of Mahomes, whereas I am unlikely to find a single RB on waivers for the rest of the season who can compete with White in a PPR league.

Thatís a long way of saying that I donít even understand why anyone would consider trading an elite talent at RB or WR or TE for an elite talent at QB. Fitzpatrick was an elite talent at QB at the beginning of the seasonóand yet I got him on waivers because thereís simply too much talent at QB in the NFL for fantasy rosters to accommodate all the start-worthy signal callers.

But maybe Iím being a little too dedicated to the idea of streaming QBs from waivers. Maybe thereís a good reason to go after QBs in trades. Maybe if McKinnon and Freeman were healthy, it would be worth looking at trading a PPR machine like White for Mahomes.

What about you? If you have traded for a QB in 2018, I hope to hear from you (either in the comments section below or via email). Which QB did you get? Who did you give up? And most importantly, are you glad about the trade you madeóor do you regret it?



Survivor Pool Picks



Bonus Pick: Packers over Dolphins

This spot is ordinarily reserved for a trap game, but this week it gets reassigned as a bonus pick because of the confidence you should have in the Green Bay Packers as 10-point favorites at home vs. the Dolphins. The Packers arenít available to me because Iíve already used them as my third pick (Week 1), my second pick (Week 4), and my first pick (Week 6). They were home favorites in all those games as well, so itís no surprise that the picks worked out every time. I especially like them against a weak Florida team on a day that should be near freezing. If you have started your survival pool over (as many did after Week 3), perhaps the Pack is still available to you.

Pick #3: Eagles over Cowboys
(7-2; GB, NO, CHI, LAC, CIN, car, TB, IND, oak)

The Eagles are 7-point favorites for good reason. Under Doug Pederson, they have a better home record than any NFL team not named the Patriots. Enter the Cowboys, who have yet to win a road game in 2018. Sure, Dallas has added Amari Cooper to its lackluster receiving corps, but Philly has acquired a new receiver of its own: Golden Tate, who gouged Dallas for 132 yards as a Lion in September. Philadelphiaís stout rush defense may have a few hiccups against the dynamic Ezekiel Elliott, but the Cowboy defense is in for a long day vs. Carson Wentz, Alshon Jeffery, & Zach Ertz in addition to Tate.

Pick #2: Falcons over Browns
(7-2; no, LAC, hou, GB, CAR, MIN, IND, PIT, KC)

Home-field advantage must be worth something to the Browns, who are only 4.5-point underdogs to the visiting Falcons. Itís hard to see how the game will be that close with so many injuries on the Cleveland defense. The Brownsí linebacking corps and secondary are practically on life support, and the Falcon offense is red hot after a 38-14 spanking of the Redskins in Week 9. The only thing I hate more than picking against a home team in a survival pool contest is NOT picking against the Browns when theyíre overmatched (which they are).

Pick #1: Chiefs over Cardinals
(7-2; BAL, LAR, min, JAX, NO, GB, LAC, CHI, dal)

The Chiefs are multidimensional in ways that Cardinal fans can hardly fathom. Sure, Arizona has a star RB in David Johnson (to offset KCís Kareem Hunt), but the Chiefs have a star QB (Patrick Mahomes), a star receiver (Tyreek Hill), and a star tight end (Travis Kelce) in addition to a great runner. Thereís just no comparison between these offenses. Larry Fitzgerald hasnít performed as well as teammate Christian Kirk this season, and neither Arizona wide-out has been as effective as Sammy Watkins (KCís No. 2 WR). Perhaps the most damning contrast of all is at QB. Josh Rosen has thrown 6 picks to Mahomesí 7 this season, but Rosen has only 5 TDs to Mahomesí 29 so far in 2018. In other words, Mahomes had more TD passes in Week 2 than Rosen has had since taking over at QB in Week 3. I donít see how the Cards can keep up in this one.


---
Mike Davis has been writing about fantasy football since 1999--and playing video games even longer than that. His latest novel (concerning a gamer who gets trapped inside Nethack after eating too many shrooms) can be found here.