Last week, I asked readers to name the best bench stash of 2019 (even if circumstances havenít yet broken the playerís way). I expected to get at least one vote for Brian Hill--perhaps from an owner who, having blown his FAAB budget on Hill, wanted to convince himself that Hill would take him to the Promised Land. But there was no such prediction before Hillís dud of a day vs. Carolina. Iím not expecting one now.
TomJ thinks it might be worth rolling the dice on Josh Gordon:
I want to wait and see about Lockett's injury. I'm skeptical that a multi-day hospital stay is going to leave him 'just fine' for the upcoming important fantasy weeks. So...Josh Gordon might be the stash that helps me the most (apologies for using the word 'stash' in reference to Gordon, who honestly seems like a good guy, but I can't pass that up).

I mean...it seems plausible that we won't ever get the Josh Gordon who destroyed the league for 12 weeks years ago. But Josh Gordon and DK Metcalf on the same team? That seems like cheating. If he ends up with a bigger role in an offense like Seattle (unlike the Pats, who seem aggressive about denying major involvement to anyone who isn't the quick-twitch slot guy), he could be big.
I like TomJís thinking in general (and his ďstashĒ joke in particular), but Iím probably biased by the fact that I have Gordon in the FFToday Staff League and would love to see him deliver in Seattle (though I got used to seeing him fail to deliver as a Patriot). If the Patriots (who acquired Mohamed Sanu and appear to be leaving the door open for a return by Antonio Brown) had thought Gordon was worth keeping, they would have kept him. Iím worried that there may not be any there there anymore. (But I hope TomJ is right.)
Keith decided to tell me who the best bench stash wouldnít be:
No idea who the best bench stash will be (Mattison maybe?). But I can tell you who it wonít be: a Kansas City running back. Even if you have Shady and both Williamses on your roster, you will never know who to start.
I hear this loud and clear. In one league, I have both Damien Williams and LeSean McCoy. Thatís maddening enough. I wouldnít take Darrel Williams even if I had a free bench spot for him because it would just give me one more option NOT to use.
Bruce took Keithís ďMattison maybeĒ guess and ran with it:
Itís gotta be Alexander Mattison whether you have Dalvin Cook or not. I have him as a handcuff in one league and a dart throw in another. I think heís even more valuable if you donít have Cook because itís always possible that Cook will remain the main man through Week 16. In my opinion, even if Mattison doesnít touch the ball once in weeks 13-16, heís still gotta be the top guy because of what he could do if anything happens to Cook.
I certainly understand the faith in Mattison. He could goose you in a way that a guy like Sanu probably wonít, but he could easily pay dividends that are simply out of reach for other players that you snagged off waivers and waited on.
My thanks to everyone who responded.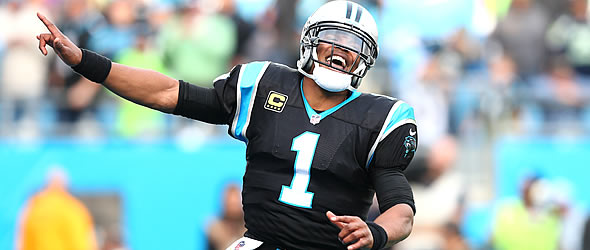 This Week's Question: What's been your biggest surprise at QB?
Iím not gonna lie. Cam Newton wrecked me at QB this season. I couldnít let him slip past the 9th round in any of my drafts. And anytime I take a QB in the first ten rounds, thatís the only one I draft. I ainít got time for blowing all kinds of draft capital on QBs.
I wasnít worried about replacing Cam with a suitable alternate if things didnít work out, but none of the targets I mentioned in my preseason QB write-up were available in the FFTSL.
Back in June, in what turned out to be my most understated prognostication of the preseason, I said that I would much rather have Lamar Jackson in the 12th than Carson Wentz in the 7th.
Response 1: Ya think?
Response 2: Wentz and everybody else.
Needless to say, Jackson was not available to me after I gave up on Cam.
I also wrote that I preferred Jameis Winston in the 10th to Drew Brees in the 6th. Winston is currently ranked 10th in the FFTSL, whereas Brees is 33rd (though Breeís injury obviously complicates matters).
Of course, neither Winston nor Brees was available to me after the draft, so it didnít matter which one I preferred.
I also said that I preferred Josh Allen in the 11th to Russell Wilson in the 7th. Allen is currently QB 8 (not quite 50 points on the season behind Wilson at QB 2).
But since neither of those guys had any chance of surviving the draft, letís talk about my longshot call on Derek Carr in the 14th over Matt Ryan in the 6th. Ryan (QB 12) has outscored Carr (QB 17) by only 2 points per game. Surely I pounced on Carr as soon as I realized Cam was a bust.
Nope. Carr was taken as well.
Since abandoning hope in Newton, I have had to rely on some very ugly streaming options at QB, including Andy Dalton, Ryan Tannehill, and Jeff Driskel. If only I had passed on Cam in the 9th, I would have taken 2 late round shots on QBs, and I think at least 1 of them would have worked out. But Cam dug a hole for me at QB that Iím still trying to escape. I would never have pulled the trigger on him in the 9th if I had thought there was any chance of this season being the complete bust that it has been for him.
What did you get most wrong at QB? Reply in the comments below or by emailing me.
Survivor Pool Picks (courtesy of Matthew Schiff)
#3 Bears over Giants (9-2; PHI, BAL, SF, lar, NE, WAS, GB, NO, SEA, ind, MIN)

The Bears are 6-point favorites at home vs. the Giants, which makes sense considering how fierce Khalil Mack can be and how turnover-prone Daniel Jones has been. Thereís also some reason to think that Saquon Barkley still isnít fully recovered from his ankle injury, so the Bears may not have to work very hard to contain the New York offense. But we wouldnít resort to a pick like this if we had better options. The Giants are coming off the bye, Daniel Jones has flashed more than a little promise as a rookie, and Barkley may be ready to rumble. With Chicago fans losing faith in Mitchell Trubisky by the week, this game might not offer the Bears as much of a home field advantage as Vegas seems to think.

#2 Bills over Broncos (6-5; HOU, BAL, NE, ind, kc, lac, SF, MIN, BUF, no, car)

If you can take the Patriots over the Cowboys, good for you. That pick isnít eligible for any of the slots in this column. The second-most lopsided spread of the week has the Saints as 9.5-point favorites over the Panthers, but you can see that weíve blown picks in the NFC South two weeks in a row, so we would probably steer clear of any NFC South contest even if we could pick the Saints again. We traditionally look for inter-divisional matchups with the favorite playing at home, and that takes us to the Bills as 4-point favorites over the Broncos. Gulp. These are the kinds of choices people make in Week 12.

#1 Browns over Dolphins (10-1: NE, SEA, DAL, LAC, PHI, dal, BUF, SF, BAL, OAK)

Fun Fact: DeVante Parker is outperforming Odell Beckham, Jr. at this point of the season. But that probably wonít be enough for the lowly Dolphins to beat the Browns in Cleveland. The Browns have no doubt been a disappointment this season, but they are 4-6 in a competitive AFC North. Theyíre definitely not the playoff contenders the Dawg Pound hoped for, but theyíre also a reasonably talented team capable of beating the likes of Miami. At running back the Browns have two viable options in Nick Chubb and Kareem Hunt. The Dolphins, by contrast, have traded Kenyan Drake and waived Mark Walton (leaving them with Kalen Ballage, who is not a viable option). When in doubt in 2019, pick against Miami.

---
Mike Davis has been writing about fantasy football since 1999--and playing video games even longer than that. His latest novel (concerning a gamer who gets trapped inside Nethack after eating too many shrooms) can be found here.