While the dress rehearsal happens in Week 3, many more "stars" came out of the woodwork and played in Week 2. The preseason is mostly about glimpses, but even glimpses can be significant when you're trying to decide how to put your 2017 roster together. So, what did this week's action reveal? Ten revelations coming right up…



1. McCaffrey May Be Magnificent



Opinions about the fantasy value of Christian McCaffrey have varied wildly during the summer, but after seeing him in action this past weekend, more fantasy owners will be high on him than skeptical on draft day. The Carolina running back exploded for a 17-yard TD run and also turned a reception into a 38-yard gain. It's difficult to assess just how many touches per game he'll receive, but it would appear he doesn't need many to be a real fantasy force. At this point, McCaffrey has climb to a third round value in standard redraft leagues, but he could start going as early as the second round in PPR leagues. Again, small sample sizes here, but McCaffrey's arrow is pointing up.



2. There's a QB Cliff…



Yes, the quarterback position is deep. Guys like Dak Prescott, Philip Rivers and Matthew Stafford represent great value in the early middle rounds. But, this weekend was a less than subtle reminder that you better not wait too long to take a quarterback and you better not wait too long on a backup at the position either. Blake Bortles and Tyrod Taylor are dropping like a rock while Joe Flacco (back) will remain out through next week. Not only did Taylor and Bortles play exceptionally poor football in Week 2 (interceptions, underthrows, overthrows), but Taylor lost his veteran receiver when Anquan Boldin decided to retire. Jacksonville certainly has better weapons in the passing game, but will Bortles actually be the starter on opening day? Bottom line: Eli Manning and/or Andy Dalton may be your last chance to grab a quality quarterback in your draft. Beyond them, the question marks are becoming more and more pronounced.



3. What To Make of Rams vs. Raiders



Jared Goff was so bad last season that it would be easy to chalk him up as a bust already and label the Rams a fantasy football wasteland. But, to do that would be to ignore entirely what took place this weekend against the Raiders. The Rams were able to throw downfield and actually run some semblance of an offense. Goff completed 80% of his passes (20 attempts) and gained an average of 10 yards per completion to go along with a touchdown pass. Even Todd Gurley was able to look like his old self (8-38-1). Two things to remember here: First, the Rams have a new coaching staff and their offense isn't going to be just a reboot of 2016. That's good news for everyone. Second, the Raiders defense looked like swiss cheese. That's good news for those owning Raider skill position players. The Saints' offense has always been a fantasy juggernaut not only because of their own prowess, but also because they were forced to offset a bad defense. Carr and the Raiders could be asked to do the same.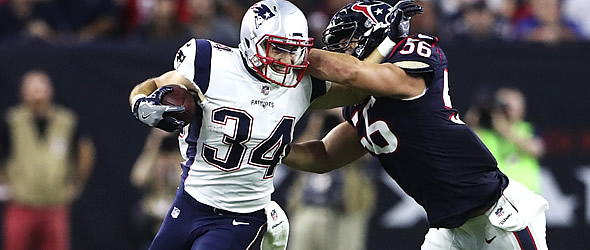 Rex Burkhead played with the first-team offense in Week 2 and made the most of his opportunity.




4. In Rex We Trust?



It's difficult to know what exactly Bill Belichick is doing in the regular season, much less the preseason, but Mike Gillislee's health woes have allowed other Patriot running backs to shine in exhibition action. Rex Burkhead stepped up this past weekend to the tune of 70 total yards and a touchdown. In fairness, the other New England RBs produced well on the ground, but none demonstrated Rex's precision in the passing game (3 rec, 50 yards). Again, it's next to impossible to offer up absolutes about the Patriots, but Burkhead is looking more and more like a worthy late-round pick. Playing time will come down to who Brady trusts most and Brady's chemistry with Burkhead in Week 2 was palatable.



5. Not Everyone Eases Into the Preseason…



While most teams prefer to play their starters a series or two in Weeks 1 and 2 of the preseason, occasionally teams take their top unit out for a much longer spin. Case in point was the Tampa Bay Buccaneers who let Jameis Winston attempt 29 passes in Week 2. Five of those passes ended up being completions to Mike Evans and from all signs, it appears that Evans is going to be a target monster again in 2017 after leading all wide receivers in that category last season at 171. Elsewhere, Dallas allowed Dak Prescott and Dez Bryant to get extensive work together and health appears to be the only thing standing between Bryant and a huge season. The Cowboys run the ball so well (160 rushing yards vs. the Colts) that defenses can't double team Bryant without really paying for it. Look for the Tampa Bay and Dallas offenses to jump out of the gates quickly in September meaning you should continue to target Winston and Prescott as mid-round values.



6. Second-Tier Rookies Made Positive Statements



While all eyes are on McCaffrey and Leonard Fournette, there were at least three other rookies that turned heads this past weekend and are worthy of your attention. First, there was Alvin Kamara in New Orleans busting off a 50-yard touchdown run. Then, there was Marlon Mack averaging 9 yards a pop on five carries for the Colts against the Cowboys. Finally, DeDe Westbrook of the Jaguars hauled in 6 receptions for 131 yards- best stat line for a WR during the week. Are any of these guys worth drafting? The answer is yes. Mack is in the best situation with only the 34-year old Frank Gore in front of him stealing touches. Kamara is in the best offense of the three, but there are multiple backfield mates to feed. Westbrook will benefit from the injury to Marqise Lee (ankle), which may now allow Westbrook to get some early season playing time. All three guys carry value, especially in dynasty leagues but they're good late round picks in redrafts as well.



7. It's A Week-To-Week Thing…



In Week 1, Samaje Perine fumbled and we downgraded his prospects for meaningful touches early in the season as a result. This past weekend, Perine ran with decisiveness and power, registering 45 yards on 8 carries and even catching a 29-yard pass. Meanwhile, top backfield dog Rob Kelley managed just 1 yard per carry on 9 attempts. What does it mean? It probably means Perine is back in the mix for a timeshare and it is a good reminder not to overreact to one week of preseason occurrences. Volatile backfield situations often fluctuate with different players stealing the upper hand from one week to the next. Be patient and don't rush to fantasy judgement over the results of any one performance.



8. Kansas City Could Be Poised For An Offensive Breakout in 2017



Perhaps no offense looked better in Week 2 than the Kansas City Chiefs. Alex Smith completed almost 90% of his passes and the three QBs that played in the game combined for 4 touchdowns. That's pretty good stuff. The team rushed for over 230 yards, which included top-notch efforts from Charcandrick West (113 yards rushing) and Kareem Hunt (8-40). There's something to be said for stability as the Chiefs have running the same offense for several years, fine tuning their mastery every season. They'll spread the wealth, but should score plenty of touchdowns with Travis Kelce likely leading the way. One concern though: Why did Spencer Ware only get 1 carry? We'll chalk it up to Andy Reid wanting to get reps for Hunt, West and C.J. Spiller but I think Ware is overvalued in redraft leagues.



9. Conner Can Handle a Workload



Le'Veon Bell isn't the happiest camper these days, although there appears to be little risk of him missing Week 1. Nevertheless, Pittsburgh decided to give the rock to James Conner early and often in Week 2 of the preseason and he very nearly turned 20 carries into 100 yards. Conner is no Bell, but the Steelers are generally committed to running the ball, and now they know Conner can be productive if given the chance. Conner is getting drafted because people like his story. I think he's worth drafting late on merit alone. This is a high-octane offense and Conner is clearly next in line behind Bell.



10. Zach Zenner Award: Week 2



And, last but not least, we need to give out the Zach Zenner Award. Congrats to Tarik Cohen (11 carries, 77 yards), rookie running back for the Bears. Cohen is smallish (5-6, 181), but with no one else impressing behind Jordan Howard, keep an eye on him. Not a wide eye, but an eye just the same.

That's all for this week. We'll be back after Week 3 with more to share…