This early in the process, the farther you go into a mock draft, the less certain things become. I guess that technically applies at any time, but it's more pronounced when it's as early as March.

Today, I will take you through my top 24 picks as I would make them. While much will change in the coming months, the top 24 should remain mostly intact, even if the players themselves move around.

After the NFL Draft, I will do two-round mock based on consensus thinking.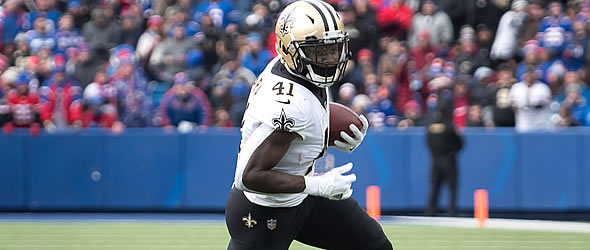 Alvin Kamara's top three finish in PPR leagues last season will make him a first round pick in 2018.
Round 1
1.1 - RB Le'Veon Bell, PIT: My top four picks will all be running backs. Bell has been elite the longest and is on the best offense. When forced to choose between the big four, I'm going with Bell.
1.2 - RB Todd Gurley, LAR: Although the Rams had a better offense than the Steelers last year and Gurley had a better year than Bell, Gurley falls to No.2 for me. The overall offensive situation gives Gurley the nod over my picks at No.3 and No.4.
1.3 - RB David Johnson, ARI: Lest we be reminded that his 2016 was way better than any fantasy player in 2017, including quarterbacks. If the Cardinals can get a real player under center and improve the offensive line, I might vault DJ back to No.1 overall.
1.4 - RB Ezekiel Elliott, DAL: He is a slight notch below the other members of the big four. The Cowboys treat him as a three-down workhorse and he's the primary goal line back, but Elliott is nowhere near the pass catcher that Bell, Gurley and Johnson are. But we're nitpicking here as based on total points, Zeke actually finished as an RB1 (RB12) despite sitting out six games last season.
1.5 - WR Antonio Brown, PIT: You can literally take him anywhere and it's a great pick. The best wide receiver since Jerry Rice and the best fantasy wide receiver for four straight seasons. Once the big four RBs are gone, you take the surest thing. And if you want to take him ahead of one of the RBs, go for it.
1.6 – WR DeAndre Hopkins, HOU: DHop proved last season that he can make it work with anyone not named Brock Osweiler. Hopkins has hands made of glue and ballerina like feet. He was a clear step above everyone not named Antonio Brown in 2017.
1.7 – RB Saquon Barkley, N/A: Once the NFL Draft is complete, this is about where I expect Barkley to go. Every year, there's a rookie running back that performs at a high level and everyone expects that player to be Barkley this season. He will be drafted to start right away so all he needs is to land in a decent situation. It's hard for me to envision him failing. Worst case scenario, he's Melvin Gordon. Best case scenario, he's Melvin Gordon with actual talent: generational talent (did you see what he did at the combine?): you do the math.
1.8 – WR Odell Beckham Jr., NYG: This man is unstoppable. Barring another freak injury, I expect him to usurp Hopkins and take his rightful spot as the second best wide receiver in the NFL. The Giants offense will only improve without Ben McAdoo.
1.9 - RB Alvin Kamara, NO: His efficiency is unsustainable, but I expect a substantial increase in volume in year two for Kamara. I have no concerns about the talent or the offense, so as long as the workload is there, I am confident in this pick.
1.10 - WR Michael Thomas, NO: Now that we're closer to the turn, I can start drafting based on what I know will happen. I still want that elite RB, but I love Thomas' high floor and high ceiling and know I can get the same caliber RB in Round 2 if I want.
1.11 – RB Kareem Hunt, KC: When push comes to shove, I want the elite RB to anchor my team. I'm fine if my RB2 is a rotating circus as long as my RB1 is solid. Hunt would be a little higher if not for the return of Spencer Ware, who is going to be slightly annoying, but not fatal for Hunt owners in 2018.
1.12 – RB Leonard Fournette, JAX: I initially had Fournette at No.7, but then the Jaguars extended Blake Bortles. Clearly, this team has no intention of winning anytime soon. Look for the Jaguars to go the way of the 2016 Raiders and fall back to the pack with the league's worst starting quarterback.
Round 2
2.1 - RB Melvin Gordon, LAC: Every player listed above is more talented than Gordon and every player I list below will be more talented than Gordon. However, few of these players have Gordon's situation and opportunity, which I am done doubting.
2.2 - WR Tyreek Hill, KC: Last year Hill scratched more of the surface of his upside, but he's yet to fully unlock it. Even if Pat Mahomes struggles his first year starting, he's going to sling it deep enough to keep Hill fed. If Mahomes exceeds expectations, Hill has overall WR1 upside.
2.3 – WR Davante Adams, GB: Back when Jordy Nelson wasn't finished, this is about where he went. Adams is obviously quite a different player than Nelson, but he is the new Nelson for fantasy purposes.
2.4 – WR A.J. Green, CIN: The second round is going to be loaded with WRs and although Green is coming off an inefficient year, he's too talented to be held down. His track record is enough for me to buy in once again.
2.5 – TE Rob Gronkowski, NE: The single most decisive advantage you can have in fantasy is Gronk. He's always been a top two TE…as long as he's playing football. Assuming Gronk doesn't retire, I'll gladly take 10 games of Gronk + a replacement than anyone else.
2.6 – RB Mark Ingram, NO: This separation between Ingram and Kamara is about right. Ingram simply shouldn't be as good as he is. He doesn't really do anything well, but yet, somehow, he always produces. Ingram should see more goal line carries than Kamara and the Saints apparently can support two RB1s.
2.7 – RB Carlos Hyde, SF: I don't know where Hyde will end up, but as long as it's somewhere that he can play three downs and catch passes, he'll be very much worth this pick. If I knew I could go WR mid-first-round and end up with Hyde, I would gladly do it.
2.8 – WR Mike Evans, TB: Evans did in 2017 what I thought he would do in 2016 when I was down on him. I got it wrong twice. In the later portion of the second round, I'll gamble on a bounce back because even if I'm wrong, Evans shouldn't derail my season.
2.9 – WR Julio Jones, ATL: I don't think Jones is the best player available and I do think he is a lot closer to being done than people think (but not yet). However, Jones is the pick here because I know I can leverage him in a trade if needed. I also know that realistically, both Jones and Evans are long gone in real drafts. As a reminder, Julio averaged 13.2 PPR points per game over the 15 games where he didn't drop 53.8 on Tampa. Without the explosion, he was the WR20 last season.
2.10 – RB Devonta Freeman, ATL: The Falcons believe in him far more than the better player (Tevin Coleman) and it's not like Freeman is bad at football. The whole team should experience positive regression after what happened last year.
2.11 – RB Christian McCaffrey, CAR: His usage is going to increase this season. He very well may catch 100 passes. I surmise I might vault him ahead of Ingram and Hyde over the coming months.
2.12 – RB Derrick Henry, TEN: Did you see him against the Chiefs in the playoffs? DeMarco Murray is gone. It's Henry's backfield now and with positive regression coming for Marcus Mariota, the Titans should be a better offense with more scoring opportunities.
My Projected Consensus Top 24
1.1 - Le'Veon Bell
1.2 - Todd Gurley
1.3 - Ezekiel Elliott
1.4 - David Johnson
1.5 - Antonio Brown
1.6 - DeAndre Hopkins
1.7 - Odell Beckham Jr.
1.8 - Kareem Hunt
1.9 - Alvin Kamara
1.10 - Saquon Barkley
1.11 - Melvin Gordon
1.12 - Michael Thomas
2.1 - Julio Jones
2.2 - Leonard Fournette
2.3 - A.J. Green
2.4 - Mike Evans
2.5 - Keenan Allen
2.6 - Tyreek Hill
2.7 - Davante Adams
2.8 - Devonta Freeman
2.9 - Christian McCaffrey
2.10 - Rob Gronkowski
2.11 - LeSean McCoy
2.12 - Derrick Henry