The final four is set. Thankfully, my NFL.com Playoff Challenge roster remains intact. The rest of this column will be devoted to DFS prognostications and my in-depth fantasy analysis.



NFL.com Playoff Challenge



NFL.com Playoff Challenge Roster
QB: Patrick Mahomes (x3)
RB: Alvin Kamara (x3)
RB: Todd Gurley (x3)
WR: Tyreek Hill (x3)
WR: Michael Thomas (x3)
TE: Travis Kelce (x3)
K: Wil Lutz (x3)
D/ST: Saints (x3)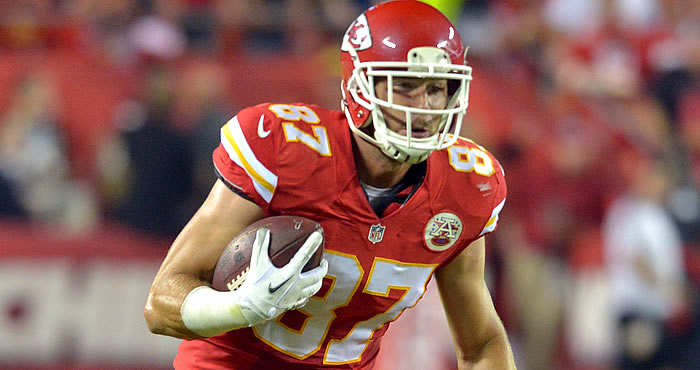 DraftKings/Fuzzy's
Since the pick-your-studs competition with Fuzzy's and the salary cap game of DraftKings essentially use the same PPR scoring (six points for passing touchdowns with Fuzzy's versus four fantasy points with DraftKings; three bonus points for 300 yards passing or 100 yards rushing/receiving versus no such bonus with Fuzzy's being the biggest differences), I'm going to essentially combine the two again this postseason.
Below you will find my position-by-position projections. Please note I have included DraftKings' dollar value for each player, followed by their projected point total in that format (DraftKings and then Fuzzy's). Each position is sorted by my DraftKings' projected point total.
Key for quarterbacks, running backs, receivers and tight ends:
P Yds - Passing Yards
P TD - Passing Touchdowns
INT - Interceptions
Ru Yds - Rushing Yards
Ru TD - Rushing Touchdowns
Rec Yds - Receiving Yards
Rec TD - Receiving Touchdowns
Rec - Receptions
Quarterbacks
Player
DK $
DK Pt Total
Fuzzy Pt Total
P Yds
P TD
INT
Ru Yds
Ru TD
Drew Brees
5,900
27.8
30.8
320
3
0
0
0
Patrick Mahomes
6,600
26.2
23.2
305
2
1
10
0
Jared Goff
5,400
22.0
22.0
275
2
1
10
0
Tom Brady
5,800
19.3
22.3
295
2
1
5
0

This weekend pits the four highest-scoring offenses against each other, which is a great thing for fantasy owners in theory. Before anyone starts to get visions we will see a repeat of 45-35 (Week 9 Saints-Rams) and 43-40 (Week 6 Patriots-Chiefs), consider the following: 1) the AFC Championship game in Kansas City is expected to be far from ideal; 2) the Chiefs' defense has allowed an average of 17.4 points in nine home games this season (including last week) versus 34.6 on the road; 3) excluding their meaningless Week 17 effort, the Saints have been winning with defense for about two months and haven't yielded more than 17 points in seven of those eight contests; 4) since Aqib Talib returned in Week 13, the Rams have surrendered 16 or fewer points in all three of their road games.

As difficult as it may be for owners to wrap their minds around, they need to be targeting Saints-Rams for their DFS/start-your-studs lineups this week - with some notable exceptions we'll get to in a bit. It's always hard to bet against Brees at home, and Los Angeles' defense is not quite the imposing unit its talent says it should be. On the flip side, the Saints' defense was the only one in the league to allow fewer than 1,000 rushing yards to the running back position, and the Rams simply have more very good receivers than New Orleans has good cornerbacks, so there is upside with Goff even with how average he has been from a fantasy perspective lately.

Let's begin with Brees. Only twice this season did he pass for fewer than 300 yards at home, and in one of those games, he threw for four touchdowns. He threw a total of two interceptions in his eight Superdome outings, so we're talking about a pretty ridiculous floor. The Rams did not shadow Amari Cooper with Aqib Talib as I thought they would last week, so there is a distinct possibility DC Wade Phillips elects to not shadow Michael Thomas (when he's not lining up in the slot) this week. There are other things to consider as well. The Rams did a reasonable job containing Alvin Kamara as a receiver in their Week 9 meeting (4-34-1), but it should not surprise anyone if he sees more action this time around with Los Angeles closer to full strength in the secondary. Also, given how much Aaron Donald has been wrecking game plans of late, it also behooves New Orleans to get the ball out quickly.

There are some definite reasons why Mahomes is not the automatic play he has been for the bulk of the season. Despite what most football players say about the cold not affecting them, common sense dictates the ball will be harder and perhaps slick, reaction times will be slower and throws will be harder to "feel" coming off the quarterback's hands. While not everything Mahomes throws is a rocket, receivers may be more likely to "body-catch" as opposed to "hands-catch." As such, it's very possible the miserable conditions expected in Kansas City will cause HC Andy Reid to focus more on the short passing game. Not helping matters is the fact the Patriots are playing pretty solid pass defense of late.

Owners rolling the dice with Goff this week will be doing so betting on his supporting cast, potential game script and the Saints' run defense while ignoring his recent production. Since the 54-51 shootout win against the Chiefs six games ago in Week 11, Goff has topped 216 yards passing once and thrown for more than one score once. Keep in mind that while the running game has been clicking of late, two of those games without Todd Gurley - meaning HC Sean McVay continued to pound the rock even without his bell-cow running back. It is entirely reasonable he tries to run for as long as he can to minimize the effect of the Superdome.

My one regret in last week's column (picking Chargers over Patriots) was really something I had no control over: Los Angeles entered the game playing roughly 90 percent zone coverage. It's been known for years Brady tears up zone coverage (Pittsburgh spent years rebuilding its secondary so it would be better-suited to defeat New England), but I would have expected DC Gus Bradley to be able to mix in a bit more man coverage, especially given the athletes he has in his secondary. Even with that, however, Brady did not have a huge fantasy day. Kansas City DC Bob Sutton has long used much more man coverage than zone, so the Patriots' emphasis on offense will be on routes designed to shake coverage instead of finding windows. It's not that man coverage is the kryptonite of Brady & Co., but it can take a bit more time if the receiving corps isn't blessed with physical freaks. (This is one game where a healthy Rob Gronkowski or Josh Gordon would be of much help to the Patriots.) Just like with Mahomes above, however, the biggest reason both quarterbacks find themselves ranked low this week is the poor weather expected at Arrowhead Stadium this weekend.
Running Backs
Player
DK $
DK
Fuzzy
Ru Yds
Ru TD
Re Yds
Re TD
Rec
Alvin Kamara
6,500
32.0
32.0
80
1
60
1
6
James White
5,400
24.5
24.5
20
0
75
1
9
Damien Williams
6,400
23.5
23.5
85
1
40
0
5
Todd Gurley
7,500
21.5
21.5
60
1
45
0
5
Sony Michel
5,600
19.5
16.5
105
1
0
0
0
Mark Ingram
4,600
8.5
8.5
35
0
20
0
3
C.J. Anderson
5,000
5.0
5.0
35
0
5
0
1
Rex Burkhead
3,400
3.0
3.0
15
0
5
0
1
Darrel Williams
3,500
1.5
1.5
15
0
0
0
0
Spencer Ware
4,200
1.0
1.0
10
0
0
0
0

More than perhaps any running back in the league right now, Kamara is liable to turn a 20-touch game into a multiple-score effort. In 12 games in which he recorded 20 or fewer touches this season, he scored at least two TDs four times. Anyone who remembers my touchdown regression articles from earlier this season likely remembers just how few touches Kamara typically needs to find the end zone. He had one three-game stretch earlier in the season in which he was shut out, but if we exclude that run, there were only four others in which he did not score at least once. Kamara's highest touch count after September came versus the Rams in Week 9 (23) when he scored three times. All this is to say is that if Kamara doesn't have a huge game against Los Angeles this weekend, it will most likely be because the Saints' defense had a huge game and didn't need him to carry the offense.

Man coverage works really well when linebackers are essentially oversized safeties and can cover running backs in space. Because Gronk appears to be slowing down and Josh Gordon is no longer around, it is usually up to White and Julian Edelman to get open. To that end, running backs caught 91-of-115 targets against the Chiefs in 2018. No regular Kansas City linebacker - safeties are being excluded here because Eric Berry will almost certainly spend most of his time on Gronkowski if he plays - fared particularly well in coverage either, as Reggie Ragland (17-of-22), Anthony Hitchens (58-of-63) or Dorian Daniel (26-of-31) did not do much to slow down passing games when balls were thrown in their coverage. White probably isn't going to add another 15 catches to his resume this weekend, but he should be busy regardless. As last week reminded us yet again, he is New England's negative script back, so if the Patriots become the latest victim of the Chiefs' home defensive prowess, White could push for 10 catches.

Kareem Hunt (10-80-0 as a runner, 5-105-1 as a receiver) thrived in the Week 6 meeting in Foxboro, but I'm not still ready to believe Williams is essentially a plug-and-play replacement for him despite plenty of recent evidence to the contrary. Yes, HC Andy Reid's system has long been very good to fantasy running backs, but few defenses did a better job of keeping running backs out of the end zone this season than the Patriots. I'm also not of the belief that Williams can continue scoring at least one touchdown every game, although I do acknowledge his success may be the single most important reason Kansas City could win this weekend - especially given the "arctic blast." But there within lies the rub: just because the elements suggest the rushing attacks will be important in this game doesn't mean both teams will trade body blows with each other 30 times apiece. And if we buy into the notion that New England generally takes away the one thing an opponent does well, who is to say the weather won't dictate that one thing isn't the running game?

The next two players are probably the hardest to rate so low. If Gurley was guaranteed to see 85 percent of the snaps versus the Saints, he would probably slot in right behind Kamara. Based on Anderson has done to this point as a Ram, there is absolutely no reason for Los Angeles to force 30 touches onto Gurley's plate. My conservative projection for both Gurley and Anderson have more to do with my respect for the Saints' run defense, although the loss of DT Sheldon Rankins to a torn Achilles' last week may enable the Rams to have much more success on the ground against New Orleans than it did during the regular-season showdown.

Marlon Mack seemed like a reasonable play last week versus the Chiefs. After all, Kansas City finished the regular season ranked fifth in terms of allowing the most rushing yards to running backs and third in PPR points to the position. The Chiefs made Mack a non-factor. Michel is used in much the same way Mack was and runs behind a line that isn't any better than the Colts', so owners will be putting plenty of faith in the Patriots' ability to jump out to an early lead and hold it, OL coach Dante Scarnecchia's reputation and Michel's talent if they ride him this week. Prior to last week's three-score game, Michel had a total of two touchdowns in his previous eight games. For the season, the rookie has caught as many as two passes once and only eight receptions for the season. In other words, if Michel doesn't run for 100 yards and score at least once, owners are going to probably take a loss at the position.

Perhaps Ingram gets more opportunity than I expect versus the Rams, but running in between the tackles - where Aaron Donald and Ndamukong Suh generally live - isn't the best way to attack the Rams. IF Los Angeles continues to pound the rock and IF the Rams can enjoy similar success on the ground against a Rankins-less defense as they did against the Cowboys, then I will probably be way off on Anderson's projection. My belief is HC Sean McVay used last week to test/improve Gurley's stamina following a three-week absence from game action - something the FOX announce team alluded to during the telecast. While Anderson has been too good to simply send back to the bench, it says here his role will be cut back this week.
Wide Receivers
Player
DK $
DK
Fuzzy
Ru Yds
Ru TD
Re Yds
Re TD
Rec
Michael Thomas
8,200
32.5
29.5
135
1
10
Julian Edelman
6,600
24.0
24.0
10
0
90
1
8
Robert Woods
5,700
23.0
23.0
10
0
90
1
7
Brandin Cooks
5,300
18.0
13.0
5
0
65
1
5
Sammy Watkins
4,000
17.5
17.5
65
1
5
Tyreek Hill
7,700
16.5
16.5
25
0
85
0
7
Keith Kirkwood
3,200
10.0
10.0
20
1
2
Josh Reynolds
4,200
7.0
7.0
40
0
3
Ted Ginn Jr.
4,300
6.5
6.5
45
0
2
Chris Hogan
3,700
5.5
5.5
35
0
2
Phillip Dorsett
3,900
5.5
5.5
35
0
2
Cordarrelle Patterson
3,300
2.5
2.5
15
0
1
Tre'Quan Smith
3,600
2.5
2.5
15
0
1
Chris Conley
3,500
2.0
2.0
10
0
1
Demarcus Robinson
3,600
1.5
1.5
5
0
1

In my mind, there are four options at receiver that stand out above all the others. Forget for a second Thomas is coming off a 12-171-1 line last week or posted a 12-211-1 line against the Rams in Week 9. Consider last week was the first time all season the third-year receiver, who is averaging 9.6 targets in 17 games this year, had more than three targets not end up as catches (12-of-16). He's the rare fantasy receiver who doesn't have any legitimate competition at his position for looks from Brees and plays for a quarterback who has completed at least 70 percent of his passes in three straight seasons. Thomas moves all over the formation (he saw 14 snaps out of the slot last week) and is open even when he isn't open. Better yet, New Orleans will almost certainly need a big day from him in order to beat the Rams. Barring the owners really trying to play the contrarian angle, Thomas needs to be started - and should be started with confidence - in virtually all leagues this week.

In case no one noticed, Edelman has been a beast for five straight weeks. Last week, I made the mistake of thinking Chargers slot CB Desmond King was ready to take the "Edelman Challenge." The fact of the matter is that no matter how good a slot corner is, it will be hard for him to truly shut down his expected primary matchup if he is always in zone AND he is forced to square off with a player of Edelman's talent. Kansas City's primary slot corner is Kendall Fuller, and while he has enjoyed a solid year, he has struggled in the last three contests. Furthermore, the Patriots are really down to White and Edelman in terms of players they can ask to carry the passing game. Barring the worst of worst-possible wintry conditions this weekend, the short passing game figures to be the easiest way to move the ball for either team in Kansas City. It would be stunning if Edelman isn't able to post his sixth straight game with at least 16 PPR points.

For at least this week, think of Woods as Thomas lite. Like Thomas, Woods moves all across the formation, although his focus has been in the slot even since Cooper Kupp was lost for the season. (To that end, 194 of Woods' 269 routes since Week 11 have come inside, including 21-of-26 last week.) New Orleans CB P.J. Williams graded out well in the slot over a four-week stretch over Weeks 13-16, but he has been a liability once again over the last two games. Making things even better for owners who want to roll with Woods is the fact he has at least six catches in four of his last five outings (the one exception was a mostly meaningless Week 17 performance). It also helps the Rams will use him on the jet sweep every so often as well. And if nothing I have said to this point has swayed anyone, let's not forget Troy Aikman's glowing praise last week: "I love Robert Woods. I think he's arguably the best receiver in football when you consider everything he does." (I kid, people. And yes, it is SHOCKING someone took part of what an analyst said, took it out of context and ran with it. Woods is easily one of the most complete receivers in the league right now. Not sure he's the best, but he's a very complete receiver.)

Like Woods, Cooks moves around the formation enough where he isn't likely to get shadowed by any player to the point he can get shut down. (And much to my dismay, his overturned touchdown catch last week cost me the ability to make up some ground in my most important playoff league, but I digress.) In reality, Cooks could have the best matchup of all the Rams' receivers this week if HC Sean McVay chooses to utilize him in the slot more than Woods, but we have about two months' worth of evidence to suggest that will not be the case. As such, most of his routes figure to come up against Marshon Lattimore and/or Eli Apple. As much as I'm sure he will want to stick to one of his old teams like he did in Week 9 (6-114-1), there's also a danger in riding that narrative too long and investing too heavily in an offense that has been running more and throwing less of late.

Watkins probably has no business being started in most leagues this weekend, but he could easily end up being the X-factor. Considering how shifting their focus from containing Hill (in the first half of Week 6) to containing Travis Kelce (after halftime) almost cost them in their first meeting, the Patriots can probably be expected to do their best to begin the game by trying to contain Hill and make Patrick Mahomes throw the ball everywhere else. (Once again, the weather may help in that regard.) The Patriots have long believed in using their second-best perimeter cornerback (J.C. Jackson, at the moment) and a safety over the top to neutralize the opponent's top wideout while utilizing the No. 1 cornerback (Stephon Gilmore) on the clear second-best receiver. The problem with doing that to Kansas City is that Travis Kelce is an incredible mismatch for New England's linebackers, so does Gilmore spend more time on him and leave Jason McCourty on Watkins? Another issue is that Hill ran 44.8 percent of his 583 routes out of the slot during the regular season and 50 percent of his 38 routes inside last weekend. McCourty is not a great bet to run with Hill all day. So does New England continually rush four and pray Kansas City checks into a run to take advantage of a light box or do the Patriots give Hill 10 yards of cushion on a regular basis and trust their cornerbacks to make the tackle on him in space?

Hill is always a tricky player to leave out of DFS/pick-your-studs lineups simply because he is capable of lighting up a defense and doing so with minimal opportunities - especially with Mahomes as his quarterback. As I explained just a bit ago, I believe the Patriots probably won't allow Hill to beat them deep, which is about the only justification one can use in not playing Hill in fantasy. It would not surprise me at all if Hill ends up outscoring all of his fellow receivers this week, but benching him is going to be a contrarian play based on what he did in the first meeting and a logical decision based on how he almost singlehandedly beat New England a few months ago.


I feel as though I'm doing Kelce a disservice by setting his bar so high, but the fact of the matter is the Patriots probably cannot expect to shut down both him and Hill. Attempting to slow down Hill led to a 24-9 halftime lead for the Patriots back in Week 6. Trying to bottle up Kelce led to a 31-point second half by the Chiefs. New England also wrote the book on not caring about how many yards it gives up in between the 20s, so long as it forces the opposing offense to kick field goals. In other words, the Patriots will probably sell out in an effort to keep Hill in front of them and focus more on taking out Kelce closer to the goal line. For the folks who believe players are "due," Kelce hasn't scored a touchdown in four straight games - his longest scoreless streak since getting shut out from Week 9-15 in 2016.

This year is probably the first one in Gronkowski's career in which can be considered a contrarian play. He won't be a particularly good one this week, that is unless Eric Berry suffers a setback. With that said, his price on DraftKings makes him interesting. Kansas City allowed the second-most PPR fantasy points to tight ends this season, but it wasn't long ago the Chiefs were among the best at shutting the position down. Berry was the main reason for that. If Berry, who began this week with a full practice, is in uniform Sunday, I would ignore Gronk in all playoff formats. If Berry sits, he's the only non-Kelce tight end I would even remotely consider.

Key for kickers and defense/special teams units:
XP - Extra point
FG - Field goal
PA - Points allowed
TD - Defensive/return touchdowns
TO - Total turnovers
Bonus - Points allowed bonus



Defense / Special Teams
Team
DK $
DK
Fuzzy
PA
Sacks
TD
TO
Bonus
Saints
2,700
5
5
27
3
0
1
0
Chiefs
2,500
4
4
24
2
0
1
0
Patriots
2,100
4
4
27
2
0
1
0
Rams
2,300
3
3
31
2
0
1
-1

Not that anyone was giving much thought to paying up for defense, but this week is not the one to do it. Not only are the top four scoring teams in the league still alive, but each of them ranks among the top five teams owners don't want their fantasy defenses to face. A case can be made that Kamara and Patterson returning kicks for the Saints and Patriots, respectively, gives those two teams a bit of an upper hand in terms of the probability one scores a return touchdown. One could also argue the frigid temperatures in Kansas City could lead to ball-security issues. In the end, the Saints' defense makes the most sense to me because of their track record at home and the degree of success they have enjoyed putting the clamps on some of the better offenses for nearly half of the season. Jared Goff is also the quarterback I have the least amount of faith in among the remaining pool of quarterbacks and is the only one who has shown the capacity to melt down.


---
Doug Orth has written for FF Today since 2006 and been featured in USA Today's Fantasy Football Preview magazine since 2010. He hosted USA Today's hour-long, pre-kickoff fantasy football internet chat every Sunday in 2012-13 and appears as a guest analyst on a number of national sports radio shows, including Sirius XM's "Fantasy Drive". Doug is also a member of the Fantasy Sports Writers Association.