There's never a perfect week for several fantasy studs to succumb to injury, but the start of the fantasy playoffs is about the worst time for it to happen. The notion that a fantasy team can earn a bye week due in part to good injury luck and get decimated during a week that doesn't really matter to them seems like a cruel way to potentially end a season. Likewise, losing players to injury during a first-round matchup when your team has done nothing but overcome adversity all season leaves a bitter taste in your mouth for weeks after the season is over.

Like it or not, time stops for no one. Neither does fantasy football. Perhaps the sooner we learn we are lucky to get to this point of the season without dealing with major injury issues, the saner all of us will be when it comes to this hobby. (A boy can dream.) At any rate, it's usually a good idea to take a closer look at the next men up on the roster whenever carnage strikes to the degree it did last weekend.

For those wondering, I chose not to break down Jameis Winston (hand), Josh Jacobs (shoulder), Will Fuller (hamstring) or Greg Olsen (concussion) in this discussion for various reasons. Winston is expected to play through his fractured thumb. DeAndre Washington appeared to make his case in Week 14 as the lead back in Oakland if Jacobs can't play, although the rookie reportedly got good news on his MRI earlier this week. Fuller had yet another setback with his hamstring and should be expected to miss the final two weeks of the fantasy season at the very least given his history. Olsen returned to a limited practice this week, suggesting he is on course to return to action in Week 15.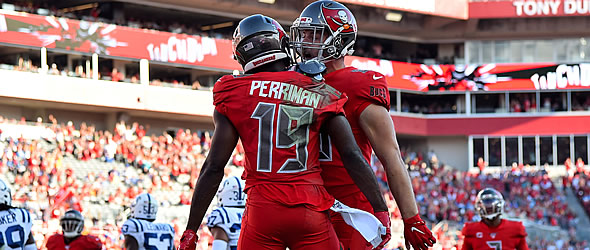 Injury: Hamstring; out for the season
In-house replacement candidates: Breshad Perriman, Justin Watson, Scott Miller

Just about the time most people were about to write off Perriman yet again, he's delivered back-to-back performances that remind us why he was a first-round pick in 2015. It seems pretty clear as he comes to the end of his fourth pro season that he's not ever going to be much more than a deep threat. Fortunately for owners in deeper leagues, that might be enough when it comes to reaching the finish line in their fantasy leagues with extremely favorable matchups against Detroit (Week 15) and Houston (Week 16).

Ever since he set the analytics community on fire with his extraordinary measurables at Penn's Pro Day last year, Watson has been a bit of a dynasty darling who hasn't had much of a chance to show himself off. He appeared to be in line for Perriman's role before Perriman caught the eye of the coaching staff this spring and was subsequently mothballed until Week 14. It was then he became the second outside receiver that Perriman has been for the better part of the season, and he delivered a 5-59-1 line against the Colts in the first real opportunity he's been given on offense in his career.

Miller has been sidelined since Week 12 due to a hamstring injury. He must be getting close to returning after getting in a limited practice on Wednesday (Dec. 11), although it may not matter if Watson has another good game in Week 15. The only "advantage" Miller seemingly has at the moment is that he appeared to be higher on the depth chart than Watson was prior to going down.

Predicted outcome: Perriman will almost certainly slide into Evans' full-time role as the primary outside receiver. Given the offense he's attached to and his upcoming matchups, a case can be made to start him in leagues where owners feel they need considerable upside to win their matchup and can handle the risk of his equally low floor. Watson is probably already a more well-rounded receiver than Perriman, but it's going to be up to Winston as well as the coaching staff to give him the opportunity to prove it. Since the fantasy season will be over by the time we really know if Watson has really earned their trust, he's probably best left on the waiver wire in redraft leagues. Dynasty leaguers could do much worse than stash him in the likely event Tampa Bay moves on from Perriman in the offseason. Pretty much everything I just said about Watson also applies to Miller.

Injury: Abdomen; out for the season
In-house replacement candidates: Russell Gage, Christian Blake, Olamide Zaccheaus, Justin Hardy

There obviously isn't another player of Ridley's caliber on the roster, but that doesn't mean Atlanta doesn't have capable replacements. It seems unlikely the Falcons will move Gage out of the slot to cover for Ridley. One of the main reasons the team was reportedly OK with trading Mohamed Sanu was because Gage made the staff feel comfortable his replacement was already on the roster.

With Julio Jones sidelined on Thanksgiving night, Blake stepped into a full-time role and performed well, finishing with six catches on nine targets for 57 yards. It was also the second time in as many games he saw nine targets. Naturally, after seeing his offensive snap percentage rise from 14 to 44 to 90 over a three-week span, Blake played only 17 percent of the snaps in Week 14 and was not targeted.

Zaccheaus saw the most snaps of the Falcons' "other" receivers (not including Jones, Ridley or Gage) in Week 14 and converted one of his two targets into a 93-yard touchdown catch, but his 22 snaps hardly suggest he is the clear next man up. Zaccheaus is not a new name to college football fans - many of whom know he set the all-time receptions record at Virginia. He also is the only player in school history with three career catches of 80-plus yards.

Predicted outcome: Gage seems like the most obvious player to benefit from a fantasy perspective due to more volume, although I don't expect his actual role to change much. I can see owners in deeper leagues using him as a first or second flex option in three-receiver leagues but probably not in more traditional formats. Blake, who is the more prototypical outside receiver at 6-1 and 181 pounds, makes the most sense to inherit the actual starting role. At 5-8 and 190 pounds, Zaccheaus is probably not a candidate to emerge as a full-time starter in Ridley's absence. It seems more likely than not his long-term future will be as a big-play field-stretcher who will be featured on the occasional trick play given his background as an RB/WR hybrid in college. I'm sure the coaching staff cares more about developing Blake AND Zaccheaus at this point than which one starts. As such, I expect Blake and Zaccheaus to split snaps on the outside.

Injury: Ankle/foot; week-to-week
In-house replacement candidates: Chris Conley, Dede Westbrook, Keelan Cole

Conley may be the most experienced player of the group, but his production this season has been ridiculously inconsistent - especially for someone who has started all year long and played an average of over 50 snaps. Chark's absence - however long it may be - doesn't figure to have a significant impact on Conley because a) he has continually shown throughout his career he cannot consistently raise his game when a teammate higher on the depth chart is sidelined and b) it's not as if he'll slide into Chark's role in the offense anyway.

Westbrook is well on pace to set career highs in catches and receiving yards for the third time in as many pro seasons. Unlike Conley, Westbrook has shown the ability to be the lead receiver (or at least produce like one) on a somewhat regular basis. Unfortunately, the Jaguars have scored 20 or fewer points in five straight games and averaged fewer than 12 during their five-game losing streak, so guessing that Westbrook might score the one touchdown they get in a given week is a losing proposition.

Cole has flashed at various times throughout his three-year career, although he still seems to be paying the price for a pair of fumbles that landed him in the doghouse around midseason last year. Why he hasn't been able to bypass Conley on the depth chart or given more snaps remains a bit of a mystery. Either way, he's the most likely of this bunch to be asked to assume Chark's role in the offense.

Predicted outcome: HC Doug Marrone recently told the media Chark is pushing to play - presumably in an effort to reach 1,000 receiving yards and 10 touchdowns (he is 44 yards and two TDs shy of those marks) - so his season may not be over just because Jacksonville has no playoff aspirations. At any rate, Westbrook is the most likely candidate to see double-digit targets for however long Chark is sidelined, but he is already owned in most leagues. Perhaps the offense becomes little more than the Leonard Fournette and Westbrook show in the interim, but this is also is a grand opportunity for Cole to prove he needs more playing time. With upcoming games against Oakland (Week 15) and Atlanta (Week 16) as well as Conley's inability to push for a bigger role in this offense, Cole would be my choice over Conley as the better addition to fantasy rosters.
Injury: Concussion; day-to-day
In-house replacement candidates: Isaiah Ford, Allen Hurns, Trevor Davis

Ford is a former seventh-round draft pick who may not have much of an NFL resume, but that doesn't mean he lacks for talent - even if Miami has cut and re-signed him multiple times. The biggest knocks on him coming out of Virginia Tech were speed (4.61) and lack of bulk (sub-190 pounds at the time), but that didn't stop him from setting most of the major receiving records in only three years as a Hokie. Perhaps a 6-92-0 line on nine targets - even if it did come against the struggling Jets' secondary - in Week 14 will wake up some personnel folks across the league and maybe even get the Dolphins to acknowledge him as someone who needs more time on the field. "Average" NFL talents don't typically perform that well because they were given a chance; they usually had it all along and were blocked from showing it for one reason or another. Unfortunately, once Preston Williams returns next season, Ford will likely find himself no higher than fourth on the depth chart no matter how well he finishes 2019.

Hurns has seen more snaps in the slot in each of the last two weeks than at any other point during the season. (He had spent the bulk of his first three games following Williams' season-ending injury playing on the perimeter.) It's unlikely his allotment of snaps and where he sees them will change all that much for however long Parker sits. At this point in his career, he is what he is - a player who will attract about six to seven targets, catch about four or five passes and average a shade over 10 yards on those receptions with little chance of finding the end zone. Hurns did not practice Wednesday (Dec. 11) due to ankle and knee injuries, so his situation needs to be monitored for the remainder of the week.

I don't want to totally discount Davis' chances of contributing on offense, but he was added in the middle of the season in large part because of his ability on special teams. He might stretch the field a bit if Parker sits, but it's hard to imagine him making much of an impact.

Predicted outcome: Obviously, if Parker can play this weekend, he and Hurns are the primary plays and both can be started in deeper leagues. If he cannot go (and Albert Wilson is also ruled out with his concussion), then we should see another heavy dose of Ford - likely against Delicious Dozen favorite DeAndre Baker - versus another weak secondary in the Giants. Most owners in traditional leagues will have better upside options with much higher floors, but fantasy owners of Parker in deeper leagues that want a little peace of mind in the event of Parker being ruled out could do a lot worse than starting Ford. If there is such a thing as a safe play among Miami's receivers, it would be Hurns. The upside play, however, is Ford.

Injury: Torn ACL; out for the season
In-house replacement candidates: C.J. Prosise

I admittedly was not a big fan of Penny coming out of San Diego State, but it would have been hard to imagine him getting off to this kind of start in his NFL career. There have definite flashes followed by long stretches of his disappointment - usually due to injury. Just as it finally appeared he was on the verge of an extended breakthrough, he tore his ACL on his first play of Week 14. While his fantasy owners won't have to experience the grueling rehab he needs to go through in order to play in 2020, it was still a punch to the gut for any owner who believed he finally hit the jackpot after sitting on him all season long.

Likely outcome: Prosise figures to get a bit of run now on certain passing downs, but this will likely be the Chris Carson show for the remainder of the season. With upcoming matchups against Carolina (Week 15) and Arizona (Week 16), Carson could easily be one of a handful of players who ends up being a league-winner.

Injury: MCL sprain: out for the season
In-house replacement candidates: Adrian Peterson, Chris Thompson

There's not a ton that needs to be said here, as Guice has been off the field more often than he's been on it during his two seasons as a pro.

Predicted outcome: Peterson will push for 20 carries as long as the game is relatively close. Given how the Eagles (Week 15) and Giants (Week 16) are playing at the moment, it's not a big ask. Meanwhile, Thompson is also worthy of flex consideration. He caught seven passes on eight targets in Week 14, suggesting a return to the role that usually saw him handle about five carries and five receptions per game earlier this season is a distinct possibility.

Injury: Foot; out for the season
In-house replacement candidates: Nelson Agholor (?), JJ Arcega-Whiteside, Greg Ward, Robert Davis, Marcus Green, Marken Michel

Perhaps the most surprising development of the week to this point is that the Eagles came out of practice Wednesday (Dec. 11) and have yet to add a receiver after finding themselves in danger of playing 40-year-old QB Josh McCown at receiver on Monday night. It's a pretty clear indication one or two of the three wideouts on the practice squad (Davis, Green and Michel) will get promoted. Even if Agholor was the kind of receiver Philadelphia could build its passing attack around, itís a depth chart that looks pretty lean. As we know, he is neither that kind of talent nor is he healthy.

As a result, Arcega-Whiteside could easily enter this weekend as the top receiver on the depth chart. This is the same rookie who was hyped for his ability to win contested balls but hasn't been able to convince the coaching staff to play him more than 40 snaps in all but four games this season despite Agholor's up-and-down play and the absence of DeSean Jackson.

Ward is a converted college quarterback who is probably the closest thing the Eagles have to a receiver who can run pro routes if we don't include Agholor. Philadelphia apparently has not thought so, mostly keeping him on the practice squad while only giving him somewhat significant playing time in the last three games.

Davis is the only one of the practice-squaders I will discuss in part because I think he's far and away the most obvious player of the three who should already be on the 53-man roster and contributing. A preseason leg injury ruined his 2018 campaign, but he made Washington's roster out of camp this summer before getting released. At 6-3 and 210 pounds with 4.4 speed, he fits the profile of an NFL perimeter receiver. Considering Jeffery is the player Philadelphia needs to replace, he is the most natural choice to fill the void he leaves behind.

Predicted outcome: In my opinion, Arcega-Whiteside isn't ready to be a full-time NFL receiver yet. (I'm not sure if he'll get there anytime soon either, but I tackled that topic during my draft evaluations this spring.) Ward is probably the safest bet for fantasy purposes if Agholor cannot play, but I think Philadelphia has made it pretty clear it prefers Agholor, so he will be the top option if he can play. The wild-card is Davis. No one should expect him to replace Jeffery or his production, but if the Eagles have any desire to make things slightly easier on Carson Wentz, giving him a big receiver who can stretch the field might be a place to start. None of the receivers need to carry the offense - Zach Ertz and Dallas Goedert can do most of the heavy lifting - but they do need to be able to contribute. The overwhelming majority of fantasy owners should avoid all of Philadelphia's wide receivers for the remainder of the year, but if I had to roll the dice on one of them breaking away from the pack and doing something special this month, it would be Davis.

Injury: Concussion; day-to-day
In-house replacement candidates: Josh Hill, Taysom Hill

If ever there was a player who could be considered a bust and a stud in the same season, Cook might be that guy. His first four games as a Saint sent him to the waiver wire in many leagues. Just about the time it appeared he was ready to become a thing in Weeks 5 and 6, he hurt his ankle and did not play again until Week 10. Whether his slow start was merely a matter of happenstance because Brees got hurt in Week 2 or more that it took Cook half of the season to feel comfortable in the offense, the fact of the matter is he has been one of the best options at the position since Week 10.

Like the other players on this list who suffered a concussion last week, it will be a longshot for any of them to return to action in Week 15. Josh Hill has already turned in career highs with 21 catches and 186 yards, telling us everything we need to know about his limited upside. Taysom Hill is not technically a tight end, but he does see a snap or two per game there - and everywhere else, for that matter - every so often.

Predicted outcome: In the likely event Cook sits this week, owners can't turn to Josh Hill in the hopes he'll score a touchdown for the second straight game. Taysom Hill is listed as a quarterback in just about every fantasy league known to man, so it would take some promise that he'll score twice and run for 50 yards in order to start him in traditional leagues. Cook is a good bet to return in Week 16.

Injury: MCL sprain; out for the season
In-house replacement candidates: Alex Erickson, John Ross

While Philadelphia can claim it has experienced the worst injury luck at receiver this season, Cincinnati certainly has a case. No A.J. Green. Ross misses most of the season after blowing up early. Now, Tate is done. I suppose the Bengals can find some comfort that fate waited for Ross to get healthy before Tate got hurt. Ross made his return after more than two months on IR in Week 14 and finished with two receptions for 28 yards - very comparable production to the final two games he played before injuring his collarbone in Week 4. With Andy Dalton back under center and Tate no longer in the picture, a strong case could be made that Ross could finish the season on a high note. Pretty much everything just said about Ross could also be said for Erickson, who has done relatively little since enjoying a Ross-like burst in Weeks 7 and 8. Unfortunately, a Week 15 matchup versus the Patriots eliminates whatever chance either one had of building enough trust in fantasy owners to be used in Week 16.

Predicted outcome: It's not as if Tate was blowing up the joint prior to getting hurt, but he was seeing enough targets and doing enough with them to be considered a low-end starter in a lot of leagues. Ross and Erickson could easily enjoy huge games in Week 16 versus the Dolphins, but this is not a passing game that will support three receivers regardless of the matchup. Wasting a roster spot for a week in the hopes you snagged the right one for your championship game doesn't make a lot of sense if you don't make it there - especially if that spot could have been used on a better streamer at quarterback or defense. The most likely outcome is Tyler Boyd seeing a huge target share the rest of the way. Only Boyd should be in lineups this week - and even that is a stretch. Desperate owners willing to accept a four-point floor in PPR leagues so they can hit a 20-point ceiling in Week 16 should go with Ross over Erickson. The safer (and probably smarter) play is just to avoid every non-Boyd receiver in Cincinnati over the final two weeks.




---
Doug Orth has written for FF Today since 2006 and been featured in USA Today's Fantasy Football Preview magazine since 2010. He hosted USA Today's hour-long, pre-kickoff fantasy football internet chat every Sunday in 2012-13 and appears as a guest analyst on a number of national sports radio shows, including Sirius XM's "Fantasy Drive". Doug is also a member of the Fantasy Sports Writers Association.