4.02 - RB Michael Carter, Jets
Team Fit: Do not make the mistake of underestimating Carter because he is 5-8 and 201 pounds. The Florida native compares favorably to Devonta Freeman as an undersized back unafraid to run with power but who is also instinctual and quick enough to make defenders miss. Also like a young Freeman, Carter has impressive stop-start ability and keeps his feet through contact, so he is not limited to "space work" just because he is a bit undersized. To that end, the ACC's leading rusher last year leads this draft class with 29 carries of at least 15 yards and piled up impressive numbers in missed tackles forced (47, fifth in the class) and yards after contact (814, sixth), per Pro Football Focus. Perhaps the most impressive part of his resume is that he did not fumble in either of his last two seasons (379 touches). The two key qualities that figure to keep Carter from being a true every-down back in the NFL are his size and the fact he will occasionally get run over in pass protection. Although he profiles as a complementary piece in a committee backfield in the NFL, he is an immediate threat to steal at least 10 touches per game from Tevin Coleman and La'Mical Perine.
What does it mean in redraft? RB3. Carter should emerge as the preferred option on passing downs soon enough, and there is a strong possibility he ends up leading this backfield.
Where should I expect him to go in my rookie drafts? Check back next week.
4.04 - WR Dez Fitzpatrick, Titans
Team Fit: The fact the Titans waited until Round 4 to address the receiver position seems to indicate they are willing to give Josh Reynolds a real chance to grab Corey Davis' old role. Fitzpatrick is a middling prospect in that he doesn't stand out in any one area, although he did produce more big plays in 2019 and 2020. While he did show a knack to make the spectacular catch, he was also charged with 21 drops over his career and never finished with more than the 45 receptions he had as a freshman.
What does it mean in redraft? Minimal impact. The dearth of receivers in Tennessee gives him a chance should A.J. Brown or Reynolds get hurt, but his odds of producing in 2021 are slim even if that happens.
Where should I expect him to go in my rookie drafts? Check back next week.
4.07 - WR Amon-Ra St. Brown, Lions
Team Fit: The Lions' depth chart is lackluster at best at receiver, as Breshad Perriman, Quintez Cephus and Tyrell Williams headline the group. St. Brown isn't the type of prospect that is going to blow right through that competition, but he is savvy enough to get deep on occasion despite lacking game-breaking speed (4.6). The son of a two-time Mr. Universe, it should come as no surprise that St. Brown is built well and physical enough to occasionally make some things happen after the catch, although only 35.7 percent of his career receiving yards came after the catch.
What does it mean in redraft? WR5 with some upside for more. Perriman and Cephus should be considered the favorites to start, while Williams should open as the primary deep threat. St. Brown's avenue to immediate playing time is winning the slot job, but he may end sharing snaps there with Cephus and D'Andre Swift.
Where should I expect him to go in my rookie drafts? Check back next week.
4.15 - RB Rhamondre Stevenson, Patriots
Team Fit: Two things immediately stand out about Stevenson: his size (230 pounds … he was listed at 246 by the school) and 165 carries at the FBS level. (He did rush for over 2,500 yards at the JUCO level though.) It doesn't take long before watching him on film to see he is not the prototypical "big back." His most defining feature may be his ability to contribute as a receiver and adequate blocker in the passing game. At his best as a runner, Stevenson runs with a nice combination of power and elusiveness for a back of his size. Pro Football Focus credited him with 36 missed tackles forced on only 101 carries in 2020. Unfortunately, he doesn't always play to his size and deliver the blow. He also lacks the ability to shift into another gear when he gets out in the open or get restarted if his feet stop moving. Another negative is his three fumbles on his 165 carries with the Sooners. In New England, he'll serve as a quality backup as someone who can give the Patriots a healthy mix of Damien Harris and James White's best skills and replace one of them in a pinch should Harris or White get hurt.
What does it mean in redraft? Very little. New England may have him play the Rex Burkhead role in this offense, which rarely moved the needle for fantasy purposes. Stevenson's only avenue to redraft value is an injury to Harris or White. Even then, he lacks Harris' power and White's quickness.
Where should I expect him to go in my rookie drafts? Check back next week.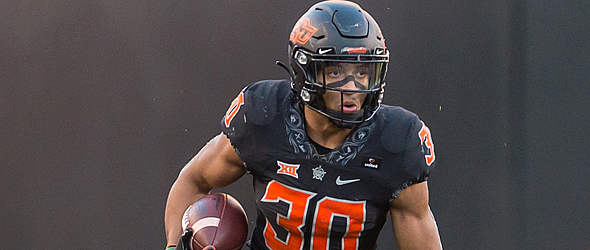 4.21 - RB Chuba Hubbard, Panthers
Team Fit: No one is taking over anytime soon for Christian McCaffrey, but that's not the point with this pick. Mike Davis moved on to Atlanta, and Carolina would probably like to avoid a repeat of last season when it struggled to run after CMC got hurt. A proper evaluation of Hubbard depends on how much stock one wants to put on his 2020 tape (which was effectively ended after five games due to a high-ankle sprain in a COVID year) versus the 2019 tape that saw him rush for over 2,000 yards. One thing was abundantly clear in both seasons: he can handle a heavy load week after week. He boasts high-level vision and instincts for where the hole will open and generally will not get caught bouncing runs to the outside unnecessarily. For a 210-pound back, Hubbard surprisingly relies more on vision and power and less on making defenders miss in the hole (although he flashes this at times). On the downside, he fumbled seven times over the last two seasons and 11 times in his college career.
What does it mean in redraft? Primary handcuff option for McCaffrey, which makes him a worthwhile investment as a high-upside RB4.
Where should I expect him to go in my rookie drafts? Check back next week.
4.26 - WR Tylan Wallace, Ravens
Team Fit: It's a terrible landing spot for Wallace, who had a decent shot to produce right away if he would have landed in a run-heavy offense that didn't already have Mark Andrews, Marquise Brown, Rashod Bateman and Sammy Watkins - among others - ahead of him in the passing game food chain. Nevertheless, Wallace offers sure hands (three drops on 178 targets over the last two seasons), strong run-after-catch skills and an ability to win more than his share of contested catches despite his rather ordinary frame (6-0, 194). It's also hard to ignore how often he kept the chains moving or put the ball in the end zone; 73.7 percent of his catches ended up producing a first down or touchdown. Jakobi Meyers is a recent example of a receiver who didn't produce the greatest testing numbers but has typically produced when given the chance and makes a reasonable comp for Wallace. Even if Baltimore wants to use him in the slot, he'll have to beat out Devin Duvernay for that - and that will be no easy task.
What does it mean in redraft? He can probably be ignored for all the reasons outlined above.
Where should I expect him to go in my rookie drafts? Check back next week.
5.03 - TE Brevin Jordan, Texans
Team Fit: Most tight ends that are fifth-round draft picks are longshots to be starters at any point in the near future. Such is not the case here, although Jordan isn't a traditional tight end per se. Jordan was always going to be a decent fallback plan for a team that missed out on Kyle Pitts but loved the idea of a tight end with some game-breaking potential. At least in terms of his comfort level in the slot, cutting ability and run-after-catch upside (his 365 yards after the catch led all FBS tight ends in 2020), Jordan is in Pitts' class. Also like Pitts, his speed (4.5), ball-tracking and fearlessness over the middle allow him to be a vertical threat. What Jordan lacks is Pitts' massive length, sure hands, route-running and insane contested-catch ability. The Miami (Fla.) product is cut from the same cloth as Jordan Reed and Irv Smith Jr., so he should be able to see the field early in his career as a 6-3, 247-pound mismatch weapon who doesn't mind lowering his pads and running through contact. Jordan Akins has produced a bit and Kahale Warring is a spectacular athlete, but they were products of a previous administration, so Jordan will make the team and is a good bet to produce early on in his career.
What does it mean in redraft? TE2/3. Like Pitts, Jordan is a mismatch weapon who may end up working out of the slot a fair amount when he's on the field. His ability to pick up the offense will determine if that happens in 2021 or 2022.
Where should I expect him to go in my rookie drafts? Check back next week.
5.06 - RB Kenneth Gainwell, Eagles
Team Fit: Gainwell is a sudden and quick runner with the ability to make multiple moves in the whole, but his best feature - and likely the reason Antonio Gibson didn't play more running back in 2019 - is that he presents an instant mismatch whenever he is flexed out into the slot since defenses treat him like a running back. Gainwell was extremely productive in his one season as the lead back for the Tigers, but he was largely neutralized as a runner in Memphis' two postseason games in 2019. (He opted out in 2020.) The 22-year-old doesn't lack for desire in terms of running with power, but he lacks the growth potential to add the kind of muscle to his frame that will allow him to do so in the NFL. As a result, Gainwell's ceiling figures to be as more of an offensive weapon - likely with the ceiling of 10 or so touches per week - capable of breaking big plays in the passing game than a 15-18 carry workhorse. There's a good chance new HC Nick Sirianni - the former Colts' offensive coordinator - views Gainwell as his version of Nyheim Hines, so he becomes an instant threat to Boston Scott's role and may end up stealing a few snaps every game on passing downs from Miles Sanders.
What does it mean in redraft? RB5 and likely handcuff for Sanders. Gainwell figures to be in line for 5-8 touches per week for as long as Sanders stays healthy.
Where should I expect him to go in my rookie drafts? Check back next week.
5.13 - WR Ihmir Smith-Marsette, Vikings
Team Fit: Smith-Marsette's production makes him appear to be a run-of-the-mill 6-1, 181-pound receiver with 4.4 speed, but that would be a mistake. Iowa does not typically churn out NFL quarterbacks and it's fair to wonder how much Smith-Marsette suffered because of it. The New Jersey native can challenge for kick return duties right away (26.7 average on 57 career kick returns), but he should settle in quickly as a field-stretcher in this offense. While he's not going to overtake Justin Jefferson or Adam Thielen anytime soon, Minnesota presents Smith-Marsette with a nice landing spot for potential third receiver duties right away. (Olabisi Johnson and Chad Beebe are his only real competition at the moment.)
What does it mean in redraft? WR6. The Vikings are unlikely to give their third receiver enough snaps to make him relevant in fantasy (especially with Jefferson, Thielen, Irv Smith Jr. and Dalvin Cook soaking up targets), but he may only be one injury away from being worth an add in deeper leagues.
Where should I expect him to go in my rookie drafts? Check back next week.
6.03 - WR Frank Darby, Falcons
Team Fit: Insurance for a Julio Jones trade? Probably not, but he does possess some upside as a field-stretcher and contested-catch option in the unlikely event the all-world receiver gets dealt. That's going to have to be his role regardless of a trade because Calvin Ridley and Kyle Pitts would command the majority of targets in that scenario. The reason he is worth mentioning here is that he is savvy enough to push Russell Gage for third receiver duties, which will mean something in what figures to be a high-volume passing offense - especially if Jones continues to deal with injuries as he gets older.
What does it mean in redraft? Probably nothing. Gage is more than capable and should hold onto his job for at least the bulk of the 2021 season.
Where should I expect him to go in my rookie drafts? Check back next week.
6.10 - RB Elijah Mitchell, 49ers
Team Fit: HC Kyle Shanahan has declared an all-out competition in his backfield this offseason. After adding Wayne Gallman in free agency and Trey Sermon in the third round, Shanahan goes back to the well with another fit in his zone-running scheme here. Mitchell has some impressive measurables (4.38 speed, 10'8" broad, 38-inch vertical) and some skills as a receiver and returner. He did an acceptable job handling the rock (four fumbles on 576 career touches). The likelihood he'll take over the San Francisco backfield anytime soon is low, however, as he mostly split time throughout his career at Louisiana. He is also a bit of an upright one-speed runner that can make lateral cuts but lacks patience at times and isn't overly creative with his runs.
What does it mean in redraft? Likely nothing, but the San Francisco backfield is always one to watch. Raheem Mostert would appear to be the lead back, but the Niners' approach to this offseason suggests nothing is guaranteed. A good camp (and a bad one from Sermon) could put in line to be Mostert's complement, while a bad one could see him get cut.
Where should I expect him to go in my rookie drafts? Check back next week.
6.14 - RB Larry Rountree III, Chargers
Team Fit: The Chargers' search for a back to complement Austin Ekeler continues. Rountree is not a big back at 5-10 and 211 pounds, but he is a tough, durable and determined runner who handled 793 touches at Missouri. He'll have his hands full trying to beat out Joshua Kelley and Justin Jackson, but the fact he was handpicked by new HC Brandon Staley and his staff gives him a chance.

What does it mean in redraft? RB5 with some upside. The Chargers seem determined to have Ekeler share the load with a no-nonsense physical runner. Rountree can be that guy.

Where should I expect him to go in my rookie drafts? Check back next week.
6.18 - RB Chris Evans, Bengals
Team Fit: Following the departure of Giovanni Bernard, Samaje Perine and Trayveon Williams are all that remains behind Joe Mixon. Evans possesses near-ideal size for a running back (5-11, 216), runs with patience and has above-average burst. He looked like a Day 2 pick at worst back as a freshman and sophomore. So what happened? Well, an "academic mistake" cost him the entire 2019 season. He followed that up by receiving a mere 16 carries over six games in 2020, meaning he has only recorded 25 offensive touches since 2018. His yards-per-carry declined every season and he'll enter the league as a 24-year-old rookie. Nevertheless, if Evans still has some of the 2016 and 2017 running back left in him, he could easily be Mixon's backup for a year or two.
What does it mean in redraft? Potential handcuff. What version of Evans are the Bengals getting? If the coaching staff (or something else) at Michigan was the source of his problems and Evans returns to his freshman/sophomore form, he'll be Mixon's backup. If not, he won't pass Perine or Williams and will likely sit on a practice squad.
Where should I expect him to go in my rookie drafts? Check back next week.
6.20 - WR Shi Smith, Panthers
Team Fit: Carolina should be set at receiver with D.J. Moore, Robby Anderson and Terrace Marshall Jr., but Smith could push the last of those three for snaps in the slot - if only because Smith is a more traditional fit there. The South Carolina product plays a more physical game than his 186-pound frame would suggest. More likely than not, Smith will be more of a gadget guy and special teams contributor for the Panthers.
What does it mean in redraft? Not much. Keep an eye on any camp battle between Marshall and Smith, but the former figures to win the third receiver job.
Where should I expect him to go in my rookie drafts? Check back next week.
6.33 - WR Khalil Herbert, Bears
Team Fit: Chicago was hurting for running back depth late last season, which was part of the reason why David Montgomery saw so many snaps down the stretch. While the Bears signed Damien Williams to back him up, don't be surprised if Herbert makes him expendable. Herbert may appear to be another one of this draft's mighty mites at 5-9 and 210 pounds who need to operate as the complementary back in a committee, but he has shown a lot more ability to excel on early downs than late downs. "Juice" (his nickname) boasts exceptional vision and patience, routinely setting up blocks to maximize his runs. He runs well through contact (56.6 percent of his rushing yards came after contact last season) and forced 42 missed tackles in 2020, per Pro Football Focus. Perhaps his greatest weaknesses - or the areas where he has the most to prove - are as a pass protector and a pass-catcher (10 catches in 2020, 32 over the course of 44 career games). With that said, there's enough to like here to believe Herbert will serve as a very good NFL backup.
What does it mean in redraft? RB5 and potential handcuff. Herbert could (and probably should) beat out Williams to be Montgomery's backup.
Where should I expect him to go in my rookie drafts? Check back next week.
6.37 - WR Dazz Newsome, Bears
Team Fit: Newsome's ability to contribute immediately depends almost entirely on Chicago's ability to trade Anthony Miller. The Virginia native played more of a possession role opposite big-play threat Dyami Brown at North Carolina. If Miller gets dealt, there will be an opening for Newsome to take over as the primary slot (of course, when Allen Robinson isn't occupying it). Newsome may only carry 190 pounds on his frame, but he appears comfortable working the middle of the field and can do a little something after the catch. He did struggle with drops with the Tar Heels (15 over his last three seasons). If Miller sticks around, Newsome's immediate contributions figure to be on special teams - much like other sixth- and seventh-round receivers.
What does it mean in redraft? Very little until Miller's fate is determined.
Where should I expect him to go in my rookie drafts? Check back next week.
---
Doug Orth has written for FF Today since 2006 and been featured in USA Today's Fantasy Football Preview magazine since 2010. He hosted USA Today's hour-long, pre-kickoff fantasy football internet chat every Sunday in 2012-13 and appears as a guest analyst on a number of national sports radio shows, including Sirius XM's "Fantasy Drive". Doug is also a member of the Fantasy Sports Writers Association.