A large part of my success in 20-plus years in this industry - and specifically in the 16 years I have utilized Preseason Matchup Analysis - can be attributed to preparing for the playoffs before the season begins. Do I put a lot of weight into matchups in July and August? No, but I do account for them. That is an important distinction. If it does nothing else, it helps to break ties. There is no question in my mind that I have avoided a lot more "bust players" over the years than the average analyst because of it.

While I do not expect the majority of readers to go to the same lengths that I do, the savviest fantasy managers tend to use the time leading up to Thanksgiving as an opportunity to prepare for the postseason. It behooves each of us to consider the matchups we want to target in December now. (I guarantee league-mates in most competitive leagues have already started doing this or are about to do so.) Lining up key handcuffs and great matchups now allows us to save on FAAB for more important expenditures, such as when a manager is forced to drop a key player during the Week 14 bye-week crunch.

The focus of this week will be targeting quarterbacks and running backs with the best fantasy playoff matchups. I understand the majority of the players below are already on rosters, but the bulk of them can be had a slight discount for one reason or another via trade.

I plan to give the same treatment to wide receivers, tight ends, kickers and defense/special teams units next week.
Quarterbacks
Before we get started, the quarterback position has been much more bad than good in 2022. The managers that either drafted the likes of Josh Allen and Jalen Hurts or picked up Geno Smith and Justin Fields are likely thriving in your league(s). (Patrick Mahomes and Joe Burrow are two others that have mostly met expectations.) It will be difficult to manufacture the points you need at this position to survive and advance unless you manage to secure the services of one of those aforementioned players.
I will not pretend these recommendations will help you much, although a few extra "matchup" points here or there in the playoffs can be the difference between a win and a loss. Here is a list of seven quarterbacks with soft (or relatively soft) playoff matchups:
Outside of superflex or two-quarterback leagues, I understand only the most desperate fantasy managers will be starting Wilson, Mills or Mac Jones. The same can probably be said for Mariota, although he has occasional (yet somewhat unpredictable) upside. Thus, I want to spend the rest of my time talking about the other three quarterbacks.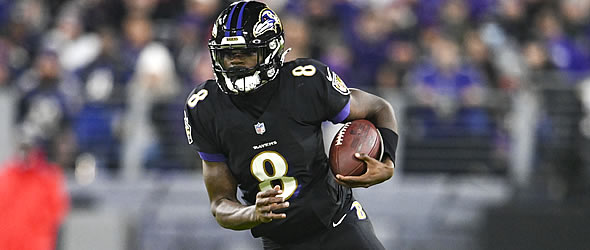 Lamar Jackson (@CLE, ATL, PIT) - To the surprise of many, Jackson has been a mostly average quarterback since he set a record for the most fantasy points scored in the first three weeks of a season. Part of his drop-off can be attributed to opponents adjusting to the Ravens, but the bulk of it has to do with his lack of weapons (or at least the lack of available weapons) since that stretch. Rashod Bateman was injured in Week 4 and is now done for the season. Mark Andrews has been hurt recently. J.K. Dobbins has barely played. The case can be made that three of Jackson's (expected) top four or five pass-catchers have not been available to him.
The Browns have not been a great matchup for quarterbacks outside of one week (Week 2) and held Jackson without a touchdown in the first meeting (Week 7). The same cannot be said for Atlanta and Pittsburgh, however. The Falcons coughed up a near record-setting day for Burrow in the one game they faced a quarterback that is playing relatively well. They have also somehow not faced much in the way of a mobile quarterback yet (quarterbacks have run only 20 times for 75 yards against them through nine games). They will not see one before they face Baltimore in Week 16 either. Allen (43.2 fantasy points) and Hurts (36.4) have shredded the Steelers. We cannot expect Jackson to match that level of production without his full complement of weapons, but the matchups are soft enough that he should be able to hold his own with the elite quarterbacks over the final two weeks of the fantasy playoffs.
Daniel Jones (@WAS, @MIN, IND) - Few will clamor for a quarterback who is averaging just over one touchdown per game (nine total rushing and passing scores in eight games) and just coming off a bye. However, let us consider what has happened since Wan'Dale Robinson returned to the field in Week 6. Jones accounted for two TDs in Week 6 and Week 7 before running into the surprisingly good Seahawks' defense in Week 8. Jones is giving fantasy managers a relatively safe floor with at least 37 yards rushing in half of his outings and at least 20 yards rushing in all but one of them.
While the Commanders' pass defense may improve once Chase Young (knee) returns to the lineup, they are routinely surrendering at least two passing touchdowns to quarterbacks (one per 18 pass attempts). It helps the cause for Jones' current and future fantasy managers that Washington has not faced many quarterbacks playing at the top of their game in 2022 - Jared Goff (34.2), Cooper Rush (21.6), Aaron Rodgers (19.8) and Kirk Cousins (20.4) - and allowed QB1-level performances to all of them. The Vikings are more of a middling matchup in part because they have faced Hurts and Kyler Murray, but average quarterbacks such as Teddy Bridgewater (22.2) and Taylor Heinicke (17.7) have been serviceable against them. Fantasy managers may have to find an alternative for Week 17, although there is a distinct chance the Colts have completely packed it in at that point.
Jimmy Garoppolo (@SEA, WAS, @LV) - This recommendation has more to do with Garoppolo's weapons, although the Week 16 and Week 17 matchups should help his cause. No one should expect Jimmy G to average 35-plus pass attempts the rest of the way, but a debate can be had that no quarterback has a better supporting cast - at least in terms of producing yards after the catch. Christian McCaffrey, George Kittle, Deebo Samuel and Brandon Aiyuk may not all be able to eat each week moving forward, but Garoppolo - barring injury - will be the one on the other end of their targets until the end of the season. Garoppolo has yet to account for more than two touchdowns in a game yet, but he will probably break through that glass ceiling with the weapons he has at his disposal now - even if he settles in around 30 pass attempts per game.
Led by some tweaks up front and the impressive play of rookie Tariq Woolen, the Seahawks have been playing well defensively over the last month. Fantasy managers will likely need to find another option than Garoppolo in Week 15. The Commanders were discussed earlier, leaving us with a primo matchup against Las Vegas in championship week. In Week 9, Trevor Lawrence became the first quarterback to fall short of accounting for two touchdowns (or scoring at least 20 fantasy points) against the Raiders. (Even Russell Wilson and Ryan Tannehill cleared those marks against Vegas.) We should not be surprised if Jimmy G is starting for many fantasy championship teams on Jan. 1 or Jan. 2.
Running Backs
Except for maybe Warren, most of these backs are already on a roster in the majority of leagues. Therefore, think of this section as another reason either to trust these players or acquire them via trade.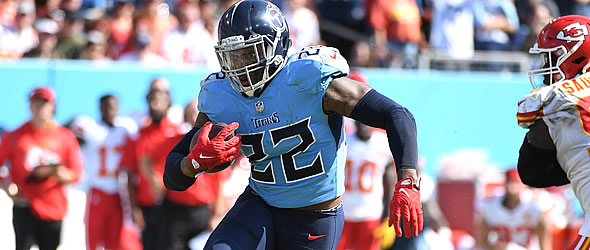 Derrick Henry (@LAC, HOU, DAL) - Not much needs to be said here. Henry is responsible for every Tennessee offensive touchdown over the last three games, handling 83 touches over that span.
What else do you give a king besides the easiest two matchups for a running back in the first two weeks of the fantasy playoffs? Since Week 2, Denver is the only team to not get one of its running backs over 20 fantasy points versus the Chargers. The Texans have surrendered AT LEAST 27.5 fantasy points five times this season and AT LEAST 35 fantasy points to Henry in each of their last four meetings. The gravy train might end in the fantasy championship against a very good Dallas defense, but Henry is a good bet to get his managers to New Year's Day.
D'Andre Swift/Jamaal Williams (@NYJ, @CAR, CHI) - Fantasy managers are understandably peeved about either how slowly Swift is recovering or the Lions' inability to disclose how seriously he was injured in September. Nevertheless, there is a positive way to look at it: Swift has only 50 touches at midseason and should be much fresher than anyone he faces from here on out. (Not as though he needed an advantage.) Swift's efficiency (7.3 yards per carry and 9.0 yards per reception) was awesome even when most of Detroit's opponents were healthy in Weeks 1-3, so sign me up for a player. I do not care if he only has 15 touches since then. HC Dan Campbell loves Swift and will unleash him when he feels he does not have to protect him anymore. We may see that happen in the next week or two.
Williams is what he has been since becoming a pro: a trustworthy back who rarely fumbles and runs with power. This year, he has been an RB1 when he finds the end zone and a flex option when he has not. He is a good - if not great - blocker, but he is not a threat to Swift when both are healthy. (A good comparison is how well Alvin Kamara and Mark Ingram played together during their first time together in New Orleans.) To a large degree, the combination of Swift and Williams - at least until Swift proves he is capable of holding up for 15-plus touches regularly - is the rare instance where it makes sense to utilize a committee.
The Jets have not been a great matchup for running backs this season, but it should be noted they have not squared off many elite backs or rushing attacks. They held Aaron Jones in check in Week 6, but Rhamondre Stevenson carved them up two weeks later via the ground and the air. Nick Chubb ran for three scores against them in Week 2. The point is they are not a matchup to avoid for Swift. The Panthers and Bears have been two of the six most forgiving defenses against running backs over the last five weeks. Even before Joe Mixon gouged the Panthers for five scores, Carolina was a good matchup. Chicago's recent trades of Roquan Smith and Robert Quinn have effectively ended whatever chance the Bears had of fielding a capable run defense. Over the last three weeks, Chicago has surrendered RB1 performances to Stevenson (23.8), Tony Pollard (33.7) and Jeff Wilson (16.2) while yielding 90.4 fantasy points to running backs.
Michael Carter/James Robinson (DET, JAC, @SEA) - Carter's floor has predictably increased since Breece Hall was lost for the season early in Week 7. It has also stabilized. The good news for him is that he has seen at least seven targets in two of the team's three losses in 2022, so he is a good bet to remain a viable flex option in negative game script. Including Week 7, he has touched the ball at least 11 times in each game.
Robinson saw his heaviest workload in Week 9 since joining the Jets about two weeks earlier, handling 15 touches in an upset against the Bills. Based on early returns, it appears New York wants Carter on the field a bit more - except in short down-and-distance situations - and prefers to turn to Ty Johnson in long down-and-distance situations.
While the Seahawks are quickly becoming a defense that fantasy managers do not want on their schedule, the overwhelming majority of people with Carter and/or Robinson on their teams were not counting on having either one making or breaking their team anyway. Both backs might not help their managers much in the fantasy championship game, but both could be very useful in the two weeks leading up to it. Detroit's 11 rushing scores allowed to running backs is the second-highest total of any defense. Jacksonville's 60 catches allowed to the position are tied for the most. Is it as simple as betting on Robinson in Week 15, Carter in Week 16 and neither in Week 17? It might be.
Najee Harris/Jaylen Warren (@CAR, LV, @BAL) - Finally, the good news managers of Harris have been waiting for all season. (OK, that might be a stretch.) The overwhelming majority of managers who drafted Harris are likely on the verge of closing up shop for the season unless they were able to trade him away early. For what it is worth, I maintain Harris has not been right physically since aggravating a foot injury in Week 1 (and that assumes he was not still hurting from the original foot injury in August.) The overwhelming majority of Warren's managers have been sitting on a player who has performed well when given the opportunity but has not seen enough volume to make a notable impact in any one game.
Based on recent comments from HC Mike Tomlin, there is some reason to believe Pittsburgh could be moving toward more of a split backfield. The upside here is that the Panthers and Raiders rank third and fourth, respectively, among the forgiving defenses against running backs. Last week's Mixon-led dismantling notwithstanding, Carolina was still surrendering 23.6 fantasy points per game to the position despite not having faced an established fantasy stud who is having a decent season since Week 3. All-purpose studs Alvin Kamara (42.8) and Travis Etienne (26.6) have ripped up Las Vegas in consecutive weeks, but that should not hide the fact that average talents such as Darrel Williams (14.2), Jerick McKinnon (9.2) and Dare Ogunbowale (11.2) have posted useful numbers against this defense on limited touches. In the off chance fantasy managers relying on Harris (or maybe Warren by that time if he can force a split backfield) make it to the final week of the fantasy season, they should have no issue going in another direction at running back and avoid a matchup against the Ravens.
---
Doug Orth has written for FF Today since 2006 and been featured in USA Today's Fantasy Football Preview magazine since 2010. He hosted USA Today's hour-long, pre-kickoff fantasy football internet chat every Sunday in 2012-13 and appears as a guest analyst on a number of national sports radio shows, including Sirius XM's "Fantasy Drive". Doug is also a member of the Fantasy Sports Writers Association.