Extraordinary claims require extraordinary evidence.
- Carl Sagan
Every year since 2011, I have concluded my preseason writing with a bold predictions column. This may be the first time I feel comfortable doing it. In the past, I struggled with whether or not I should be bold in terms of shock value or simply deviate from the perceived norm on a handful of players. This year, I concluded that I only need to write about the predictions I make in my Big Board articles. At most, I may only need to be a bit more optimistic about a player to make it a bold prediction.
Bold predictions - by their very nature - tend to make us look silly at the end of each season, but the last two years have been disappointing. A bit part of my failure has been the result of chasing long shots. (Last year, Trey Lance and Juwan Johnson were good examples of that.) Dumb luck will also play a role. (Calvin Ridley's season ending after five games.) I accurately forecasted Derrick Henry, Dalvin Cook and Alvin Kamara finishing outside the top five running backs AND Elijah Moore certainly looked like a future star, so there is that.
Let's see if I can do better: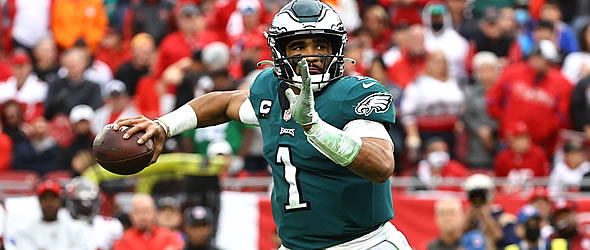 1. Jalen Hurts will finish as a top-three fantasy quarterback.
Hurts had a weird fantasy season in 2021. The first half of it was defined by his ability to accumulate garbage points in the second half of games during the Eagles' 2-5 start. HC Nick Sirianni smartly ditched his pass-heavy attack at that point for a ground-and-pound approach that saw Hurts attempt more than 30 throws only once after Week 8 (topped 34 throws five times in his first seven outings). Hurts fared just fine after the change, although his "consistency" took a hit despite an increase in rush attempts. So why will he challenge the likes of Josh Allen, Patrick Mahomes and Justin Herbert now?
The first point to make is the most obvious one: the arrival of A.J. Brown. DeVonta Smith proved that he was a receiver capable of holding his own as a team's top receiver as a rookie last season, but there is no question he will be a great complementary receiver. Not only did Hurts request that the Eagles pursue Brown this offseason, but Brown has also already established himself as an alpha receiver in the NFL. Brown can make life easier for his quarterback because he can do damage in all three areas of the field (short, intermediate and deep) and is such a dynamic run-after-catch threat.
As fantasy managers are well aware, Hurts is a dual-threat quarterback. He just happens to be Philadelphia's preferred option inside the 10 and 20 as well. Hurts did not play in two games last year and still held a commanding advantage over his teammates in the red zone (31 rush attempts, eight more than second-place Jordan Howard) and inside the 10 (13, three more than Boston Scott). Even if Sirianni dials back Hurts' rushing usage a bit, it seems reasonable that a player built like him will still carry the ball at least 130 times and rush for 600-700 yards.
Quite often, fantasy managers fall back on history and fail to account for a player addressing his weaknesses during the offseason. Per SI.com's Albert Breer:
Normally, quarterbacks don't get to the NFL and get a whole lot more accurate. Hurts has. Normally, quarterbacks don't get to the NFL and make big strides in throwing with anticipation. Hurts has done that, too. And normally, a quarterback can't do a ton to improve his presence in the pocket, either. And, yes, Hurts has also made strides there.
Hurts does not need to become the second coming of Drew Brees from an accuracy standpoint to make my bold prediction come true. Bumping up his completion percentage from 61.3 to 64 or 65 should be more than enough. It is easy to forget Allen was a sub-60 percent passer in his first two seasons before connecting on 69.2 percent of his throws during his breakout third season. Hurts may actually have a better supporting cast than Allen did in 2020. As a player typically going off the board in the sixth or seventh round in drafts this year, Hurts is shaping up to be a potential league-winner.
2. Saquon Barkley will finish as a top-three fantasy back.
If fantasy managers would just be honest with themselves, they might realize Barkley has been much more unlucky in the injury department than anything else. What do I mean? Let us review the evidence. In 2019, he suffered a high-ankle sprain on a low hit near the sideline in Week 3. In 2020, it was a torn ACL in Week 2. Last year, it was a freak ankle injury in Week 5. The main reason why I linked each of them is that I want you to look at the clips. Once you have finished your assigned homework, answer this question: can we call a player injury-prone if each one of us would have sustained a similar injury in the same situations? That is my main complaint about how easily the public assigns "injury-prone" tags to athletes; so few people review the evidence before reaching a conclusion. In regards to "injury-prone" players, it is almost as if people give a player a pass on his first injury but are ready to call him "injury-prone" if it happens again. Don't be that person.
If I have sufficiently convinced you that players like Barkley are not "injury-prone," then what other potential roadblocks could be in his path? I would argue that the quality of his offensive line and the play-calling - and not his injury history - have been the most significant obstacles on his road to fantasy greatness. The Giants essentially remade the right side of their line this spring and should have much more success running behind RG Mark Glowinski and rookie stud RT Evan Neal than any other pairing they have put in front of Barkley during his pro career. The combination of OC Brian Daboll and OC Mike Kafka is a significant upgrade over former OC Jason Garrett in the play-calling department.
Let us move on to the potential opportunity that awaits Barkley. Not only does he expect to be more involved in the passing game, but there will also likely be very few limits on HOW he will be used. Daboll and Kafka may not have much of a choice. Kenny Golladay has done nothing to suggest he is ready to be the alpha receiver he is getting paid to be, Kadarius Toney is struggling to stay on the field long enough to build any kind of chemistry with Daniel Jones, Wan'Dale Robinson was likely drafted to be a full-time slot and Sterling Shepard is coming off a torn Achilles. Looking at the depth at running back behind Barkley, only Matt Brieda has played a meaningful number of snaps.
Assuming you can look past his "injury-proneness" on draft day, Barkley checks virtually every box managers want in their fantasy running backs: a realistic shot at 250-plus carries and 80-plus catches with little to no competition on his roster for either one. He will run behind an improved offensive line (perhaps the best one of his pro career) and get a huge upgrade in play-calling. The cherry on top is that he is playing for a new contract. The real crime is that he can still be drafted in the second round. I have him in the middle of the first round on my PPR Big Board and would not hesitate to take him right after Christian McCaffrey, Jonathan Taylor, Cooper Kupp and Justin Jefferson. If he avoids yet another "unlucky" injury, I suspect that his managers will party like it is 2018 again as he and McCaffrey vie for the overall RB1 crown.
3. Aaron Jones and AJ Dillon will each finish as top 20 backs.
Getting two backs on the same team to finish inside the top 20 doesn't happen all that often, but it happens more than you might realize - at least it has recently. Over the last five seasons, it has occurred four times. It did not happen in 2019 or 2021, but two teams pulled it off in 2020 (Washington - Antonio Gibson and J.D. McKissic; Indianapolis - Jonathan Taylor and Nyheim Hines). It also happened once in 2017 (New Orleans - Alvin Kamara and Mark Ingram) and in 2018 (Chicago - Jordan Howard and Tarik Cohen).
Matt LaFleur has been in charge in Green Bay for three seasons. Jones has finished as a top 10 back in each of them. That is not the bold part of the prediction. The real challenge here is getting Dillon enough of meaningful work (near the goal line and as a receiver) so he can join his teammate. Then again, how bold is a prediction that asks one of the players to do what he has done three straight years and the other to move up three spots from last year's RB23 finish?
As with most things in this wonderful hobby of ours, this season is not last season and there are potential complications that could (and possibly will) easily keep this from happening. First and foremost, bookend OTs David Bakhtiari and Elgton Jenkins are both still dicey bets to play a full complement of snaps to begin the season - much less hold up all year. OGs Jon Runyan and Royce Newman were the only two Green Bay linemen to play every game last season, but they were also the team's lowest-graded run-blockers. The team may have more depth than expected after watching Yosh Nijman log significant snaps last year and getting a fourth-round find in Zach Tom in April's draft, but make no mistake about it: Green Bay needs Bakhtiari and Jenkins to hold up this year. Opponents will play the Packers differently with Davante Adams no longer a concern.
Dillon's saving grace may be the fact that LaFleur sees him and Jones as "1A and 1A" options. Further helping the cause is that Green Bay will likely rely more heavily on both of them in the passing game in the wake of Davante Adams' departure after the duo combined for 102 targets in 2021. While the Packers have intriguing receiving options, it is a safe bet they lean ever more on Jones and Dillon than they have.
4. Nyheim Hines will be a top 25 running back.
Whether it was because he was underutilized last season with Carson Wentz or something entirely different, managers have not shown much enthusiasm in regards to landing Hines in their fantasy drafts. He is also a prime example of how much managers seem to rely more heavily on last season's results and less on historical data and (football) common sense.
Most seem to have forgotten that Hines started the season relatively well (part of which was a function of negative game script in the team's first three contests) before HC Frank Reich and the Colts realized that riding Taylor was the best (and perhaps only) way they could enjoy a successful season. They also likely knew that no matter how hard they tried to make Hines a key part of the offensive game plan, Wentz was not going to utilize him as much as they wanted.
There is plenty of evidence at this point that Wentz is not a quarterback that either likes or wants to check it down. Over the course of his career, Wentz has thrown 2,997 passes targeted passes. Of that total, only 534 (17.8 percent) have been directed at a running back. Ryan's 19.7-percent career rate may not seem much better by comparison, but it was 26.4 last season. In just the last three years, Ryan-led offenses featured a running back that caught at least 50 passes (Devonta Freeman in 2019, Cordarrelle Patterson in 2021).
Of course, historical data based on quarterback tendencies across numerous offensive coordinators is not enough of a reason to buy into why a running back that disappointed last season will surprise this season. Less than a week after Ryan was traded to the Colts, HC Frank Reich was already telling Indy beat reporters that he expected Hines to have a MUCH bigger role in 2022. Two months later, Reich offered a fantasy alert on Hines. We heard a similar refrain from the beat at the start of camp and again in August. Reich also told ESPN "I almost don't want" Jonathan Taylor to lead the league in touches. The Athletic's Zak Keefer went so far as to say that "the worst-kept secret (in the NFL)" is that Indy wants to get Hines more involved.
On a team with a healthy Taylor, there is no reason for Hines to push his career high of 89 rush attempts in 2022. However, Hines has amassed exactly 63 catches in two of Reich's four seasons at the helm. The floor for Hines should be 50, but no one should be surprised if he pushes for 70. As a point of reference, Tarik Cohen's RB27 finish in 2019 is the lowest rank in the last five seasons for a running back who eclipsed the 70-catch mark.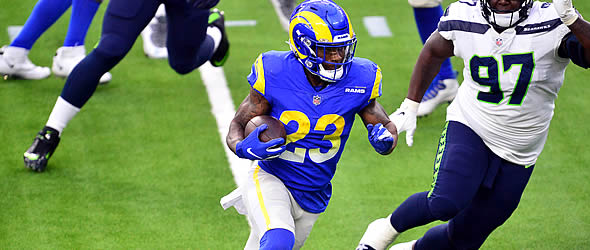 5. Cam Akers will fail to finish inside the top 30 running backs.
This bold prediction is based on two key nuggets: 1) the expected (fairly equal) distribution of touches for Akers and Darrell Henderson and 2) the history of players coming off Achilles injuries.
"I look at it as we've got two starting backs. Those guys are great complements (to) one another, but I see them as both starting-caliber players. We need to get them involved. They need to be on the field. I think it's healthy for them to be able to supplement one another."
- Rams HC Sean McVay told The Athletic at the start of camp
As most veteran fantasy managers know by now, a coach's word in late July or early August cannot be taken as gospel. One week's performance or an injury can change the opinion of many key decision-makers. With that said, there is nothing about "we've got two starting running backs" that can be interpreted as "one guy is going to get the majority of work." Both backs missed significant time with soft-tissue injuries this summer, so we have to assume the two backs will split work fairly evenly for at least a month - if not longer. McVay also noted before the last preseason game that the primary reason rookie Kyren Williams did not play was because he is "regarded as an integral part of the plan for the season." Based on Williams' skill-set, it is fair to assume that his "part of the plan" involves a lot of work in the passing game. It goes without saying that if Williams is taking the bulk of the receiving work and Akers and Henderson are sharing the rushing work, Akers faces long odds to live up to his draft cost in the fourth- or fifth-round area.
The second nugget I mentioned comes via my friend Dr. Jesse Morse of The Fantasy Doctors: dating back to 2010, 16 running backs have suffered Achilles tears - 15 in the NFL and one in college. Eleven of the 16 backs who suffered the injury are done playing football. Six of those 11 had their career ended due to the injury and four of the remaining five only played one more NFL season. Of the five players who were able to return from the injury, only one finished higher than RB50 (Mikel Leshoure, 2012). Leshoure's career ended the following season. The one Achilles success story is D'Onta Foreman, who suffered his injury in 2017 and looked effective near the end of last season - four years after his injury. Maybe Akers is the exception, but do you want to bet on him succeeding where so many others have failed? It is one thing if he was guaranteed a heavy workload, but we have already established that may not be the case.
There is one last thing to consider regarding Akers: his offensive line will almost certainly be worse than it was last season. LT Andrew Whitworth retired, leaving Joe Noteboom to replace him. That is an obvious downgrade. Projected starting RG Logan Bruss tore his ACL and MCL in a preseason game and is done for the season; Coleman Shelton is expected to fill that void. This was already an offense that struggled to run the ball with a healthy Whitworth last year. That was before RG Austin Corbett left in free agency. Achilles injuries tend to sap the explosiveness of runners, which is the very thing someone in Akers' position this year cannot afford.
6. While Deebo Samuel will remain the (slightly) better fantasy option, Brandon Aiyuk will emerge as the 49ers' top pass-catcher.
Depending on whom you talk to, the story of Aiyuk goes something like this: Aiyuk was reportedly the second-rated receiver on the 49ers' draft board after CeeDee Lamb in 2020 based largely on his run-after-catch ability. Aiyuk flashed early in his rookie season but had to deal with a multitude of changes on a regular basis, not the least of which was Jimmy Garoppolo missing games. As soon as Samuel and George Kittle started missing games, Aiyuk proved he was a capable lead receiver. Rumor has it was at that point that Aiyuk assumed - after essentially dominating his rookie year during a COVID offseason - that his level of offseason conditioning and effort was enough at the pro level. It was not and he quickly fell into HC Kyle Shanahan's doghouse. It was the primary reason - along with a hamstring injury that could have been caused by the lack of conditioning - why Samuel was the primary source of offense throughout the first half of last season. Around midseason, however, we began to hear reports of Shanahan's willingness to open the door to his doghouse and the floodgates opened - resulting in a WR16 finish for Aiyuk from Week 11 to Week 17.
Fast forward to this summer: Aiyuk has reportedly come full circle since last offseason in the eyes of Shanahan, emerging as "one of the leaders of the team."
OK, Doug … that's great. "There is still no chance Aiyuk outscores Samuel this year." I beg to differ. Yes, it is unlikely. Then again, it would not be a bold prediction if it was likely. Here is why it could happen:
By now, most people know and understand that Trey Lance is almost the complete opposite of Garoppolo. He can run. He has a cannon for an arm. Lance's strengths make it less important for Samuel to reprise his part-time running back/receiver role as often in 2022. In addition to his run-after-catch ability, Aiyuk is the more natural field-stretcher, which plays much more into Lance's strengths than Garoppolo's. That is not to say Samuel cannot stretch the field as well, but the combination of Aiyuk's speed and high-point ability is what could make him the preferred option in a Lance-led offense.
7. Allen Robinson will finish as a top 10 fantasy receiver.
The pain of last year's Matt Nagy-fueled disappointment is apparently very fresh in the minds of fantasy managers. One year after he was deemed "quarterback-proof" for his impressive resume despite playing with the likes of Blake Bortles and Mitchell Trubisky, Robinson languished with the Bears during a season in which he did not want to play on the franchise tag. I was one of many fantasy managers to be burned by him, so I understand why managers would consider another option at a very deep position. With that said, I may be backing Robinson more this year than I did last year.
One year did not change Robinson's skill set. He did not get old (he just turned 29 a couple of weeks ago). Justin Fields may have been the best quarterback he has played with up to this point, but he was a rookie in 2021 and spent a lot more time bonding with Darnell Mooney than Robinson. There is also little evidence of this point to believe Fields is capable of making two receivers viable for fantasy purposes. Matthew Stafford IS clearly the best quarterback that Robinson has played with; he has also shown the ability to make multiple receivers viable. Robinson gives the Rams a contested-catch receiver capable of stretching the field and a proven red zone weapon.
Think back to last season when Stafford made Robert Woods the WR12 through nine weeks. When Woods was lost for the year in Week 9, the Rams turned to Odell Beckham Jr. and he managed to finish as the WR13 from Weeks 12-17 following his arrival from Cleveland and Los Angeles' Week 11 bye. That obviously speaks to the talent of Woods and OBJ, but it also speaks to what Stafford can do for receivers. He did the same thing in Detroit with Kenny Golladay and Marvin Jones. He unlocked Cooper Kupp and helped him enjoy a historic season. He can and most likely will do the same for Robinson.
If you do not want to take my word for it, the praise for Robinson this offseason was effusive. Robert Mays of The Athletic noted that Robinson offers more of a route tree and versatility than they imagined when they signed him to a three-year deal worth $46.5 million in March. Teammate Tyler Higbee suggested Robinson "has a chance to take our offense to the next level." Robinson may not hit his career-high marks of 1,400 yards and 14 touchdowns (with the Jags in 2015), but it is entirely reasonable that he tops 90 catches for the third time in four seasons and scores at least 10 times.
8. Darren Waller will score 10 touchdowns for the first time in his career.
Waller brought home the bacon for his fantasy managers back in 2020, posting career highs across the board with 107 catches, 1,196 yards and nine TDs. What makes this a bold call is twofold: 1) Waller has tallied five scores in his other two full seasons and the arrival of red zone fiend Davante Adams.
Make no mistake: Adams will be the Raiders' top receiver. That is not the point though. Adams will be the focal point of every defensive game plan, which will free up Waller to do as he pleases across the middle of the field and perhaps, more importantly, in the red zone. Waller certainly thinks so:
"There (were) a lot of times in the last couple years where I felt like there wasn't a (clearly) defined attack in the red zone or like a plan for me specifically. I was kind of like "what the f*** am I doing?' sometimes. But now I kind of feel like that's something that's in place with Josh [McDaniels] … for me there's no reason why my big a** shouldn't be dominating in the red zone at all times."
- Waller said on the "Bussin' with the Boys" podcast
There is an argument to be made that McDaniels has never had a WR-WR-TE trio like Adams, Waller and Hunter Renfrow at his disposal at the same time. While it is true that Adams' presence will put a cap on Waller's ceiling from time to time, it should also give him ample opportunity to take advantage of favorable matchups near the goal line. As a 6-6 former receiver that is still oozing athleticism, he is too big for safeties to handle and too fast for linebackers. With Adams demanding safety help all over the field, expect McDaniels to use Waller where former HC Jon Gruden did not.

---
Doug Orth has written for FF Today since 2006 and been featured in USA TODAY's Fantasy Football Preview magazine since 2010. He is also a high-stakes player who often appears as a guest analyst on a number of national sports radio shows, such as Sirius XM's "Fantasy Drive." Doug is also a member of the Fantasy Sports Writers Association.