As discussed in this space last week, the remainder of my postseason columns will feature my NFL.com Playoff Challenge roster (for as long as applicable), followed by my weekly league predictions and DFS prognostications.
NFL.com Playoff Challenge
NFL.com Playoff Challenge Roster
QB: Joe Burrow (x1)
RB: Christian McCaffrey (x3)
RB: Joe Mixon (x1)
WR: Deebo Samuel (x2)
WR: Ja'Marr Chase (x1)
TE: George Kittle (x3)
K: Evan McPherson (x1)
D/ST: 49ers (x2)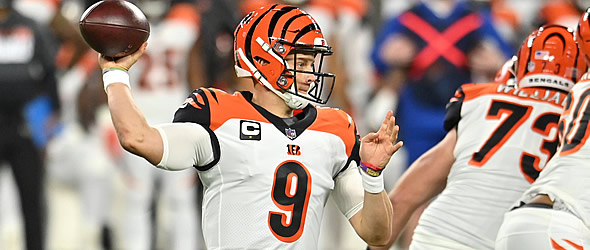 DraftKings
Below you will find my position-by-position projections. Please note I have included DraftKings' dollar value for each player, followed by his projected point total. Each position is sorted by my DraftKings' projected point total.
Key for quarterbacks, running backs, receivers and tight ends:
P Yds - Passing Yards
P TD - Passing Touchdowns
INT - Interceptions
Ru Yds - Rushing Yards
Ru TD - Rushing Touchdowns
Rec Yds - Receiving Yards
Rec TD - Receiving Touchdowns
Rec - Receptions
Quarterbacks
Player
Tm
DK$
P Yds
P TDs
INT
RuAtt
RuYds
Ru TDs
DK
Jalen Hurts
PHI
$7,200
249
3
1
10
44
0
25.4
Joe Burrow
CIN
$6,800
266
2
0
3
7
0
19.3
Brock Purdy
SF
$5,300
256
2
2
4
15
0
17.7
Patrick Mahomes*
KC
$7,600
261
1
1
2
5
0
13.9

Eagles - Hurts may not be fully healthy again anytime soon, but he seemed to be about 95 percent at worst in the Eagles' complete dissection of the Giants last weekend. New York did not put up enough of a fight to force Hurts to prove what he was able and willing to do as a runner, which is unlikely to happen against the 49ers. San Francisco has faced several athletic quarterbacks this season - including Geno Smith (three times), Justin Fields, Marcus Mariota and Mahomes - and yielded only 263 yards on the ground in 19 games to the position. Not all is lost with Hurts despite facing the 49ers' stout run defense, as the 2020 second-round pick has seen diminishing returns - in terms of efficiency - as a runner in recent weeks, however. Hurts has thrown for at least 285 yards five times this season and has the weapons to do it again versus a San Fran defense that is relying heavily on Deommodore Lenoir and Charvarius Ward on the perimeter and Jimmie Ward in the slot. While the secondary is not exactly a weakness for the 49ers, it is their weakest link. It should not surprise anyone if Hurts pushes for 40 pass attempts in this one.

49ers - Purdy has yet to crack under the pressure rookie quarterbacks are supposed to feel at this time of year. Philadelphia is also easily the best defense he will see this season. The Eagles have registered 75 sacks in 18 games, recording at least five in a game eight times. Purdy has the luxury of the most versatile set of playmakers in the league at his disposal, which is playing a large part in him feeling so comfortable. The last pick in this year's draft isn't the worst option at quarterback this weekend (I think Mahomes will be relative to his price tag), but I also want no part of a young quarterback on the biggest stage he has ever played on against a defense that features a dynamic pass rush and two top 10 cornerbacks.

Chiefs - Kansas City was lucky to be facing the weakest remaining team (or at least the one with the worst record) in the playoff field last week in the Jaguars because most other quality playoff teams would be able to defeat the Chiefs with a very limited Mahomes for three-plus quarters. Mahomes was diagnosed with a high-ankle sprain shortly after the game and his mobility figures to be extremely limited this week against a defensive coordinator in Lou Anaramo that has schemed as well against Mahomes and HC Andy Reid as anyone the Chiefs have faced in recent years. There is no questioning his greatness, but a statuesque Mahomes would Anarumo to keep eight in coverage even more often than he has in recent meetings. It could also motivate Anarumo to use more man coverage and blitz Mahomes more often with minimal threat of Mahomes picking up chunks of yardage on his scrambles. Can Mahomes pick apart any defense as a true pocket quarterback? Absolutely. However, this is the kind of game Kansas City will miss Tyreek Hill. The Chiefs' best receiver at this point might be Kadarius Toney. While he has come on in recent weeks, he is not a reasonable facsimile of Hill (at least not yet) nor is he a player that will take the Bengals' focus off Kelce.

Bengals - Count me among the many who overrated how important the absence of three starting offensive linemen would be to Burrow last week. I am not sure the replacements were dominant in the AFC Divisional Round so much as the Bills' defensive front allowed itself to get manhandled, but it bodes well for the Bengals that the second-string line held up as well as it did against the likes of Greg Rousseau and Ed Oliver. Kansas City DT Chris Jones and DE Frank Clark may be better players at their respective positions, but the Bills' defense is significantly more talented than the Chiefs' overall. It boggles the mind how Cincinnati's short passing attack isn't leading to more volume than it is - especially during the postseason - but Burrow is probably the best bet for multiple touchdown passes this weekend. He is easily the preferred pivot over Mahomes for anyone who wants to avoid Hurts' rather hefty price tag.
Running Backs
Player
Tm
DK $
Tgt
Rec
Rec Yds
Rec TDs
Ru Att
Ru Yds
Ru TDs
DK
Joe Mixon
CIN
$6,500
4
3
18
0
21
114
1
25.2
Christian McCaffrey*
SF
$8,000
8
6
45
1
15
55
0
22.0
Elijah Mitchell*
SF
$4,900
1
1
7
0
11
62
1
13.9
Isiah Pacheco
KC
$5,300
2
1
5
0
13
53
1
12.8
Jerick McKinnon
KC
$5,400
6
5
44
0
4
14
0
10.8
Samaje Perine
CIN
$4,500
3
2
13
0
6
28
0
6.1
Kenneth Gainwell
PHI
$4,800
4
2
11
0
3
11
0
4.2
Miles Sanders
PHI
$5,200
2
1
3
0
8
26
0
3.9
Clyde Edwards-Helaire
KC
$4,200
1
1
6
0
3
19
0
3.5
Boston Scott
PHI
$4,000
0
0
0
0
4
14
0
1.4

Eagles - It is sometimes difficult to ascertain if Philadelphia is a running or passing team at its core. The Eagles left no doubt about what they were last week, but there is almost no chance they will be able to run the ball 44 times against San Francisco. While Hurts' presence could make things slightly easier for Sanders, Gainwell and Scott, the 49ers have simply shut down running backs all season long. Only one individual rusher topped 60 yards on the ground (Josh Jacobs) versus the 49ers. Sanders has not been overly efficient in recent weeks (his only games with more than four yards per carry or 65 rushing yards since Week 12 have come against the Giants). New York also surrendered Gainwell's career-best rushing effort (112 yards) last week, which is 73 more rushing yards than he had in any other game this season. Philadelphia may lean on its backs a bit more than usual in the passing game this week considering how often and how quickly San Francisco's front four can generate pressure but do not expect a huge increase. The Eagles targeted their backs a meager 61 times in 17 regular-season games.

49ers - McCaffrey played through a calf injury against the Cowboys but showed enough explosiveness on some late runs to justify the faith it will require to pay up for his services Sunday afternoon against the Eagles. Last week's column detailed how much Mitchell's presence affects CMC's workload as well as his fantasy production. Things played out about as expected with McCaffrey limited to 10 carries and 16 total touches versus Dallas. (For some context, McCaffrey averaged 18.2 carries and 23.5 touches in six games for San Francisco without Mitchell.) The beauty of what HC Kyle Shanahan is doing with McCaffrey and Mitchell is that he is asking the latter to handle more of the physical runs, which should do wonders for CMC's durability. The downside of what Shanahan is doing is taking roughly 10 touches per game away from one of the most dynamic all-purpose backs in recent memory. For a player like McCaffrey who generally scores one fantasy point for every touch he gets, it hurts his ability to deliver week-winning upside. The one thing that may help McCaffrey this week is that San Francisco figures to be challenged as much by Philadelphia as any team it has faced since the running back's first game with the team in Week 7. That may require McCaffrey to run more routes than usual and force the 49ers to open up the offense. As has been the case for the first two weeks of the playoffs, Mitchell is a very reasonable punt for DFS players who want to load up at any of the other positions; he remains such a good bet for 10 or more touches.

Chiefs - The beginning of McKinnon's five-week rush to deliver fantasy titles to his managers started against the Bengals in Week 13, which marked only the second time all season - to that point - that the 30-year-old handled at least 10 touches in a game. His rushing workload - not to mention his efficiency - has dropped off a cliff since an 18-touch performance against Houston in Week 15. He has surprisingly been a relative non-factor in the passing game over the last two outings as well, drawing a mere three targets and catching two of them for zero yards and one touchdown. It seems much more likely he will be needed this week, but it should be noted Cincinnati has not given up more than four catches or 40 yards receiving to any running back - outside of Derrick Henry (three catches for 79 yards in Week 12) - since Week 6. Pacheco may be Kansas City's best chance of winning this week if Mahomes is as limited, although running on the Bengals has been a chore for opponents since D.J. Reader returned from injury in Week 11. Interestingly, Pacheco's 66 yards on the ground in the first meeting is the second-highest total by any running back over that time.

Bengals - There may not be a "great" play at running back this weekend, but none of them has more upside than Mixon. This statement has less to do with Mixon, who has broken only four runs of 20 or more yards on 241 rush attempts this season, and more to do with the opponent and how limited Mahomes could be. That is not to say Kansas City has been a sieve against the run, but the Bengals are one of the few teams that have shown an ability to put a lid on Mahomes and also chew the clock if they so choose. It was the game plan in Cincinnati's 27-24 win over the Chiefs in Week 13 when the Bengals ran the rock 34 times despite Mixon's absence in that contest. Especially with Cincinnati's offensive line still counting heavily on backups, it would be a small shock if the Bengals abandoned the plan that has served them so well against the Chiefs in the last two meetings. In other words, Mixon is a volume play that could legitimately push 30 touches if Cincinnati takes advantage of a hobbled Mahomes and races out to an early lead.
Wide Receivers
Player
Tm
DK$
Tgt
Rec
Rec Yds
Rec TDs
Ru Att
Ru Yds
Ru TDs
DK
Ja'Marr Chase
CIN
$7,600
11
8
84
1
22.4
A.J. Brown*
PHI
$7,000
9
6
82
1
20.2
DeVonta Smith
PHI
$6,800
8
5
84
1
19.4
Deebo Samuel*
SF
$5,700
7
6
77
0
4
26
0
16.3
Kadarius Toney
KC
$3,700
7
5
53
0
2
18
0
12.1
Tee Higgins
CIN
$5,400
6
4
46
0
8.6
JuJu Smith-Schuster
KC
$4,700
7
4
38
0
7.8
Brandon Aiyuk
SF
$4,400
4
3
40
0
7.0
Justin Watson
KC
$3,500
2
2
31
0
5.1
Marquez Valdes-Scantling
KC
$3,600
4
2
29
0
4.9
Tyler Boyd
CIN
$3,800
4
2
27
0
4.7
Trenton Irwin
CIN
$3,000
2
2
23
0
4.3
Quez Watkins
PHI
$3,100
3
1
28
0
3.8
Jauan Jennings
SF
$3,300
2
1
16
0
2.6

Eagles - As mentioned earlier, San Francisco's secondary is not so much a weakness as it is the defense's weakest link. For Philadelphia to win, at least one of Brown or Smith - and likely both - need to play at a high level. That is something Smith has been doing for more than two months, as the 2021 first-round pick has attracted at least eight targets in 10 straight contests. The Alabama product has been among the best in the game over the last seven contests, topping five catches and 61 yards every time while scoring five touchdowns. Over that stretch, he is averaging 92.6 receiving yards. While Smith figures to continue playing in Brown's shadow for the foreseeable future, the former is an alpha receiver in his own right who will see less safety help than his teammate, which could lead to more consistent production from him. While Brown has not delivered quite the same raw numbers Smith has lately, he is not far behind and remains one of the best receivers in the NFL after the catch. Before last week's blowout-induced dud (3-22-0), Brown averaged 5.8 catches for 110.9 yards and had scored four times over the final six regular-season games. The 49ers showed more of a willingness to use CB Charvarius Ward as a shadow over the second half of the season, but he has struggled in two of his last four outings. He is not enough of a reason to fade Brown.

49ers - Through two postseason games, Samuel and Aiyuk have logged almost the same number of snaps (65-61 Aiyuk) and snaps inside the slot (20-19 Samuel). The reason this is pertinent is that Philadelphia features James Bradberry and Darius Slay on the perimeter, which makes lining up in the slot an advantageous position for opposing wideouts. Some of the major differences between the two 49ers in the postseason have been in yards after catch (139-23 Samuel), yards per route run (2.92-1.52 Samuel) and average depth of target (22.0-8.8 Aiyuk). In other words, Samuel has been his usual self with the ball in his hands - although much of his YAC advantage came on his 74-yard catch-and-run against the Seahawks two weeks ago - and is running more high-percentage routes than Aiyuk, whose aDOT was 10.3 during the regular season. Were it not for the fact that Jennings, Samuel and Aiyuk all share slot duties almost evenly, Jennings could be a surprise stud this week. The problems with that assessment are that Jennings is not running many routes in the playoffs (18.5 per game) and is no higher than fifth on Shanahan's (or Purdy's) priority list. Samuel's contributions as a runner are significant enough that he deserves a slight nod over Aiyuk, although the latter is still a reasonable contrarian play at $4,400.

Chiefs - While Travis Kelce's 46 percent target share (17 of 37 available targets) last week is abnormally high, it is also yet another example of how relatively little Kansas City's receivers have been involved in the offense recently. Toney's seven targets last week tied Marquez Valdes-Scantling for the most looks a Chiefs' wideout has seen in a game since Week 15 (four games). Smith-Schuster has earned 11 targets over that stretch, while MVS has drawn 17 and Toney 15. Unlike most opponents, Kansas City should not be able to target the slot relentlessly because Mike Hilton has been playing well for most of the season inside. Rookie Cam Taylor-Britt has emerged as Cincinnati's best perimeter corner since Chidobe Awuzie was lost for the season in Week 8, leaving Eli Apple as the weakest link in the Bengals' secondary. Interestingly, Apple was not targeted on 31 coverage snaps against Cincinnati in the first meeting. Bengals DC Lou Anarumo is a sharp enough defensive mind that he will almost certainly force Smith-Schuster, Toney or MVS to beat him. Toney is the most likely candidate given his ability to create after the catch, making him the best low-cost option among Kansas City receivers.

Bengals - Offensive line issues be damned. Absolutely nothing can stop Chase these days, not even the Bengals' need to rely on a short passing game to protect the front five. Week 13 against the Chiefs is the last time Chase failed to score a TD. His eight targets last week were tied for his fewest since Week 4. He is quickly reaching a level where fantasy managers can almost expect him to score at least once in a game. Higgins and Boyd have paid the price in the box score for Chase's recent domination, however, combining for a measly 11 catches and 114 yards in Cincinnati's two playoff wins. If we include Week 18, the duo's combined production is 17 receptions and 172 yards over the team's last three outings. Kansas City's top two corners (L'Jarius Sneed and Trent McDuffie) have graded out well in coverage this season per Pro Football Focus. Sneed's 6-1 frame makes him a natural candidate than the 5-11 McDuffie to follow Chase on Sunday, although it seems unlikely DC Steve Spagnuolo will use a shadow. Safety help may be his best bet to slow down Chase. The bigger problem for Kansas City is what could happen if Spagnuolo sells out to stop Chase. Higgins is a No. 1 receiver-in-waiting and Boyd is a mismatch for any defensive back the Chiefs use to defend him. Sneed led the team with 345 coverage snaps in the slot this season, followed by safeties Justin Reid (134) and Juan Thornhill (115). Simply put, Cincinnati has an answer - and probably a very good one - for just about every potential matchup Kansas City can throw at it this weekend.


Eagles - San Francisco did not show much vulnerability against tight ends for most of the season, but touchdowns from Noah Fant. Darren Waller and Dalton Schultz in three of the last six games should give backers of Goedert some optimism this week. The quarterbacks from both sides in the NFC Championship will likely need to get rid of the ball quickly quite often. With the running backs rarely figuring into the passing game in Philly, it means Goedert should be a frequent target for Hurts. Working against Goedert is the fact he will probably run most of his routes against Fred Warner, Dre Greenlaw, Jimmie Ward or Talanoa Hufanga. All of those players have graded out at 72.0 or higher in coverage this postseason per Pro Football Focus, which makes it likely Goedert will need to fall into the end zone if he is going to be a fantasy factor this weekend. DFS players should make sure to get some exposure to him just in case, but it feels as if he has the lowest floor of the four starting tight ends this week.

49ers - As I hinted earlier, avoiding Philadelphia's cornerback duo and attacking the middle of the field - as well as controlling the clock and keeping the Eagles' offense off the field - should be the path of least resistance for San Francisco. Philadelphia has yielded a bit more production than usual to the tight end position in recent weeks. The Eagles have not faced the greatest tight ends recently. It could be argued that T.J. Hockenson (as a member of the Lions) was the closest thing to Kittle that the Eagles faced all season and that happened in the season opener. Chauncey Gardner-Johnson will be Philadelphia's primary slot defender if Avonte Maddox remains out this weekend and is a luxury to have at safety for the Eagles. Regardless of whether Maddox returns, however, Gardner-Johnson should spend most of his time tracking Kittle because the third receiver means so little in San Francisco's offense right now. While Gardner-Johnson is probably a better option than 25 or more teams have when it comes to slowing down Kittle, it may not make a difference - especially if Deebo Samuel and Brandon Aiyuk struggle to separate consistently. Kittle could benefit from what should be a near-perfect recipe for him: he excels in all of the areas that the 49ers need to beat the Eagles and Philadelphia has the cornerbacks to stifle San Fran's top receivers. There are no guarantees in fantasy, but Kittle should step up in a big way against the Eagles.

Chiefs - Kelce could be a chalky DFS pick given last week's effort (14-98-2 on 17 targets), but a strong case could be made for just about any starting tight end this week. Considering his price tag of $7,800 and the fact he ended a six-game scoreless streak against the Jags, it might be wise to go in another direction despite his obvious upside. Kelce's worst game of the season came against the Bengals in Week 13 on a day where Mahomes dropped back only 31 times and Kansas City ran only 55 offensive plays. Considering the Bengals' recent success against the Chiefs and the obvious advantage they would seem to have this week with Mahomes ailing, the defensive game plan for Cincinnati could involve trying to rough up Kelce off the line of scrimmage as much as possible and bringing pressure off the edge to force Mahomes to stress his ankle. If they succeed in doing that, another day of Kansas City struggling to reach 60 offensive snaps could be in the cards. While the Bengals have surrendered the occasional big game to tight ends this season, making things difficult for Kelce this weekend should be their primary focus. The Chiefs have rarely shown enough commitment to the run under HC Andy Reid to make defenses respect that part of the offense, so Cincinnati should be comfortable letting a hobbled Mahomes, Isiah Pacheco and Kadarius Toney try to beat them.

Bengals - Hurst may not seem as though he is a big part of the Cincinnati offense, but his 12 targets over the last two weeks are one more than Tee Higgins and Tyler Boyd have combined for this postseason. Baltimore and Buffalo - the Bengals' opponents during the playoffs - were among the most difficult defenses for tight ends to produce against during the regular season, so Hurst's nine catches for 104 yards and a touchdown over that span are notable. When teams begin to lose offensive linemen as the Bengals have in recent weeks, tight ends tend to go one of two ways: 1) they block more often and produce less because they are running fewer routes or 2) they produce more often because their quarterbacks need pass-catchers who can give them a solid five yards when the primary read is not open. The latter seems to be happening with Hurst lately, which bodes well against a defense that has coughed up four TDs to tight ends in its last five contests. At his $3,000 price tag on DraftKings, Hurst makes a ton of sense as a low-cost option for DFS players trying to fit a trio of high-priced receivers under their cap.

Key for defense/special teams units:
PA - Points allowed
TD - Defensive/return touchdowns
TO - Total turnovers
PA Bonus - Points allowed bonus for DraftKings
Defense / Special Teams
Team
DK $
PA
Sacks
TO
TD
PA Bonus
DK
Eagles
$2,800
27
4
2
0
0.0
8.0
49ers
$3,000
24
3
2
0
0.0
7.0
Bengals
$2,300
20
3
1
0
1.0
6.0
Chiefs
$2,500
30
2
2
0
-1.0
5.0

Nothing to see here. While I projected seven total turnovers in the two games this weekend, I realize it is unlikely that four of the best offenses in the league will combine for that many. However, this is the NFL and we know strange things happen. Despite how the DSTs are listed above, the Bengals are - without question - my favorite play of the week from this group. There is some sack upside for a defense opposing an injured Patrick Mahomes, and there is a strong possibility Kansas City struggles to score because of it. The most obvious reason to use them is their price point of $2,300.


---
Doug Orth has written for FF Today since 2006 and been featured in USA TODAY's Fantasy Football Preview magazine since 2010. He is also a high-stakes player who often appears as a guest analyst on a number of national sports radio shows, such as Sirius XM's "Fantasy Drive." Doug is also a member of the Fantasy Sports Writers Association.