As discussed in this space last week, the remainder of my postseason columns will feature my NFL.com Playoff Challenge roster (for as long as applicable), followed by my weekly league predictions and DFS prognostications.
NFL.com Playoff Challenge
NFL.com Playoff Challenge Roster
QB: Josh Allen (x2)
RB: Christian McCaffrey (x2)
RB: Saquon Barkley (x2)
WR: Stefon Diggs (x2)
WR: Deebo Samuel (x1)
TE: George Kittle (x2)
K: Tyler Bass (x2)
D/ST: 49ers (x2)
DraftKings
Below you will find my position-by-position projections. Please note I have included DraftKings' dollar value for each player, followed by his projected point total. Each position is sorted by my DraftKings' projected point total.

Key for quarterbacks, running backs, receivers and tight ends:
P Yds - Passing Yards
P TD - Passing Touchdowns
INT - Interceptions
Ru Yds - Rushing Yards
Ru TD - Rushing Touchdowns
Rec Yds - Receiving Yards
Rec TD - Receiving Touchdowns
Rec - Receptions


It is hard to find much fault with the pricing at quarterback this week, as the usual suspects (namely Allen and Mahomes) are a cut above the rest of the crowd. Hurts would be a good bet to join them were it not for the uncertainty surrounding his shoulder, which figures to restrict how often he can run and how much he does with those opportunities. As it stands right now, it does not make much sense to roll the dice on him in many lineups considering he is only $200 cheaper than Allen and $400 cheaper than Mahomes.

Lawrence is intriguing if only because playing the Chiefs tends to foster a pass-heavy approach and Kansas City finished the regular season as the second-friendliest matchup for quarterbacks. The 2021 No. 1 overall pick accounted for 285 yards of total offense (259 passing) and two scores in his Week 10 duel with Mahomes and could easily find himself in a spot where he needs to attempt 40 passes again. Six quarterbacks accounted for three touchdowns against Kansas City this season. While Lawrence fell short of being the seventh, he is undoubtedly playing at a higher level now than he was in the first meeting.

While Philadelphia's defense showed some cracks near the end of the season, I have no desire to play Jones in hopes he can improve on his 195 yards of total offense (169 passing) from the Giants' Week 14 showdown against the Eagles. Philadelphia's front seven is not only highly athletic - thus likely limiting Jones' ability as a rusher - but the Eagles have arguably the best cornerback duo in the league. Burrow obviously has the weapons, but he could enter this weekend without three starters on the offensive line. LT Jonah Williams (knee) and OG Alex Cappa (ankle) are considered week-to-week, while RT La'el Collins (ACL) was lost for the season late last month.

While Prescott has the weapons and ability to beat any defense, it makes little sense to bet on a quarterback facing the 49ers. The fact he is $100 more expensive than Lawrence with a much tougher matchup makes him a difficult player to like this week. The Cowboys' defense is only slightly more forgiving than San Francisco's. There is no question Purdy has earned our trust with multiple touchdown passes in each of his first seven NFL games (in which he wasn't coming in to mop up), but his ridiculous 7.6 percent touchdown rate is going to take a hit at some point. Purdy is also not a great bet due to volume; he has attempted more than 30 passes only twice since taking over for an injured Jimmy Garoppolo in Week 13.
Running Backs
Player
Tm
DK $
Tgt
Rec
Rec Yds
Rec TDs
Ru Att
Ru Yds
Ru TDs
DK
Travis Etienne
JAC
$6,400
4
4
35
0
14
72
1
20.7
Christian McCaffrey
SF
$8,000
5
3
35
0
14
79
1
20.4
Jerick McKinnon
KC
$6,000
7
6
56
1
4
18
0
19.4
Joe Mixon
CIN
$6,500
5
4
33
0
13
57
1
19.0
Saquon Barkley
NYG
$7,900
7
5
51
0
13
54
0
15.5
Elijah Mitchell
SF
$4,700
2
2
11
0
13
52
1
14.3
Tony Pollard
DAL
$6,100
5
4
32
0
8
42
0
11.4
Boston Scott
PHI
$4,300
0
0
0
0
5
23
1
8.3
James Cook
BUF
$4,800
3
2
23
0
10
37
0
8.0
Miles Sanders
PHI
$5,700
1
1
16
0
12
46
0
7.2
Isiah Pacheco
KC
$5,500
1
1
8
0
11
48
0
6.6
Kenneth Gainwell
PHI
$4,100
3
2
21
0
3
14
0
5.5
Clyde Edwards-Helaire
KC
$4,000
2
2
17
0
3
13
0
5.0
Ezekiel Elliott
DAL
$5,400
2
1
6
0
10
28
0
4.4
JaMycal Hasty
JAC
$4,500
2
2
15
0
1
6
0
4.1
Devin Singletary
BUF
$5,200
1
0
0
0
8
32
0
3.2
Kyle Juszczyk
SF
$4,000
1
1
13
0
2.3
Samaje Perine
CIN
$4,600
1
1
6
0
1
3
0
1.9
Nyheim Hines
BUF
$4,200
1
1
8
0
1.8
Jordan Mason
SF
$4,000
0
0
0
0
2
15
0
1.5
Matt Breida
NYG
$4,600
1
0
0
0
2
5
0
0.5

Not including the Week 7 contest against Kansas City in which he played only 22 snaps after his trade from Carolina a couple of days earlier, McCaffrey has played six games without Mitchell around and five with him. Here are the averages for both players in those contests:


McCaffrey in games with/without Mitchell
Player
Gm
RuAtt
RuYd
RuTD
Tgt
Rec
ReYd
ReTD
FPts
Christian McCaffrey (w/o EM)
6
18.2
92.3
0.8
6.8
5.3
47.2
0.5
27.3
Christian McCaffrey (w/ EM)
5
11.4
54.6
0.2
4.8
4.0
34.8
0.4
16.5
Elijah Mitchell
5
9.6
48.0
0.4
1.4
1.0
6.4
0.2
10.0

To be fair to both players, only one of the five games Mitchell has played since McCaffrey's arrival has been decided by less than 13 points and most of the work Mitchell has been getting when he does play has come late in those outings. What is not up for debate is that CMC loses the volume that has made him a fantasy superstar with Mitchell around. Managers should not sneeze at 16.5 fantasy points on average from their running back, but his $8,000 price tag is a bit much for someone whose volume ceiling may be limited.

As a result of that information, it becomes much more reasonable to pay up at other positions this week, possibly even fading McCaffrey for Mitchell and Etienne. Picking on the Chiefs' run defense hasn't been all that profitable for most of the year (only six rushing and four receiving TDs allowed to running backs all season), but an Etienne-focused game plan could be the play early this week. The Jags threw 18 passes and handed the ball off to their explosive running back only six times while falling behind 20-0 in the first meeting. Etienne has surprisingly found the end zone only once since scoring twice against the Raiders in Week 9, so he is overdue to break a long scoring run.

McKinnon's price tag ($6,000) is getting high enough that he is moving closer to fade territory, especially with the likely return of CEH. With that said, McKinnon has done nothing to lose his role in the receiving game. He has become a vital part of the team's red zone offense as well, which has contributed greatly to his six-game scoring streak. Despite seeing steady volume (at least 14 touches in all five games since his return from injury), Mixon has not shown much of a ceiling (17.8 fantasy points twice). Buffalo has shown an occasional vulnerability to explosive backs throughout the season, but Mixon is not one of those - at least he has not been one recently. Much like McKinnon, he figures to be a touchdown-or-bust option.

Barkley is a good bet to see more work than he did last week (nine rush attempts and 14 touches overall), but David Montgomery is the only running back to have much fantasy success against the Eagles recently. With Philadelphia's secondary being as good as it is, it would be a bit of an upset if Barkley did not finish with at least five catches for the fourth time in five contests. His ability to find the end zone this weekend is another story. I would not be opposed to having him in a similar amount of DFS lineups as McCaffrey.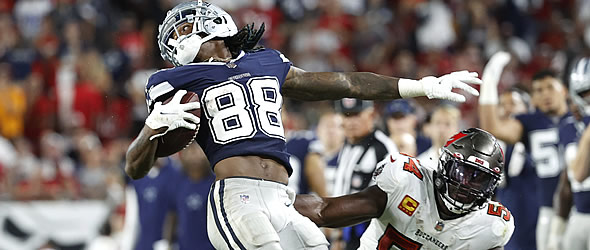 Wide Receivers
Player
Tm
DK$
Tgt
Rec
Rec Yds
Rec TDs
Ru Att
Ru Yds
Ru TDs
DK
CeeDee Lamb
DAL
$7,300
12
9
111
1
29.1
Stefon Diggs
BUF
$7,700
12
8
115
1
28.5
Ja'Marr Chase
CIN
$7,800
13
8
103
1
27.3
Richie James
NYG
$3,900
10
8
73
1
21.3
A.J. Brown
PHI
$7,600
8
6
90
1
21.0
Christian Kirk
JAC
$6,000
10
6
86
1
20.6
Deebo Samuel
SF
$5,900
7
5
73
1
2
23
0
20.6
Tee Higgins
CIN
$5,800
8
5
82
1
19.2
DeVonta Smith
PHI
$7,200
8
5
72
1
18.2
Kadarius Toney
KC
$4,100
7
4
52
1
2
18
0
17.0
Gabriel Davis
BUF
$4,800
7
4
58
1
15.8
Zay Jones
JAC
$4,700
8
7
72
0
14.2
Valdes-Scantling
KC
$3,800
4
2
57
1
13.7
Brandon Aiyuk
SF
$5,000
6
4
67
0
10.7
Isaiah Hodgins
NYG
$4,900
6
4
46
0
8.6
Khalil Shakir
BUF
$3,000
6
4
44
0
8.4
Michael Gallup
DAL
$3,800
5
4
42
0
8.2
Tyler Boyd
CIN
$4,000
6
4
41
0
8.1
JuJu Smith-Schuster
KC
$5,100
5
3
38
0
6.8
T.Y. Hilton
DAL
$3,200
4
3
38
0
6.8
Cole Beasley
BUF
$3,000
4
3
28
0
5.8
Marvin Jones
JAC
$3,600
4
2
32
0
5.2
Jamal Agnew
JAC
$3,000
3
2
18
0
1
7
0
4.5
Quez Watkins
PHI
$3,300
3
2
24
0
4.4
Isaiah McKenzie
BUF
$3,300
4
2
17
0
3.7
Noah Brown
DAL
$3,100
2
2
12
0
3.2
Jauan Jennings
SF
$3,400
3
1
14
0
2.4

Most of the top five receivers do not require much in the way of analysis as to why they should start this week. The Cowboys are unlikely to run the ball well and Lamb is easily Dallas' No. 1 weapon in the passing game. Assuming he lines up in the slot more than half the time as he has most of the season, Lamb will see his fair share of Deommodore Lenoir, who has experienced his fair share of rough weeks recently. Eli Apple and Cam Taylor-Britt will unquestionably have their hands full against Diggs, who got off to a decent start versus the Bengals in the game that was canceled due to the Damar Hamlin episode in Week 17.

While Tre'Davious White is quickly rounding into form after his lengthy return from ACL surgery, Chase is quickly becoming a force of nature. With four straight games of at least seven catches, one touchdown and 12 targets, he is almost guaranteed to produce. Brown is a bit of a discount Chase in that he can approach that level of volume on occasion, but he is not needed as much because Philly is nearly as devastating on the ground sometimes as it can be through the air.

The one shocker from above might be James, who should be a roster staple in DFS lineups this week. Not only has he been consistently productive since returning from injury in Week 11, but slot corner is one of the few weaknesses that Philly's defense has - especially with Avonte Maddox (toe) expected to miss another game. James Bradberry and Darius Slay may occasionally give up something on the outside, but the Giants cannot depend on Darius Slayton and Isaiah Hodgins to beat either one of them consistently. If New York is going to move the ball against the Eagles through the air this weekend, it will almost certainly happen between the hashes and because James is getting open against Josiah Scott.

Samuel may not come as cheap as James, but he is a good bargain nonetheless. My concerns about the lack of chemistry he might have with Brock Purdy were quickly put to rest last weekend with a 30 percent target share (nine targets on 30 pass attempts). It may be a bit of a guessing game from week to week whether Samuel or Aiyuk scores a touchdown, but it should be noted that Samuel has scored at least 12.3 fantasy points in three of the four games in which he has been healthy and Purdy has played most of the snaps.

Higgins seems a bit underpriced at $5,800 as well. He has started to take a back seat to Chase lately, but back-to-back duds against the Ravens are not enough of a reason to fade him entirely. It is easy to forget Higgins was doing well before the canceled Week 17 game with at least 114 yards receiving and/or a touchdown in five straight. All it takes for Higgins to explode is a defense that overcommits to Chase. Working against Higgins is the Bengals' injury issues on the offensive line.
Tight Ends
Player
Tm
DK$
Tgt
Rec
Rec Yds
Rec TDs
DK
Evan Engram
JAC
$4,300
8
7
78
1
20.8
Travis Kelce
KC
$7,700
10
7
74
1
20.4
Dalton Schultz
DAL
$4,200
7
5
52
1
16.2
George Kittle
SF
$5,700
4
4
58
1
15.8
Dawson Knox
BUF
$3,800
4
2
22
1
10.2
Dallas Goedert
PHI
$4,500
7
4
52
0
9.2
Hayden Hurst
CIN
$3,200
6
3
35
0
6.5
Daniel Bellinger
NYG
$3,000
5
3
33
0
6.3
Lawrence Cager
NYG
$2,500
2
2
23
0
4.3
Noah Gray
KC
$2,500
2
2
15
0
3.5
Jake Ferguson
DAL
$2,500
2
1
8
0
1.8

One of the best things about what has been another bad season at the tight end position is that Engram has been reborn in Jacksonville. Not only did he play in every game for only the second time in his six-year career, but the drop issues that plagued him throughout his time in New York also seem to have been corrected. Kelce is obviously the preferred play if DFS players can fit him into their lineups, but Engram offers a similar upside - especially when we consider Kelce has not scored a touchdown in six consecutive games. San Francisco's defense has surprisingly allowed a couple of tight ends to shake loose in recent weeks, but that seems like more of an aberration than a trend given the 49ers' defensive personnel at linebacker (Fred Warner and Dre Greenlaw) and safety (Tashaun Gipson, Talanoa Hufanga and Jimmie Ward). His one-score projection above may be too much to ask.

Kittle is certainly capable of being a week-winner against any opponent, but he is a poor bet to do so this week against a Dallas defense that has yielded one touchdown to a tight end all season despite facing Goedert twice, T.J. Hockenson and Engram. Until Knox begins to show he has more consistent volume and yardage upside, he will continue to feel like a fluky DFS bet despite scoring a touchdown in five straight. That gravy train will end at some point, and it would not be a surprise if it happened against the Cincinnati defense that gave up only three TDs to tight ends in 2022. Goedert has consistently given his fantasy managers a consistent floor this season with at least nine fantasy points in 11 of 12 games, but the ceiling hasn't been there very often (17-plus fantasy points only twice). While the Giants' defense has surrendered a pair of two-score games to tight ends this season, Schultz and Hockenson account for four of the six TDs scored by a tight end against New York.

Key for defense/special teams units:
PA - Points allowed
TD - Defensive/return touchdowns
TO - Total turnovers
PA Bonus - Points allowed bonus for DraftKings
Defense / Special Teams
Team
DK $
PA
Sacks
TD
TO
PA Bonus
DK
49ers
$3,300
14
4
2
0
1
9.0
Eagles
$3,200
17
5
1
0
1
8.0
Bills
$2,900
27
4
1
0
0
6.0
Bengals
$2,400
31
3
2
0
-1
6.0
Chiefs
$3,100
24
1
2
0
0
5.0
Cowboys
$3,000
31
3
1
0
-1
4.0
Giants
$2,500
28
2
1
0
-1
3.0
Jaguars
$2,200
31
2
0
0
-1
1.0

Given the combination of great offenses and somewhat conservative quarterbacks (Daniel Jones and Brock Purdy come to mind), there is not much to get excited about here. San Francisco and Philadelphia possess the greatest sack potential and figure to keep their opponents' point totals to a minimum, but it would be surprising if any of these eight units truly stood out from the others. Thus, I would probably pay down as much as possible and pray that Josh Allen takes more unnecessary chances (Bengals) or Cincinnati's beat-up offensive line can't hold up against Buffalo. I cannot imagine using one of the bottom four units above unless my main goal was to be contrarian in a large-field tournament.


---
Doug Orth has written for FF Today since 2006 and been featured in USA TODAY's Fantasy Football Preview magazine since 2010. He is also a high-stakes player who often appears as a guest analyst on a number of national sports radio shows, such as Sirius XM's "Fantasy Drive." Doug is also a member of the Fantasy Sports Writers Association.