For many in season-long leagues, it is the first round of the playoffs. This what you have been fighting for since September.
Early weather forecasts appear to be very good for December – no snow, rain or windy conditions. That, of course, can change because we all know how meteorology is an inexact science.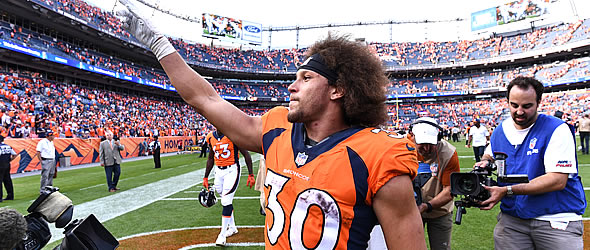 Truths

"Never tell the truth to people who are not worthy of it." - Mark Twain

1) Four of the top-five running backs since Week 11 were top-10 overall draft picks. The lone back, not picked early, was Denver's Phillip Lindsay.
True. In fact, Lindsay was not drafted at all. He's averaging 22.5 FPts/G over the past three weeks which ranks him behind Saquon Barkley and Christian McCaffrey, but ahead of Ezekiel Elliott and Leonard Fournette. Lindsay first had to outplay two running backs the Broncos actually did draft in 2018, Royce Freeman in the third round and David Williams in the final round. For the season he ranks ninth in fantasy points at the position.
2) The demise of the early-season MVP run of Alvin Kamara, was not due to a reduced rushing workload when teammate Mark Ingram returned from suspension.
Fact. Alvin Kamara averaged 24.28 FPts/G over the first four games and just 15.33 points over the last eight games, but his rushing attempts averages are 14.0 and 13.1, respectively. The dramatic drop was more likely due to the passing game. He saw 11.8 targets per game in the first quarter of the season and only 4.6 targets over the final eight games.
3) Heading into the first round of the playoffs, running backs will be a key issue with a number of elite options not available.
Of the top-eight running backs this season, three are not likely going to be of any help. No.5 overall, James Conner, was just declared out for Week 14 with what is being described as a high-ankle sprain. No.7 Kareem Hunt is obviously not available and Melvin Gordon is a longshot to return for a date with the Bengals. Gordon's owners would love him to face the worst rush defense in the NFL (27.4 FPts/G to RBs), but the Chargers are likely thinking long-term and figure to try and get by with Justin Jackson running and Austin Ekeler catching the ball out of the backfield. Jackson, owned in just 24% of all Yahoo leagues should be a top waiver pickup along with Pittsburgh's Jaylen Samuels (13% owned).
4) This is the "Year of the Forward Pass."
Through 12 of 16 games (75%), the league has thrown for 94,173 yards and 671 touchdowns. Extrapolated for the entire season means an expected 125,564 yards and 894 touchdown passes. Both would be record-setting totals. It is actually a reversal of the trend of the past two seasons. This was not the season to skimp on wide receivers or quarterbacks.
| | | | |
| --- | --- | --- | --- |
| Year | Pass Yds | Pass TDs | |
| 2018 | 94,173 | 671 | thru 12 games |
| 2017 | 114,870 | 741 | |
| 2016 | 123,639 | 786 | |
| 2015 | 124,843 | 842 | |
5) The most surprising soon-to-be 1000-yard receiver is Tyler Boyd.
Given his paltry production last season (22-225-2) and the limitation of his 2018 quarterbacks corps (Andy Dalton and Jeff Driskel), Boyd's 10.8 FPts/G and 69-938-6 is remarkable. For those thinking the absence of A.J. Green was a big help … he averaged 12.8 with Green and 9.45 without the elite receiver across from him.
Lies

"The most outrageous lies that can be invented will find believers if a man only tells them with all his might." – Mark Twain

1) Being a top fantasy quarterback is always good for his team.
False. The top-five quarterbacks over the past three weeks are; Patrick Mahomes (43.3 FPts/G), Josh Allen (30.5), Jared Goff (28.7), Cam Newton (27.8) and Ben Roethlisberger (26.9). Including byes, their combined won/loss record is a disappointing 5-7. Ranking 16th-20th were; Deshaun Watson (21.6), Tom Brady (21.1), Derek Carr (19.5), Marcus Mariota (19.4) and Matt Ryan (19.4) who went 7-7.
2) The most surprising production from a tight end in 2018 is Oakland's Jared Cook.
While Cook has finally used his vast talent to produce a top-five number (8.9 FPts/G), the correct answer is Indianapolis' Eric Ebron. Ebron has dealt with a TEBC (tight end by committee) and still produced 10.8 FPts/G, enough for third-best in the NFL, behind Travis Kelce and Zach Ertz. Ebron, a 2014 first-round selection of the Detroit Lions averaged just 5.1 FPts/G in his final season in Detroit and never posted more than 6.4 FPts/G in any of his four previous seasons. It certainly helps that Andrew Luck's strategy has always featured tight ends.
3) It is still worth paying the extra dollars for the Chicago Bears defense.
Actually the Bears are no better than sixth-best over the past three weeks, though they are still the best for the season. The Los Angeles Rams, despite giving up 51 points in a game, are averaging a league-best 16 FPts/G led by the amazing Aaron Donald. Houston (12.3), Kansas City (12.0), New York Giants (11.7) and New Orleans (11.3) are all ranked above the Bears (10.3) over the past three weeks.
4) The Eagles playoff hopes are still alive after a win over Washington Monday night.
Technically, but I'm not a believer. The Eagles face a "murderer's row" down the stretch at Dallas, at the Los Angeles Rams and Houston over the next three weeks. Since Week 6 they have allowed six backs at least 15 fantasy points, including 30.7 to Ezekiel Elliott, their next opponent. Then comes the NFL's best back in Todd Gurley, who averages 23.2 FPts/G and a "renewed" Lamar Miller, who is averaging 14.2 FPts/G over his last six starts for the hottest team in the league. Last season the Eagles were No. 2 against the run, this season No. 13 and dropping. If you can't stop the run, you can't win football games … even in the "Year of the Pass."
5) Baker Mayfield, who ranks 19th (21.5 FPts/G) among quarterbacks can't help you in the fantasy playoffs.
On the contrary, Mayfield has averaged 26.2 FPts/G over the last three weeks (two games) and faces Carolina, Denver and Cincinnati in the next three games. Carolina, just like the rest of the NFC South, can't stop any QB, Denver lost their best CB, Chris Harris, from a middle-of-the pack defense and Cincinnati is the most generous team in the league to opposing quarterbacks. Don't be afraid to write Mayfield's name in your lineup.

---
Steve Schwarz served as the fantasy sports editor of The Sports Network and is the 2014 FSWA Football Writer of the Year.