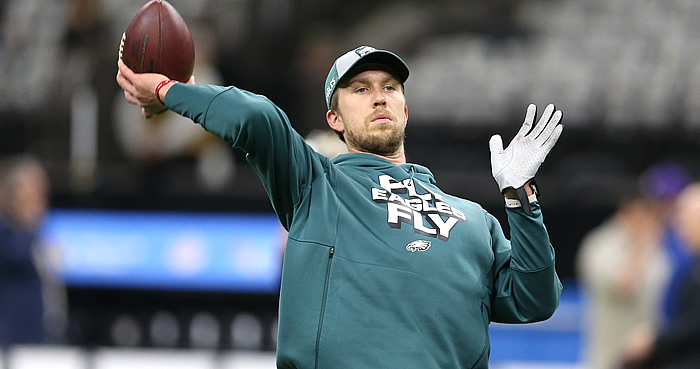 I am forever grateful to new Jaguars starting quarterback Nick Foles for bringing my beloved Philadelphia Eagles their first Super Bowl victory back in 2017. But that performance has nothing to do with why I am touting Foles' fantasy production for 2019. The chart at the bottom of the page clearly makes my argument for me as Foles has the easiest schedule in the NFL based on last season's fantasy points allowed to opposing quarterbacks!

Look at who they are facing this season. Jacksonville will meet up with the six "worst" defenses – Atlanta, Cincinnati, New Orleans, Kansas City, Tampa Bay and New York Jets. Throw in Oakland and Carolina and half their games are against bottom-10 pass defenses. I'm not saying he's a better option than Patrick Mahomes or Andrew Luck, but he could be a solid option for owners who don't want to spend a high pick (or big dollars) at the quarterback position. In the latest ADP rankings he's not even in the top-25 quarterbacks.

The best combination of talent AND schedule belongs to Indy's Luck. Only four teams own better schedules and Foles, Lamar Jackson, Kyle Murray and Cam Newton aren't going to beat Luck's combination of ability, total offensive talent and schedule.

Foles has the schedule, but not the talent around him when you are looking at a receiving group of Marqise Lee, Keelan Cole and Dede Westbrook. Jackson won't throw enough and if he continues to run 20+ times a game likely won't finish 16 games in one piece. Kyle Murray could be a player for the future, but not in 2019 and Newton, if he runs like he did in his early years (unlikely) could get close, but again his receiving corps is lacking. Christian McCaffrey is great, but Greg Olsen has spent too much time injured and the outside guys are relative unknowns.

Meanwhile, Luck has two extremely reliable receivers in T.Y. Hilton and tight end Eric Ebron. They also brought in Devin Funchess and rookie Parris Campbell. In addition, both running backs Marlon Mack and Nyheim Hines can catch the ball out of the backfield. And the ultimate fantasy bonus … Luck's playoff schedule is second to none, facing No.28 (Tampa Bay), No.30 (New Orleans) and No. 23 (Carolina) during the three-week period from Week 14-16.

Do you believe in Jimmy Garoppolo? If you do, he's got a very good schedule and the second-best trio of playoff games. But can a healthy Garoppolo turn Dante Pettis, track star Marquise Goodwin or rookie Deebo Samuel into consistent help for George Kittle? I'm not so sure, though with an ADP of 135.9 it's not a big gamble.

Seahawks' Russell Wilson had an odd statistical season in 2018 throwing for 35 touchdowns, third most, but producing just 3,448 yards (18th-best) in a run-oriented offense. Can he take advantage of his favorable schedule if he's throwing the ball just 27 times a game? Can he still produce touchdowns at his 2018 rate without Doug Baldwin?

At the other end of the spectrum, let me temper your all-out love affair with Mahomes (ADP 29.4) as he and his Chiefs own the toughest quarterback schedule of any of the 32 teams. Eight of his 16 games are against top-10 opponents. Sure, he's still an elite option after last season's 50 touchdowns, ten 300-yard games and 5,097 yards, but be careful about overestimating his expected production in 2019.

Baker Mayfield (ADP 67.5) is all the rage this season (fifth off the board) after helping the Browns out of the gutter and into playoff conversations. Cleveland added an elite receiver in Odell Beckham Jr., but they also have one of the tougher schedules … and a pair of very good running backs (Nick Chubb, Kareem Hunt) who could rack up touchdowns on the ground.

Philip Rivers is "Mr. Consistent," having averaged between 21.2 and 22.4 FPts/G over six consecutive seasons. He'll be challenged in 2019 with the seventh-hardest schedule and the third-hardest playoff schedule. The offense returns talented Hunter Henry to a list that includes Melvin Gordon, Keenan Allen and Mike Williams so Rivers has the tools to continue his steady production and likely earn solid value due to his low ADP (115.5) as the 14th quarterback off the board.

Derek Carr "traded up" from Amari Cooper to Antonio Brown, and added Tyrell Williams, but don't go crazy for the Raiders quarterback. And definitely have a "Plan B" for the playoffs where Carr has the absolute worst playoff schedule facing the No. 6 Titans, No. 8 Jaguars and No. 7 Chargers.

Other quarterbacks who have tough schedules include; Matthew Stafford and Aaron Rodgers - because that's the price you pay being in a division with the No.2 Minnesota and No. 5 Chicago defenses.
2019 NFL Schedule Based on 2018 QB Defense Rankings
1
2
3
4
5
6
7
8
9
10
11
12
13
14
15
16
Wk 1-16
Playoffs
JAC
29
17
6
10
23
30
31
27
17
BYE
11
6
28
7
25
32
299
64
BAL
26
4
29
22
14
31
12
BYE
21
31
17
18
19
1
27
22
294
50
ARI
13
3
23
12
31
32
16
30
19
28
19
BYE
18
14
22
12
292
48
CAR
18
28
4
17
8
28
BYE
19
6
15
32
30
20
32
12
11
280
55
IND
7
6
32
25
29
BYE
17
10
14
26
8
17
6
28
30
23
278
81
BUF
27
16
31
21
6
BYE
26
24
20
22
26
10
9
3
14
21
276
38
SF
28
31
14
BYE
22
18
20
23
4
12
4
15
3
30
32
18
274
80
SEA
31
14
30
4
18
22
3
32
28
19
BYE
24
2
18
23
4
272
45
NE
14
26
27
1
20
16
27
22
3
BYE
24
9
17
29
31
1
267
61
NYJ
1
22
21
BYE
24
9
21
8
26
16
20
25
31
26
3
14
267
43
LAR
23
30
22
28
12
19
32
31
BYE
14
5
3
4
12
9
19
263
40
TB
19
23
16
18
30
23
BYE
6
12
4
30
32
8
11
13
17
262
41
TEN
22
11
8
32
1
10
7
28
23
29
BYE
8
11
25
17
30
262
72
DAL
16
20
26
30
15
27
24
BYE
16
2
13
21
1
5
18
24
258
47
ATL
2
24
11
6
17
4
18
12
BYE
30
23
28
30
23
19
8
255
50
PIT
21
12
19
31
3
7
BYE
26
11
18
22
31
22
4
1
27
255
32
HOU
30
8
7
23
32
29
11
25
8
BYE
3
11
21
10
6
28
252
44
NO
17
18
12
9
28
8
5
4
BYE
32
28
23
32
19
11
6
252
36
CHI
15
10
20
2
24
BYE
30
7
24
13
18
16
13
9
15
29
245
53
MIN
32
15
25
5
16
24
13
20
29
9
10
BYE
12
13
7
15
245
35
WAS
24
9
5
16
21
26
19
2
1
BYE
27
13
23
15
24
16
241
55
MIA
3
21
9
7
BYE
20
1
14
27
11
1
22
24
27
16
31
234
74
PHI
20
32
13
15
27
2
9
1
5
BYE
21
12
26
16
20
9
228
45
NYG
9
1
28
20
2
21
4
13
9
27
BYE
5
15
24
26
20
224
70
CIN
12
19
1
14
4
3
8
18
BYE
3
25
14
27
22
21
26
217
69
OAK
10
29
2
11
5
BYE
15
17
13
7
31
27
29
6
8
7
217
21
LAC
11
13
17
26
10
14
6
5
15
25
29
BYE
10
8
2
25
216
35
CLE
6
27
18
3
19
12
BYE
21
10
1
14
26
14
31
4
3
209
38
GB
5
2
10
24
9
13
25
29
7
23
BYE
19
16
20
5
2
209
27
DET
4
7
24
29
BYE
15
2
16
25
5
9
20
5
2
28
10
201
40
DEN
25
5
15
8
7
6
29
11
22
BYE
2
1
7
17
29
13
197
59
KC
8
25
3
13
11
17
10
15
2
6
7
BYE
25
21
10
5
178
36