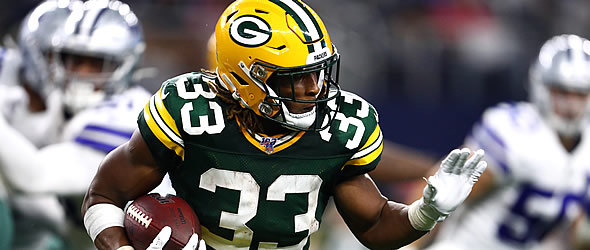 If your league drafts in reverse order of the previous season and you find yourself drafting last, a belated congratulations for your win, but now it's all about figuring out how to repeat while drafting last. Or perhaps you were just unlucky and drew the No.12 pill out of the jar.

Do you have a strategy? You better because it's a tough assignment.

Fortunately, I'm here to help with some numbers that may even give you an advantage. Below is a chart listing the PPR scoring for the top player at each position since 2007. The average top-5, the average No.5, the average top-12, the average for No.12, the average top-24, and the average for No.24. These will come in handy in your 12-team league draft.
12-Year Average Fantasy Points Scored by Position (PPR)
2007-2019
QB
RB
WR
TE
Average No. 1
28.52
24.41
22.27
17.49
Average Top-5
25.30
21.11
20.07
14.93
Average No.5
23.68
18.94
18.62
12.96
Average Top-12
23.27
16.62
18.46
12.82
Average No. 12
20.75
15.43
16.21
10.24
Average Top-24
16.05
16.62
Average No.24
12.21
12.43
Now let's put this information to use.

The object of this experiment is to amass the most fantasy points from one quarterback, two running backs, two receivers and a tight end by the end of your sixth pick (No.61).

Based on most mock drafts, by the time you are called upon to make the last pick of the first round, likely eight running backs and three wide receivers will already be off the board.

You could take the top rated quarterback (Patrick Mahomes or Lamar Jackson), but the "penalty" for waiting on a quarterback isn't worth making that pick this early. Yes, you could get 28.52 FPts/G from Mahomes, but the fifth quarterback off the board will still average 23.68. And you can get him, say Russell Wilson, in the sixth round. Which makes the quarterback position much less of a priority than the other positions.

You could also take a wide receiver at No.12 and you should expect to get around 20.07 points from that guy. But again, the 12th receiver off the board will get 18.46 fantasy points, so there isn't a big advantage here. Travis Kelce, the top tight end the past two seasons, is an option but the most fantasy points you could lose at this position is 4.67 even if you select the 12th-best tight end.

Which means a running back is the choice because with all the elite runners already gone you don't want to end up completely ignoring this position and ending up with two backs scoring about 12.2 FPts/G. The combination of the two wouldn't be within five points of Christian McCaffrey's 2019 production (29.3 FPts/G).

Austin Ekeler, who averaged 19.6 FPts/G last season while sharing time with Melvin Gordon is likely available as is the Packers' Aaron Jones (19.9), Nick Chubb (16.3) or Josh Jacobs (14.9). Based on FFToday Projections, we will go with Jones as the pick at No.12 and be smiling all the way to the bank if he repeats his 2019 production.

And in the second of the back-to-back selections we can snap up Jacobs, who produced solid numbers as a rookie and should get better in season two or Ekeler. I'm an Ekeler guy, who will be the primary back for the Chargers with Gordon in Denver. Tyrod Taylor/Justin Hebert may not give him 108 targets and 92 receptions this season as Philip Rivers did in 2019, but every quarterback loves his safety valve option and Ekeler is the best, averaging 10.8 ypr last season. Even a 10-percent regression leaves him scoring 17.6 FPts/G and our expected 37.5 fantasy points from our running backs will keep us competitive despite picking last. If you would rather go for a young up-and-coming back with plenty of upside, think Miles Sanders of Philadelphia. Barring a late signing, Sanders will be the main guy for the Eagles and he's also a very good receiver out of the backfield.

We can now go to the table with all the food and drinks as it will be a while before we can pick again. And unfortunately, even if we see a mistake being made, we likely won't be able to take advantage for a long time ... pick No.36 and No.37.

Assuming both Kelce and George Kittle are off the board, it's time to work on our wide receiver corps. Obviously, if either tight end is still available we sprint to the table with our selection card.

While other owners will be filling out their backfield pair and a couple of early birds will grab Mahomes and Jackson, that will leave plenty of talent as the receiver position which is where the numbers say we haven't lost much by not grabbing an elite like Davante Adams in the first round. We will probably be able to select from a group including some combination of Odell Beckham Jr., Amari Cooper, JuJu Smith-Schuster, Allen Robinson, D.J. Moore or Cooper Kupp.

FFToday's projections have Kupp scoring the sixth-most wide receiver points this season. Kupp posted career highs in targets (134), receptions (94), yards (1,161) and touchdown catches (10) last season despite quarterback Jared Goff having regressed a bit from his 2018 Super Bowl season.

I also like Smith-Schuster to rebound now that he won't be trying to catch balls from Devlin "Duck" Hodges. The return of Ben Roethlisberger to the lineup will be a huge boost for the entire Pittsburgh Steelers offense, but in particular for JuJu. Smith-Schuster saw 96 less targets last season and 72 less receptions and while some of that was due to missed games (four), a lot had to do with the conservative offense run with Mason Rudolph and Hodges under center.

So at No.36 and No.37 we select Kupp and Smith-Schuster.

And finally we select our quarterback and tight end in the fifth and sixth rounds to fill out the primary starters for our run to a title.

Based on mock draft results to date, both Dak Prescott (ADP 60), Wilson (63.8) and Deshaun Watson (64.2) will still be available. Take your pick. Despite my being an Eagles fan, I think Prescott, with the weapons he has available to him, would be a great pick here. He racked up 4,902 yards and 30 touchdowns in 2019 and the team added CeeDee Lamb at the draft to go along with Cooper and an improving Michael Gallup. (Wilson would be my second option as Watson will have to relearn the offense without elite DeAndre Hopkins to throw to this season).

Our pick No.61 will be the tight end needed to fill out our roster and here is where I think we get a steal. You know someone will be overzealous and choose Rob Gronkowski far too early (see the "Where to slot the unretired Rob Gronkowski" piece I wrote last week) which could leave a Darren Waller, Mark Andrews or Zach Ertz on the board. At worst you could end up with Evan Engram, Jared Cook, Tyler Higbee or Hayden Hurst. Right now Waller is going fifth (ADP 54.9), Gronk sixth (67.1) and Engram seventh (73.3). Engram is a solid option, but if you want to gamble there is the new Falcons starter, Hayden Hurst, who will take over for Austin Hooper (75-787-6), who is in Cleveland this season. Quarterback Matt Ryan has always used his tight ends well and that trend should continue here.

So let's select Prescott and Engram if only because Hurst may get off to a slow start due to lack of on-field work with his quarterback in this Covid-19 environment.

So that's our primary starters from the 12th position.

QB - Dak Prescott
RB - Aaron Jones
RB - Austin Ekeler
WR - Cooper Kupp
WR - JuJu Smith-Schuster
TE - Evan Engram

It can be difficult to predict and take advantage of positional runs, but selecting last isn't a death sentence for your draft.