For most, the end of Week 13 is the end of the fantasy regular season. It's on to the playoffs - a.k.a. "Survive and Advance." There are no more byes left to keep you from installing your best lineup … only Covid-19 lists and injuries. Good luck.



Truths

"Say not, I have found the truth, but rather I have found a truth." – Kahlil Gibran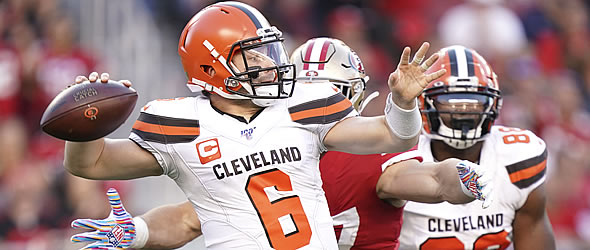 1) Don't believe any Baker Mayfield hype.
True. One game does not a season make. Particularly, when it was against the No.28 ranked defense (QB fantasy points allowed). He's cracked 23 fantasy points just twice this season, against Tennessee last Sunday and Cincinnati in Week 7. He'll face Baltimore and a much improved New York Giants in the first two rounds of the fantasy playoffs and both are top-10 defenses. For the season Mayfield has averaged 17.9 FPts/G which ranks 29th and even if we eliminate the two games played in hurricane-type conditions his average is 19.8 which would make him No.24 and still not fantasy-worthy.
2) Alex Smith should be the 2020 Comeback Player of the Year and a great story, but fantasy worthy - no.
Fact. Returning to the field after almost losing his leg and his life and 17 surgeries is a great story and a Disney movie in the making, but fantasy owners must separate fact from fiction. The fact is since being installed as the starter in Week 9 he's 3-2, but averaging just 16.5 FPts/G.
3) Joey Bosa said yesterday: "It's pretty obvious there's some problems."
He's not wrong. There is plenty of talent on both sides of the ball yet his Los Angeles Chargers are 3-9. Justin Herbert is a star in the making, but Bill Belichick and the Patriots showed he's still a rookie and vulnerable to smart defenses. In fact, Herbert has thrown the ball 105 times over the past two games and his team has scored just 17 points. He averaged 15.1 fantasy points over that span against the Bills and Patriots. The good news is the next opponents are Atlanta and Las Vegas, both bottom 10 against opposing quarterbacks, but sometimes less is better and the Chargers need to get back to a balanced offense.
4) If Antonio Gibson is out for any length of time it's a serious blow to his fantasy owners.
True. A relative unknown at the beginning of the season, Gibson has averaged 22.8 FPts/G since the start of November. Over that period only Dalvin Cook (28.4) has been better (of those playing more than one game). "Turf toe" sound innocuous, but it's a painful and sometimes lingering injury that destroys a running back's ability to cut. If it keeps Gibson out, J.D. McKissic is a viable option in PPR leagues only.
5) The trading of Stefon Diggs for essentially the 22nd overall pick of the 2020 draft is the definition of a win-win trade.
True. The Bills needed a star receiver for their young quarterback Josh Allen and Diggs has filled that role producing 7.5 receptions on 10 targets for 18.1 FPts/G. Meanwhile, his replacement, Justin Jefferson is averaging 17.3 FPts/G (61-1039-7) and he comes at a lower financial cost for the Vikings who were stuck in salary-cap hell. Neither has a great playoff schedule. Diggs faces Pittsburgh, Denver and New England while Jefferson sees Tampa, Chicago and New Orleans.

Lies

"I do not mind lying, but I hate inaccuracy." – Samuel Butler
1) "Nobody is going to be looking at a rookie quarterback as somebody who's going to be taking over a Pro Bowl quarterback, a guy who's been on the cusp of winning an MVP," said executive vice president and general manager for the Philadelphia Eagles Howie Roseman on draft night in 2020.
A flat out lie. Wentz can be fixed by someone, but I am sure that person isn't currently in Philadelphia. Jalen Hurts has been named as the Eagles starting quarterback for Week 14, so apparently they don't know how to fix him. I'll bet Frank Reich, head coach in Indianapolis and his former OC, knows how and he'll follow Philip Rivers with the Colts at a highly discounted price. Behind this OL with these young receivers, I don't expect Hurts to be much better. He'll be a slight upgrade only because he hasn't lost his confidence yet, like Wentz. Philly's problem goes much deeper than the quarterback.
2) The most efficient* wide receiver in 2020 must be Davante Adams since he averages a league-best 26.5 FPts/G.
False. Actually Adams ranks seventh in fantasy points per touch. The most efficient fantasy wideout is the Titans A.J. Brown who is averaging 3.73 FPts/T. DK Metcalf and the suspended Will Fuller rank second and third, respectively. Vikings teammates Adam Thielen and Justin Jefferson fill out the top-five. These top guys and their fantasy owners, should make like Keyshawn Johnson and yell, "Give me the damn ball."

* Efficiency = total PPR fantasy points earned/(receptions + rushing attempts).
3) Running backs with the highest rushing yards-per-attempt are fantasy stars.
Mostly false. Although Nick Chubb, Aaron Jones and Dalvin Cook are among the best, Miles Sanders, Ronald Jones, Damien Harris, Raheem Mostert and Devontae Booker all average at least 5.0 YPC and aren't in the top-15 in FPts/G. Mostert is the best of the group at No.17. In the case of a preseason favorite like Sanders, who is second to Chubb at 5.3 YPC, it's about usage, or the lack of. His 15 touches per game, despite his pass-catching ability, have left him ranking 27th at 12.5 FPts/G. That's well below his preseason rank which had him as a top-10 running back.
4) Deshaun Watson could be in trouble without his best receiver Will Fuller (six-game suspension).
Apparently, Watson is more resourceful than we thought. No Fuller, no problem. Double coverage on Brandin Cooks, no problem. Watson targeted Keke Coutee nine times and the wideout responded with 8-164-0. Coutee was a pretty active waiver claim property in Week 13. And Chad Hansen could be a big guy in Week 14 waivers. He went 5-101-0 in his first game of the 2020 season after being claimed off the Saints' practice squad. It won't be easy for Hansen as the Texans face the Bears and then a rematch with Indianapolis. Don't go overboard on Hansen. But Watson should continue to produce.
5) "They catch the ball or get replaced by guys who will," said Steelers head coach Mike Tomlin.
Probably just coach speak for getting his players attention. Still, Eric Ebron and Diontae Johnson have been the biggest culprits of the "drops." Tight end Ebron is fourth at his position in targets and 10th in FPts/G. Johnson, who is the probably the most elusive of the Pittsburgh wideouts, ranks eighth in targets, but just 25th in FPts/G. The Steelers are the deepest team in the league at the wideout position with three wideouts ranked in the top-32 – Johnson (14.7 FPts/G), Chase Claypool (14.5) and JuJu Smith-Schuster (14.1). If Tomlin actually decided to follow through with his threat, James Washington would be the guy most likely to get more targets. He saw four targets on Monday, catching two for 80 yards and a score. But I'd bet against it - Ben Roethlisberger likes Diontae.