In August 1952, the first edition of Mad magazine hit the stands with its "cover boy" Alfred E. Neuman proclaiming "What me worry?" It was more of a statement, than a question, saying he was not concerned about what other people thought as he was confident, composed and self-assured.

It also could be referencing a fantasy owner who is confident in his thinking when he selects an early-round player with flaws (even if they are very, very tiny flaws). Because we all know you don't usually win a championship in the first few rounds, but you can lose it if your key player comes up small.

There are primarily four reasons an early-round selection can fail you; 1) Injuries; 2) reduction in usage percentage; 3) undefined or changing role and 4) "career-year" syndrome.

Let's analyze players in each of these categories.
Injuries –
This is the most obvious category with its two poster boys; Christian McCaffrey and Saquon Barkley.
McCaffrey (ADP 2.0) has played just 10 of 33 games the past two season and was not available in any of the last two fantasy playoffs. Yet he remains an elite player when he's on the field with a career average of 22.4 FPts/G over 58 games. That's higher than what Jonathan Taylor produced last season in leading all running backs. Back in June I wrote an entire piece on where to draft CMC which may help you out.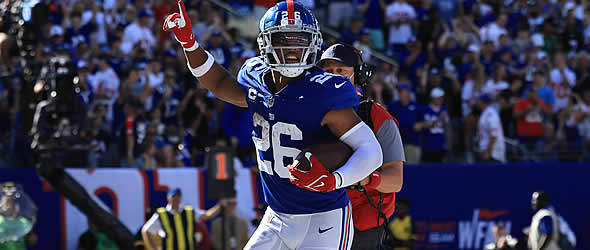 Barkley is a different story. He was a superstar rookie (24 FPts/G), a solid performer in season two (18.8), then fell off the proverbial cliff the past two season averaging 7.7 and 11.6 points. He's now two years removed from a torn ACL, but also missed four weeks with a sprained ankle last year and was hampered even when he returned in Week 11. Can he become the healthy Barkley of old? Probably not and his ADP reflects that (21.3). But with a new head coach and offensive mind in Brian Daboll (former OC in Buffalo) and an improved OL, he could become a low-end RB1/high RB2 and the end-of-the-second-round is a fair price to pay.
In 2020 while in a three-way RBBC with Gus Edwards and Mark Ingram, rookie J.K. Dobbins (ADP 40.3) was the best of the trio (averaging 6.0 ypc for 805 yards and nine touchdowns). In 2022, Dobbins (coming off a lost 2021 season due to a preseason ACL injury) is expected to be the No. 1 guy in a backfield with Edwards, again, and Mike Davis. As I write this, there is a war of words between reporter Ian Rapoport and Dobbins over whether he will be ready for Week 1 (Dobbins says yes) versus "expected to start the season on the PUP list" (Rapoport). I tend to believe the player on this one. But Dobbins still has to deal with the other veteran running backs and a quarterback who vultures short rushing touchdowns. As the 21st running back off the board, he'd be someone's second running back starter and that's concerning.
Chris Godwin (ADP 59.7) tore an ACL in Week 15 last season and will almost certainly not be ready for Opening Day. With a long-term contract in his pocket, it is in the best interest of both the player and the team to be conservative about his return. And even when he gets back on the field, you shouldn't expect vintage Godwin until 2023. But, he could be of value later in the season and into the fantasy playoffs when it will have been a year since the injury. And, of course, because Tom Brady likes to throw to a guy with reliable hands and Godwin certainly has them. As the 22nd wideout off the board, owners are being a bit too positive about his return value and I recommend waiting until later (if he lasts) or passing on him unless you can get him for WR3 value.
Michael Thomas (ADP 66.7) may have the longest-running ankle injury in NFL history. He was horrible for seven games in 2020 (12 FPts/G after averaging 23.4 in 2019) and didn't play a down in 2021. We saw an encouraging 30-second clip of Thomas this spring, but until we see him actually on the field in a preseason game doing what Thomas can do, he's a huge question mark. Also, for your consideration, his quarterback is no longer Hall of Famer Drew Brees, but Jameis Winston. Winston is a capable quarterback, but the offense isn't as prolific as under Brees. I'd be happy to pay the price, and even a little more, if I see Thomas running and cutting well in a preseason game, but if you are drafting in July, it's a tough decision. If you have already drafted two good receivers and he's your No. 3 then it's probably worth the gamble.
Usage Percentage –
Davante Adams (ADP 11) is an elite talent, but was his value inflated by being thrown passes by future Hall of Famer Aaron Rodgers? Probably, but that's being discounted by his being the fourth wideout off the board behind Cooper Kupp, Justin Jefferson and Ja'Marr Chase after finishing second and first at the position the past two seasons. Also, he'll have to share his targets with two really good pass-catchers in wideout Hunter Renfrow and tight end Darren Waller. He had no competition for targets last season when he saw 169 targets and the next highest totals were running back Aaron Jones (65) and wideout Allen Lazard (60). It's been five seasons since Adams had to share targets equally (2017 he had 117, Randall Cobb 92 and Jordy Nelson 88) and he only averaged 15.9 FPts/G that season. In Las Vegas Renfrow led the team with 128 targets and Waller had 93 while playing in just 11 games. Can Adams "play well with others?" Can Derek Carr keep all three happy? I'm positive Carr will make sure his old college teammate gets his fair share, but he may not be able to feed him "Rodgers-style." I would prefer Stefon Diggs (ADP 13) over Adams in 2022.
Speaking of Jones (ADP 20), the Packers' talented back disappointed fantasy owners in 2021 as his production fell from 18.5 FPts/G in 2020 to 15.4. He had four single-digit games which is a pretty difficult accomplishment for a guy with his catching ability. His rushing attempts have fallen from a high of 236 in 2019 to just 171 last season while his receptions stayed relatively the same (52 in 2021, 47 in 2020 and 49 in 2019). Meanwhile, 2020 second-round pick AJ Dillon saw 187 carries last season and averaged 11.0 FPts/G. That's concerning, as I think the Packers have frequently decided to "save" Jones wear-and tear during the regular season in preparation for the playoff run. That's good thinking for the team, but devastating for fantasy owners. I'm passing on Jones at this price point.
Amon-Ra St. Brown (ADP 74) has been getting a lot of attention and hype since finishing the 2021 season on a roll. He averaged 24.9 FPts/G from Week 13 through the end of the season on 11.2 targets per game. Kupp averaged 25.7 FPts/G to lead all of the NFL. St. Brown has risen from the 40th wideout off the board to the 31st just over the past three weeks. But beware, he had little-to-no competition for those targets last season. Kalif Raymond, KhaDarel Hodge, Josh Reynolds twice and Shane Zylstra posted the second-highest wide receiver target totals during St. Brown's hot streak. Barring injuries, the wide receiver room is much more talented in 2022. D.J. Chark (who was a 1,000-yard receiver in 2019) was signed away from Jacksonville and the team spent a top draft pick on Jameson Williams out of Alabama. Reynolds is still around and running back D'Andre Swift is a factor in the passing game with 78 targets last season, up from 57 in 2020. I'm expecting St. Brown to see a significant drop in his target share, not at first, but when Williams returns from his ACL injury. St. Brown may be worth the price for the first half of the season, but if you draft him, be prepared to jettison him before the mid-point of the fantasy season before his value takes a big hit.
Undefined or changing role –
Deebo Samuel (ADP 19.3) had a breakout season and was the No. 3 receiver in the NFL producing 338 fantasy points. But he was also used as the primary running back for the back part of the season as the 49ers made their playoff run. He was forced into the role when San Francisco was dealing with massive injuries to the running back room. So what will Samuel's role be if all the running backs stay healthy? Will he return to the outside and stay there? That's a lot safer, health-wise, but what would that do to his fantasy production? And what of the talk that he wanted out of San Francisco? He'll be a UFA in 2023 and is currently extremely underpaid at under $5 million? Could he be traded? Those are a lot of questions for your late second-round selection. You could probably have Tyreek Hill (who also has some questions) or a reliable option like Mike Evans. I think I'd take Mr. Evans before Samuel.
Cordarrelle Patterson (82.3), like Samuel, was a wide receiver playing running back. After never averaging more than 9.4 fantasy points in any season and averaging just 2.9 FPts/G from 2019-2020, he produced 14.7 points a game in a dual running back/wide receiver role in 2021. But the Falcons were forced into playing him in the backfield when free agent signee Mike Davis turned out to be a bust (138-503-3). This off-season Atlanta added Tyler Allgeier in the draft and signed veteran Damien Williams. Williams didn't do much in Chicago, but previously ran well for Andy Reid in Kansas City. Meanwhile, Allgeier rushed for 1,600 yards and 23 touchdowns at BYU. The Falcons might be short-handed in the receiver room with Russell Gage in Tampa Bay and Calvin Ridley suspended so they may use Patterson more at wideout. This could reduce his value.
Career Year Syndrome –
It wasn't James Conner's (ADP 32) best season, but his 17.2 FPts/G was his best since 2018. What makes me worry is how touchdown-dependent his 2021 season was statistically. His rushing yardage wasn't particularly good (a career-worst 3.7 ypc), but he got into the end zone 15 times running and three more times through the air. That's 41.9% of his fantasy points from touchdowns. Over his first four seasons (all in Pittsburgh) he averaged 25.7% of his points by reaching the end zone. Darrel Williams (formerly of Kansas City) was also efficient in getting into the end zone scoring six times on 14 attempts from inside the 5-yard line. Any loss of Conner's red zone carries (he scored 10 times on 16 attempts from inside the 5-yard line) could have a huge effect on his point totals and therefore fantasy value.
Damien Harris, like Conner, was a monster when close to the goal line. He scored nine times on 14 attempts inside the 5-yard line and 15 times in total. He's not part of the Patriots' passing game (18 receptions for 132 yards) so like Conner is touchdown dependent as 42% of his points came on scored. Rookie Rhamondre Stevenson proved to be a talented runner (4.6 ypc) and could take rushing opportunities away from Harris, so beware of taking Harris at his current price (ADP 63.7) because you know how fickle Bill Belichick is with running backs.
OK calm down everyone, I'm not saying Cooper Kupp (ADP 5.3) sucks or anything like that, I'm just saying he had a "career year" where everything went right and he stayed healthy for 17 games. He saw the most targets inside the 20-yard line in the league (37), had the most receptions (26) and caught the most touchdowns (13). Robert Woods got injured halfway through the season, Odell Beckham Jr. played half a season (they had a combined 117 targets) and Stafford fed a healthy Kupp early and often (league-high 191 targets for 145 receptions, 1,947 yards and 16 touchdowns). Could he repeat those numbers? Yes. Will he repeat those numbers? Probably not. That's why it's called a "career-year." The Rams signed Allen Robinson in the off-season and third receiver Van Jefferson took a big jump forward (50-802-6). And who knows? Maybe free agent OBJ will return to the Rams when he's healthy. Meanwhile, the Rams get a healthy Cam Akers back and he along with Darrell Henderson might get more run at the expense of the passing game. It's not inconceivable that Jefferson or Chase or Diggs produce more than Kupp in 2022.