8/13/12



Because the draft plays such a huge role in the success or failure of your fantasy team, every single pick you make is crucial. Blowing even just one pick may prove to be a disaster for your team, so going into the draft you should make sure you know what players to jump on, which ones to pass on, and when it's a good time to take each player. In this piece I will highlight 10 players who, for one reason or another, might just ruin your draft. Most of these players are or have been great fantasy players, but circumstances make each of them players to avoid at or near their current ADP.

Note: ADP based on 12-team, standard scoring leagues.

1. QB Cam Newton, Carolina


ADP: 2.09



Newton burst onto the scene last year as a rookie and set historic marks both in the NFL and in fantasy football. His 14 rushing touchdowns and over 4,000 passing yards carried many fantasy teams throughout the year, and Newton never scored less than double-digit fantasy points in a game—very impressive for anyone, but especially for a rookie. With these kinds of numbers and a full offseason to get better, why do I label Newton a draft killer? First of all, Newton regressed last year as a passer the more the season went on. After his first two games, where he threw for a ridiculous 854 combined yards, he was able to throw for more than 300 yards in a game just one other time. As defenses got more game tape of Newton, they were able to better defend him, and now they've had about eight months to find all his weaknesses. Of course it was Newton's legs that did a lot of the damage against defenses last year, to the tune of 14 touchdowns and more than 700 yards. While I do not expect Cam to become a strict pocket passer this year, it is highly unlikely that he will duplicate, or come close to, last year's rushing numbers. First of all, defenses will plan against that more, especially at the goal line. Second, the Panthers have to realize that keeping Newton healthy may determine the future of their franchise, and so giving him 8-10 rushes a game is really rolling the injury dice. Finally, the Panthers now have three very good running backs, including the newly acquired Mike Tolbert, who really looks the part of a goal-line back. Add all this to the fact that Steve Smith is now 33 and the Panthers failed to add any dynamic playmakers in the passing game, and you begin to see that there is no place to go but down for Newton this year. Look, I'm not saying he will drop out of the top 10 fantasy QBs or fail to put up respectable numbers, but with an ADP of 2.09, you are paying more for last year's numbers than the significant drop-off that is likely to happen this year. My advice is to take a quality RB (Charles?), a stud WR (Jennings? White? Jones?), or maybe even the best TE (Graham?) in the middle to late second round and wait on a QB like Vick (4.02), Ryan (7.02), or Peyton Manning (5.12), all of whom should put up similar points to Newton at a much better value.

2. RB Maurice Jones-Drew, Jacksonville


ADP: 1.12



I love watching MJD as much as anybody; he has power, heart, and a motor that just won't quit. Even on a bad team with no real passing game, he finished as the league's leading rusher last year and a top 5 running back in fantasy. The problem with him is not his talent, nor his team's situation, but rather time and workload. Over the past three seasons, nobody has carried the ball more than Jones-Drew, who had last year's league high of 343 carries. With more or less the same cast of characters in the Jaguars backfield, the plan will probably be for Jones-Drew to continue on a similar pace this year. While getting lots of touches is normally a great thing for fantasy purposes, breaking down midway through the year because of it obviously does fantasy owners no good. Predicting injuries is impossible, of course, but a smart fantasy owner should be able to read the tea leaves and see that a decline is inevitable for Jones-Drew, and this could very well be the year it happens. With his current holdout having no end in sight, a perfect storm may be brewing for the Jaguars top ball carrier to be the bust of this year's first round. Sure, he can defy the odds and put up another monster year, but with the deck stacked against him, why use perhaps your best draft pick on such a gamble?

3. RB Marshawn Lynch, Seattle


ADP: 2.12



After a number of mediocre years, Lynch exploded in 2011 and ended up a top 5 fantasy RB. As the Seahawks' workhorse back, his role in 2012 should not really change much, and improved QB play may actually help Lynch's situation. So why might he kill your draft, you ask? First of all, a lot of his fantasy production last year relied on touchdowns, as he scored a total of 13. In his five previous years combined he scored just 24, meaning 2011 could very well have been fluky, as touchdown production often is. Second, while Lynch ranked in the top 10 in the league in rushing yards, his 4.2 ypc, 20-plus yard runs, and longest run of 47 yards put him outside the top 25 backs in all three categories. Add these stats to the fact that he is not a real threat in the passing game and you'll begin to realize that Lynch is very limited in the kind of upside that we fantasy managers crave. In addition, after getting the payday he wanted, you might just add lack of motivation to the list of reasons to avoid Lynch, especially since he is not known as the league's hardest worker to begin with. On top of all this, Lynch once again got in trouble with the law this offseason and may face a suspension of some kind or, at the very least, be walking a very thin line with his team and the league. At his current ADP, I would argue that he is way overvalued, and I personally would not take him before the middle of the fourth round (a very unlikely place for him to be available). Instead I would gladly take either Steven Jackson or Fred Jackson, or even Doug Martin as far as RB's go. And with a deep WR class, I would certainly consider taking Roddy White, Victor Cruz, Wes Welker, Julio Jones, A.J. Green, and Brandon Marshall around the same area in which Lynch is being drafted.

4. RB Darren Sproles, New Orleans


ADP: 3.05



Before last season, Sproles spent most of his career as an exciting part-time RB, yet a fairly unattractive fantasy option. With over 1,300 total yards and nine touchdowns, however, 2011 marked a career year and a kind of rebirth for the eight-year veteran. With a dynamic offense around him, Sproles set career highs in rushing yards, rushing average, receptions, receiving yards, and touchdowns. After so much success last year and with the same basic team in place for 2012, why should we all not grab this guy right away in our drafts? Well, in a standard scoring league, I want my RB, even if he is my RB2, to be guaranteed a ton of touches, barring injury of course. And while Sproles caught a ridiculous amount of balls for an RB (86), he still only carried the ball 87 times, and that was without Mark Ingram (the Saints' projected rushing attempts leader) being on the field for more than a third of the season. Factor in a healthier Ingram stealing a big chunk of those carries (plus the ones Pierre Thomas gets), and Sproles should see carry numbers more similar to a typical third-down back (think 50-60). So if you draft Sproles, you will be counting on him to catch at least four or five balls every week just to match the output of a decent RB2. This is possible, of course, but with his semi-historic 2011 numbers as the most targeted RB bound to decline, you are really taking an unnecessary gamble considering the other options available around the 3.05 spot. I'd feel much more comfortable drafting Doug Martin, Fred Jackson, or even Shonn Greene since all these guys should get way more guaranteed touches than Sproles, with a bit higher touchdown potential as well. Better yet, the middle of the third round is where perhaps the best value at WR is this year, with guys like White, Cruz, Green, and Welker all going at or after Sproles' ADP on average.

5. RB BenJarvus Green-Ellis, Cincinnati


ADP: 5.01



As part of a crowded backfield on a pass-first team, "The Law Firm" put up pretty respectable fantasy numbers considering the circumstances. In 2012, BJGE has a chance to be the feature back on a more balanced offense, so why in the world would a guy like that be considered a draft killer? For starters, he is a very average talent. While Green-Ellis is famous for not ever fumbling in his four-year career, as a runner he lacks burst, quickness, and speed. In those four years, he has not had a run of more than 33 yards, has barely averaged 4.0 yards per carry, and has a grand total of 26 catches (on a pass happy team!). In addition, while his touchdown total the past two years is certainly respectable (24), 75 percent of those came from within the 5-yard line, and getting to that part of the field may be much harder for the Bengals to do than the Patriots. With about the same talent level as the Bengals' former starting RB (Cedric Benson), Green-Ellis's ceiling is about the same as Benson's 2011 effort—outside the top 20 fantasy backs, as it was. At the beginning of the fifth round I see much more interesting and dynamic players available, including Tony Romo, Peyton Manning, Willis McGahee, Roy Helu, Percy Harvin, Jeremy Maclin, Antonio Brown, Eric Decker, and Aaron Hernandez, just to name a few.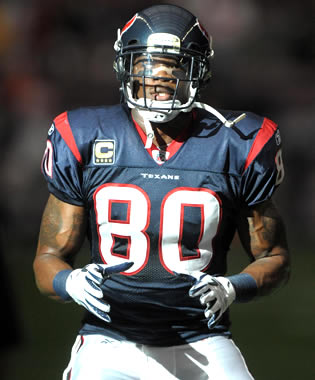 Andre Johnson's injury risk is a growing concern.

6. WR Andre Johnson, Houston


ADP: 2.10



Based purely on talent, Johnson would probably go in the first round of many drafts. But as we all know, talent only gets you so far. For a guy that is generally being taken as the third WR off the board, Johnson has a fair amount of things going against him. First and most worrisome is his increasing propensity for injury. After missing just three games his first four years, Johnson has missed 19 games over the past five. That has to raise some questions about how fast and well Johnson can heal at age 31, and if he will ever truly be 100 percent again for any significant stretch of games. Adding to these concerns is that Johnson has already tweaked his bothersome hamstring in training camp this year, and even if it is minor, it certainly raises some red flags about the long-term prognosis of his health. Another issue to consider is the health of his quarterback, Matt Schaub, after last year's Lisfranc injury. If Schaub cannot regain his old form, Johnson and the entire offense may struggle to put up big numbers under a much less experienced quarterback. Even if Schaub does remain healthy and productive, it is clear that the Texans are a running team first and foremost, as they were second in the league in rushing attempts and yards. With two very capable running backs (Foster and Tate) and a very respectable defense (second in yards allowed), the Texans will do most of their damage by milking the clock, running the ball, and playing lockdown defense, not by airing it out 40 or more times a game. While Johnson still has great upside, I believe he is being taken as high as he is because of his name and some past performances, not on the likelihood of having a monster 2012. Toward the end of the second round, I would certainly rather take Roddy White, Greg Jennings, or Wes Welker, who all provide similar upside but are in much better situations and have far fewer injury concerns.

7. WR Jordy Nelson, Green Bay


ADP: 4.02



As a starting receiver in one of the league's most explosive passing attacks, Jordy Nelson burst onto the fantasy scene last year with an amazing 15 touchdowns, six of those going for 40 or more yards. Now, obviously, if Nelson can duplicate these numbers, getting him in the early fourth round is a steal. But as all experienced fantasy vets realize, touchdowns are probably the hardest stat to predict and are based a lot on opportunity and sometimes on luck. A few things to keep in mind before taking Nelson as your WR1 (which is how he's being drafted in 12-team leagues): first, he did a lot of his fantasy point damage in the final four games of the season, when Greg Jennings was out with injury; second, while his touchdown total was amazing and his yardage was very respectable, his actual number of catches (68) was tied for only 30th in the league and his targets (96) had him tied for 50th. Add in a healthy Jennings for 16 games, and probably an emerging breakout player in Randall Cobb, and those already mediocre numbers could drop even lower. With Jennings, Finley, Cobb, and Jones all fighting for balls, Nelson may not even be a top 3 option on his own team half the time! In no way am I saying Nelson will completely drop off the fantasy map, but as a WR1 in 12-team leagues, there are certainly safer guys with just as much, if not more, upside as Nelson, at an equal or greater value. Percy Harvin, Marques Colston, Mike Wallace, Dez Bryant, Jeremy Maclin, and Steve Smith are all, on average, going after Nelson, but I believe they will all outperform him this year. In the early fourth round you can get a better WR than Nelson. And even by waiting another round, you should at least be able to match Nelson's output, but with better draft value.

8. WR Vincent Jackson, Tampa Bay


ADP: 5.11



At 6'5'', 230 pounds with above average speed, you would think V-Jax would be a no-brainer as an elite fantasy WR. But for whatever reason, he has yet to have a monster season. Jackson is being drafted as a mid-range WR2 in 12-team leagues, but I believe this is due more to name value and past performance than to likely future production. To me, he is more of a mid-range WR3 this year, meaning he is going at least a couple of rounds too early. There is no doubt Jackson is talented, but there are a number of reasons to believe his numbers will dip considerably after just barely finishing as a top ten WR last year. First and foremost, the quarterback change Jackson will experience is drastic. Besides the fact that he will have to find chemistry with a new passer after seven years with the same QB, the drop-off in talent and skill from Rivers to Freeman is significant. Second, in San Diego Jackson had one of the all-time great tight ends, Antonio Gates, in the middle of the field to take the pressure and double teams off of him. In Tampa, Jackson should see plenty of double teams, as there is no other real legitimate receiving threat, especially with the departure of Kellen Winslow to Seattle. Finally, the whole offensive scheme in Tampa will be much more conservative and run-based compared to the more pass-heavy style in San Diego. There is no doubt that Jackson will have some games that will make him a valuable fantasy contributor, but for where he is being drafted, he will not provide a good return on investment that successful fantasy owners should be looking to get. In the late fifth round I much prefer guys like Steve Johnson, Dwayne Bowe, Eric Decker, and Torrey Smith at the WR position.

9. TE Rob Gronkowski, New England


ADP: 2.08



I would love to have Gronk on my team, not just because I think he will be a top 3 tight end again this year, but also just so I can scream "You got Gronk'd!" to all of my league-mates every time he does something good. The reality, however, is that he will probably not be on any of my teams simply because he is being over-valued as a mid-second-round pick this year. I'm not going to sit here and say Gronk will not put up great numbers this year, because he probably will, but he certainly will not come close to matching last year's historic numbers, and that is about the price many people are paying when they draft him as high as he is going. First of all, defenses have had all offseason and plenty of game tape to scheme ways of slowing down the Gronk. In the NFL, even the most physically gifted players can be stopped or at least slowed down by defenses making adjustments, and you can bet Gronk will be looked at as THE GUY to focus defensive attention on this year. Second, Brandon Lloyd was signed this offseason and with Josh McDaniels back as the offensive coordinator, you can bet that Lloyd will be targeted a ton downfield, probably the most by any Patriots WR since Randy Moss when he had his record-breaking year back in 2007. Add this to the fact that Wes Welker will still get his 150-plus targets and Aaron Hernandez should see an uptick in production, and you begin to realize that the opportunities for Gronk will not be as plentiful as last season. I'll say it again, Gronk will be a great tight end again this year, but considering the lack of elite RBs in this year's draft and the abundance of TEs in the next tier down, the value of taking Gronk in the second round just does not add up. In the mid-second round, I would much rather take guys like Jamaal Charles, Steven Jackson, Fred Jackson, Doug Martin, Matt Stafford, Julio Jones, Greg Jennings, etc. Lock up your starting RBs, WRs, and QB before you take a TE, and you should still be able to get a guy that puts up respectable numbers at the position. By taking Gronk early, you will really be counting on some great players at other positions falling past where they should go, and that is a very risky gamble.

10. DEF San Francisco 49ers


ADP: 8.07



Are we really talking about a defense potentially ruining your draft? In many years this probably would not be an issue, but this year the 49ers defense is being taken way too early—and before a ton of players that could actually lead you to fantasy glory. While I do agree that San Francisco should have one of the best, if not the very best, fantasy defenses this year, taking them in the mid-eighth round is borderline criminal. This is especially true seeing that most of the other top defenses are being taken a full two to four rounds after the 49ers and may very well put up similar or better fantasy numbers. Even if you disregard the fact that personnel, injuries, schedule, coaching, and luck changes every single year with defenses, the fact remains that the fantasy points even the very best defense averages each week is usually less than 2 points per game more than the next four or five defenses. By taking a defense two to four rounds before anyone else, you are literally passing up on 20 to 40 positional players that could be critical in the success of your season and provide much more than a 2-point-per-game advantage that you are counting on getting with the best defense (which is a big gamble to presume in itself). In the mid-eighth round here is just a very short list of guys that I would much prefer having on my team over the 49ers defense: Ben Roethlisberger, Jay Cutler, RG3, DeAngelo Williams, Kevin Smith, Toby Gerhart, David Wilson, Ryan Williams, Darrius Heyward-Bey, Santonio Holmes, Pierre Garcon, Fred Davis, Tony Gonzalez, and Brandon Pettigrew. Some fantasy dos and don'ts are in place for a reason, and one of the oldest is "don't draft a defense until the last couple of rounds." If you do, the value of the players that you will miss out on usually outweighs the value of the defense you reached for.



Suggestions, comments? E-mail me.