While the first few rounds of a fantasy draft are chock full of players everyone has heard of, and whose abilities and opportunities are fairly well anticipated, it is often those taken later in the draftóor even after the draftówho can really make a successful season. Here is a short list of guys taken after Round 8 last year who made a significant impact for their lucky fantasy owners: C.J. Spiller (9.03), Andrew Luck (9.12), Russell Wilson (10.11), Kyle Rudolph (12.08), Alfred Morris (13.01), James Jones (undrafted), Cecil Shorts (undrafted), and T.Y. Hilton (undrafted). With so much attention being paid to finding the next breakout star, it is often tough to find actual sleepers these days, but the following players are guys that are going after the eighth round that could potentially provide starter-type production in 12-team leagues at some point this year.



Running Backs



Danny Woodhead, SD


(ADP 10.01)



A former role-player in New England, Woodhead has a chance to carve out a more significant role in San Diego this year. Currently penciled in as the backup to Ryan Matthews and the primary third-down back, Woodhead has the ability to catch the ball, pass protect, and squeeze into tight spaces. Although his size limits him from being a 20-touch-per-game guy, he has enough speed and quickness to turn 10-plus touches into some serious yardage. With only Ronnie Brown (possibly on the roster bubble) to compete with after Matthews, Woodhead has a clear path to touches even if Matthews stays healthy and produces. The reason I like Woodhead as a sleeper this season is (a.) I donít trust Matthews to stay healthy or to be super-effective, and (b.) I see the Chargers going to a short, quick passing attack, which suits Woodhead perfectly in check-downs and swing patterns. While Woodhead probably wouldnít crack the top 15 RBs even as a starter, he has enough appeal as a flex guy when Mathews is starting, and some upside as a RB2 if/when Matthews gets hurt or struggles.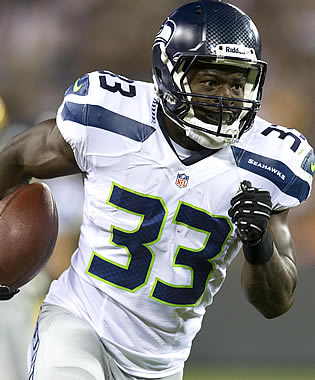 Take a flier on Michael towards the end of your draft.

Christine Michael, SEA


(ADP 13.10)



Sometimes you just have to go with your gut in making some decisions in fantasy football, and this guy just has that ďitĒ factor to me. Michael, the Seahawks' second-round pick this year, should start the season as Marshawn Lynchís backup and will probably be fairly limited because of Lynchís high productivity. I like Michael this year partly because he is super-talented, but also because I think itís very possible that Lynch either begins to break down this season, or the Seahawks decide to limit his workload and see what they have waiting for them in the near future. Spending a second-round pick on a player usually means you play them right away, and I doubt they waste someone as talented as Michael by putting him on the bench. To me it is a very real possibility that the Seahawks cut ties with Lynch after this year, and Michael has the tools to be a stud running back, both in fantasy and in the NFL. If it wasnít for some off-the-field issues, Michael would have been a surefire first-round pick, as he has a rare combination of size, speed, and quickness that NFL coaches love. You are going out on a limb by taking this guy, but at his current 14th-round ADP, there are very few guys there that have the chance to be a top 10 RB if the cards fall the right way. Lynch owners need to grab this guy for sure, but other managers may want to take a flier on Michael too, as he could pay off in a big way during the seasonís second half.



Deep Sleep:



Andre Ellington, ARI


(ADP undrafted)



Another name to keep in mind in super-deep leagues, or a guy to watch on the waiver wire, Ellington is a Cardinals rookie from Clemson with great quickness, hands, and straight-line speed. The reason I like Ellington as a super-deep sleeper is because the other Cardinals backs do not impress me at all and Ellington has a skill set that may help him get on the field more than expected in his first year. Rashard Mendenhall, the current starter, has had a solid yet very unspectacular career thus far, never really living up to the hype that he had when he came into the league with Pittsburgh. Behind Mendenhall is Ryan Williams, who has a load of talent but is very injury prone; I'd be very surprised if he played much at all this year. Ellington has a chance to be the Cardinals' third-down back right away and, if he can produce, may even steal some carries from Mendy before the seasonís halfway point. Keep Ellington in the back of your mind right now, but be ready to pounce on him if he shows anything the first few weeks of the season, as it could be a sign of good things to come.

Joique Bell, DET


(ADP undrafted)



Bell burst on the scene last year with Detroit as a third-down back and quickly gained the trust of coaches and earned more touches as the year went on. While he never had a huge fantasy game, he was fairly consistent in the passing game and his overall numbers (5.0 ypc, 52 rec, 899 total yds) were pretty impressive for a very part-time player. While Mikel Leshoure was the more heralded back coming out of college, Bell looked much more explosive and productive with the carries he received. On the depth chart this year, Bell starts off ahead of Leshoure and behind Reggie Bush, who has a checkered injury history (23 games missed) going into his eighth year in the league. While Bell doesnít have quite the makeup to be an every-down back, the Lions do not use a traditional power-running offense, and thus Bell could see 12 or more touches a game if Bush were to go down. Coaches have raved about Bell this offseason, and with Leshoureís lack of real production last year, Bell could be a nice flex option if the opportunity presented itself later in the year.



Wide Receivers



Ryan Broyles, DET


(ADP 11.07)



Broyles is recovering from his second ACL surgery in two years, and with Megatron on the same team, it's easy to see why many people donít think much about the second-year pro. Before tearing his ACL last year, Broyles had a nice five-game stretch where he caught 20 balls for nearly 300 yards, with two touchdowns added in. Broyles, who quarterback Matthew Stafford calls ďa chain mover,Ē has just decent size and speed but terrific hands, very precise route running, and the smarts to know how to find the defense's weaknesses and get open fast. With Calvin Johnson lining up on the outside and commanding double teams, Broyles should have no trouble drawing single coverage almost every play, and Stafford should target him seven or more times every game in one of the leagueís most pass-heavy offenses. While his appeal is higher in PPR leagues, and his injury history is still a concern, Broyles could easily be the teamís second leading receiver. And on a team that led the NFL in passing attempts last year, that should make him a solid WR3 every game. For a guy being drafted like a low-end WR4, Broyles has a ton of upside and sleeper appeal this season.

Vincent Brown, SD


(ADP 10.01)



Itís easy to forget about Vincent Brown, as his 2012 season was wiped out by injury. Now entering his third year, Brown has a chance to be the No. 1 receiver in San Diego, with wide receiver Danario Alexander out for the entire year. Brown doesnít have elite physical skills but possesses great hands, runs solid routes, and has the toughness to go over the middle and grab the ball regardless of whatís around him. With a pretty awful offensive line and an aging Phillip Rivers at quarterback, the Chargers are going to more of a short, quick passing offense, and Brownís skill set fits perfectly into that type of game plan. Durability is of course a concern, but for a guy who could lead his team in catches and receiving yardage, Brown is a real bargain in the late ninth round, where he is being drafted as a WR4. He certainly doesnít have the name appeal yet, but thatís what makes him a sleeper and why he presents great value for where he is being taken.



Deep Sleep:



Brice Butler, OAK


(ADP undrafted)



Ok, this one takes a huge leap of faith, and I am not advocating drafting Butler in any but the very deepest leagues, but hear me out here. Butler has the size (6'3", 214lbs) and the speed (4.37 40) to be a very solid NFL receiver, and there has been some positive buzz and production (2 catches for 70 yards and a touchdown against the Cowboys last week) so far this preseason. While these numbers do not mean much alone, the fact remains that Butler, who is currently third or fourth on the Raiders depth chart, has very little quality competition in front of him and is on a team that will probably be forced to throw a lot all season long. Butler has recently been practicing in the slot and may be targeted a lot by quarterback Matt Flynn, who doesnít exactly have the strongest arm in the world. With Flynn at quarterback, the Raiders may abandon their long-running strategy of a deep passing attack and instead go to more of a quicker and shorter passing game in order to get the ball out of the hand of an average talent under center. In this scenario Butler might have a chance to get a decent volume of targets and use his speed to break some long ones. Look, someone has to catch balls for the Raiders this year, and the other guys we know ahead of Butler are either wildly inconsistent (Denarius Moore), injury-prone (Jacoby Ford), or average talent-wise (Rod Streater). Relying on Butler is not for the faint of heart, but a lot of stars come from nowhere... and this is an article on sleepers (not stars) for goodness sakes.



Tight Ends



Jordan Cameron, CLE


(ADP 9.07)



Fantasy geeks have been abuzz about Cameron as a sleeper for a couple of months now, but his ADP is still very low (though rising), so count me in on the Cameron hype train this season. To share a little of my own personal strategy on TE drafting here, I am either taking Jimmy Graham if he falls to a comfortable spot for me or I am waiting quite a bit longer and grabbing Cameron along with some other TE after the ninth round. That is not only to show how deep I think the position is once again this year, but also to show how much faith in Cameron I have. If you are not going to get an elite guy like Graham, the next 10 or so guys are so similar that you might as well grab a guy that has the highest level of value mixed with upside, and that is Cameron. Besides all the good reports we hear about him from camp, and the fact that he caught two touchdowns in his second preseason game, the good news goes much deeper. Cameron is a physical specimen with above average speed at 6'5" and 254 pounds, but he is also in an offense that features the tight end and throws deep a lot. These things combined mean that Cameron not only has the potential to catch a lot of balls, but unlike a lot of other TEs who are targeted five yards downfield (paging Brandon Pettigrew), the Browns offense should be sending Cameron deep on many plays, thus leading to lots of yards and potential long touchdowns. Cameron has even been lining up in the slot this preseason, showing his versatility and the fact that the Browns want to get him the ball in any way possible. While quarterback Brandon Weeden wasnít the greatest as a rookie, he does have a strong arm and has shown improvementóand some chemistry with Cameronóthis preseason. Looking for the next big thing at TE? Look no further than Cameron.



Deep Sleep:



Zach Sudfeld, NE


(ADP 12.07)



Iíve seen Sudfeld drafted a bit higher in a few mocks Iíve done recently, but he still isnít getting much love compared to what his potential could be in an offense that features tight ends with few real dependable healthy options right now. With Rob Gronkowski out and Aaron Hernandez off the team, Sudfeld has been the first-team tight end by default, but he has received a lot of praise and has shown some production in two preseason games thus far (3 rec, 54 yds, 1 TD, and a 2-pt conversion). Besides wide receiver Danny Amendola (injury-prone himself), the Pats do not have any real proven pass-catchers on their roster, so the 6'7" Sudfeld has a real chance to carve out a role, even when Gronk comes back from his injury. If for some reason Gronk cannot return soon, Sudfeld would become a very startable TE1 right away and could build some momentum with Tom Brady that could earn him lots of reps throughout the season. It has even been recently suggested by New England reporters that Sudfeld could fill the role that made Aaron Hernandez a solid TE1 last season. While it is tough to carry a lot of TEs on your fantasy roster (as the position is deep and it is less important to have depth there), if you have the bench space, Sudfeld at least has the potential to be a solid contributor in spots. Keep him on your radar.



Quarterbacks



Jay Cutler, CHI


(ADP 12.03)



Jay Cutler is not a traditional sleeper in that he has been a household name for several years now. However, he is being drafted as a lower-end backup QB in 12-team leagues, and I actually believe he could put up starter numbers this year, making him a great value and a bit of a sleeper. There are a bunch of reasons that make Cutler a great later-round pick, and thatís not even counting the physical talent that has always made him a high-upside player. First, the new coaching staff, including Marc Trestman, are well-known in the football world for being quarterback-friendly coaches and teachers and have made the passing game a focus this offseason. Second, last year Cutler basically had Brandon Marshall as his only weapon (granted, an elite weapon), often times throwing to him in double and triple coverage. This season, the Bears should have a fully healthy (and more experienced) Alshon Jeffery, who has apparently had a great offseason and is a big (6'3", 220 lbs.) and talented target. In addition, the Bears went out and got tight end Martellus Bennett, who had a breakout season with the Giants last year (55 rec, 626 yds, 5 TDs) and provides Cutler with the first real pass-catching tight end he has had since Greg Olsen a few years back. Third, the Bears also improved the offensive line, a major weakness last year, by getting some veteran depth and drafting Kyle Long in the first round of the draft. Fourth, the Bears defense should still be near elite, especially at takeaways, which often lead to great field position for the offense. Finally, Cutler is in the ever-important contract year and is out to prove he can put up big numbers and then get paid next offseason. To me, this all adds up to a perfect storm and a possible top 10 finish among fantasy QBs for Cutler, making him a steal in the 12th round.

Alex Smith, KC


(ADP 13.08)



Smith isnít an elite quarterback in terms of talent, but often in fantasy football it's more about opportunity and situation over skill. While Smith has always been looked at as more of a game-manager, he has never really been given the chance to do a whole lot since he has been on run-heavy teams his whole career. This season he joins a Chiefs team led by Andy Reid, who at times in his career has seemed to forget that running the ball is even an option. For this main reason I like Smith as a late-round sleeper who, at the very least, should pass the ball a ton in this offense and has the short-range accuracy to be successful at it. While the Chiefs arenít exactly deep at the skill positions, they do have two major weapons in wide receiver Dwayne Bowe and running back Jamaal Charles, who have both produced nice numbers despite never having had anything close to a quality quarterback under center. Iím certainly not saying that Alex Smith will turn into the second coming of Joe Montana, but in a pass-heavy attack and with some decent weapons to throw to, Smith should be a high-end backup this year with the potential to have a few monster games sprinkled in.



Deep Sleep:



EJ Manuel, BUF


(ADP 13.12)



I was a bit hesitant to put Manuel on this list after recent news that he had to have minor knee surgery, but it sounds as though he could be ready as soon as Week 1, and certainly by a few weeks into the season. Of the QBs being drafted late (or not at all), Manuel has the most upside to sneak up into the top 12-15 QBs this season and have a handful of monster games when the matchups are right. Manuel, a 6'5", 240-pound, strong-armed and mobile rookie, should be the Bills' starter as soon as he is healthy enough to play. He was the first quarterback selected in this yearís draft and may have been taken even higher if it hadn't been for concerns over his consistency. On the Bills, Manuel will be running an offense that will most likely be run-heavy and conservative, yet this shouldnít be mistaken as unfriendly for fantasy prospects. A year ago, a rookie named Russell Wilson, who arguably has much less natural talent than Manuel, ran a very run-heavy offense yet became a legit fantasy starter for much of the seasonís second half. Not only should a strong run game protect Manuel from pressure (both mentally and physically), but it could open up the passing game for big plays and let him use his legs to gain yards on the ground. With an underrated offensive line, a stud running back (Spiller), and some decent weapons in the passing game, Manuel has just enough around him to be successful in his first year. Iím not saying he will be this yearís RG3 or Russell Wilson, but as a late-round flier you should be happy to draft a guy with this much upside, rather than the usual safe but boring alternatives.


Suggestions, comments? E-mail me.