A typical week usually flies by for most fantasy football owners. The same cannot be said about the last seven or so days at NFL Headquarters, which must already long for the time when the number of flags thrown during the preseason ranked among its most pressing problems.

The legal situations of Greg Hardy, Ray Rice and Adrian Peterson (and as of Wednesday, Jonathan Dwyer) have cast a dark cloud over the NFL unlike any I can remember in the 30-plus years I have watched football. Certainly, there have been singular darker moments over that time, but the categorical failures on multiple levels within and outside the league offices over the last few months has thrust the NFL into the spotlight that it was not prepared to handle – and that is an understatement to say the least. However, there is more than enough blame to be passed around, with the legal system and media among the many that need to reevaluate their priorities. To suggest it is simply the league's failure to react properly would be taking an extremely limited view of the situations, at least in my opinion. Then again, it is much less important to assign blame in situations like this and much more important to decide how all of it should be addressed.

In a country where athletes should not necessarily always be role models (but often are), it seems only natural the leagues in which they play in should take the lead and set the bar for the rest of the country in terms of acceptable conduct – on and off the field (or inside and outside the workplace). It is not any employer's right to play judge and jury, but it is their job to hire the kind of people and encourage the behavior they want from those people that will represent them in the most favorable light. Coaches and general managers alike often say that playing in the NFL is a privilege, but we can all take this as a reminder that working in any occupation that allows us to make a decent living is a privilege as well.

In some respects, I'm torn as to whether or not it is "my place" to use this forum to discuss such issues. On one hand, I have a unique opportunity as a writer to express or share relevant views when necessary and consider it somewhat negligent on my part to pretend as if the "real world" doesn't exist when I write this piece each week. On the other hand, I feel as my psychology background gives me some degree of insight into each of the matters that have dominated the news in the last couple of weeks. Ultimately, my job is to share any fantasy football analysis I have and that is what I intend to do going forward. Hot-button issues such as the ones regarding Hardy, Rice, Peterson and Dwyer need to be discussed and if there is something good that will almost certainly come out of all this, it is the fact that it will force more people to confront and consider these matters more strongly than they likely ever have before. The problem with such hot-button issues is they are tricky enough to verbalize, much less write about. In short, please be aware there is a time and place to more fully discuss such matters and my weekly column probably isn't the best of either.

Making the difficult transition back to the fantasy world, the departures of Rice and Peterson have stolen two players from what was an already-thin pool of potential or established feature backs. Let's take a team-by-team look at the sad state of affairs at the running back position. For the sake of driving home my point about the lack of quality options at the position, I will tag each player with the "fantasy position" I believe they fill in PPR leagues – much like I did on my final Big Board.

Arizona – Andre Ellington (RB2) has been dealing with a foot injury for a foot injury for a few weeks and, while HC Bruce Arians believes it will be a non-issue after the Week 4 bye, there is the small issue of Dwyer (RB5) basically handling anything close to the goal line.

Atlanta – Steven Jackson (RB4) is averaging 12.5 touches, but he is one of four backs getting work in the backfield. As long as the Falcons continue to essentially divide Jacquizz Rodgers' old role three ways, there aren't going to be a lot of notable fantasy performances coming out of Atlanta.

Baltimore – Bernard Pierce (RB3) and Justin Forsett (RB4) appear to be the only players in the backfield equation right now, although it would be naive to believe rookie Lorenzo Taliaferro won't get his shot at some touches before long.

Buffalo – This backfield isn't looking too much different than it did at the start of last year, at least before C.J. Spiller (RB3) suffered a high ankle sprain. Spiller's upside is huge simply because he is such a dynamic big-play threat, but is basically a lesser version of Ellington in that he takes a back seat to Fred Jackson (RB3) on about half of the regular snaps, third-down plays and in the red zone.

Carolina – Jonathan Stewart (RB4) saw a fairly heavy load last week as DeAngelo Williams (RB4) was ruled out and Mike Tolbert (RB5) got hurt. A healthy Stewart could become a reasonable weekly flex play if he can just stay healthy, but the Panthers' backfield is just as likely to frustrate as it is to produce one stud back.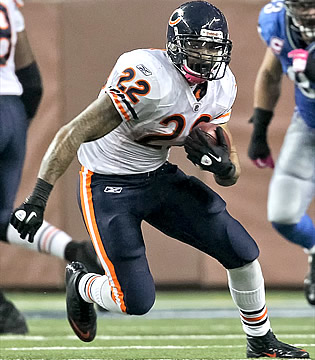 Forte: One of only nine true RB1's in fantasy football.
Chicago – Ah, bliss. Matt Forte (RB1).
Cincinnati – One gets the sense that new OC Hue Jackson had Week 2 in mind when the Bengals selected Jeremy Hill (RB3) to go along with Giovani Bernard (RB2). Perhaps a bit like Philadelphia, tempo and a firm belief in the running game will produce two players worthy of starting status in most fantasy leagues.
Cleveland – The Browns are one of the higher-upside spots that are unlikely to have a clear lead back by the time Ben Tate (RB3) returns from his knee injury in Week 5. It'd be a tough sell to completely take rookies Terrance West (RB3) and/or Isaiah Crowell (RB5) completely out of the rotation after their contributions over the last two weeks.
Dallas – Thank goodness for DeMarco Murray (RB1), but when will that injury we all know will happen take place? And when it does, will Lance Dunbar (RB5) or Joseph Randle (RB5) be the man who benefits the most?
Denver – I predicted a slow start for Montee Ball (RB1) thanks to his August appendectomy, which caused him to miss a lot of the preseason. He looks significantly less explosive than he did late last year, but I will attribute that his surgery. I wouldn't be surprised if he doesn't look a lot better after the Broncos' Week 4 bye.
Detroit – One backfield committee that has pretty much played out like we expected, with Joique Bell (RB2) getting significantly more carries and Reggie Bush (RB2) returning more to the "satellite" role he once had in New Orleans.
Green Bay – It's going to get a lot better for Eddie Lacy (RB1) soon, so hold if you own him and start making some offers if you don't.
Houston – Arian Foster (RB1) and his owners are pretty much in the same boat as DeMarco Murray. Regardless of whether or not the Texans choose to reduce Foster's workload going forward, the time is now to stash and hold on to rookie Alfred Blue.
Indianapolis – The talk about Ahmad Bradshaw (RB2) being reborn is ridiculous. For years, the question has not been his ability to perform, but rather stay healthy for an entire season. (It is the only reason I didn't have Bradshaw ranked inside the top 20-25 players at his position.) Trent Richardson (RB3) remains a square peg in a round hole. I suspect this will remain a 50/50 backfield in an effort to keep Bradshaw on the field.
Jacksonville – Toby Gerhart (RB3) has the backfield to himself, but is getting absolutely no help. The Jags are not using him in the passing game until garbage time and 48 of his 50 rushing yards have come after contact. Let's see if HC Gus Bradley's promised changes on the offensive line and upcoming matchups against Indianapolis and Pittsburgh help things along before we close the door on his ability to contribute in 2014.
Kansas City – Jamaal Charles (RB1) is probably going to be unavailable (or less than his usual self) for the better part of the next month, making Knile Davis (RB4) a top-10 back in the meantime.
Miami – The rising star of Knowshon Moreno (RB3) lasted all of one week. What will be interesting in the weeks ahead is whether or not the Dolphins decide to ride Lamar Miller (RB3) on a more regular basis or use him as a committee back. Owners would be wise to pick up Damien Williams (RB5) just in case.
Minnesota – Peterson is done indefinitely, perhaps even for the season. Matt Asiata (low-end RB2) figures to be the low-upside bell cow in the interim. Rookie Jerick McKinnon (RB5) remains the high-upside explosive eye-candy that may not transition as quickly as everyone hopes in order to steal significant touches from Asiata before the end of the season. Keep a close eye on recently-promoted practice squader Joe Banyard.
New England – Different year, same story. Shane Vereen (RB3) will see significant work one week an very little the next week as Stevan Ridley (RB4) carries the mail. Expect Brandon Bolden (RB5) and rookie James White (RB5) to get worked into the mix as the season progresses, fumbles happen or injuries strike.
New Orleans – As much as I wanted to believe this was going to be the year for Mark Ingram (RB3), I refused to draft him – at least where he was coming off the board – because of his durability issues. (I do not question his toughness, however.) With the former Heisman Trophy winner out for about a month, it's time for Khiry Robinson (RB3) and Pierre Thomas (RB3) to shine.
New York Giants – Thank goodness for Rashad Jennings (RB2)? Andre Williams (RB5) hasn't been putting any heat on him, so as long as Jennings 3.2 YPC continues to dwarf Williams' 1.6 YPC, the former will continue to push 20 touches per game.
New York Jets – Chris Johnson (RB3) may not have signed with the Jets to be anything less than a lead back, but Chris Ivory (RB3) is outperforming Johnson despite fewer touches. Ivory's physical running style makes him highly susceptible to injury, but Johnson has evolved into one of the few runners in the league that can seemingly do less with more volume.
Oakland – Maurice Jones-Drew (RB3) should be a decent flex option when he returns, but it is hard to see a situation over the next few weeks where the Raiders will be able to feed one – much less two – running back(s) the ball consistently. Any touches Darren McFadden (RB4) steals is going to cap whatever limited upside either player has on a team that has rushed 27 times for 69 yards (2.6 YPC) so far.
Philadelphia – Owners of LeSean McCoy (RB1) that are bummed out by the emergence of Darren Sproles (RB2) are out of their mind. McCoy touched the ball 27 times in Week 1 and 24 times in Week 2, so there are no questions about him. Sproles is probably the most pleasant surprise of any back so far, although it seems unlikely that he will continue to see more work going forward than he did in his heyday in New Orleans. My advice: see if an owner is willing to part with a clear workhorse. If not, enjoy the ride for as long as it lasts.
Pittsburgh – Holy smokes, it appears as though we've got another RB1 in Le'Veon Bell. It is important to note the Steelers' defense is not nearly what it used to be and that Bell will have a few more difficult matchups (like the one he had in Baltimore in Week 2) coming up that will cramp his rushing numbers somewhat, but his heavy use in the passing game will likely mitigate that.
San Diego – I proposed in USA Today's Fantasy Football Preview magazine in July that Ryan Mathews (RB3) was the most likely highly-drafted player to bust, mostly due to his schedule and his injury history. Now, owners are stuck with him on the bench probably through at least mid-October while Donald Brown (RB3 while Mathews is out) gets a chance to carve out a permanent role. Danny Woodhead (RB3) might see a very slight increase in work as well.
Seattle – Marshawn Lynch (RB1) is the clear workhorse here, although it is notable that Robert Turbin (RB5) has drawn 31 snaps through two weeks while "Beast Mode" has tallied 70. While game situation is about the only thing that has proven to be able to stop Lynch as a Seahawk, career workload and his seemingly annual early-season battle with back issues has me a bit leery of putting all my chips on him. If I receive an offer in which I am able to trade Lynch away and get Le'Veon Bell in return, I'd strongly consider it.
San Francisco – Frank Gore (RB2) is hardly setting the world on fire after two weeks, but it is safe to say the Niners don't seem to be in much of a rush to send him out to pasture just yet. Carlos Hyde (RB4) looms, although Gore has seemingly become the poster child for durability in his later years after earning the "injury-prone" tag early in his career.
St. Louis – In a weird way, the injury of Sam Bradford and uncertain status of the quarterback depth chart behind him seems to have solidified Zac Stacy (RB2) as the offensive centerpiece. Benny Cunningham (RB5) is less of a threat than he seemed to be even just two weeks ago, although this still feels like a fluid situation.
Tampa Bay – It seems unlikely that one game will change the mind of HC Lovie Smith, who called Doug Martin (RB2) his bell cow in late August. Then again, OC Jeff Tedford has yet to call a play in the regular season yet, so there may not be a resolution to whether or not Bobby Rainey (RB4) has worked himself into the complementary role that was Charles Sims was expected to fill. However, it may only take one really good game for Martin to silence his critics, especially if it comes this week. Likewise, we could have ourselves a full-blown committee if Martin is active against Tampa Bay and fails to perform while Rainey has another huge game.
Tennessee – The Titans' backfield choices – both in terms of how often they used their backs and how they have used them – have been a bit curious to say the least. Dexter McCluster (RB5) was brought in to be the new Danny Woodhead and has more snaps than any Titans running back, but hasn't exactly been used much as a receiver. Shonn Greene (RB4) is averaging 5.6 YPC, but has not been targeted in the passing game and tallied only 20 carries for an offense that is probably best-suited to pound the rock. Second-round pick Bishop Sankey (RB4) was the new regime's hand-picked choice to lead the backfield committee, yet has fewer snaps than Leon Washington. In short, none of the weapons seem to be getting used in the manner in which they should be deployed. In my last set of projections before the start, I projected Sankey to begin his rise to fantasy relevance in Week 6. Owners, especially those in deep leagues, need to wait this one out until at least then.
Washington – Alfred Morris (RB2) hasn't been targeted in the passing game, but owners don't have much else to complain about thus far with him. Roy Helu (RB5) left the Week 2 rout of Jacksonville with a quad strain, although he appears to be on track for Philadelphia. With a number of key players battling injuries in Washington, Helu could be on the verge of flex-play status.
Unofficial final count: nine RB1s, 12 RB2s, 20 RB3s, 11 RB4s and 14 RB5s

------------------------------

Like most owners, I will use a quick hook at two positions: kicker and defense/special teams. (And no, this is not a subtle hint to drop Seattle or Denver unless, of course, you play in my leagues). Not only are they among the lowest-drafted properties in this hobby of ours, but they are also among the easiest to replace. More importantly, I also believe owners can more quickly identify the season's "breakout stars" at those positions (and be right) than at the other four positions. Why do I mention this? Because I believe I have found one at each spot. And while those positions are probably the most interchangeable in terms of plugging in a player from the waiver wire and getting a good result, it doesn't make it any less important to find that kicker or defense/special teams unit that has the ability to deliver a 15-20 point game on a somewhat regular basis (and doesn't hurt you the rest of the time). I have won more than my fair share of games over the years thanks to a sizeable advantage at one or both of those spots.
Every year, I look for at least four qualities at the kicker position. He should:

1) have a strong leg (i.e. a history of kicking 50-plus yard field goals);
2) be on a team with a conservative offensive philosophy and/or above-average defense (coaches are more likely to opt for field goals when they believe their defense can get a stop);
3) play the majority of his games in a dome or warm-weather stadium (or at altitude, as is the case in Denver);
4) perhaps most importantly, play for a team that figures to struggle in the red zone.
For the most part, Nos. 1 and 3 can be established pretty quickly. Nos. 2 and 4 can be a bit harder to discern since, outside a handful of defenses each year, we can't be incredibly confident we can nail above-average or elite defenses. Furthermore, predicting which teams will struggle in the end zone is almost pointless to do unless there is a long history to back up such a claim (Andy Reid's Eagles teams were one such case) until the season gets started. Short of predicting which teams will repeatedly stall inside the 20, owners can often look to the age (or youth, as it were) of the quarterback to get a good sense of which offenses will struggle in the red zone or at least play it close to the vest once they get there.
I apologize in advance for what will see like frontrunner choices, but I wouldn't recommend either one if I didn't honestly believe they have a chance to deliver. Buffalo's Dan Carpenter should be owned in just about every competitive league by the end of this week. Yes, I realize he leads just about every fantasy league in scoring at his position and most will dismiss that as a fluke. However, I think his success after two games is very sustainable considering EJ Manuel probably isn't going to evolve into a red-zone beast anytime soon. And while Manuel's receivers are much better than last year, it seems highly unlikely Buffalo will allow him to prove his accuracy when the windows get tighter in the red zone when his ability to throw pinpoint passes in between the 20s has been inconsistent at best. Buffalo has already made 10 trips to the red zone in 2014 (tied with New Orleans for the most), yet has scored only three touchdowns with those opportunities. Perhaps Chicago and Miami were just on their game that day, but the more likely scenario is that with a condensed field and a conservative offensive philosophy, the Bills will continue to kick three or four field goals per game. Based on what I have seen so far, I'd be stunned if Carpenter doesn't have at least 40 field-goal attempts by the end of the season. In fact, I could actually see him coming close to breaking David Akers' NFL records of 44 field goals and 52 attempts in 2011.
My defensive recommendation actually uses much of the same logic that I just used above, so it should be no surprise that I expect the Bills' defense to be a stout unit. To be quite frank, I'm a bit upset with myself that I didn't give the Bills a big boost the day they announced that C.J. Spiller would be handling kickoffs. Can we count on Spiller returning a kick back to the house every Sunday? Of course not. However, I doubt Week 2 will be the only time he does it. Digging deeper, Buffalo has already logged six sacks and 17 hurries (per Pro Football Focus). In 2013, the Bills tallied 56 sacks and 208 hurries. Combine that kind of chaos with the fact that Buffalo wants to shorten games by running the ball relentlessly and there is a solid recipe for consistently earning a points-allowed bonus as well as a turnover or two per game. Would you like more reasons? There's really not much in the way of offensive juggernauts on their schedule – outside of Denver in Week 14 and Green Bay in Week 15. And for the forward-thinking owners, it is hard to imagine a team with a dominant front four won't have its way with Oakland in Week 16. I plan on mixing and matching the Bills and Broncos in a few of my leagues going forward and wouldn't be overly surprised if they hold their own in the most difficult matchups (like they did at Chicago in Week 1). Buffalo's schedule also appears to work pretty well with Baltimore.

Suggestions, comments, about the article or fantasy football in general? E-mail me or follow me on Twitter.

---
Doug Orth has written for FF Today since 2006 and has been featured in USA Today's Fantasy Football Preview magazine since 2010. He has hosted USA Today's hour-long, pre-kickoff fantasy football internet chat every Sunday over the past two seasons and appears as a guest analyst before and during the season on Sirius XM's "Fantasy Drive" as well as 106.7 The Fan (WJFK – Washington, D.C). Doug is also a member of the Fantasy Sports Writers Association.