The 2020 NFL Draft is behind us now and that means the start of rookie drafts for dynasty leagues. This year's class is loaded with talent and the landing spots of many of the top players were solid as well, meaning rookie picks are going to be at a premium.

League scoring rules and roster configurations could certainly change the shape of my picks below but for this mock I am going to use a 12 team, 1 QB (non-superflex) half-point PPR setup with standard starting lineup configurations.

As a general overview the running backs take the cake in terms of landing spots and talent, although the wide receiver class is a much deeper group. This means you should try getting one of the big 5-7 RB's in this class, because the position dries up fairly quickly after that, whereas WR might go 15+ deep with quality players.

In a 2QB or Superflex format both Joe Burrow and Tua Tagovailoa, and perhaps even Justin Herbert, would go in the top 8 picks, but in 1QB leagues I believe this class is too loaded at RB and WR to consider the QBs first round guys.

For reference, zero tight ends would make my top 20 rookie list this year. Without further ado…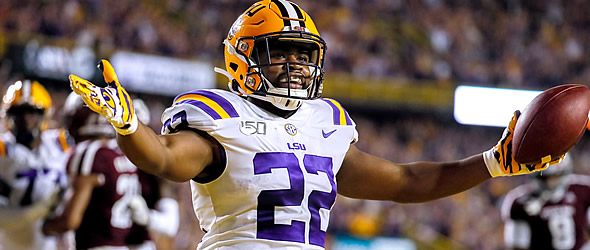 The only RB taken in the first round of the NFL draft, Edwards-Helaire (CEH) goes to one of the very best situations for a RB to succeed in and with the best draft capital of any back this season, he's certainly guaranteed a hefty workload from the start. CEH is one of the best receiving back prospects of the past decade and lands with a quarterback had the best passer rating in the league when targeting RB. I'd expect CEH to split carries at the outset but within a few weeks be the Chiefs primary RB and handle 15+ touches per game. CEH should be a borderline fantasy RB1 in his first NFL season, and continue that trend for the next several years. My favorite of the rookie RB prospects, Taylor landed in a great spot behind one of the league's best offensive lines with an offense that should be efficient, productive, and in many positive game scripts. The only thing keeping Taylor from the top spot is the Colts have a productive Marlon Mack, and Taylor is still a bit of a question mark as a receiver. While I expect Taylor to eventually be a workhorse, three-down back, it may take till the second half of 2020 before that role is fully engaged. I'd project Taylor as a mid-range RB2 for fantasy purposes in 2020, with the long-term appeal of some RB1 seasons looming down the road. Dobbins is yet another back who landed in a great spot for his dynasty appeal, as the Ravens are one of the most run-heavy teams in the league, and the only real competition he has is a 30 year-old veteran. While Mark Ingram will probably begin the season with more carries, I expect Dobbins to take the lead in backfield touches as the season goes on. With Lamar Jackson leading the offense, the run game should be extremely efficient and Dobbins should flourish under a system that uses more RPO's than any other in the NFL. Dobbins was used in the same manner quite a bit in college. Much like Taylor, I expect a RB2 season in 2020 but solid RB1 seasons down the road once Ingram moves on. Akers takes the place of Todd Gurley who recently signed with the Atlanta Falcons. While Akers is not on the same prospect level as Gurley, Akers is just as athletic, younger, and healthier. The Rams offensive line remains a big question mark, but Akers had one of the worst lines in college football and was still productive so we at least know he can manage in difficult situations. With a creative play-caller, minimal proven competition, and a passing game to keep defenses honest, Akers should accumulate solid stats even if he is not always hyper-efficient. I'd expect a low to mid-range RB2 season from Akers in 2020 with the potential for better in coming years as the line improves in front of him. The last of the "Big 5", Swift was a favorite in the fantasy community to be the 1.01 this year, but others jumped ahead of him due to landing spots, although Swift's landing spot was not exactly bad either. In Detroit, Swift may form a committee with Kerryon Johnson on a team that leans pass-heavy behind Matthew Stafford. Of the big 5 RB's, I would say Swift may have the least predictable and perhaps most questionable offense around him, which pushes him down below the other four RBs. That being said, the spot is still solid and Swift's talent and draft capital means he will likely rise to the top and be very productive eventually. I expect a low-end RB2 season from Swift this year with the optimism for some high-end RB2 seasons ahead as Detroit gets its offense and coaching fine-tuned.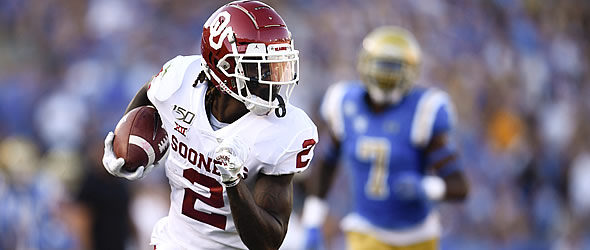 My pre-draft WR1 for rookies, the Cowboys shocked the world taking Lamb, as they already have two young WR threats in Amari Cooper and Michael Gallup. While many see Lamb's landing spot as a detriment (too many mouths to feed), I believe Lamb's talent is too hard to ignore and opportunities (180+ vacated targets from 2019) will come his way right out of the gate. Lamb may take several years to produce true Alpha WR numbers, but he should play significant snaps immediately and be deployed as both a slot and outside receiver for the Cowboys. With a great young QB, an elite run game, and other talented receivers taking the defenses attention, Lamb should be very efficient and have his share of huge games, even though the consistent volume may not be there for a year or so. For 2020, I project Lamb as a mid-range WR3 for fantasy, with many WR2 and even WR1 seasons down the road for this young stud. Consider Lamb a bargain at this range, as many years he would be a top-2 rookie pick. Reagor was a controversial prospect, with many in the fantasy community absolutely loving him and others ranking him middle of the pack. However, it's hard to argue his landing spot. The Eagles have aging and injury-prone vets (Alshon Jeffery, DeSean Jackson) and not much else in the pipeline. Given the teams need and the draft capital they spent on Reagor (1st round), it would be a shock if he wasn't forced touches as early as Week 1 of the regular season. An explosive athlete, Reagor is capable of splash plays, but has the body type to be much more than an occasional deep threat. While Reagor does carry some risk, he was not super productive in college and had inconsistent hands, his upside is through the roof and landed in a situation that could maximize his abilities right away. I'd project a mid-range WR3 season from Reagor in year 1 with the potential for more depending on the health of Jeffery and Jackson. Jefferson to the Vikings is an interesting spot. On one hand, he could easily finish second on the team in targets this season, as the depth chart is barren behind Adam Thielen given the departure of Stefon Diggs. On the other hand, I see Jefferson's skill set as redundant to Thielen's and wonder how exactly he will deployed, as he flourished (and projects) as a big slot guy, which is mostly where Thielen spends his time. Jefferson could be a consistent source of targets and catches, even if his ceiling in year one is relatively low. For the future, Jefferson could eventually take over as the team's top receiver once Thielen moves on or begins his decline. Consider Jefferson a very safe pick towards the back-end of the first round this year, with WR3 type numbers likely coming due to expected volume. The landing spot for Jeudy is less than ideal, as the Broncos already had a true alpha-type WR in Courtland Sutton, a hyper-athletic TE in Noah Fant, and used two more draft picks on very respected prospects KJ Hamler (WR) and Albert Okwuegbunam (TE), in the 2nd and 4th rounds respectively. While this is great news for Drew Lock and the Broncos, it leaves many fantasy owners scratching their heads as to what the future holds for Jeudy. Simply put, picking Jeudy is a bet on his talent more than the situation. While the other weapons in Denver are all athletic and "big play guys", Jeudy is the only one that profiles as more of a target-hog/possession receiver. As a guy that thrives getting open and running great routes, Jeudy could be the first read in many passing plays, especially with the defenses focused more on Sutton on the outside. Until we see exactly how this offense functions you are gambling a bit on Jeudy's short term upside, but his talent is undeniable and for dynasty leagues this means he is a worthy investment. I look for high-end WR4 numbers in Jeudy's first season and better in a year when he fully adjusts to the league. Mims did not gain a lot of attention as a top prospect until the Senior Bowl and Combine, where he dominated and was looked at as a potential a first round pick. There are questions about why Mims never really excelled in college, but given his raw measurables (6'3'', 210, 4.38 40) Mims has the potential to be a true NFL WR1. As far as his landing spot, it's nice, working with a young and super talented QB in Sam Darnold who is not afraid to throw balls up for grabs to his big targets. As for competition, the Jets other main targets are Jamison Crowder, who is a solid but unspectacular possession/slot guy and newly signed Breshad Perriman, who actually has a similar skillset to Mims, but has been very mediocre so far in his NFL career. As a 2nd round pick, Mims will likely be expected to contribute right away and if he catches on, could be the Jets go-to guy within a year. I would not expect any sort of consistency in year one but would not be surprised to see a few dominant weeks and 7+ touchdowns as the team's top redzone target. Mims will be tough to start with any confidence most weeks this season but could be a long term fantasy WR2 for many years if he and Darnold can get on the same page relatively fast. Higgins was viewed as surefire round 1 pick early in the pre-draft process, but slipped a bit as he did not participate in the Combine as word spread of him being just an average athlete. As the first pick in the 2nd round, Higgins landed in a great spot, especially for long-term success, as he will be paired with Joe Burrow and could develop chemistry together through the next few seasons. Higgins best skill is going up to get jump balls and contested catches, meaning he could make an impact as a redzone threat as soon as this season. The only short-term problem, other than the normal rookie learning curve, is Higgins will be behind A.J. Green (who he's sometimes compared to) and Tyler Boyd, who is a solid and underappreciated possession receiver. He'll also be in competition for targets with Joe Mixon, John Ross and Auden Tate, with a rookie QB throwing them all the ball. For 2020 I don't expect a whole lot from Higgins other than the occasional TD, but as soon as 2021 I could see him making a real splash and put up low-end WR2 numbers as Green likely moves on. Vaughn was not in my top 8 rookie RB's before the NFL draft but it is hard to argue about his potential as he landed with what is expected to be, one of the league's most productive and efficient offenses. Vaughn is a jack of all trades/master of none type back, who has limits in his game but does enough all-around to make him stick on an NFL roster for a long time. Vaughn can run between the tackles, outside, and catch passes, he just does not have a lot of "juice" or "wiggle" in his game. The good news is that his only real competition for touches in the backfield is Ronald Jones, who has been mostly a bust thus far and the current coaching staff does not seem enamored with. With Tom Brady on board and a plethora of talented receivers to throw to (Evans, Godwin, Gronk, etc.) the chances of any significant defensive attention being placed on the running game is unlikely and there should be plenty of scoring opportunities with what this team shows on paper. While I personally would not advocate Vaughn as a long-term hold/buy in dynasty leagues, his short-term production could be massive and thus, worth the investment to me at this point in the draft. Look for Vaughn to put up RB2 numbers this season as long as he can show enough to earn 12+ touches a game, which I think is well within his reach.

Just Missed: Joe Burrow (QB Bengals), Tua Tagovailoa (QB, Dolphins), Henry Ruggs III (WR Raiders)