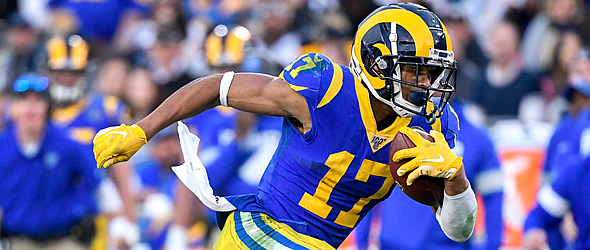 Although Iíve enjoyed success with the zero-RB approach in recent years (including a championship in a 36-team league), I canít see myself going zero-RB in 2020 because so many great WRs are available in the middle and late rounds (which is precisely when you should be trawling for high-upside RBs according to zero-RB logic).

The receivers I like most this year are typically ranked as second bananas according either to team depth charts or ADP. For instance, Cooper Kupp is currently going 19 spots ahead of Robert Woods in drafts at fantasypros.com. Based on their own performances and the Ramsí offensive overhaul in the final weeks of 2019, I would rather have Woods even if they were priced identically. In their last four games, Woods had almost 299 yards on 26 receptions to Kuppís 215 yards on 21. Kuppís TD streak kept his value solid, but that streak is as statistically unlikely to sustain itself as is Woodsí dearth of end zone production. This is just one of many examples of ďsecond banana desirabilityĒ that Iíll explore in this article, but first I want to explain how this glut of second banana WR talent will inform my draft strategy at other positions.

In most redraft leagues in 2020, I expect to go RB-heavy in the early rounds and to focus on WR just about every round thereafter with occasional exceptions for extraordinary value at QB or TE. This kind of strategy makes a lot of people nervous because they worry what will happen if that ďextraordinary valueĒ at QB or TE never presents itself. I have zero concern about that, as Iím happy to start the season with Tyrod Taylor at QB and the likes of T.J. Hockenson, Hayden Hurst, or Jonnu Smith at TE--and stream from there. Iíll gladly take Dak Prescott or DeShaun Watson if either is available to me in the 6th round of a 12-team draft. Iíll also pounce on Matthew Stafford at his current ADP of 109th overall. But I would probably rather have Taylor (at least for the first month of the season, with his fantasy friendly schedule vs. bad defenses or prolific offenses or both) than any of those guys.

At RB, I know most people will be jockeying for the top overall pick so they can nab Christian McCaffrey. Iíll definitely go with CMC if I have to make the 1.01 pick in any leagues this year, but I would rather draft from the 4th spot because I love Alvin Kamaraís prospects in 2020 with a healthy Drew Brees ready to take the Saints on their final Super Bowl run of the Payton-Brees era. And even though I usually think of handcuffs like Latavius Murray as roster clogs, heís one of three backup RBs (the others being Tony Pollard and Alexander Mattison) who are welcome to ride the pine on any of my teams at their current ADP. (P.S. If I take the 4th spot and Kamara doesnít fall to me, that means either Ezekiel Elliott or Saquon Barkley will be available--and Iíll still be picking earlier in the 2nd round than whoever sniped Kamara. That outcome suits me just fine--though, for the record, I have Kamara at No.2 overall.)

When I focus on RBs for the first three rounds in 12-team half-point PPR mock drafts, itís easy to end up with combos such as Kamara + Kenyan Drake + Leonard Fournette (or maybe Zeke/Saquon + Austin Ekeler + Clyde Edwards-Helaire). Thatís a solid enough start at RB to let me draft WRs almost exclusively for the next 10 rounds. The sure-fire elite WRs are always long gone by then, but the 4th round features a ton of guys capable of finishing in the top 10 (perhaps top 5) despite huge question marks based on disappointments in 2019 or changes in 2020: Odell Beckham Jr., Keenan Allen, Allen Robinson, JuJu Smith-Schuster, and T.Y. Hilton. Iím delighted when I can land OBJ or Juju, but perfectly happy with any of the other 3 as my WR1.

If I can land Woods as my No.2, Iím thrilled, but I usually miss out on him, which is okay because there are plenty of other desirable second banana WRs. There are so many, in fact, that Iíve broken them into 3 categories.
1) Second Bananas I Target above Their Current ADP
Michael Gallup, DAL - Currently the final pick of the 6th round, Gallupís ADP would doubtless be much higher if the Cowboys had not drafted CeeDee Lamb. Gallupís receiving yardage doubled from his rookie to his sophomore season, and he ended 2019 in a textbook position to break out in 2020 opposite Amari Cooper (who is too boom-or-bust for me to consider anywhere except in best ball leagues). Gallupís value plummeted when the Cowboys drafted Lamb, one of very few college WRs expected to have a high NFL impact as a rookie. I donít pretend to know what the future holds for Lamb, but I see no reason why a Cowboy offense under Mike McCarthy canít support three great WRs. Remember 2016, when three of McCarthyís receivers (Jordy Nelson, Davante Adams, and Randall Cobb) combined for 28 touchdowns and almost 3000 yards? Iím glad to take Gallup in the late 5th or early 6th.
Marvin Jones, DET - Jones is going at No.92 overall, 72 picks behind teammate Kenny Golladay. That makes zero sense to me. Despite missing three games at the end of 2019, he racked up 9 TDs and broke the century mark in two games (vs. the Eagles and Raiders). Sure, his total yardage of 779 was disappointing, but do you remember who the Lions had playing QB last season? With Stafford back under center, Jones could easily finish 2020 with numbers similar to what Golladay posted last year.
Diontae Johnson, PIT - Johnsonís story is similar to that of Jones. Heís a second fiddle receiver whose 2019 season was lost when his starting QB went down. But those who recall that Big Ben was able to make Juju a fantasy stud opposite Antonio Brown havenít ruled out the possibility that Roethlisberger can achieve a poor manís version of the same phenomenon with Johnson opposite Smith-Schuster. After squeezing 680 yards and 5 TDs out of a rookie season on a FUBAR offense, Johnsonís current ADP of 124 (early 11th round) only makes sense if you expect Devlin Hodges to return as QB.
Brandin Cooks/Will Fuller, HOU - As the 79th overall pick, Cooks is currently six notches ahead of Fuller according to ADP. However, I see Fuller drafted ahead of Cooks so often that Iím not sure who people really consider the second banana in Houston. If you think Fuller can stay healthy all season, I completely understand putting him first. If not, youíll probably put Cooks first. Either way, theyíre both being underrated because nobody knows what to expect from the Texansí passing game now that DeAndre Hopkins has left for Arizona. What I canít figure out is how anyone expects Bill OíBrien and Deshaun Watson to deliver an offense with no WR worthy of a pick higher than the 7th round. Thatís crazy. No matter where Cooks goes or who is throwing him the ball, he consistently finds his way to around 100 targets and 1000 yards. When healthy, Fuller has turned in some of the most electrifying WR performances in recent memory. Give me either one of these guys in the 6th (Cooks if I need a sturdy floor; Fuller if I can take a gamble on a high ceiling).
Anthony Miller, CHI - Currently the final pick of the 11th round (No.132), Miller fell off the radar for a lot of people last year because of persistent shoulder problems and inconsistent QB play. But he showed a lot of promise in his rookie season (2018), when he scored 7 TDs on just 33 receptions. I donít mind taking him in the 10th (though I usually spend that pick on Matthew Stafford).
Dede Westbrook, JAX - Donít read what Iím not writing. Iím not saying Westbrook is someone you should go out of your way to acquire. He is over 110 picks behind D.J. Chark (No.170 vs. No.53) for good reason. But if you grab an elite kicker and an elite defense earlier in the draft and donít know what to spend your final pick on, just remember that Westbrook had 101 targets for each of the past two seasons--and itís possible that Jay Gruden will make more effective use of his talents (which are considerable even though they pale vs. Charkís).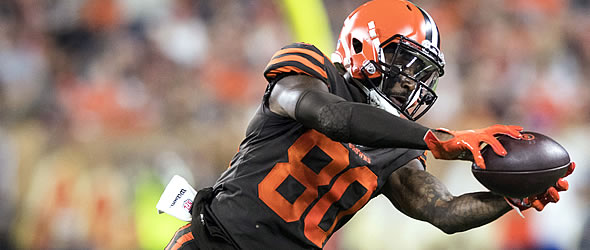 2) Second Bananas I Target at Their Current ADP
Jarvis Landry, CLE - The only thing that is more consistent about Landry than his performance is the way people underrate him. This year, folks are worried that he wonít be fully recovered from surgery for the season. But people always find some worry about Landry to blow out of proportion before he proves himself to be one of the most reliable WRs in the league. Landryís ceiling may not be elite, but his floor is as sturdy as they come. There may be an argument for taking him ahead of his current ADP (67th overall), but it doesnít matter because you donít have to.
Tyler Boyd, CIN - Boyd is currently 83rd overall, two full rounds behind A.J. Green (No.59). That ranking makes sense to me based on how many unanswered questions there are in Cincinnati. If Green is truly healthy and Joe Burrow is any good at the NFL level, then Green is being hugely undervalued. But those are two huge ifs, and we donít know what sort of impact to expect on Boyd either way. With Green back in the mix, can Boyd improve on a solid 2019 campaign with 90 receptions for over 1000 yards and 5 TDs? Iím not sure, but the possibility that Greenís presence makes him even more dangerous or that Burrow will simply latch onto him is significant enough that I donít mind taking him at the end of the 7th to find out.
John Brown, BUF - Despite Brownís strong 2019 performance, the Bills courted Stefon Diggs in a way that leaves no doubt as to who their top receiver will be in 2020. Diggs is going at No.55 overall, 34 notches (almost three full rounds) ahead of Brown. Will Diggs be that much better? Or will this tandem turn into something closer to the Diggs/Thielen dynamic we saw in Minnesota? I donít think anyone can answer that question until we see how much Josh Allenís accuracy improves in 2020. Sure, itís possible that Allen can mature enough as a QB to support two stud WRs. But Iíll have to see it before I take Brown earlier than the 8th.
Robby Anderson, NYJ - Anderson was a hit-or-miss WR with the Jets. If he was on your roster last season, you never knew when to start him. He was probably on your bench in Week 2, when he turned in a respectable 81-yard game against Cleveland. But you lost patience with him in Weeks 3-5 (11 yards, bye, 16 yards), so he was probably on your bench in Week 6, when he exploded for 125 yards and a TD vs. Dallas. Maybe that convinced you to start him for the next 5 weeks, when he averaged less than 21 yards per game. Then, as soon as you gave up on him in Week 11, he racked up over 300 yards and 2 TDs in the next three games. These kinds of WRs make us tear our hair out, but perhaps Anderson will be more consistent in Carolina, where he will be reunited with Matt Rhule (his coach at Temple). I donít think his end-of-the-tenth-round price tag (No.119) is too steep, but Iím not going to pay more than that for a guy who has created so many headaches for me.
3. Second Bananas I Target below Their Current ADP
Calvin Ridley, ATL - Even with the great Juilio Jones soaking up targets across the field, Ridley is an incredibly efficient WR who could easily out-perform his current draft price of No.35 overall. But I think itís too important to get pass-catching RBs in the early rounds to justify taking any No.2 WR at Ridleyís current price. Even when he slips into the 4th round, I have a hard time taking him ahead of the veteran No.1 WRs still available (OBJ, Hilton, etc.). I would take Ridley if he fell into the 5th, but Iíve never seen that happen.
Tyler Lockett, SEA - At No.44, Lockett trails D.K. Metcalf by 7 notches in ADP (more than half a round). People are right to expect big things from Metcalf this season, but I understand why some folks expect even bigger things from Lockett (who has a proven rapport with Russell Wilson and did a fantastic job of stepping up after Doug Baldwinís departure). I canít bring myself to pursue Lockett at his current price because there are too many other undisputed No.1 WRs available in round 4, but Lockett is attractive if he slips to round 5 and irresistible in round 6.
Mike Williams, LAC - Williams is going 99th overall, 61 spots after Keenan Allen. Perhaps the change from Philip Rivers to Tyrod Taylor at QB will significantly increase Williamsí role at Allenís expense, but I think itís far more likely that between Ekelerís role in the passing game and Taylorís willingness to call his own number, Williams will remain the same sort of hit-or-miss WR that he has been. Sure, Williams and Taylor could have crazy good chemistry in 2020. If I can get Williams in the 12th, that possibility might be worth the gamble.
Obviously, I donít expect all (or even most) of these second banana WRs to finish within striking distance of their No.1 counterparts. But the idea behind this approach is that I should end up with a handful of top-24 performers. Some of my targets may not work out. Thatís fine, since Iíll probably have to free up some roster space to stream QBs and TEs.
If you have better second banana WRs to recommend (or want to defend the zero-RB strategy in 2020), feel free to comment below or email me.
P.S. My thanks to Mike Krueger for publishing my thoughts on COVID having an overblown impact on the NFL. He had good reason to expect the pushback I would receive from readers on the piece, but was nevertheless willing to allow me to express my thoughts and to direct readers to sources of information that, in my opinion, provide good information without fomenting hysteria. I'm clearly in the minority in my thinking, but I'm grateful to FFToday.com for providing me an outlet and even to the readers who disagreed for taking the time to engage the column.

---
Mike Davis has been writing about fantasy football since 1999--and playing video games even longer than that. His latest novel (concerning a gamer who gets trapped inside Nethack after eating too many shrooms) can be found here.