In the weeks leading up to any fantasy football draft, discussion of top three to four picks is common. Less common, however, is what to do if you find yourself stuck in the middle of each round. Last preseason, we examined "picking at the turn". This time around, those "picking in the middle" will get their day. The term "middle" will be defined as picks 5 through 8 in a 12-team redraft league. Let's dig in with the specifics as they apply to the upcoming 2018 season.



First Three Rounds:



Value in the middle of Round 1 this season should be ideal. The suspension of Mark Ingram (4 games) has pushed Alvin Kamara into the upper tier of running backs, especially in PPR leagues. Kamara is a solid option for pick No.6 or 7, but it you're picking fifth, you are in the conversation for a different RB or possibly Antonio Brown. If your league allows you to start three or even four WRs, Brown is definitely an excellent option especially if your league goes RB-happy with the first 4-6 picks.

I think the drop-off at running back is so severe in Round 2, however, that Brown would be the only wide receiver worth taking in the middle of Round 1, even if your lineup requirements are WR-friendly. There are simply too many question marks surrounding every other top tier WR. So, the recommendation is to find your favorite RB from a group that includes Kamara, Saquon Barkley, Leonard Fournette (non-PPR only), Kareem Hunt, and Melvin Gordon. David Johnson could also be in play if Brown is taken early. Using Fantasy Football Calculator's current ADP numbers, we're going to pretend that the No.6 pick is ours and that both Brown and Johnson are gone. That would make Alvin Kamara the perfect target for the pick.

Round 2 is definitely a round for taking a wide receiver if indeed running back was the first pick. There's simply not enough firepower at the RB position after Dalvin Cook (he will be gone by the early 2nd round at the latest). That means guys like Michael Thomas, A.J. Green, Keenan Allen, and Davante Adams are up for consideration. When attempting to discern between similar options, my rule of thumb has always been to look at the quarterback. Two surefire Hall of Famers, one possible Hall of Famer…and Andy Dalton. That eliminates A.J. Green. And, since ADP suggests Thomas will be gone prior to 2.05, Allen and Adams look like the two most prominent targets. Finally, if you took Brown in the first, don't reach for a running back here. The value will be better in Round 3. So, based on our No.6 draft position (which would be No.7 in the even rounds) ADP suggests Adams would be available here. He'll make a nice complement to Kamara giving us two primary options on very good offensive teams.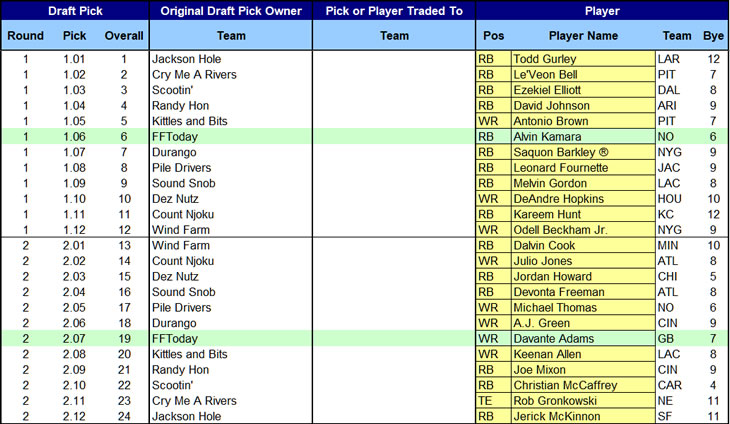 Finally, in Round 3, you should grab the best available player from a group that includes RBs, WRs, and TEs. If two wide receivers (say Brown and Allen) were picked during the first two rounds, RB almost certainly has to be the choice here assuming your best option isn't LeSean McCoy, who comes with too much risk to be a RB1. Based on volume, Jerick McKinnon, Joe Mixon, and Christian McCaffrey would be ideal options, but all three could be taken, even by 3.05. In PPR leagues that will be the case almost certainly, which brings us back to our initial premise…which is, it probably isn't a good ideal to pick two WRs to begin a draft this season. And, since the RBs in Round 2 don't represent good value, taking one in the middle of Round 1 is better than taking even the great Antonio Brown. Having processed all of that, and if the three "Ms" (McCaffrey, Mixon, McKinnon) are all gone, the choice becomes clear. Adam Thielen, T.Y. Hilton, and Doug Baldwin represent the most bang for the buck. Guys like Derrick Henry and Alex Collins simply don't factor into the passing game enough to be picked mid-third. Based on ADP, Thielen is a great target here for our mid-round selection. That would leave us with this foundation after three rounds…

1.06 – RB Alvin Kamara
2.07 – WR Davante Adams
3.06 – WR Adam Thielen



Rounds Four-Eight:



The foundation laid in the first three rounds would then allow for some gambles in rounds 4-8. Depending on how far quarterbacks fall in your draft, guys like Aaron Rodgers and Russell Wilson would be worthy of consideration as early as the fourth, but the recommendation here is that if you only have one running back after three rounds and are required to start at least two, RB in the middle of the fourth makes the most sense.

The previously mentioned Henry and Collins represent good value here as do Kenyan Drake and Jay Ajayi. If however, you were fortunate enough to get McCaffrey, Mixon, or McKinnon in the third (unlikely, but possible), you can balance out the two positions by obtaining a second WR. Demaryius Thomas, JuJu Smith-Schuster, and Alshon Jeffery represent possible targets but I tend to prefer the player whose career is on the upswing, so Smith-Schuster would be the most intriguingprospect.

Sticking with our No.6 pick theme, though, and assuming ADP goes basically to script, RB needs to be the choice and Kenyan Drake appears to be most versatile of the options. One other wildcard to factor in would be Zach Ertz as an early tight end selection should other options fall through. Picks 5 through 8 aren't likely going to give you an opportunity to grab a top tier player in the prior round as both Gronk and Travis Kelce represent value at the 2/3 turn. Ertz would represent value here.

Rounds 5 and 6 are optimal rounds for choosing your quarterback. Assuming two running backs have been acquired, guys like Tom Brady, Russell Wilson, Deshaun Watson, and Cam Newton are going to be viable options. Watson's ADP has been soaring forward all summer, so I think he'll ultimately be gone before the mid-fifth, but both Wilson and Brady represent ideal value. If you have a preference, don't get greedy and try to get him in the sixth round. Unless you're playing with highly QB-phobic league members, neither guy will still be there at that time.

Round Six would then be a time to find your tight end if the position is mandatory or a time to bolster the RB position further. WR is such a deep position that with two solid guys already in the fold, that position be addressed better in Rounds 7/8 For the sake of not neglecting a starting position too long, however, let's pretend that QB-TE is the right call here for our No.6 offering. Give me Russell Wilson and Evan Engram.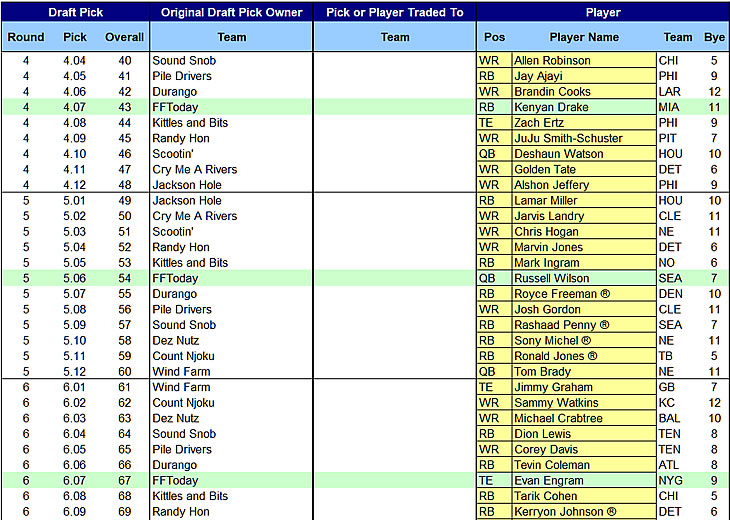 Picking a third RB and a third WR in Rounds 7/8 now becomes vital. The third RB should be a player in a fairly stable situation given that he's got to still be getting carries when the bye weeks hit. WRs taken in these rounds should be guys with upside who can explode from time to time. Examples include (at RB): Marshawn Lynch, Tevin Coleman, Isaiah Crowell, and (at WR): Devin Funchess, Corey Davis, Robby Anderson, and/or Sammy Watkins. Using our ADP tool, a couple of realistic choices here would be Lynch and Anderson. So, the picks in rounds 4-8 look like this:

4.07 - RB Kenyan Drake
5.06 - QB Russell Wilson
6.07 - TE Evan Engram
7.06 - RB Marshawn Lynch
8.07 - WR Robby Anderson

The Late Rounds:

How individual owners approach the later rounds in a redraft depends largely on broader theories of draft strategy as opposed to where you are picking specifically. If you've followed the mid-round picking blueprint to this point, you've got your starting QB and TE picked out and you've got 3 RBs and WRs in tow. That "balanced" foundation should allow you to target a mixture of youth/rookies and maybe a few steady veterans to round out your roster. Players I like toward the end of the draft include QB Alex Smith, RB Chris Carson, RB Matt Breida, WR Marquise Goodwin, WR Kenny Stills and TE Charles Clay.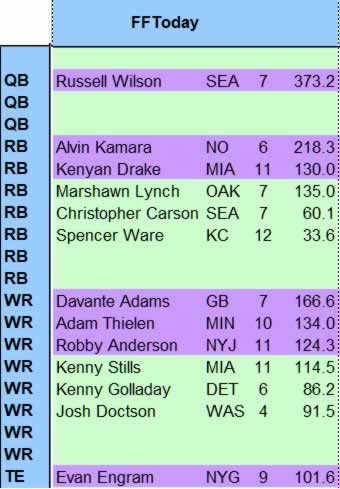 Picking from the middle of a re-draft can be a huge advantage for you. It gives you ample time between each pick to consider how best to assemble the team you hope will lead you to a late-December championship whereas picking from the turn requires you to fill two roster spots in a matter of moments. The exact science of picking in the "middle" varies from year to year, but it appears beginning your foundation with a running back in Round 1 will likely work best for most leagues in 2018. Bottom line: Embrace your draft position and have a plan as to how best to exploit the advantage that it can be. Good luck in your drafts!