If you've been playing fantasy football for several decades now, you know that picking towards the top was the most desirable place to be as that's where the most elite running backs could be found.

But, we're winding down this decade with widely variant strategies on fantasy team composition and picking near the top of the order isn't always the best place to be. Below, let's examine picking near the top, middle, and end of the first round and what that means for you draft strategy moving forward.
Building a Team from 1.01 - 1.04
The "stud" running backs aren't what they used to be as coaches work so hard these days not to overuse elite ball carriers. Still, if you're picking 1.01-1.04 in a redraft league this season, it's hard to justify anything but a RB selection as four players really stand out at the position, both in PPR and non-PPR formats.

Assuming then that you select either Saquon Barkley, Ezekiel Elliott, Alvin Kamara, or Christian McCaffrey, you've got your cornerstone in place heading into rounds 2 and 3. Those two picks depend quite a bit on how many starters you are allowed at each position. For example, if you're starting lineup requirements demand 1 QB, 1-2 RB, 3 WR, and 1 TE; getting a pair of WRs at the 2-3 turn represents the best value given that the position is deep all the way to WR12.

There will still be quality RBs at the 4-5 turn that can be scooped up as the primary complement to your stud. An exception to this would be leagues in which flex options allow for a third starting running back. In that case, a RB with upside might be worth a look. If you love either Zach Ertz or George Kittle at tight end, you could conceivably also look at filling that position early, but down the road it will cost you depth at the RB or WR position. So, taking all this into consideration, here's how a draft might shake out from the 1.01 – 1.04 positions: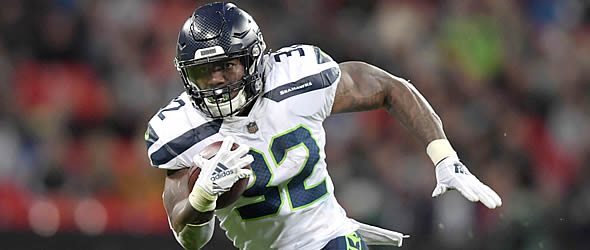 Ideal Path:

1.03 - RB Alvin Kamara. NO
2.10 - WR Mike Evans, TB
3.03 - WR T.Y. Hilton, IND
4.10 - RB Chris Carson, SEA

RB-Heavy Path:

1.03 - RB Alvin Kamara. NO
2.10 - RB Dalvin Cook, MIN
3.03 - WR T.Y. Hilton, IND
4.10 - WR Kenny Golladay, DET

TE Path:

1.03 - RB Alvin Kamara. NO
2.10 - TE George Kittle, SF
3.03 - WR T.Y. Hilton, IND
4.10 - WR Kenny Golladay, DET

I didn't include a round 5 projection here as I think you begin to look at best player available in all scenarios. The "Ideal" path opens up all sorts of options for your 5th round pick, while the "RB-Heavy" path likely forces you into a WR selection. The "TE" path makes the selection of a second RB almost imperative in round 5 so you don't get stuck with a undesirable pick as your RB2 (Derrius Guice, Jordan Howard in a new situation). Remember, when you own a "sure thing" barring injury, it's best to be conservative moving forward the next few selections. And, quarterback can definitely wait.
Building a Team from 1.05 - 1.08
Ah, the dreaded middle. The top tier RBs are gone and the guys remaining at that position all have question marks. Will Melvin Gordon hold out into the regular season? Will Le'Veon Bell resemble his old self after sitting out a full year? How will David Johnson fare with a rookie QB? Is James Conner talented enough to be taken with a top-8 pick?

Like anyone else, I can spit out predictions left and right on these guys, but the fact of the matter is that no one knows who will emerge the most productive from that batch of uncertainty. What is known is that WRs DeAndre Hopkins, Davante Adams, and Julio Jones form the top tier at their position and making one of them the foundation of your team might be better than trying to choose between a host of mystery options at running back.

Pay attention to everything you can soak up about this group of running backs, though, between now and your draft date. Ultimately, if you don't feel comfortable pulling the trigger on one, wait a round and look again in round 2. Remember, RB is deep enough this year to find quality starters all the way through round 5.

The other dilemma has to do with Travis Kelce. Tyreek Hill's return is good news for Kelce as he now won't face double teams all the time. Taking Kelce in round 2 means you'll be taking your first RB or WR no sooner than round 3. Is Kelce worth it?

Ideal Path:

1.07 - WR DeAndre Hopkins, HOU
2.06 - RB Nick Chubb, CLE
3.07 - RB Damien Williams, KC
4.06 - WR Brandin Cooks, LAR

RB-First Path:

1.07- RB Le'Veon Bell, NYJ
2.06- WR JuJu Smith-Schuster, PIT
3.07 - RB Damien Williams, KC
4.06 - WR Brandin Cooks, LAR

The Kelce Path:

1.07 - WR DeAndre Hopkins, HOU or RB Le'Veon Bell, NYJ
2.06 - TE Travis Kelce, KC
3.06 - First RB or WR, depending on first pick
4.06 - WR Brandin Cooks, LAR or RB Josh Jacobs, OAK

In the latter scenario, taking your first WR at 3.07 could prove costly as there is a significant expected drop in production from receivers Adam Thielen/Amari Cooper/Keenan Allen to what resides behind them. If all of those WRs have already been selected (chances are they all will have been), you'll be picking from WRs that should be fourth round picks, not third. So, if you opt for the RB gamble at 1.07, don't grab Kelce with the follow-up pick. You'll lose too much at WR to make it worth it. However, a grab of Hopkins then Kelce still allows for a solid RB choice in the third round.

Bottom line: Don't be afraid of building your team from a top tier WR upward if you are a "middle" drafter.

Building a Team from 1.09 - 1.12
The good news if you're drafting late in the first round is that you're likely going to get the same value as what the "middle" draftees get plus you'll have higher quality options to pick from in the second round. The higher risk RB1s are a better fit in these spots and can be coupled with an elite WR after the turn. Or, you can avoid the risk and go WR-WR as the RB value available at the round3/4 turn is so good this season.

If your league mates deem RB so vital that they allow DeAndre Hopkins to drop all the way to late in round 1, he would be no-brainer here and could then be coupled with a RB the caliber of Joe Mixon or a WR like Michael Thomas. Either combination to begin a draft gives you two premier options and allows for further flexibility down the road.

Again, because the chasm between the top-13 WRs and the next tier is so steep, two RBs right off the bat from the late first round seems like a poor option. Also, I think the TE question is irrelevant here as it's a bit too early for Kelce and Zack Ertz/George Kittle will almost certainly be gone prior to 3.09. As such, RB-WR, WR-RB, or WR-WR are the best fits. Exercising those options, leaves you with a sketched out team of: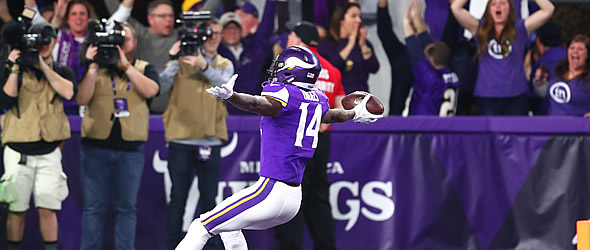 WR-RB Path:

1.11 - WR Julio Jones, ATL
2.02 - RB Joe Mixon, CIN
3.11 - RB Leonard Fournette, JAX
4.02 - WR Stefon Diggs, MIN

RB-WR Path:

1.11 - RB James Conner, PIT
2.02 - WR Michael Thomas, NO
3.11 - RB Leonard Fournette, JAX
4.02 - WR Stefon Diggs, MIN

WR-WR Path:

1.11 - WR Julio Jones, ATL
2.02 - WR Michael Thomas, NO
3.11 - RB Leonard Fournette, JAX
4.02 - RB Devonta Freeman, ATL

The one variable in these scenarios to consider, is that optimal RB targets late in round 3 like Leonard Fournette, Aaron Jones, and Sony Michel aren't nearly as valuable in PPR formats. Taking PPR into account, might make a heavily-targeted, high reception receiver more valuable. Examples of that reality would be Diggs (noted above) or a WR like Robert Woods.

Meanwhile, with Theo Riddick no longer in Detroit, Kerryon Johnson would be a terrific late third-round target in PPR leagues. All in all, every scenario noted above represents a number of high value picks, but be sure to adjust accordingly for the PPR factor given all running backs are not created equal under that umbrella.
Where do I want to be?
Some leagues will allow for some maneuvering with respect to obtaining draft position and if you have the option, this appears to be a year to avoid the middle picks of 1.05 to 1.08. Taking on those spots doesn't allow for the high-floor, low-risk RB titans that picks 1-4 afford. And, it means you've got to reach for a player whose caliber will still remain on the board at the end of the round. In short, you'll be behind the 8-ball for a while until your draft gives way to those who have actually done their homework in the later rounds.

Again, whatever path you decide, almost no scenario exists that calls for the selection of a QB until the fourth round at the earliest. And, with depth abounding at that position, you can actually wait much longer to choose a signal caller.

Strategizing for your upcoming redraft is one of the most enjoyable parts of fantasy football. Here's hoping I've given you a jumping-off point into how draft position impacts your strategy.

Best of luck!