Every year, it takes me longer and longer to write the introductory paragraph for this series. That's partially because I'm slowing down some (hit the big 5-0 a while back), partially because I'm distracted (summertime!), but mostly because there are only so many ways to say the exact same thing over and over and over again. In its most basic form, that thing is this: The players who won you fantasy championships last year aren't very likely to do so this year. That's it. That's the only point I'm ever trying to make and the rest—who, specifically, is most likely to derail your championship dreams this season—is just details. I'll be back next summer to say the exact same thing a slightly different way, but in the meantime, here are those details, the most likely Top 10 dropouts for 2022.

Without further ado, here's this year's take on the most likely Top 10 dropouts for the coming NFL season.

Note: All rankings are based on FFToday's Non-PPR league scoring.


Who Missed the Cut in 2021 (5/10): K. Murray, D. Watson, R. Wilson, R. Tannehill, & L. Jackson
Josh Allen reversed the QB1 curse last season, becoming the first slinger to repeat as fantasy top dog since Drew Brees in 2012. Half of his Top 10 cohorts weren't so lucky, however. Kyler Murray and Russell Wilson couldn't endure the NFL's supersized 17-game slate, missing three games apiece. Murray's DNPs were the first of his fledgling career, but if there's a silver lining, it's that he still managed to average 25.5 FPts/G, good for fifth overall at the position. Now for the touch of grey: He'll be without stud wideout DeAndre Hopkins for the first six games of 2022 (suspended). Wilson's three missed games were somehow the first of his career too, which now enters its second decade 1300+ miles ESE of Seattle in the Mile High City. Could the change of scenery and a second marriage with Nathaniel Hackett vault Russ back into the Top 10?

Nobody needed a change of scenery more than Deshaun Watson, who didn't play a single snap in 2021 while dealing with a flood of sexual abuse claims down in Houston. Undaunted, Cleveland's brass traded for the former Texans star in March and then inked him to a fully guaranteed $230M contract. Yikes. If that weren't dicey enough, the Brownies doubled down on their high-risk wager by dealing last year's starter, Baker Mayfield, to the Panthers earlier this month. Someone's gonna have some 'splaining to do if and when Watson gets suspended for real this year.

Lamar Jackson is usually a shoo-in Top 10 guy when healthy and averaged a typically brilliant 24.7 FPts/G in 2021, good for sixth overall. Sadly, he missed even more games than Murray and Wilson (five), killing any chance he had of recapturing that 2019 MVP magic. Jackson's playing style is both superpower and occupational hazard, so there's always going to be more risk attached when drafting him. That would seem to be the case for Ryan Tannehill as well, especially now that the Titans have moved on from A.J. Brown and Julio Jones at WR. Tennessee's offense remains a run-first attack and it's difficult to imagine Tannehill duplicating his career-best 2020 campaign—33 TDs v. 7 picks—while breaking in brand new weapons.
Most Likely Candidates to Fall from the Top 10 This Year: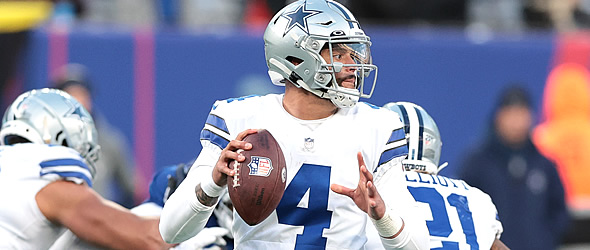 Dak Prescott, DAL: It's on everyone's mind this summer, so let's talk inflation, shall we? Way back in 2001, the Top 10 fantasy QBs averaged 21.1 FPts/G collectively. Last year, the league's most productive flingers averaged 25.1 FPts/G as a group, a full four points better per game. While four points doesn't seem like a whole lot, consider that it's nearly 19% more than the best field generals notched just a generation ago. Put another way, the QB10 back in 2001, Kordell Stewart, averaged 18.4 FPts/G, or a tenth of a point per game LESS than Daniel Jones and Carson Wentz did last year. If you employed either of those latter two passers in 2021…yeah, I think you get my point.

Dak is much better than Danny Dimes and the twice-traded Wentz, yes, but he's also representative of how much the game has changed in two decades. The Cowboys' franchise threw the ball 596 times last season for 4,449 yards and 37 TDs (24.4 FPts/G). Importantly, he also missed one game, making it easy to compare apples-to-apples with those 2001 QBs. Here's how Dak's 2021 totals translate backward 20 years:

Passing Attempts: QB1
Passing Yards: QB2 (Kurt Warner had 4,830)
Passing TDs: QB1
FPts/G: QB2 (Warner averaged 24.5)

Warner was the league's MVP in 2001, despite losing a Super Bowl to the only player still active from that season (you know who). Prescott, with similar numbers, wasn't even on the MVP radar last year and couldn't get Dallas past Super Wild Card Weekend. He's a tremendous talent, for sure, but in this golden age of quarterbacks and statistical inflation, tremendousness is relative. I think Dak takes a slight step back in 2022 minus bread-and-butter wide receiver Amari Cooper.

Aaron Rodgers, GB: Only one player in NFL history has more MVP awards and, armed with a three-year, $150M extension, Rodgers now has several more years to catch or surpass Peyton Manning for the title of most decorated quarterback ever. He'll never be as successful as Tom Brady (too few titles) or as well-liked as Manning (too aloof and controversial), but he's still the most talented passer of pigskins this Packer backer has ever seen, including those aforementioned greats.

Green Bay's shot callers must agree, but almost before the ink had dried on that record-setting contract, the Pack lost Rodgers' most valuable battery mate and, arguably, the game's most valuable pass-grabber to Las Vegas. It's debatable how Davante Adams' move to the desert impacts his own fantasy fortunes, but I think most would agree it clouds his former teammate's outlook considerably. Here's whom the Green and Gold intend to roll out at WR in 2022: Allen Lazard, Sammy Watkins, Christian Watson (R), Randall Cobb, Amari Rodgers, Juwann Winfree, Romeo Doubs (R), Malik Taylor, and Samori Toure (R)...or some combo thereof since NFL teams don't carry nine wideouts on a 53-man roster. Pick any combo you like and tell me it's better than Tae, MVS, and…anyone.

If the churn at WR isn't alarming enough, Green Bay heads into the 2022 campaign with a relative unknown at OC. Adam Stenavich, a Wisconsin native, is mostly unknown outside the state and for good reason: He's never been anything more than an O-line coach, though he did add "run game coordinator" to his résumé in 2021. Stenavich is an up-and-comer and well respected, it appears, but that's quite a promotion for a team with Super Bowl aspirations. Matt LaFleur's tinkering with the recipe and that might not bode well for Rodgers' fantasy value.

Jalen Hurts, PHI: Hurts was the MVP of my championship squad last year, mostly for what he did from Week 1 to 11 (25.2 FPts/G) but also for what he didn't do from Week 12 on: play for me. After a stellar late November performance against the Saints, I packaged the Philly field general up with Keenan Allen and traded them both for Mr. Rodgers and Travis Kelce. That might sound kinda lopsided, but recall both Rodgers and Kelce had late byes to manage and…well, I couldn't have predicted Hurts would live up to his surname and miss Weeks 13 and 14, could I?

In all honesty, I loved rolling Hurts out there every week and watching the points pile up. Moreover, I believe he has as good a chance to be a Top 3 QB this coming season as he does to topple completely out of the Top 10. It's possible nobody—not Lamar Jackson, not Josh Allen, not Kyler Murray—has a higher floor. Here's what those other three dual-threat dynamos have that Hurts doesn't, though: complete job security. In fact, there isn't a single Top 10 QB from last season who could lose his job with a substandard 2022. Hurts, on the other hand, is still a rookie contract bargain with some pretty clear weaknesses. Who's to say the Birds would even extend him next summer should he take a big step back this coming season?

If Hurts DOES fail to improve and starts costing the Eagles where it counts, I can promise you Nick Sirianni won't hesitate to replace him with Gardner Minshew. The Mullet has a much lower ceiling but is accurate and avoids turnovers, making him a more than capable backup (read: everyone's favorite player when things start going sideways). Anything's possible here, folks.