One of the many reasons owners have been so fixated on drafting receivers early and often in recent years is the lack of blue-chip running backs coming out of college, or at least a shortage of decent backs landing in great situations. There has also seemingly been a dearth of quality tight ends since the beginning of time, so much so that half of the owners in a 12-team league are usually using a committee or streaming the position for the better part of the season.

Given how many quality wideouts have entered the league over the last three to four years, the tide almost had to turn sooner or later. There's a good chance 2017 will go down in history as that year, as the draft provided a bumper crop of running backs and tight ends unlike any we've seen in recent memory. Depending on who you ask, at least four running backs had first-round grades and two went in the top eight for the first time since 2005. Three tight ends were selected in the first round for the first time since 2002. But the draft is about more than just first-rounders and fantasy owners sometimes need quantity about as much (if not as much) as quality. Of the first 150 choices made, 15 running backs and 10 tight ends were chosen, or 16.7 percent of the picks. Of those groups, I think a fairly strong case can be made roughly nine of the former and seven of the latter will become their team's regular starter sometime this year or early next season.

In short, fantasy owners needed a draft like this to happen, if only to restock the shelves and make it cool to be a "running back guy" again. And while tight ends rarely ever contribute meaningful fantasy numbers in their rookie season, it is good to know there are some good ones in the pipeline.

Unlike Ezekiel Elliott last year, no rookie landed in what could be considered a perfect situation after the dust settled following the 2017 NFL Draft, so expectations must be tempered a bit for this round of freshmen, especially if owners are going to use Elliott as the standard for what they hope their rookie will do. (One would hope that won't be the case, but there are more than a few folks in this hobby who can be a bit unreasonable at times.)

Last year, I suggested the incoming rookie class, which by most accounts wasn't supposed to be overly great in terms of future fantasy impact, had two players who should be considered immediate fantasy starters (Elliott and Sterling Shepard). Most will agree Jordan Howard and Michael Thomas did enough to make the cut as well. This year, it wouldn't surprise me if 10 newcomers find their way into weekly fantasy relevancy, plus perhaps maybe a couple more who won't make either this week or last week's list. That's a stunning number of impact rookies for any draft class and a pretty good indication this should go down as one of the best group of first-year players to enter the league in the same season in some time. Let's meet this impressive collection of talent:

Note: The rankings below are for the 2017 season only and ranked in order of likelihood of fantasy impact. (For example, quarterbacks like Deshaun Watson may accrue more fantasy points given the nature of their position, but the chances of them impacting a fantasy team are slimmer than say, a potential fantasy WR3 in a three-WR league, because the receiver may become an every-week fantasy starter.) The RB3/WR4-type designations I make are what I expect that rookie to be in PPR formats this season.

And now, the top 10 rookies for 2017:

10. Marlon Mack, RB Indianapolis

2017 Projected Role: Pure backup to Frank Gore who should begin the season seeing a handful of change-of-pace touches; could emerge as the primary third-down back if he makes strides in pass pro as the season progresses and become the lead back should Gore hit the wall or get hurt.

Mind-blowing college stat: Mack gained 52.3 percent of his 1,182 rushing yards last season on his 15 runs of 15-plus yards.

Why he will live up to this ranking and perhaps exceed it: Robert Turbin and Josh Ferguson comprised one of the worst backup running back duos in the league last year, so Mack isn't going to need to be great in order to start the season as the main backup to a 34-year-old starter. South Florida's all-time leading rusher was also one of this draft class' top big-play backs - an element that has not existed in the Colts' running game for years. Indy's long-abused offensive line still has work to do, but it has the makings of being an above-average unit in 2017 if it can stay healthy, although Mack also doesn't require a lot of time to get through the hole. The No. 143 overall selection is a plus-receiver and should have little issue stealing most of Turbin and Ferguson's work in the passing game (the duo combined for 46 catches on 61 targets last year). He should also easily exceed the duo's 62 combined carries, although the team appears somewhat committed to keeping Turbin around as a regular option at the goal line. Thus, Mack will probably have to do his damage in between the 20s for as long as Gore remains healthy and/or effective.

Why he wonít: If Gore drinks from the fountain of youth yet again. The ageless wonder will probably find some way to squeeze one more productive season out of his 34-year-old body and top 200 carries for the 12th consecutive year. At worst, the five-time Pro Bowler will probably split carries with Mack, if only because he has earned so much trust and Indy has a very rich quarterback they need to protect. Mack had a fumble rate of 1.8 percent, roughly 2.5 times what is considerable ideal by evaluators. The Colts know they need to move on from Gore at some point in the near future, but their hand will almost have to be forced. Indianapolis began to make some strides on the offensive line toward the end of last year, but how much of that was a product of Gore's straight-ahead style? While he can also run inside, Mack is more of an outside runner who thrives in open space at this point of his career.

2017 Fantasy Assessment: The selection of Mack means Ferguson will be fighting for a job, as it is Ferguson's "role" I believe the Colts had in mind for 2017 when they drafted him. At first glance, that role netted Ferguson 35 touches last season, but Mack is a superior talent and Indy should also be a better team than it was last year. It seems highly unlikely Gore will top 300 touches for a second straight year in his age-34 season, so if Mack absorbs Ferguson's touches and takes 30-40 touches away from Gore, the question becomes how many he steals from Turbin. Despite his relatively low draft position, Mack will likely be the Colts' starter (if not featured back) in 2018, so they will be doing him and themselves a disservice by not giving him at least 125 touches. Of course, that assumes Gore continues to be an iron man, which is far from a given at his age. And the likelihood of Gore doing a slow fade during this season is exactly why Mack needs to be taken seriously as a potential Year 1 contributor, especially in the second half of the season. He should only be drafted as a handcuff in fantasy, but the odds are decent he'll be finding his way into fantasy lineups sometime in November or December.

Fearless early-June prediction (zero starts): 111 carries for 515 yards and four TDs; 26 receptions for 195 yards and one TD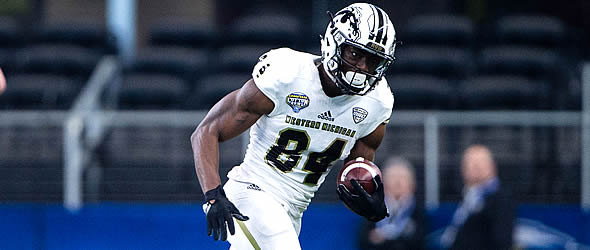 The run-first offense in Tennessee will be the biggest concern for fantasy owners eyeing Corey Davis.
9. Corey Davis, WR Tennessee (Draft Profile)
2017 Projected Role: Eventual building block; likely to begin the season in a 1A/1B situation with Rishard Matthews - a setup that could potentially last all season. Davis should eventually pull away from Matthews and emerge as the primary threat, especially in the red zone.
Mind-blowing college stat: Davis' 5,285 career receiving yards is the best mark in FBS history, while his 52 receiving scores ranks second all-time.
Why he will live up to this ranking and perhaps exceed it: As far as most rookie receivers in any draft class are concerned, Davis is ahead of the game when it comes to understanding how to be physical and as a route-runner. The FBS' all-time leader in career receiving yards should be an immediate factor in the red zone and can create yards after the catch, which is a big deal considering Tennessee's passing game won't provide the kind of volume that most offenses will. Delanie Walker and Matthews have already established themselves as viable threats as well, meaning Davis should not be facing coverages designed to stop him, at least not right away. The running game is also among the best in league, so defenses may find themselves in a pick-your-poison situation most weeks. Marcus Mariota has quickly established himself as one of the best young quarterbacks in the NFL as well, so a low-volume passing game (and, by extension, a lower target total) will not necessarily preclude him from having a regular impact on the box score week after week.
Why he wonít: There are two facts which most NFL fans cannot deny when it comes to the Titans: 1) they are a physical, run-oriented offense and 2) Walker and Matthews are high-quality, established NFL targets who aren't going to stand idly by while Davis carries the passing game. The potent rushing attack figures to remain the focal point of the offense for at least one more year, meaning there will be games in which three primary targets may not see more than 15 combined targets if DeMarco Murray and/or Derrick Henry are rolling. Davis did a fine job of holding onto the ball once he caught it while at Western Michigan (one fumble on 266 receptions over his final three years), but drops were a problem and increased every year (11 in 2016). While the No. 5 overall pick is able to create separation with his route-running, he is quicker than fast and doesn't appear to have breakaway speed.
2017 Fantasy Assessment: Every owner wants the next Michael Thomas - a player who can take the league by storm and is available in the middle rounds of fantasy drafts. On another team, Davis could have very well been that guy. However, there isn't much similarity in Saints and Titans' offenses in terms of their overall philosophies, and Walker and Matthews already have a head start in terms of having Mariota's trust near the goal line, which is one of the areas in which Davis is able/could be expected to make an immediate impact. That's not to say he won't become Mariota's favorite option eventually, but there's no guarantee it will happen early or at all in 2017. It is not out of the question Davis will lead the Titans in most receiving categories as a rookie, but this situation very much has the feel of one in which all three players will finish with 50-65 catches and five to seven touchdowns. As such, Davis should be considered a high-upside WR4 option who could emerge as a high-end WR3 if he really comes on toward the end of the season.
Fearless early-June prediction (14 starts): 55 receptions for 710 yards and six TDs
8. Zay Jones, WR Buffalo (Draft Profile)
2017 Projected Role: Complementary player and clear No. 2 receiver; Week 1 starter who figures to battle Charles Clay for the right to be Tyrod Taylor's favorite short-range target and will assume No. 1 duties should Sammy Watkins struggle to stay healthy again.
Mind-blowing college stats: Among college receivers with at least 100 targets last year, Jones ranked second in lowest drop rate (3.66 percent). He was also targeted 216 times - 45 more than any other receiver - and caught a FBS single-season record 158 passes - 21 more than any other wideout, per Pro Football Focus.
Why he will live up to this ranking and perhaps exceed it: If there were any questions about Jones' record-setting career being a product of playing in a spread offense for a non-Power 5 school, he erased those during Senior Bowl week. Although he was rarely asked to run a vertical route at East Carolina, he showed the ability to do so in Mobile and backed it up with a 4.45 time at the NFL Scouting Combine. However, the real reasons Jones should be considered a real candidate to lead his position in rookie-year impact has to do with opportunity, competition (or lack thereof) and the fact he has flypaper for hands. Although new OC Rick Dennison figures to open up the offense a bit more, Buffalo will very likely remain a mostly conservative offense, and every conservative offense needs a dependable chain-mover like Jones. While the Bills did address the receiver position this offseason, Corey Brown and Andre Holmes aren't going to keep Jones out of the lineup. Watkins has missed a total of 11 games over the past two years, so it should go without saying that Jones will become the lead receiver if the fourth-year pro goes down yet again. Last but certainly not least, Jones does what every receiver should aspire to do: catch virtually everything thrown in his direction.
Why he wonít: There is some concern the Bills either don't have the offense to support two fantasy receivers or Taylor only has eyes for Watkins when both players are on the field together. After all, Robert Woods struggled to become a fantasy-relevant option even when Watkins wasn't on the field and Jones' game shares some similarities to Woods'. Jones did a lot of his damage on passes at or near the line of scrimmage at East Carolina, so owners have a right to be concerned that he'll end up fighting Clay for shorter targets, especially if Buffalo continues to feature the running game as much as it has recently. The No. 37 overall pick also didn't create a lot of separation against defensive backs in the American Athletic Conference, instead relying more on positioning and route-running.
2017 Fantasy Assessment: It sounds so basic, yet it is very hard to find: a college receiver who is fairly well-schooled as a route-runner and catches pretty much everything (he was credited with a drop on only 17 of his 360 catchable targets over his last three seasons). He doesn't play to his timed speed or create a ton of separation, so big plays may not be in his bag. Outside of that, Jones is as good of bet as any rookie receiver in this class to be a high-volume target right out of the gate. He may not be the guy in 2017 who finds his way onto the highlight reel every week, but his four to six catches most games should make him a receiver who can emerge as a regular low-end fantasy WR3.
Fearless early-June prediction (15 starts): 61 receptions for 700 yards and five TDs
7. Dalvin Cook, RB Minnesota (Draft Profile)
2017 Projected Role: Eventual building block; Latavius Murray doesn't present a huge obstacle, but the Vikings' insistence on a committee attack to replace an injured/suspended Adrian Peterson in recent years suggests Murray could fill a Matt Asiata-type role, while Jerick McKinnon may steal some passing-down snaps.
Mind-blowing college stat: Cook led the country with 99 total missed tackles forced last season, per PFF.
Why he will live up to this ranking and perhaps exceed it: Something of a modern-day Tiki Barber who shares similar qualities to Jamaal Charles and Devonta Freeman, Cook can do just about everything NFL teams ask from running backs nowadays. Despite having a reputation as a big-play runner, the 2016 Orange Bowl MVP is a willing and able inside runner who generally gets more than what is blocked, which is a big deal for a team like Minnesota, which was forced to endure terrible line play for most of last year. Thankfully, the team addressed its front five in a big way this offseason, adding three players (projected starters in LT Riley Reiff, RT Mike Remmers and rookie RG/C Pat Elflein - all of which should considerable upgrades from the men occupying those spots last season). Cook is also the best receiving back the Vikings have employed at least since Chester Taylor. Florida State's all-time leading rusher may not have tested out well athletically at the NFL Scouting Combine, but the game tape reveals a player with almost effortless speed, hip flexibility and very good feet. Cook also showed up time after time again in big games, routinely carving up opponents with plenty of future pros on defense such as Clemson, Michigan, Florida and Louisville.
Why he wonít: Cook got a bit of a bum rap during the spring for being injury-prone despite missing only one game during his college career, but his history of hamstring and shoulder injuries should give current and potential owners at least some pause. He has also had three legal charges against him dropped since 2009, although there are some within the Vikings' organization who believe getting Cook away from some bad seeds in his inner circle in Miami may be just the thing he needs to avoid any more trouble. There is also the small matter of his 14 career fumbles on 763 touches; his career fumble rate of 1.8 is more than twice as high as the number (in the 0.8 percent range) most evaluators are comfortable with. Cook will be the most complete talent in the running back room in Minnesota, but this current coaching staff's aforementioned insistence on giving Asiata regular touches at the expense of a superior talent like McKinnon does not bode well for Cook's chances of being featured in 2016. Murray could easily steal goal-line work, while Minnesota may ask the rookie to lead a three-way committee early on. And let's not forget the offensive line, which is at best a work in progress. The Vikings will be better up front in 2017, but how much better is the question.
2017 Fantasy Assessment: Certainly one of the backs I most enjoyed watching the most throughout the draft process, Cook has more immediate obstacles facing him than any other potential foundation back in this draft given his landing spot. Minnesota's defense should give the offense plenty of chances to run the ball, but it is unlikely to be enough for Cook to be a weekly fantasy starter if he is in a three-way committee. In other words, he is going to need to be far and away the best running back in camp and during the preseason. Can that happen? Sure. Will it matter? I have my doubts. While Cook could certainly have the occasional huge performance as the lead man in a three-headed attack, I get the feeling his breakout will come in 2018, as Murray's three-year deal can be voided after this year and McKinnon will become a free agent. If Cook emerges as the feature back at some point during the 2017 season, however, he has high-end RB2 upside.
Fearless early-June prediction (eight starts): 170 carries for 690 yards and four TDs; 32 receptions for 255 yards and two TDs
6. Samaje Perine, RB Washington
2017 Projected Role: Eventual building block; will battle Rob Kelley in camp and should be able to overtake him at some point early in season, if not by Week 1.
Mind-blowing college stat: Despite fewer carries each season, Perine saw his YPC drop each year (from 6.5 to 6.0 to 5.4). On a related note, he recorded career-low big-run percentages (10-plus, 20-plus, etc.) across the board in his final season.
Why he will live up to this ranking and perhaps exceed it: The Redskins wanted Matt Jones to be the 230-pound sledgehammer that punished NFC East defenses six times a year, but ball-security issues have him likely headed for the waiver wire at some point this summer. Kelley did yeoman's work when called upon last season, but he's a poor athlete by NFL standards and his 4.2 YPC last season is more of a credit to the offensive line he ran behind than his talent. Perine has the goods to be the 230-pound thumper Washington desires, if only because he takes care of the ball better than Jones and is a better and more punishing runner than Kelley. The FBS' single-game rushing-yardage record holder was perhaps the second-most physical back available in the draft and one of the best in short-yardage situations, meaning he should be considered the heavy favorite to assume goal-line duties right away - Washington was 29th in red zone TD efficiency last year. The Redskins graded out as one of the better run-blocking offensive lines a season ago as well and return all the key pieces of a front five that should only improve with another year together.
Why he wonít: It is entirely possible Perine may enter the season as only the goal-line back. HC Jay Gruden could easily roll with the known (in this case, Kelley) over the unknown (Perine) for half of the season or more. Kelley created enough goodwill that he will probably be given multiple opportunities to fail before a change is made and there is a distinct possibility he will remain in the mix all season long if Gruden feels as if he should ease the rookie into the lead-back role. Chris Thompson is going to see the majority of work on passing downs and whenever Washington find itself in comeback/hurry-up/end-of-game situations. Perine's likely heavy usage at the goal line alone won't be enough to make him a weekly fantasy starter, while Thompson's presence certainly caps his PPR upside. It's also questionable whether or not Washington has added enough playmakers on defense to create the weekly grind-it-out conditions that would obviously play into Perine's ability to finish games.
2017 Fantasy Assessment: If common sense wins out and the rookie is handed the early-down reins right away, Perine could top 1,000 rushing yards and 10 touchdowns. As any veteran owner knows, though, what appears to be logical to most owners doesn't always play out on the field. In what I would imagine is a best-case scenario, Perine starts the season sharing early-down carries with Kelley and takes over the lead-back role in October, all the while serving as the main goal-line back. In the worst-case scenario, Kelley builds upon his early-offseason hype and causes the No. 114 overall pick to settle for an even split of the carries all season long. There is little doubt in my mind Perine SHOULD be the top fantasy back in Washington, and that is why he is ranked this high. However, I find myself not able to trust Gruden to do what I believe is the right thing year after year, and I suspect he'll find some way to occasionally sabotage what could be a pretty special rookie season for Perine, who I believe has RB2 upside but will settle in as an inconsistent flex - assuming I am right about Gruden.
Fearless early-June prediction (three starts): 182 carries for 790 yards and eight TDs; 13 receptions for 80 yards and no TDs
5. Alvin Kamara, RB New Orleans
2017 Projected Role: Complementary player; change-of-pace option behind Mark Ingram and Adrian Peterson who is expected to fulfill the Reggie Bush/Darren Sproles "satellite back" role in this offense.
Mind-blowing college stat: Kamara forced 23 missed tackles on 40 receptions last year and produced 23 touchdowns in only 284 offensive touches over two seasons at Tennessee.
Why he will live up to this ranking and perhaps exceed it: From a pure upside perspective - both individually and fantasy-wise - Kamara is drooling with it. Individually, he was at times an all-purpose yardage machine (the 2016 Texas A&M game is a good example) who looked like he was easily a top-five running back in this loaded draft class. From a fantasy perspective, most owners know New Orleans' running backs - as a group - have finished in the top eight of PPR fantasy scoring every year since 2010 and understand how important Bush and Sproles have been in regard to reaching that rarified air for six straight seasons. Kamara is more late-career Bush than a younger version of Bush or Sproles, and he is likely capable of handling something more than a satellite-back role should Ingram and/or Peterson get hurt. However, the most likely reason to believe the No. 67 overall pick will probably outperform this ranking - beyond the fact he is a good fit for the role he is expected to play - is the fact HC Sean Payton already seems pretty convinced he knows how he will use Kamara. That alone puts him well ahead of most rookies. Payton also expects to use him on punts, making him an even stronger target in leagues which reward return yardage.

Why he wonít: Outside of the fact that no one on the roster (outside of perhaps Travaris Cadet, if he makes the team) can fill the role he is expected to fill, where do we start? Ingram and Peterson could each easily surpass 200 touches (equals out to 12.5 touches per game for both players), leaving a third running back with a ceiling of roughly 100. It's one thing if 70 percent of those are receptions, but is that something owners can bank on? (Sproles enjoyed top-12 finishes in two of his three seasons with New Orleans but had no fewer than 150 opportunities - targets plus carries - in either year.) Kamara also never carried the ball 20 times in a game in college or led his team in rushing for a season - two baffling facts that speak to his inconsistency. Durability and dependability have also not been particular strengths throughout his career. Ingram and Peterson figures to gobble up all the rushing touchdowns inside the red zone - except for the unpredictable ones in end-of-half/hurry-up situations - so the rookie's value will be heavily reliant on Ingram not stealing too many receptions.
2017 Fantasy Assessment: People have been quick to use the Saints' 2009 Super Bowl model of Mike Bell, Pierre Thomas and Reggie Bush and fill in the names of Peterson, Ingram and Kamara, respectively. The problems with that are AP is a better power back than Bell, Ingram is certainly at least as good as Thomas - if not better - and Kamara MAY eventually be something approaching Bush. Thus, when projecting touches for this backfield, there is no guarantee the rookie will see enough every week to be a consistent force so long as everybody is healthy. If (and most likely when) one of the two older guys get hurt, then we can discuss the rookie's huge upside and dream of a top-20 fantasy finish. Expecting both players to miss enough games (let's say four apiece) so Kamara can boost his year-end bottom line is risky business, however, even in the world of fantasy football. The rookie should be a solid RB4 in PPR capable of a few splash games, but owners should not count on him becoming a consistent fantasy force, at least not right away.
Fearless early-June prediction (two starts): 72 carries for 330 yards and two TDs; 55 receptions for 410 yards and four TDs
4. Kareem Hunt, RB Kansas City
2017 Projected Role: Possible building block; may begin the season in a timeshare with Spencer Ware but could emerge as the lead back by the second half of the season.
Mind-blowing college stats: Hunt committed one fumble on 722 total touches over his last three years at Toledo and tallied 98 total missed tackles forced (second in the country) per PFF.
Why he will live up to this ranking and perhaps exceed it: Can you remember a time when an Andy Reid-coached team didn't have a dynamic, all-purpose running back? Duce Staley, Brian Westbrook, LeSean McCoy and Jamaal Charles have all blossomed in Reid's offenses over the years. Even Ware emerged as a surefire fantasy RB1 early last season. In short, Reid can either make running backs produce in his system or he has quite the eye for identifying exactly what traits he wants from the position. Like all the aforementioned "Reid backs", Hunt is very good as a runner and receiver. Unlike Ware, he is incredibly explosive and was one of the most elusive backs available in this draft class. While Ware was the talk of the fantasy football world for the first two months of last season, the Chiefs really missed Charles' explosiveness. Hunt doesn't have that kind of long speed or big-play ability, but the rookie literally looks like he has been fired out of a cannon as soon as he gets the ball. As mentioned above, Hunt doesn't fumble either. For a back as elusive as he is, he does not lack for power, runs inside well and possesses outstanding balance.
Why he wonít: Ware established he is a highly capable NFL running back last season, so Hunt isn't going to win this job with a great preseason game or two; he's going to need to outperform the veteran all summer long. That's a pretty tall order. There is a fairly strong possibility the same committee Reid was considering when Charles was supposed to come back last season will be employed in 2017, at least in September and maybe through October, maybe at which point Reid will reassess. Reid also admitted before the draft he is a big fan of Ware ("the kid's dirty tough and he's going to give you an honest down every snap"), so he's probably going to keep goal-line duties almost regardless of how well Hunt plays.
2017 Fantasy Assessment: If it seems as if Hunt doesn't have a ton of weaknesses in his game, it's because he really doesn't. Ware is the major reason he isn't one of the top three names on this list. While it shouldn't surprise anyone if Hunt ends up being the lead back in KC toward the end of what figures to be another playoff run, Ware probably isn't giving up goal-line duties anytime soon. Therefore, potential owners will likely need to be satisfied with whatever they can get from Hunt in between the 20s and consider any touchdowns he might score in close a blessing. The Chiefs are one of the teams capable of having two productive fantasy running backs, however, so owners should be able to get at least flex-level production from him while the playing time sorts itself out. Greedy owners will always want more, but "more" may not come until 2018, when Hunt has hopefully proved he is on his way to becoming the next great "Reid back".
Fearless early-June prediction (four starts): 173 carries for 820 yards and five TDs; 28 receptions for 235 yards and two TDs

3. Joe Mixon, RB Cincinnati (Draft Profile)
2017 Projected Role: Building block; could start out in a committee with Jeremy Hill to ease his transition to the pro game and/or share passing-game work with Giovani Bernard if he is completely healthy by camp, but the odds are relatively strong he will be featured at some point.
Mind-blowing college stat: Mixon ranked tied for first among FBS running backs in 2016 with 26 scrimmage plays of 20-plus yards and first with 15 scrimmage plays of 30-plus yards.
Why he will live up to this ranking and perhaps exceed it: Most of the league was in agreement that Mixon would have been a first-round pick were it not for his well-documented off-field history. There is also little debate he was as good of a running back prospect as this loaded draft class had to offer. Hill has been largely ineffective since his brilliant rookie season and Bernard is coming off a November ACL tear, so the "name value" of the rookie's immediate competition far outweighs their recent production. Mixon is sensational as a receiver and performed well in a small sample size of pass protection reps in 2016, meaning Bernard may not have a role to come back to even when he is 100 percent. In addition to his ability to contribute in the passing game, the one thing that probably allows the Oklahoma product to stand out the most is how elusive he is for a 230-pound back. As sacrilegious as it may seem to compare a committee college back to David Johnson, there are a lot of parallels between the two. Mixon should rarely face a loaded box either; A.J. Green regularly sees coverage tilted in his direction, rookie John Ross should emerge as one of the league's better deep threats quickly and Tyler Eifert (when healthy) can stretch the seam as well as any tight end.
Why he wonít: His well-chronicled off-field incidents notwithstanding, Mixon would have ideally landed in a better situation than Cincinnati, more from an off-field prospective than an on-field one. Although the Bengals aren't overloaded with questionable off-field decision-makers to the degree they used to be, it would have been preferable for him to go to a team without the likes of Vontaze Burfict and Adam Jones on the roster. Call it a gut feeling based on some of his interviews this spring (and I hope I'm wrong), but I think there is an very good chance he will be suspended for off-field conduct at least once during his rookie contract. Regarding his situation on the field, Cincinnati's once potent offensive line is now young and untested. And despite Hill's lack of production over the last two years, he has remained a quality goal-line back, so unless he is traded as has been rumored, Mixon may not get the kind of goal-line looks many might expect. To that end, the rookie gets by more on elusiveness than physicality at the moment despite his 230-pound frame, so he's probably going to need to get it done in other areas in 2017.
2017 Fantasy Assessment: The range of potential outcomes for Mixon's rookie season - much less his career - are about as limitless as any running back in recent memory. He is talented enough to overcome what projects as an average run-blocking unit and he certainly has a supporting cast capable of forcing defenses into nickel personnel on a regular basis. On the other hand, Hill could end up stealing his short-range scoring opportunities and/or Mixon could be forced to share passing-down work with Bernard. And, of course, at what point does he get tired of being asked about what he did as an 18-year-old? The odds Mixon emerges as the main back at some point during the season are pretty strong, but I'm not so convinced it will happen that I'm going to view him as a RB2 candidate, at least not yet. He is an ideal flex option for early drafters with week- and league-winning upside, however, and someone I would happily pursue as an RB3 in the sixth round or so, especially if I like the first two backs I drafted in the first four to five rounds.
Fearless early-June prediction (10 starts): 183 carries for 815 yards and five TDs; 43 receptions for 365 yards and two TDs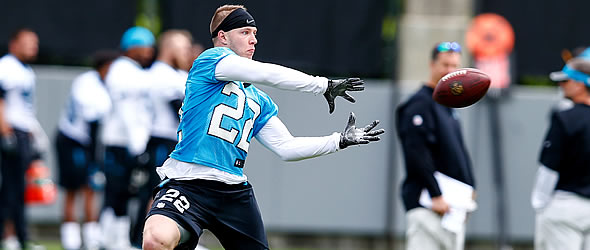 Christian McCaffrey's all-purpose abilities should allow him to make an immediate fantasy impact.
2. Christian McCaffrey, RB Carolina (Draft Profile)
2017 Projected Role: Building block; will be asked to serve as an all-purpose dynamo sooner than later. Should split carries with Jonathan Stewart right away and assume change-of-pace/return duties as soon as he arrives in training camp. He could emerge as a PPR superstar in the event Stewart loses multiple games due to injury.
Mind-blowing college stat: McCaffrey amassed 6,191 all-purpose yards in his final two seasons at Stanford - the most in a two-year span by any player in college football history.
Why he will live up to this ranking and perhaps exceed it: An argument can be made McCaffrey could have been drafted in the first round as a receiver this year. The single-season NCAA record-holder in all-purpose yards could very well end up being this generation's Marshall Faulk or Brian Westbrook if Carolina is willing to be creative with him and Cam Newton embraces how easily he can create yards by himself. McCaffrey has no glaring weakness and only parts in his game he needs to refine through more reps and NFL-level coaching. Despite concerns about a lack of muscle in his lower half, he's also a stronger runner (3.3 yards after contact per attempt) than most expect for someone with his size (roughly 205 pounds). To that end, GM Dave Gettleman stated Hall-of-Famer Curtis Martin was the best inside runner he has ever seen and went on to say McCaffrey is "right there with him". One of the many great things about the 2015 Heisman Trophy runner-up is the fact Stanford utilized a lot of power runs in its offense, but his change-of-direction skills and ability to work in space makes him a perfect fit out of the shotgun, which has been a staple of the Panthers' offense since Newton arrived.
Why he wonít: IF Newton remains at least a secondary option at the goal line and IF Stewart stays healthy enough to top 200 carries for the third straight season, there may not be enough carries for McCaffrey to get the 800 or so rushing yards he's probably going to need to be a weekly fantasy starter. Even though the rookie should be more than capable at the goal line, it seems reasonable Stewart and Newton may get those chances on a more regular basis, at least early on. There's also the small matter of Newton being willing/able to check it down on a regular basis (Gettleman has admitted part of the inspiration for drafting McCaffrey was watching how much Dion Lewis and James White contributed to the Patriots' Super Bowl run). We've seen it time and again: just because a general manager gives a quarterback a shiny toy to play with doesn't mean he is going to cooperate as often as he should. In four seasons under OC Mike Shula, no running back has finished with more than Mike Tolbert's 27 catches in 2013. With that said, I have no concern about Newton's last-place ranking on throws from 0-5 yards last year. McCaffrey is light years ahead of Tolbert or Fozzy Whittaker in that regard.
2017 Fantasy Assessment: An investment in McCaffrey is one in which a fantasy owner is betting against Carolina's recent offensive history and betting on Shula's ability to mold his scheme around the talents of his best players, much like he has done with Newton. Generally, when the emphasis to change a part of a culture - in this case, making more of an effort to protect Newton - comes from the top - in this case, the general manager - it tends to happen. McCaffrey is going to be a godsend for owners in leagues which reward return yardage, and it doesn't require a lot of imagination to dream up a scenario in which he ends up as the NFL Offensive Rookie of the Year, either because Stewart misses significant time due to injury again and/or how much McCaffrey will contribute as a rusher, receiver and returner even if Stewart/Newton remain healthy. There are only five running backs in NFL history to reach 800 yards rushing and 500 yards receiving in their rookie season; McCaffrey could easily be the sixth.
Fearless early-June prediction (eight starts): 180 carries for 825 yards and four TDs; 54 receptions for 415 yards and three TDs
1. Leonard Fournette, RB Jacksonville (Draft Profile)
2017 Projected Role: Building block; could begin season losing a few passing-down and change-of-pace snaps to T.J. Yeldon, but should be the featured back for the majority of the season.
Mind-blowing college stat: Fournette faced eight in the box on 67 percent of his runs (average college back is 31 percent) and nine in the box 22 percent of the time.
Why he will live up to this ranking and perhaps exceed it: Talent and opportunity are two of the most important traits for any fantasy running back to succeed, and Fournette has plenty of both. The No. 4 overall pick is a tone-setter for an offense that hasn't had one since Maurice Jones-Drew in his prime, and a player capable of helping the Jaguars "hide" QB Blake Bortles if necessary. Fournette has an extremely rare combination of power, burst and explosion for a back who typically goes about 230 pounds, and it is safe to say Yeldon and/or Chris Ivory won't be stealing much goal-line work from him. The LSU product got a bad rap during the draft process about being a zero in the passing game; it would be more accurate to say he hasnít had much of a chance to show off what skills he has as a receiver yet. In the limited opportunities he had in college, he showed capable hands and actually graded out well in protection. And one of these years, Jacksonville's execution on defense will catch up with its talent. When that happens, there should be no shortage of carries for Jaguars' runners.
Why he wonít: C Brandon Linder graded out well as a run blocker in 2016, but he was about the only Jacksonville offensive lineman able to make that claim. Second-round T/G Cam Robinson should help out fairly quickly in that regard, but how soon? LT Branden Albert, who was acquired from the Miami Dolphins this spring, is coming off the worst year of his career by far and, based on his actions so far, he doesn't seem particularly thrilled about working for his new employer. There's no question Fournette's most immediate obstacle to superstardom will be the men tasked with the job to clear a path for him. His physical - almost violent - running style may also work against his ability to hold up year after year, meaning he could very well be a regular on the injury report. As referenced above, it remains to be seen if he needs to come off the field on passing downs. However, it would be more accurate to say whether or not Jacksonville decides whether it wants to carve out a role for Yeldon or not, because Fournette is - at the very least - competent as a receiver.
2017 Fantasy Assessment: In terms of what owners can realistically expect, Fournette should be able to come close to matching Todd Gurley's production (1,294 total yards and 10 touchdowns) from his rookie season. His talent makes that projection - especially the yardage - seem low, but it is important to remember the Jaguars haven't had a back come close to those numbers since 2012. Fournette is also probably not the highest-upside rookie for redraft owners, but he appears to have the most going for him. For all the reasons I noted earlier, there is no reason to believe we are about to see a repeat of Ezekiel Elliott's incredible debut. As long as owners realize he should enough work to be a steady RB2 who will occasionally serve as a RB1, they should be happy.
Fearless early-June prediction (eight starts): 265 carries for 1,075 yards and seven TDs; 27 receptions for 195 yards and one TD

---
Doug Orth has written for FF Today since 2006 and been featured in USA Today's Fantasy Football Preview magazine since 2010. He hosted USA Today's hour-long, pre-kickoff fantasy football internet chat every Sunday in 2012-13 and appears as a guest analyst on a number of national sports radio shows, including Sirius XM's "Fantasy Drive". Doug is also a member of the Fantasy Sports Writers Association.