When children in the year 2120 open up their American History textbooks (or tablets or whatever learning tool they will be using at that point), they will learn about a nation that persevered through a pandemic and social injustice … simultaneously. Perhaps they will be as amazed as I am that professional sports were even played during this time and maybe even contributed greatly to the nation's ability to solve both issues. I know it's not important in the overall scheme of things at the moment, but it is truly unique to be living in a time that you know will be a part - and probably a very important part - of our country's history.

Week 1 of the NFL season this year brought with it a sense of normalcy that was badly needed (even if empty stadiums and all non-playing personnel are wearing masks isn't anyone's idea of normal). Sweating the small stuff such as who looked good and who didn't following an offseason in which NFL players barely got to play football seems somewhat insignificant, but it's a necessary evil if we want to enjoy another year of testing our mettle on the virtual gridiron.

I'll begin this season the same way I have started many others. One week doesn't give us nearly enough information to make a call on some players, but we don't have much of a choice as fantasy managers in competitive leagues. There is always going to be an owner (or five or six) in your league that desperately needs to fill a hole with this week's hot name on the waiver wire whether that player has earned that honor or not. However, Week 1 does help to steer us in the right direction in the same way a good appetizer at a restaurant can set the tone for a memorable dinner (or bad service can ruin it). Many players made an impression on me in Week 1, and I chose to highlight nine in particular that stood out in one way or another.
Feed me (fantasy stocks I like more than I did a week ago)
RB Todd Gurley, Falcons
Let's begin with Gurley's production and work our way back. Fantasy owners probably got what they expected in Week 1 with 19 opportunities (14 carries and five targets) and 16 touches, which resulted in 13.7 fantasy points. While he didn't get game-scripted out of the opener, 14 of his opportunities came before halftime. On the downside, he didn't see any work in the fourth quarter and played a total of 36 (out of a possible 79) snaps. And if Week 1 is indicative of Atlanta's plans moving forward, Ito Smith and Brian Hill will get plenty of work in two-minute situations and most of the work on third down.
So how is this a good thing? Not every opponent has the offensive firepower the Seahawks do, nor will those same opponents have the ability to keep Atlanta from moving the ball at will. The Cowboys could have the same kind of success in Week 2 that Seattle did last week, but the Falcons will face the Bears, Packers, Panthers (twice), Vikings and Lions after that. Some of those teams have good defenses and some have good offenses, but I'm not sure any of them have both. There are at least four games during that stretch in which Gurley should be able to enjoy as much volume as he can handle.
In case readers haven't noticed by now, I am much more of an eye-test guy than anything. We probably will never see the Gurley we remember from a few years ago again, but he still has a second gear when he is given the chance to work in space (something that rarely happened a year ago). Hill showed enough in camp to see some regular work as the breather back, but this is going to be Gurley's show in an offense on par (in terms of talent) with the ones we remember during his heyday. There's a reason he was drafted to be an RB2 this summer (consistency could be lacking in addition to concerns about his knee), but I'm willing to bet Atlanta's offense will put him in a position to score touchdowns more often than not. There's also the small motivation of playing football in the same state he attended college AND the knowledge he's playing for a contract.
RB Jonathan Taylor, Colts
Taylor was a regular topic of discussion throughout August in this space, and I told readers in the final version of my PPR Big Board (as well as the FFToday Staff League write-up) that I would be willing to roll the dice on Taylor as early as 3.02 in my high-stakes leagues because I knew what the payoff could be. I'm not going to pretend as if it was anything more than dumb luck that Marlon Mack lasted only 11 plays before tearing his Achilles, but one of my comments in the draft write-up was fantasy owners tend to get caught up in trying to draft the best lineup for now or September as opposed to looking ahead to what the landscape may look like in December. Most fantasy owners were pretty certain Taylor was going to eventually bypass Mack on the depth chart.
While I feel terrible for Mack - someone who went out of his way to make Taylor feel welcome and show him the ropes - let this situation serve as a reminder when you draft next year. Sometimes in fantasy, our bet-on-talent gambles pay off exactly when they are supposed to and other times they don't pay off until a year or two down the road. Sometimes we see the payoff almost immediately, as was the case here. Once I had done enough drafts to feel comfortable with the receivers I was getting in the fourth and fifth round to serve as my WR1 and WR2 (and after learning I would be picking in the back half of the first round in most of my drafts, thus almost ensuring I would go RB-RB), I consistently drafted Taylor as my RB3 at the tail end of the third round because I felt confident he would be a solid RB2 during bye weeks and a reasonable bet to emerge as my RB1 at some point late in the season.
In case anyone believes this is some kind of "victory lap," it is not. There is one time to do a victory lap if you are going to do one and it's after you have won something. There are 15 weeks to go in a season being played with more external factors to consider than at any point in my lifetime and perhaps the history of the league. There is also the possibility the coaching staff still wants to ease Taylor into the NFL for a bit longer (i.e. Nyheim Hines' heavy usage in the opener). Feel good about your good fortune if your investment in Taylor paid off sooner than expected and pray he shows the same kind of durability he did in college.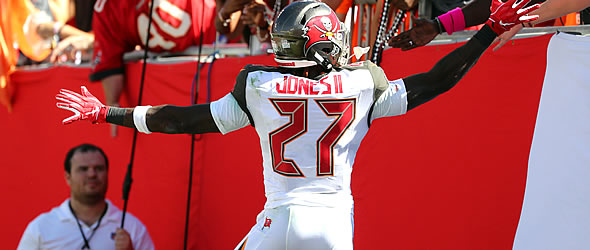 RB Ronald Jones, Buccaneers
Fantasy owners of Leonard Fournette may have come away from Week 1 feeling pretty good about the odds their newfound love will pay off sooner than later, but I'm not sure I agree with that line of thinking. The odds probably still favor Fournette leading this backfield because the "he's been there before" line of thinking seems to weigh heavily on the mind of coaches over the course of a season, but Jones ran well despite what his Week 1 numbers say. The Saints have one of the league's best defenses at the moment, so I'm encouraged by his final line. And while I feel like I bang the drum for "he needs time to learn the playbook" as much as anyone, Fournette was not sharp and looked like he was thinking too much, especially for a player HC Bruce Arians said had a good grasp of his playbook. Fournette will get worked in more in the coming weeks for sure, but his supporters need Jones to look average against the Carolina defense that just gave up three touchdowns to Josh Jacobs last weekend if they hope to see some kind of return on their investment before October.
RB Malcolm Brown, Rams
As I'm sure was the case for the majority of fantasy enthusiasts, I figured Brown was going to be a nominal starter for the Rams, staying in the lineup only as long as it took for HC Sean McVay to get comfortable with Cam Akers in pass protection. Brown has always been more of a straight-ahead physical runner, but he showed Chris Carson-level aggression with his runs in Week 1 versus the Cowboys. It's difficult to take a back willing to run that hard off the field, and it's a big part of the reason why I don't anticipate him fading away anytime soon.
Unlike the beginning of last season when the majority of the industry was touting Brown as the goal-line back when it just happened to be his series or Gurley needed a rest at the end of a long drive, Brown appears to be the early favorite for goal-line duties. McVay consistently said throughout the offseason he anticipated using a committee and riding the "hot hand" if/when one begins to emerge. The smart money says Akers will still pull away in the end, but Brown's performance in Week 1 throws a bit of doubt into what seemed like a virtual certainty a week ago.
Others of note: Darius Slayton, Keelan Cole, Logan Thomas, T.J. Hockenson
May I talk to the manager (discount buys who are better than their Week 1 numbers)
RB James Conner, Steelers
I'm not sure I wrote a single e-mail, tweet or column this summer regarding Conner that didnít include the name Benny Snell and how important it was to grab him as well. (In the interest of full disclosure, I am heavily invested in Conner, but I may be even more invested in Snell. My point: I have slightly more to gain from Snell overtaking Conner at some point.)
Barring the rare instance in which another prospecting fantasy owner swooped in with a pick in the 10th or 11th round to snag Snell, the price was low enough on him for Conner's fantasy owners to protect their investment this summer. Quite frankly, an investment in Conner should have always been viewed into HC Mike Tomlin's desire to ride one back. So, I don't have a lot of sympathy for fantasy owners who didn't treat them as a package deal and now find themselves in a potentially unfortunate situation.
With that said, the lack of appreciation in the fantasy world for Conner is astounding. Conner finished as the RB7 in 2018 despite playing only 13 games - almost replicating the production Le'Veon Bell enjoyed the previous year - and people said it was the scheme. Last year, he was the RB9 through Week 8 despite battling through an assortment of injuries. It's a ridiculous notion that one game has somehow reshuffled the Pittsburgh backfield. Yes, maybe Tomlin will lose patience with Conner's lack of availability at some point, but I don't think it's coming just over a week after he said "there is no question who our bell cow is." Conner played 15 snaps in Week 1 before suffering his ankle injury with 1:38 left in the first quarter and saw 10 opportunities (six carries, four targets). If you watch the play enough times and slow it down, it had nothing to do with him being brittle. It was an unfortunate misstep trying to plant his left foot as he was preparing for contact.
There is also this notion that Conner looked bad before leaving. (Folks, lack of stats doesn't mean lack of quality.) Again, he looked quicker than I can ever remember seeing him. The two targets he didn't catch were off-target and I challenge anyone to find one of his six runs in which he could have done much more with what he was given than he did. I didn't want to be dealing with Conner's injury history after one week, but it does present a buying opportunity because the overwhelming majority of people will get bombarded with advice from the "experts" that he is not built to last. All I know is I want a piece of that Pittsburgh backfield, and Conner still gives fantasy owners the best chance of that investment paying off.
WR Odell Beckham Jr., Browns
Are people panicking already on OBJ? Is there no such thing as patience? Did people think the first game in a new offense against a tough Baltimore defense was a blow-up spot? Did fantasy owners draft and not bother to look to see the first matchup was against the Ravens? (I know you did because you're a big fan of the Big Boards.)
Let's begin with the most basic reasons for optimism: he's healthy. He also had 10 targets against one of the best secondaries in the league. (In two games against Baltimore last season, he totaled 13 targets.) After seemingly getting ignored for most of the first half in Week 1, Beckham was a much more prominent part of the game plan in the second half, even if Baker Mayfield could be accused of trying to force-feed him. OBJ drew a pair of penalties on stud CB Marlon Humphrey early in the third quarter. Beckham beat Marcus Peters deep with just over 10 minutes left in the fourth quarter for what would have been an easy 48-yard touchdown but Mayfield overshot him by about two yards.
Ask some of your most knowledgeable football buddies if they can name more than one starting cornerback from the following teams: Cincinnati, Washington, Dallas and Indianapolis. Those are Cleveland's next four opponents, three of which are at home. If OBJ doesn't perform like a top-10 fantasy receiver in at least one (and maybe even two) of those contests, then it may time to hit the panic button. Three catches for 22 yards is not what I had in mind for him in Week 1, but I also didn't expect him to draw 10 targets, two flags on Humphrey or just miss on a deep TD connection either. A statistical eruption is coming, and if you have even a little bit of confidence about my Big Board matchup analysis, you'll see I had Week 1 marked as a yellow matchup. Between now and Week 14, he has only more yellow matchup and eight greens. Make your move.
Others of note: Carson Wentz, Mark Ingram, Antonio Gibson, Hayden Hurst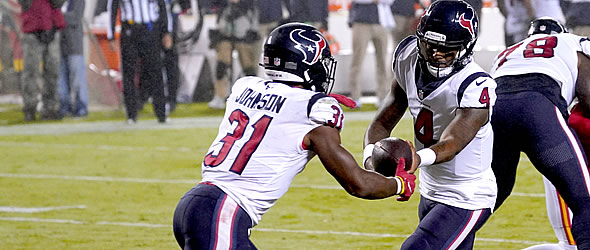 No Soup for You! (fantasy stocks I would sell soon)
RB David Johnson, Texans
It came as a bit of a surprise to me to see how positive the reaction was to Johnson in the opener. In all honesty, what are his fantasy owners celebrating? The fact he scored a 19-yard rushing touchdown when a linebacker took the inside gap instead of the outside one? In no way am I trying to diminish the run - he showed some nice elusiveness by dodging a penetrating defender and a teammate (Randall Cobb) in the backfield - but I saw the 2019 pre-injury version of him against the Chiefs and not the record-setting 2016 version. In other words, I saw good burst and impressive elusiveness for a 28-year-old back, but not the elite burst and incredible elusiveness I saw nearly four years ago. I also would've expected more than 14 touches from him in a game Duke Johnson played only 14 snaps. Game script like the one Houston had in the opener should not affect a three-down back like David Johnson. He also saw eight or more men in the box on just one of his 11 carries, so there wasn't much excuse for him not to run well.
Here's another issue with Johnson moving forward. Let's assume Kansas City is an average run defense in 2020 after ranking near the bottom in the league last year in yards allowed per game (26th) and yards per carry (28th), thus suggesting Johnson will be able to shred lesser defenses. Houston faces Baltimore and Pittsburgh over the next two weeks. After that, it's Minnesota. If we do nothing more than apply common football sense (and put more weight on that than Week 1 results), those three matchups in succession represent about as difficult of a path as any back will encounter this season. The schedule opens up a bit for him after that, but I'm not bullish on his ability to thrive before Week 5 against Jacksonville. If your fantasy team is good enough to survive three straight weeks of horrible matchups, then hold.
There's also the matter of Johnson's injury history. To some degree, he's similar to James Conner in that regard, but he gets a bit of a pass because of 2016. My point here is simple: Johnson should be a very good RB2 when the dust settles IF he can stay healthy this year, but fantasy owners should take this opportunity to take advantage of recency bias and see if an unsuspecting league-mate is willing to move a low-end RB1 in exchange for Johnson and a WR3-level of player. As often as Houston has given fantasy owners running backs with consistently good volume in the Bill O'Brien era, they haven't been league-winning types. I don't think the 28-year-old version of Johnson changes that.
RB Austin Ekeler, Chargers
Whereas I don't have a ton of concern for David Johnson's long-term outlook outside of his durability, I don't feel the same about Ekeler. In my final drafts of the season, I moved Ekeler toward the end of the second round because it started to become obvious the team was smitten with Joshua Kelley, especially near the goal line. There's also the well-established notion that mobile quarterbacks tend to target backs less often than traditional pocket quarterbacks do. While it's hard to complain about 20 opportunities from a running back regardless of how they happen, Ekeler's Week 1 usage is not good for him (19 carries, one target).
The season opener could have been taken as a good sign that Ekeler will be immune to game script, but HC Anthony Lynn seemed to shoot down that on Monday. He told The Athletic's Daniel Popper that the new scheme - primarily the increase quarterback and pocket movement - will limit the number of check-downs to running backs. Lynn made it a point to mention that Ekeler will remain a priority in the offense, but his value in fantasy - especially in an offense that will not play with much tempo or score a lot of points most weeks - relies heavily on his ability to get at least a handful of opportunities in space. The absence of targets and goal-line work makes Ekeler little more than a glorified version of Phillip Lindsay. Making matter worse: even if Tyrod Taylor isn't the starting quarterback for more than half of the season, there's not much reason to expect things to change dramatically for Ekeler with Justin Herbert under center. The Chargers would not have made the move to their new offensive scheme unless it was what they envisioned Herbert running as well.
Coaches adapt their game plan (at least the good ones do) on a regular basis, and it's mildly reassuring to have Lynn reemphasize Ekeler will remain a priority. He should be. However, coaches - like most people - can be stubborn with certain core beliefs. Lynn and OC Shane Steichen are attempting to emulate the Ravens' offensive model in Los Angeles, and that approach isn't going to lead to a lot of passing in general - much less check-downs to running backs. The Chargers' upcoming schedule (at home versus the Chiefs and Panthers) should give Ekeler's fantasy owners a bit of a window to sell high, and that is exactly what I would do after Week 3. I projected about a 20 percent drop in targets for Ekeler this year, but I hoped that decline would be negated somewhat by an uptick in carries. However, if the targets are going to drop by a third or more and the goal-line work is going to get cut too, I don't see how this ends well for Ekeler.
WR Will Fuller, Texans
There are seemingly a handful of players every year that fantasy owners are willing to be wrong about. Fuller must be that player for me in 2020. Yes, he appears to be settling into the DeAndre Hopkins role of this offense nicely after one game, but what did he do that was overly impressive? At the end of the first half of a matchup he should exploit against Kansas City, he had two catches for 25 yards. After three quarters, it was four catches for 40 yards. In other words, half of his catches and 64 percent of his yards came in the fourth quarter during true garbage time. While his supporters would say it all counts the same in the fantasy box score, counting on garbage time from a supposed league-winner type at receiver is risky business.
This is not a question of whether or not Fuller is a good player. It's also not a question of whether or not his strengths match up with Deshaun Watson's. He is and they do. This is a question of Fuller showing he is a complete receiver (the jury is still out on that) and if he can stay on the field long enough to prove it. I guess you could say he passed the first test if we want to look solely at his Week 1 production, but I didn't see a reception that was a function of him making a special play. And similar to the case I laid out with David Johnson, Baltimore and Pittsburgh have the personnel (and pass rush) to take Fuller out of the game if he can't be special. But perhaps that's a bit of an overreaction.
What is not an overreaction is that Fuller is in his fifth NFL season and still has yet to top 50 catches or 700 yards. He has scored a touchdown in only one game since Week 8 of the 2018 season. We all know what he's capable of doing, but fantasy success is not built on the hope of a receiver who realizes his potential two or three times per season. I fear his production in Week 1 was largely a product of a somewhat favorable matchup, garbage time and Brandin Cooks being limited with his quad injury. Havenít his long-time fantasy owners reached a point where they are hoping he gets up unscathed after every catch as opposed to expecting it? I know it sounds harsh and unfair, but let me provide you a partial listing of what he has endured as a pro: five documented hamstring injuries, two knee strains, one torn ACL, a shoulder fracture and a rib fracture. As I said earlier, I'm willing to take the "L" on this one if I end up being wrong.
Others of note: Aaron Rodgers, Devin Singletary, Robby Anderson, Rob Gronkowski


---
Doug Orth has written for FF Today since 2006 and been featured in USA Today's Fantasy Football Preview magazine since 2010. He hosted USA Today's hour-long, pre-kickoff fantasy football internet chat every Sunday in 2012-13 and appears as a guest analyst on a number of national sports radio shows, including Sirius XM's "Fantasy Drive". Doug is also a member of the Fantasy Sports Writers Association.