Every year when it comes time to do this column, I struggle with whether or not I should be bold in terms of shock value or simply deviate from the perceived norm on a handful of players. I'll probably never be able to figure out what side of the fence to stand on in that regard. I suppose the reason why this task is harder for me than some is that readers have typically been exposed to my Big Boards for around a month by the time this piece rolls around, so my secrets are no longer secret.

Last year was not my best showing in this column. On the bright side, Jerick McKinnon nearly finished as the most productive 49ers running back (Jeff Wilson), CeeDee Lamb easily outpaced Michael Gallup and Hayden Hurst was a top-10 tight end - just not quite the top-five option I forecasted in this particular space. Injuries wrecked some of my predictions (Joe Burrow as a top 12 quarterback and Odell Beckham Jr. being a top-five receiver, for example), but it was a disappointing effort regardless.

Let's see if I can do better:
1. Trey Lance will be a top-eight fantasy quarterback on a per-game basis as soon as he wins the starting job.
As with most bold predictions, some things need to fall a certain way for them to happen. First and foremost, Jimmy Garoppolo must either play his way out of the starting job or add to his growing injury history - both of which could very well happen. Although Garoppolo reportedly had his best camp with the team this summer, it is certainly worth mentioning he hasn't posted an interception rate lower than 2.7 percent in any of his four years since joining the 49ers (2.9 in 31 games with San Francisco). To put that number into some perspective, Ryan Fitzpatrick's career INT rate is 3.3. Most quarterbacks are walking a fine line between getting benched or staying on the field if that number is over 2.0 for any length of time. As for his durability, Garoppolo has played more than six games only once in his career. (Granted, three of his seven years in the league were as a backup to Tom Brady in New England, but he has still only averaged less than eight games since becoming a 49er.)
Even if we disregard the fact San Fran traded three first-round picks to move up for Lance, I think I've already laid out why Garoppolo probably will not remain the starter for very long. It still does not explain how someone can go from one year of playing at an FCS school to the NFL and hit the ground running. Well, hitting the ground running is one of a few reasons why this prediction should come true. San Francisco may have the easiest quarterback schedule I can remember seeing in my 15 years of analyzing matchups. I have Garoppolo charted with eight green matchups and he doesn't have the luxury of elite athleticism. Lance has 11(!!) green matchups. It gets better. Three of those green matchups take place during what will be the final week of the fantasy regular season for many and the fantasy playoffs. (Good luck to the defenses of the Bengals, Falcons and Texans over that stretch.)
In his current form, the No. 3 overall pick is cut from the same cloth that Daunte Culpepper and Dak Prescott as a big-armed quarterback who can run around defenders or run through them if necessary. Soft matchups and raw athleticism are nice, but there is more to like. The 49ers have set their quarterbacks up for success, as few teams boast a trio on the same level as George Kittle, Brandon Aiyuk and Deebo Samuel AND a rushing attack that is schemed so well than it will typically allow its backs to average at least 5.0 YPC regardless of who is carrying the ball. Now introduce a player with Lance's power and running ability to the backfield. HC Kyle Shanahan may finally have the offense he likely envisioned almost 10 years ago when Robert Griffin III and Alfred Morris went crazy as rookies. The big difference here is that Washington did not have anyone like Kittle, Aiyuk and Samuel to keep defenses honest back then.
We can assume HC Kyle Shanahan will hold up his end of the bargain as his team has ranked in the top half of the league in yards per play in each of the last four years despite the fact he hasn't had much in the way of a mobile quarterback. Heck, he hasn't even had the same quarterback under center very often. When - and probably not if - Lance takes over, this offense could be unlike any we have seen in recent memory.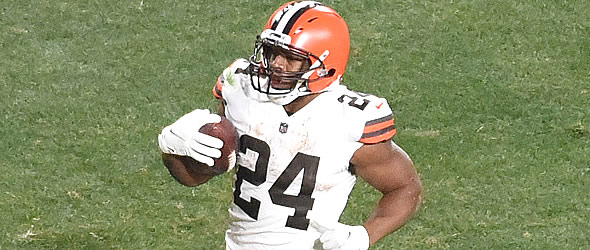 2. Nick Chubb will lead the league in rushing and finish as a top-five fantasy back in PPR leagues.
Several occurrences usually need to take place for a back to lead the league in rushing. Let's touch on some of the more important ones as it relates to this bold prediction:
1) Massive volume. In order for a back to have volume, he typically needs a play-caller willing to run the ball (maybe even prioritizes it) and a defense capable of keeping the opponent off the scoreboard to maintain positive game script. Few coaches have shown the kind of desire to run that HC Kevin Stefanski has in recent years (2019 with Minnesota, 2020 with Cleveland). The Browns added several pieces to what was already a talented defense this offseason, which only increases the likelihood they will be able to run when they want and as often as they want.
Much has been made about Kareem Hunt limiting his upside, and there is some truth to that in terms of pure opportunity. However, is Hunt's presence that big of a deal for Chubb? If we assume Cleveland is going to be a good team again this year - maybe even a 12- or 13-win team - then it means the Browns will be playing with the lead a lot. To that end, Chubb averaged 18.2 carries and 20.4 PPR fantasy points in the nine games he finished and Cleveland won in 2020. That was with Odell Beckham Jr. sidelined for more than half of the season to stretch the field.
2) Efficiency. Even if we assume massive volume, a running back still has to make the most out of his opportunities. While a high yard-per-carry average is one common way to measure efficiency, there is more to it than that. Efficiency is a bit of a combo platter in that a back's talent and offensive play go a long way in determining it. One without the other often leads to inconsistency. A simple way to get a good gauge on both is by monitoring rushing yards before contact per attempt (YBC/A) and yards after contact per attempt (YAC/A).
A good offensive line can typically give their back at least two yards per carry before contact, while the best running backs can usually get close to another 2.5-3 yards per carry after contact. To that end, Chubb and Gus Edwards are the only qualified backs to top 2.0 YBC/A and 2.5 YAC/A in each of the last three seasons. (If we lower the YBC/A threshold to 1.9, Derrick Henry would qualify as well.) The point is that Chubb and his offensive line have established they will consistently do their job well and he will consistently reward the offense with his ability to take advantage of his blocking. The beauty of Chubb's situation is that he is running behind what is widely considered the best offensive line in the league - a unit coached by perhaps the best offensive line coach in the league (Bill Callahan).
3) Favorable conditions/matchups. On top of everything else working in Chubb's favor, I have him down for nine green matchups this year. Some of that is a reflection of his pure running ability, but Hunt has six, so it is not a matter of Chubb being otherworldly. The only matchups that truly give me some pause are Weeks 4, 8, 12, 14 and 17 (MIN, PIT, BAL, BAL, PIT). It could be argued that the Ravens (age up front) and the Steelers (DE Stephon Tuitt currently on IR, Bud Dupree left for the Titans, Vince Williams' retirement) will take a step back against the run in 2021.
Chubb has been inside the top five players on my Big Board for some time. I have him projected for 285 carries, 1,539 rushing yards and 14 rushing TDs to go along with 27 catches, 245 receiving yards and two more scores over the 17-week fantasy season. Assuming good health, my projection could easily be his floor.
3. At least two of the following three - Dalvin Cook, Derrick Henry or Alvin Kamara - will not finish inside the top five running backs.
This bold prediction comes down to the history of high-usage backs in the cases of Cook and Henry and what I believe to be an incorrect assumption that Kamara's workload will dramatically increase after three consecutive seasons of receiving the same workload.
The case against Cook is simple: he has yet to play more than 14 games in any of his four seasons in the league. He lost one of the game's best play-callers (Gary Kubiak), the offensive line is without one of the best offensive line coaches in the league (Rick Dennison) and the front five in general is in worse shape than it was last year. Cook became the 94th running back in NFL history to amass at least 356 touches in a season in 2020. Of that group, he is one of nine to do so in 14 or fewer games (first since Edgerrin James in 2003). It could be argued that Cook's situation got worse in almost every meaningful way possible AND he is coming off a high-usage season (25.4 touches/game) to boot. At least with Henry, there's a certain comfort that comes along with the fact he is built to take punishment at 240-plus pounds. Cook is 210 and arguably runs to and through contact more often.
Since the start of the 2000 season, 31 running backs have managed to top 300 carries twice in their career. Of that group, 18 did so a third time and 10 did so a fourth time. There is a case to be made that we can't assume rational things with Henry because he is just a different breed. Still, the odds increase slightly with each carry that a defender will go low to protect himself and take out Henry's leg while it is in a compromising position. From a fantasy perspective, it is also difficult to continue finishing inside the top five at running back when that player doesn't do more as a receiver. Last but certainly not least, can new OC Todd Downing pick up where former OC Arthur Smith left off? In other words, it took Smith to come along before Tennessee used Henry as a workhorse. Will Downing lean more on the passing game now that the Titans have Julio Jones? Will game script continue to work in Tennessee's favor?
The argument against Kamara is a bit more complex, but here it goes:
1) For three straight years, Kamara has averaged between 12-13 carries and 5-6 receptions. Why will that change now? Because Michael Thomas will miss the first six or so weeks? HC Sean Payton has had plenty of time (and reason) over the years to make Kamara more of a bell-cow back and he hasn't done it.
2) Drew Brees willingly threw the ball to Kamara, based in part on play design and in part due to his decreasing arm strength. Jameis Winston may have changed part of his approach in his year learning from Brees, but it seems unlikely he will check down nearly as often. In fact, only 16.4 percent of Winston's throws during his time in Tampa Bay went to running backs. While a case can be made that the Bucs never had anyone like Kamara, it is ultimately up to the quarterback to decide whom he will throw to - especially when he feels pressured.
3) Touchdown regression. Everyone's favorite fantasy football phrase. I get it, no one is expecting Kamara to score 21 times again, but let's look at how he did it a year ago. Two touchdowns apiece against the Raiders (fourth-worst defense against fantasy backs) and Packers (fifth), three against the injury-riddled 49ers and six versus the awful Vikings' run-stopping unit (sixth). In case you weren't counting, that is 13 scores in four games.
4) Matchups. It takes a lot for me to put a yellow next to Kamara's name on my schedule grid because matchups don't matter as much to a back with a strong offensive line and the ability to beat a defense as a runner and receiver like he can. Therefore, it is significant that six of the 16 games next to his name on my grid are yellow. Let's see why: in Weeks 3-5, the Saints face the Patriots, Giants and the Washington Football Team. He also gets Tampa Bay's elite defense twice after the bye. Because it is Kamara, I am not horrified by those matchups, but they are challenging. Thomas' absence in those first three games does not help Kamara either.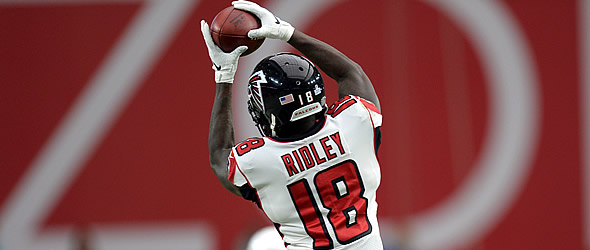 4. Calvin Ridley finishes as the overall WR1.
This may be the least bold of my calls, but it gives me a chance to talk a bit more about one of my favorite receivers. (Writing about fantasy football should be fun, kids.) For the most part, there is a bit of boldness with this prediction because Ridley will often come off the board after Davante Adams, Tyreek Hill, DeAndre Hopkins and Stefon Diggs. Either way, let's make the case for Ridley fulfilling this prediction.
Ridley played the bulk of 2020 with a foot injury that required surgery in the offseason. Even with his foot not being "in good shape" last year, the 26-year-old shredded the opposition to the tune of 90 catches, 1,374 yards and nine touchdowns on 143 targets in 15 games to finish as the overall WR5. (That was with Julio Jones playing nine games and averaging just shy of eight targets.) In seven games without Jones, Ridley posted 50 catches, 765 yards and three TDs on 79 targets. He recorded a target share of 31 percent in those outings and saw at least nine targets in each of them.
The departure of Jones leaves a lot of potential opportunities for his former teammates. New HC Arthur Smith may envision rookie phenom TE Kyle Pitts picking up the bulk of those opportunities. However, even if Pitts manages to attract eight targets per game (which would be 136 over the course of a 17-game season - probably about 20 to 30 more than we should expect), it still leaves at least 27 more throws per game to go somewhere. Even if Russell Gage averages seven per game and the running backs get five, there are still 12 per game to distribute. I assure you those throws will not be going to Christian Blake or Hayden Hurst very often. It is a long-winded way to say Ridley should see at least nine targets per game even if Atlanta manages to maintain a balanced offense and the defense plays reasonably well (a big if).
I expect new DC Dean Pees to get the defense back to respectability at some point in 2021, but I am not as confident about the running game or Davis' ability to carry it all season. In other words, the 35 target-per-game estimate I used in the previous paragraph should represent the worst-case scenario for Ridley's potential contribution. If the Falcons move closer to 40 pass attempts per game - which is entirely reasonable given their defensive deficiencies - it should mean Ridley is pushing 11 or 12 targets per game. He is one of the premier route-runners in the league and not a player I worry about when it comes to getting open, regardless of where he is on the field. One of the many things HC Arthur Smith should bring to this offense is more play-action passing, which should only accentuate the amount of separation Ridley creates and his run-after-catch opportunities.
As such, I don't expect Ridley to suffer the same fate Jones did in the red zone for much of his career now that he is the alpha. He may not match Davante Adams' career year last season (358.4 fantasy points) - especially in the touchdown department (18) - but he could easily surpass Adams' 115 catches and 1,374 receiving yards.
5. While no first-year wideout will match Justin Jefferson's historic rookie season, Elijah Moore will be the receiver who comes the closest in 2021.
Moore has experienced an odd offseason. GM Joe Douglas told reporters at some point after the fact that he resigned himself to the likelihood he wasn't going to get Moore when the Jets traded up to No. 14 to take OG Alijah Vera-Tucker. Although he only fell to No. 34, five receivers were taken ahead of him - hardly a ringing endorsement of how the league felt about him. Moore spent the next 2-3 months becoming the talk of the Jets' offseason, often looking like the best player on the field. The path to immediate playing time appeared to be clearing when the team and Jamison Crowder appeared to be at an impasse regarding his contract this summer, but the two sides eventually reconciled. Nevertheless, Moore quickly moved up to the first-team offense early in training camp before a quad injury in mid-August robbed him of the chance to continue building on his early momentum. In his absence, Corey Davis became the apple of rookie QB Zach Wilson's eye during exhibition play (Davis was targeted on 10 of Wilson's 18 preseason throws).
So … how is this possibly a bold prediction about Moore and not Davis? Make no mistake about it; I expect Davis to outperform his draft slot (around the eighth round). This has more to do with the special talent Moore is. Here were some of my thoughts as I watched him on tape this spring:
Any receiver that checks in at 5-9 and under 180 pounds had better be exceptional in just about every facet of the game if he is going to enjoy an extended career in the NFL. Much like fellow mighty mite and draft classmate DeVonta Smith, he is. Moore provides instant electricity to every play the moment he touches the ball and is very difficult to capture in the open field. Despite the lack of size, the first-team All-SEC selection is unafraid to work in between the hashes and can break a tackle or two if the defense underestimates him. He has been a model of consistency in terms of his availability and reliability; Pro Football Focus credited him with a mere two drops in 2020 and 10 drops on 200 catchable targets across his college career.
Moore also ranked fifth in the nation in yards after the catch and seventh in tackles avoided last year, per PFF. His 1,193 receiving yards last year was the best total recorded through eight games in SEC history. My pre-NFL Draft comps for Moore were a less feisty Steve Smith (high-end) and Randall Cobb (low-end), which should be a clear indication of how I feel about the kid if readers remember seeing either one of the aforementioned players in their prime.
So maybe you don't want to take my word for it. That's OK. Former Ole Miss teammate A.J. Brown raves about Moore's work ethic and swears by him. Odell Beckham Jr. loves what he sees as well. At the end of the day, the NFL wants slot receivers - and he will spend the bulk of his time in the slot, more than likely - to get open quickly, catch the ball consistently and do something with it after that. While I don't think he gets there, it also would not surprise me if Moore hits or exceeds the 80-catch mark.
6. Juwan Johnson is not only the New Orleans tight end you want in fantasy, but he will also finish the season as a top-12 tight end.
There are not a lot of fancy numbers or analytics to back up this call. In fact, there isn't even a lot of game tape. Some recent history may do the trick though. HC Sean Payton is entering his 15th season at the helm and has had a tight end he could detach from the line of scrimmage (think Jimmy Graham or Jared Cook), a big slot (think Marques Colston) or both in just about every one.
Johnson is a former receiver who flashed a bit in college but had some trouble staying on the field. He quickly realized he did not have the speed to survive at receiver in the pros. He began considering a position chance when multiple teams reached out to him about playing tight end after going undrafted last year. After a season of mostly being asked to block when he did see the field, Johnson went to work and the beginning of another potential undrafted free agent success story for the Saints was born. According to Luke Johnson of the New Orleans Advocate, his coaches were "wide-eyed" when Johnson showed up to training camp this summer with 230 good pounds stacked on his 6-4 frame. (He is reportedly up to 240 now.)
There isn't much for fantasy managers to go on with Johnson other than a few preseason highlights and the training camp buzz he generated. With that said, it also is not hard to see from the relatively few snaps he did play that he has the potential to be a matchup nightmare. It is pointless to invoke comparisons to Darren Waller since those kinds of stories happen so infrequently, but I am fairly convinced Payton feels confident he has his replacement for Cook.
Beyond that, let's take a drive down narrative street for a second. Dating back to his college days at Florida State when he made Nick O'Leary a frequent target - especially in the red zone - and through his days with the Bucs (Cameron Brate and O.J. Howard), Jameis Winston has shown an affinity for his tight ends. Especially playing for an offense that could be missing Michael Thomas for nearly half of the season and has a lot of question marks at receiver, it will important for Payton to take advantage of mismatches where he can get them.
I currently have Johnson's 16-game projection set at 46 catches, 578 yards and five touchdowns. (Rob Gronkowski finished as the TE8 last season with a 45-623-7 line.) It would not surprise me at all if Johnson blows right past each of my projections.
---
Doug Orth has written for FF Today since 2006 and been featured in USA TODAY's Fantasy Football Preview magazine since 2010. He is also a high-stakes player who often appears as a guest analyst on a number of national sports radio shows, such as Sirius XM's "Fantasy Drive." Doug is also a member of the Fantasy Sports Writers Association.