Apologies in advance for the mistimed article, as most of the fantasy world tends to panic after Week 1. I would argue Week 2 is still too early to make a call on the majority of players, but maybe only by a week.

It is easy to forget that each week accounts for 7.1 percent of the fantasy regular season (assuming a Week 15 start to the fantasy postseason). Just about every game and every week matters. With that said, there is always a lot of risk associated with deciding part with a proven player after one week. Cutting a Round 16 pick is much different than parting with a Round 10 selection. While fantasy draft capital does not mean a lot after about 2-3 weeks, the overwhelming majority of fantasy managers could not have possibly seen enough to move on from that Round 10 player after one game.

Across my high-stakes leagues last week, managers parted with the likes of Dak Prescott (two leagues), Matthew Stafford, Tyler Allgeier (14-team league), Rondale Moore, Robert Woods and Dawson Knox (two leagues). The former Prescott managers can be excused because Prescott did not qualify for an IR spot and probably did not want to hold onto a player with a 6-8 week injury timeline. The more perplexing part may have been the fact that no one bid against me on any of these players during the second round of waivers later in the week.

Are we talking about any potential league winners here? Probably not, although that is not really the point. Most of the drafts for these high-stakes leagues took place the week before the start of the season. Was one week against a very stout defense enough to shake the confidence of 11 other managers that Cooper Kupp and Allen Robinson's quarterback was worthy of a roster spot? Or that Arizona's likely replacement for Christian Kirk (Moore) was not worth waiting for, especially after Greg Dortch had a career day? Or that last year's TE11 (Knox) was no longer a viable option?

It is so easy to forget that the majority of players in today's NFL just played their second full game in about nine months. Conditioning for some may still be a problem. For others, they could be in the process of working out timing issues with their quarterback/receiver. Others may be working their way back from a major injury. And so on. Will all of the aforementioned players be worth the FAAB I spent on them? Probably not. However, ask me how I feel about having Stafford on two of the teams that just lost Trey Lance. Ask the other owner(s) how he/she feels about not having Stafford on their roster anymore if he/she happened to roster Lance.

Restaurants will occasionally play up-tempo music to subconsciously encourage customers to eat (and ultimately leave) faster so they can usher in the next wave of customers and increase their bottom line. No one is playing up-tempo music for you during waiver claims. The season moves fast enough. You do not need to fall into the trap of trying to keep pace. The majority of decisions that would have made sense two weeks ago still make sense now. Does that mean you should not be proactive? Of course not. The point to be made here is that your QB12 or QB13 at the beginning of this month likely did not become the QB20 after a game against the Bills, your WR48 did not likely become WR70 because he missed Week 1 and your TE12 (in the league's best offense, mind you) likely did not become an afterthought.

I want to spend my time this week taking a brief look at what is causing 20 players (four quarterbacks, six running backs, six receivers and four tight ends) on the majority of fantasy rosters to perform below expectation and assess their chances of recovering. Think of any mention of "panic" as more of a recommendation to have other options in place for the foreseeable future. (It is rarely ever good to sell for pennies on the dollar in fantasy.)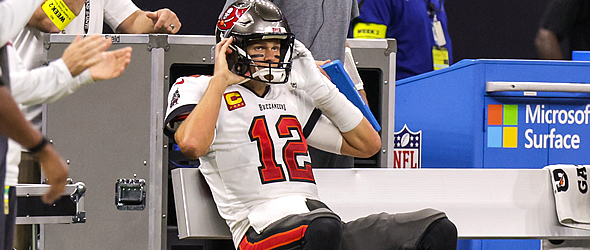 Quarterbacks
Tom Brady, Bucs
What's wrong? The easy (and lazy) answer is that he is averaging 30.5 pass attempts one year after averaging 42.3. The better answer is that he could not have asked for a much rougher set of circumstances to begin the season. We knew entering Week 1 that his offensive line would probably not be on par with last year's and that Chris Godwin would need some time to get going. What we did not know is that he would also lose his left tackle (Donovan Smith) to an elbow injury and Mike Evans, Godwin AND Julio Jones would all miss time before Week 3.
Verdict: Patience. Brady also had no chance to repeat last year's 719 pass attempts, but that was not what most of us were expecting under new HC Todd Bowles anyway. As long as his weapons get back on the field and stay there in the next week or two, we should expect more of the same old Tom Brady (as opposed to just plain old Tom Brady). He did just fine with 610 pass attempts in 2020 and his supporting cast is better now than it was then.
Aaron Rodgers, Packers
What's wrong? Two rookie receivers are working into a rotation that includes Sammy Watkins and Randall Cobb. LT David Bakhtiari has yet to play. Lead WR Allen Lazard and RT Elgton Jenkins missed the opener. The offense is relying more heavily on Aaron Jones and AJ Dillon every year.
Verdict: R-E-L-A-X. (I kid, kind of.) Did anyone really expect Rodgers to light it up in Weeks 1-2? A Week 3 date against the Buccaneers does not look promising either. However, this is one of those situations where it will probably take more time than fantasy managers want it to take. Rodgers will likely overcome his situation and be great at times this season, but it is highly doubtful he can be consistent enough to do battle with the likes of Josh Allen and Justin Herbert again this year - especially if he continues to average 29.5 pass attempts with a receiving corps that does not feature a true alpha.
Russell Wilson, Broncos
What's wrong? Wilson is second in the league in red zone pass attempts (18) and tied for first with pass attempts inside the 10 (12). He is the only quarterback in the league that has yet to throw to for a touchdown with at least five red zone pass attempts. He is also the only quarterback in the league that has yet to throw for a touchdown with at least eight pass attempts inside the 10. Wilson is completing only 58.9 percent of his passes - his career-low mark is 61.3. One also has to question the play-calling inside the red zone so far, especially with Javonte Williams and Melvin Gordon on the roster (18 passes, four runs).
Verdict: Slight panic. Look no further than Courtland Sutton seeing only four of Wilson's 18 red zone targets and having a potential 2-yard TD overturned last week. Nonetheless, someone with Wilson's red zone volume should already have 3-4 scores. Some panic is warranted, but this is another situation in which more information would be useful.
Justin Fields, Bears
What's wrong? Twenty-eight pass attempts … through two games. There have been extenuating circumstances, not the least of which is that Chicago has faced two tough defenses - one of which was played in a monsoon. The Bears have run 99 offensive plays (49.5 per game). Even Fields' athleticism has been muted (48 yards on 19 carries).
Verdict: Believe it or not, more patience than panic. The good news here is that very few fantasy managers drafted Fields to be their QB1. The potentially better news is that the Texans, Giants, Vikings and Commanders - Chicago's next four opponents - should not present the same threat to OC Luke Getsy as the 49ers and Packers did.
Running Backs
Dalvin Cook, Vikings
What's wrong? A lack of touchdowns mostly, with a hint of somewhat difficult matchups (Packers and Eagles) to begin the season. In my Preseason Matchup Analysis grading, Cook had white or yellow matchups in three of his first four contests. Beginning in Week 5, I had him pegged for seven green and five white matchups.
Verdict: Patience. While his start is not what anyone hoped for, his usage remains just what we would expect from a first-round back (nearly 80 percent of the backfield snaps and at least five targets in both games). Green Bay and Philadelphia will likely prove to be two of the stronger defenses Minnesota faces this season. Cook can't help it that Justin Jefferson went off in the first game and game script largely took him out of the second contest. Cook's "rebound" should begin in Week 3 against a Detroit defense that has surrendered an average of 125.5 total yards, 6.5 receptions and two touchdowns to the running back position through two games.
Najee Harris, Steelers
What's wrong? Fantasy managers that drafted Harris this summer likely knew what they were getting (or should have): a back expected to see a lot of volume behind an offensive line that did not improve much - if at all - from last year's group. The one big change from last season was that Jaylen Warren emerged as a solid backup during camp, which would allow the coaching staff to give Harris the extra rest it sought for him this spring.
Verdict: Panic. To be fair, panic was probably warranted if managers spent a first-round pick on Harris. Admittedly, there is not much of a difference between making him a pick in the late first or early second, but it was always going to be a stretch to say that Mitchell Trubisky was THAT big of an upgrade over 2021 Ben Roethlisberger. Even if Kenny Pickett enters the fray in a few weeks, it seems unlikely that Harris' rushing inefficiency through two games will change much.
Derrick Henry, Titans
What's wrong? Forget about all of the talk surrounding Henry's workload in recent years or that he is already 28 years old. The line play has been atrocious and will likely be getting worse with LT Taylor Lewan (knee) possibly done for the season. For as good as Treylon Burks could be and how good Robert Woods will be when he is completely healthy, neither one can threaten a defense in the same way A.J. Brown did. As a result, there is also little reason for opponents to focus their attention on anyone but Henry.
Verdict: Panic. Life for Henry's fantasy managers is going to get slightly better at some point, but it will likely only come once OC Todd Downing realizes he needs to involve his offensive centerpiece in the passing game again. Only one of Henry's runs through two games has been for longer than nine yards (18) - one year after he averaged 2.5.
Travis Etienne, Jaguars
What's wrong? James Robinson was not supposed to come back this well from his Achilles injury. It also has not helped matters that Jacksonville has been more competitive than expected. A drop and an overthrow in Week 1 cost him a potential two-score day as well.
Verdict: Patience and panic. Fantasy managers should get a better read on this situation over the next two weeks against a pair of offensive juggernauts in the Chargers and Eagles. To be fair, it is also a bit premature to say Robinson is blowing up from an efficiency standpoint, as he struggled to break get loose outside of his TD run last week and Washington (Jacksonville's Week 1 opponent) has allowed 6.8 YPC to the running back position so far. Negative game scripts figure to favor Etienne, which is what the Jaguars should face in Weeks 3 and 4. However, Etienne is probably destined to average about 10 touches for as long as Robinson stays healthy.
Ezekiel Elliott, Cowboys
What's wrong? There are multiple answers to this question, but let us begin with the fact that Dallas has run four plays in the red zone. Two of the runs went to receivers, while Tony Pollard got the other. Elliott was going to need the offensive line to stay healthy, which it has not. He was also going to need Dak Prescott to stay healthy, which he did not. The Cowboys also started the season against the Bucs' highly touted run defense and an improving Bengals' front seven.
Verdict: Patience. There is so much negativity surrounding Elliott in the fantasy industry that his managers are unlikely to find a trade worth making. However, there is good news. Dallas could get Prescott back well before its Week 9 bye and faces (what should be) four softer defenses over the next six weeks (Giants, Commanders, Lions and Bears). Elliott looks spry as a runner and his overall usage is almost identical to what it was through two games last year (25 carries and four targets in 2022; 27 carries and four targets in 2021).
Chase Edmonds, Dolphins
What's wrong? His Week 2 usage. After handling a solid 63 percent of the snaps, 52 percent of the rush attempts and running 57 percent of the routes from the Miami backfield in Week 1, those numbers dropped to 51, 28 and 47, respectively, in Week 2. Did Raheem Mostert show HC Mike McDaniel that much more in the opener (five carries for 16 yards) than Edmonds (12 for 25)?
Verdict: Patience. This one is too early to call for several reasons. Look no further than Mostert's durability issues; patience with Edmonds could be worth the wait. If and when Mostert goes down, would McDaniel give significant work to Myles Gaskin or Salvon Ahmed? Edmonds was also handpicked by McDaniel as one of the first free agents to sign this offseason and given roughly $12 million over the next two years to be the lead guy. Conversely, McDaniel could believe in riding the hot hand at running back - not unlike his mentor (Kyle Shanahan).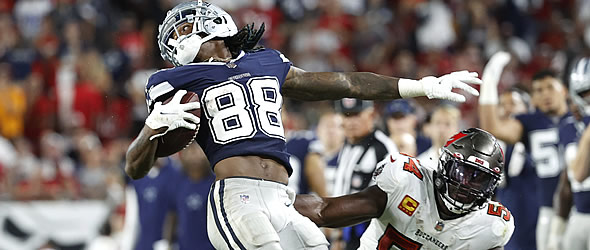 Wide Receivers
CeeDee Lamb, Cowboys
What's wrong? It does not help his cause that Dak Prescott got hurt in Week 1. While Lamb has attracted 11 targets in each game so far, he has a meager nine catches the show for it. What is worse is that he has yet to get a look inside the red zone. A sub-par catch rate combined with no work in the scoring territory is no way to live. Lamb has not helped his cause either, generating only 34 yards after the catch. He is generally considered one of the league's best after the catch.
Verdict: Patience, but lower expectations. The Dallas offense is a bit of a mess right now, although the healthy return of Michael Gallup should help. What will not help is Prescott rushing back too soon or not returning until the team's Week 9 bye. OC Kellen Moore could help his top receiver out by serving him up a few more run-after-catch opportunities on tunnel screens and drag routes, but it is a big ask for Lamb to be an elite WR1 with Cooper Rush as his quarterback.
D.J. Moore, Panthers
What's wrong? Six targets in each of the first two games are not enough. Perhaps more importantly, Baker Mayfield has not yet been the kind of upgrade on Sam Darnold the team was hoping for this summer. Carolina also is not doing its offensive playmakers any favors by running an average of 55.5 plays either.
Verdict: Panic. Like Lamb, Moore is too talented not to produce. Also like Lamb, he needs better quarterback play to maximize that talent. Moore will catch a break in Week 4 against the Cardinals, but he does not face many other patsies over the first half of the season. It may not be a bad idea to trade him away if he can put together a decent fantasy effort this weekend against the Saints.
DK Metcalf, Seahawks
What's wrong? Fantasy managers knew entering the season that Geno Smith would be a downgrade from Russell Wilson. What they likely did not expect is that he would get fewer targets and that the average depth of those targets would be cut in half. (His previous low was in 2021 at 12.7. He is at 6.3 through two games.)
Verdict: Patience. Let us hope that HC Pete Carroll's pronouncement this week that he would open things up for Smith bears fruit. The Seahawks are averaging 29.5 pass attempts and 52 offensive plays thus far - numbers that keep the production of even the most ridiculously athletic receivers in check. While Metcalf is the kind of talent that allows fantasy managers to ignore the matchup most of the time, feeding him 6-7 short-area targets from Smith is not going to help that offense or fantasy managers. Managers could see a much better return on their investment if the Seahawks simply let Smith fire a couple of "trust your stud" shots to Metcalf in addition to the short stuff he is already getting. He should get that opportunity this week against the single-high coverage - Cover 1 and Cover 3 - the Falcons typically play.
Elijah Moore, Jets
What's wrong? Moore's opportunities are not lining up with his playing time. His 136 total snaps (105 snaps on pass plays) are easily the most among Jets' receivers. His 66.7 percent catch rate is the best among the team's top three receivers. His 99 routes run ranks second in the league. However, his 12 targets through two games rank fifth on the team.
Verdict: Patience. Either by waiting his turn in what has suddenly become a crowded receiver room or the redistribution of targets that figures to occur once Zach Wilson is healthy, Moore will rebound. Maybe he will have to share the spotlight with Garrett Wilson sooner than most of us expected, but he is getting open far too often in what has been a high-volume passing attack (and could continue to be one) to keep disappointing fantasy managers for much longer. The monster game Wilson just had in Week 2 could be Moore's this week if he lines up opposite Cincinnati CB Eli Apple often enough.
Terry McLaurin, Commanders
What's wrong? McLaurin signed a three-year contract that pays about $23 million per season back in July, so it only stands to reason he would be tied with Antonio Gibson for second on the team in targets (12) - eight behind team leader Curtis Samuel. He has yet to see a red zone target and is running more deep routes than ever (15.3 aDOT, 2.2 yards higher than last year and 1.1 yards higher than his previous career high).
Verdict: Patience. Much like Elijah Moore above, McLaurin's big day should be coming soon. It is a bit of a shame that he wasn't able to fully exploit two great matchups, but this may be one of those cases in which he will perform better statistically in tougher matchups since those opponents may have more ability to slow Jahan Dotson and Samuel down than Jacksonville or Detroit did.
Tight Ends
Kyle Pitts, Falcons
What's wrong? Identical 2-19-0 lines are not what any of Pitts' fantasy managers had in mind to start the season. We don't even have the excuse of Pitts not being an "Arthur Smith guy" after the Florida product was the first pick of the new regime last year.
Verdict: Patience. Pitts ran a route on 91 percent of his team's passing plays in Week 2, raising his mark for the season in that category to 81 percent. At that level of participation, he is going to be fine. All we can do for now is chalk his inactivity up to difficult matchups and perhaps the coaching staff's desire to establish Drake London. If Week 3 against the Seahawks yields similar results to the first two games, panic is warranted. However, it seems likely that Smith will scheme his unicorn tight end some throws over the middle of the field against a predictable Seattle defense that plays zone defense at the second-highest clip in the league (92.1 percent).
T.J. Hockenson, Lions
What's wrong? Hockenson's connection with Jared Goff so far has been uncharacteristically off. The Iowa product has seven targets in each of his first two games - which is good involvement for a tight end - but his catch rate is at 50 percent after posting a career-high 72.6 mark in 2021. Hockenson has further hindered his cause with two drops already.
Verdict: Panic. Until further notice, the passing game will revolve around Amon-Ra St. Brown. Hockenson already faced one of the softer matchups he will have all year - in all likelihood - in the Eagles and settled for four catches, making it hard to feel optimistic about him as a weekly starter. Detroit's offense is good enough to allow him to make his usual 4-6 visits to the end zone, but St. Brown's emergence - along with the activity of D'Andre Swift - has relegated him to no higher than third on the target priority list.
Dawson Knox, Bills
What's wrong? One catch for five yards on two targets in the opener was enough for some managers to jump ship. After all, Knox's activity - especially in the red zone - took a hit late last season when Gabriel Davis began to emerge. His Week 2 performance (4-41-0 on five targets) offered hope that he still has a place in the offense, but it was still a relatively disappointing effort considering Davis did not play.
Verdict: Still too early to tell, but with a slight lean toward patience. It is not always as easy as following the money, but Knox did sign a four-year, $52 million extension right before the start of the season. He is firmly in the long-term plans and it is not because he is a devastating blocker. Repeating last year's nine touchdowns will be a tall order, but he is in the right offense to do it. Fantasy managers often overlook that: at the end of the day, we want pieces of elite offenses.
Albert Okwuegbunam, Broncos
What's wrong? The Broncos are employing a three-man rotation with Okwuegbunam, Eric Saubert and Eric Tomlinson. He has yet to see at the end zone target and his aDOT is 2.4 - a comically low number for someone with his speed.
Verdict: Panic. I still believe in Okwuegbunam in dynasty, but this situation will only get messier once Greg Dulcich is healthy.
---
Doug Orth has written for FF Today since 2006 and been featured in USA Today's Fantasy Football Preview magazine since 2010. He hosted USA Today's hour-long, pre-kickoff fantasy football internet chat every Sunday in 2012-13 and appears as a guest analyst on a number of national sports radio shows, including Sirius XM's "Fantasy Drive". Doug is also a member of the Fantasy Sports Writers Association.