Fantasy football is a 17-week thrill ride that takes our minds (and teams) to places that would have been incomprehensible in August or early September.

Through four games, Jared Goff has outscored Justin Herbert and Kyler Murray. Trevor Lawrence has outscored Tom Brady and Aaron Rodgers. Justin Fields has yet to complete more than 11 passes or exceed 22 pass attempts in a game. Clyde Edwards-Helaire is going toe-to-toe with Christian McCaffrey. Jonathan Taylor, Dalvin Cook and Najee Harris rank behind James Robinson and Khalil Herbert. The list goes on and on …

Which surprising starts can we buy into and which ones should we dismiss? That will be the focus of this week. Let's get started:
Quarterbacks
Jared Goff is the overall QB5.
Look no further than Goff's league-high 1,335 intended air yards for one of the sources of his surprising start. As one might expect with a quarterback throwing the ball so far down the field on average, he is completing only 60.9 percent of his attempts and ranks fourth in the league with 28 "bad throws" (per Pro Football Reference).
So how is Goff finding success with this highly volatile approach? Well, it helps to have playmakers such as Amon-Ra St. Brown and D'Andre Swift at his disposal, but it goes deeper than that. Goff has taken only five sacks, been hurried only seven times and faced pressure on a mere 16.3 percent of his pass attempts. All those numbers are among the lowest in the league for a full-time starting quarterback. As good as he has been in some of his games, his start could have been even better were it not for his pass-catchers dropping a league-high 13 of his throws.
Let us be clear about the fact that he has shredded the two defenses he should have in the Commanders and Seahawks. He was a decent start in the other two (Vikings and Eagles). Considering what we know about Philadelphia's defense, it seems logical to believe his 215-2-1 line from that Week 1 game should represent his floor. The beauty of Detroit's games so far - and likely moving forward - is that the Lions' defense is bad enough that Goff could be in shootout mode just about every week. Goff is a very poor bet to maintain his current lofty perch, if only because the Patriots, Cowboys, Dolphins and Packers await over the next four games. What we do know is that he has a ceiling similar to the one during his Pro Bowl days with the Rams. A top 12 finish is unlikely (and the lack as a rusher hurts his upside), but it is not out of the question that he can be the answer right now for managers trying to wait out Matthew Stafford's "struggles," getting used to life after Trey Lance or waiting on Dak Prescott to return.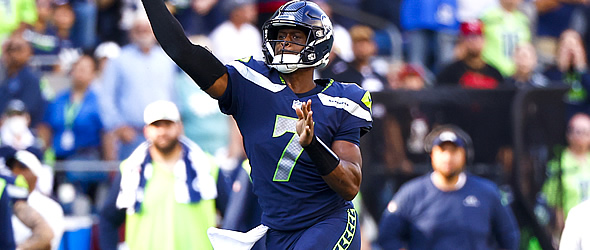 Geno Smith is the overall QB9.
Like Goff, Smith had the necessary weapons to surprise us this season. What seemed less likely is that Smith would last very long behind a pair of rookie offensive tackles (Charles Cross and Abraham Lucas) or find a way to thrive in what has been a run-based offense for years.
SURPRISE!!!
Whereas Goff has flourished as a result of regularly chucking it deep, Smith has been stunningly accurate. His eight bad throws (per PFR) are easily the fewest of any full-time starter so far, while his 82.9 on-target percentage is also the best in the league. His 657 completed air yards is second only to Josh Allen's 713 (on 36 fewer attempts). The most surprising number: only one of Smith's throws has been dropped. (Remember, Goff's 13 leads the league.) Much like Goff, Seattle is setting Smith up for success by relying heavily on play-action (his 34 attempts on play-action rank fifth, two behind fourth-place Goff).
Except for a Week 2 game against versus San Francisco - a contest in which he still completed 80 percent of his throws - against a defense that has not given up a passing touchdown in three straight outings, Smith has completed at least 72 percent of his passes and thrown for two touchdowns every other week. One of those games came against a Broncos' defense that has yielded only one TD pass in their other three games combined.
Forget everything we thought we knew about Smith; I believe this start is sustainable. No, I do not believe he will continue to complete 77.3 percent of his passes (which would shatter the current record), but he has likely already faced two of the best defenses he will see all year already, including one of which could be among the best we have seen in recent memory (49ers). DK Metcalf and Tyler Lockett remain one of the best receiver duos in the league as well. While Smith lacks the rushing upside of a Josh Allen or Lamar Jackson, last week's 49 yards rushing (and a score) are a reminder that the 31-year-old still has some life left in his legs. As long as the Seahawks continue to let Smith cook in a way they rarely allowed Russell Wilson to, there is a strong possibility he matches his predecessor over the remainder of the season.
Running Backs
Clyde Edwards-Helaire is the overall RB4.
I am not a truther for any player, but I do like to see players receive some vindication after they have been ridiculed unfairly for circumstances that are often beyond their control. CEH started his career in a way one might expect from a first-round pick, averaging 17.8 carries and 5.2 targets through his first six career games. Over his next 20 outings, those numbers dipped to 10.8 and 2.9, respectively. Edwards-Helaire strongly suggested to reporters this summer that he has battled one injury after another since around that Week 6 game against Buffalo in 2020 when he handled a career-high 30 touches and appeared well on his way to being the next running back monster from an Andy Reid offense. In Week 4 against the Buccaneers, we saw Edwards-Helaire get the most touches (20) he has handled in a game since late in his rookie season (21; Week 14 vs. Miami).
If we assume CEH has been operating at 75-80 percent for most of 2020 and all of 2021, it goes a long way in explaining why he has been his involvement in the offense has been so spotty. There has been no hint of an injury this season, however, and his usage looks eerily similar. Jerick McKinnon played more snaps and ran more routes over the first three contests. He has just as many carries inside the 5 (three). Was Edwards-Helaire's performance against Tampa Bay an indication that things are starting to change? That seems unlikely; Reid and OC Eric Bieniemy called 32 run plays for their running backs, likely due to the blowout nature of the game. For some perspective on that volume, Kansas City dialed up more than 25 running plays for its running backs only once last season. There is a better chance last week was the beginning of the end for McKinnon as a regular fixture in this offense and the start of Isiah Pacheco's emergence than the start of CEH's return to being a featured back.
The one thing that is saving Edwards-Helaire right now is the fact he is scoring touchdowns at a higher rate (one every 10.2 touches) than Alvin Kamara during his best years. Fantasy managers can continue hoping that he keeps up this pace and becomes the 2022 version of Austin Ekeler, but that seems unlikely. Pacheco's star has been on the rise since the summer. The Chiefs seem convinced it is a matter of when - and not if - he will be a very good player.
There is maybe a handful of running backs that are stuck in similar limbo as CEH (split backfield usage, feature-back production), such as James Robinson, J.K. Dobbins and Breece Hall. I think I would trade him for any of them. Given CEH's production to this point, managers might be able to get another piece (preferably a high-upside bench stash) in addition to Robinson, Dobbins and Hall.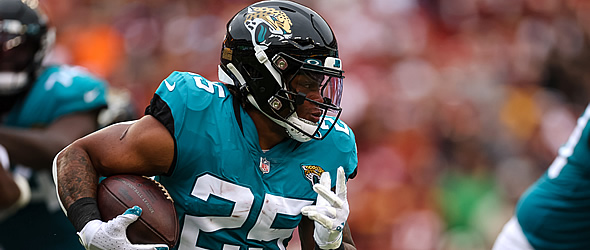 James Robinson is the overall RB11.
Robinson seems to defy the odds every year. As a rookie, he was so impressive as an undrafted free agent that he made Leonard Fournette expendable. In Year 2, he overcame Urban Meyer. This year's challenge was the torn Achilles he suffered late last season and the threat of Travis Etienne. We may need to learn to stop doubting him. Week 4 represented the first floor game for Robinson this year, which may open up a bit of a buying window for him. Here is why I think that might be a good idea:
I think Week 4 will prove to be an outlier for multiple reasons. The Philadelphia defense is one of the best in the league, and the weather (heavy rain) did not help Robinson's cause. Neither did the fact that Jacksonville trailed for more than half of the game. While I cannot predict the weather for the next few weeks, I feel confident in saying that the Texans, Colts, Giants, Broncos and Raiders - the Jaguars' next five opponents - probably will not have the advantage of positive game script very often against them. Fantasy managers need to adjust their stance on Jacksonville and particularly its defense, which has already forced more fumbles (two) and interceptions (seven) than it did all of last year. The defense is legit and will keep the team in games, particularly against its next few opponents. Trevor Lawrence is flashing the talent that made him the clear No. 1 overall pick last year. He has receivers in Christian Kirk and Zay Jones that can keep defenses honest. All of this bodes well for Robinson to get a ton of volume.
Need another reason or two to make a move for Robinson? How about a Week 16 matchup against the Jets (which appears to be a middling matchup right now but can be run on) and a Week 17 date with the Texans, who are getting destroyed by running backs. The one way this recommendation can go sideways is if Robinson's efficiency metrics continue to trend downward. Thankfully, this seems unlikely to happen given his upcoming schedule.
Wide Receivers
Chris Olave is the overall WR17.
Among the many words I put in my draft profile of Olave this spring, I stated the following:
College receivers who enter the pro game with a solid grasp of how to run good routes typically enjoy solid NFL careers, so it would seem Olave is a high-floor prospect at worst with the potential to be something approaching Calvin Ridley in a few years if he finds a good home …
The primary stat that seems to be fueling Olave's sudden rise is an unthinkable 673 air yards, which is 220 more than second-place Tyreek Hill. That massive total plays a huge role in his average depth of target (18.7), but the combination of that and his 25 percent target share is making him pop for fantasy purposes. How so? Players with aDOTs as high as Olave's right now simply do not see a quarter of the team's targets. Courtland Sutton (2021) and Mike Evans (2019) are the only two players from the past three seasons who topped 50 catches with an aDOT over 15. (Evans had 67 in 2019, while Sutton had 58 last year.) It is a near certainty that regression is coming for Olave. We can expect defenses to adjust in the second quarter of the season - as is typically the case - so it falls upon OC Pete Carmichael and company to counter by having him run shorter routes. (I think we already saw the beginning of that last week with Andy Dalton under center.) Olave was not a great run-after-catch player in college, so it will be critical for the offensive staff to rely on his route-running ability and for him to master the intermediate part of the field.
Thankfully, he has a sidekick in Michael Thomas who can keep cloud coverage and potential double teams away from him. Another key factor in keeping Olave relevant would be to get the ground game going, although that appears unlikely given the current state of affairs in New Orleans. Olave is too good of a talent to go away, but his current profile does not suggest he can remain a mid-tier WR2.
Corey Davis is the overall WR25.
I think many of us - myself included - allowed our (rightful) belief in Elijah Moore's talent would win the day in New York to cloud our judgment. There is a very good chance Moore still emerges from the pack, whether it happens organically or because Davis gets hurt. The problem is that most of the bulk of Moore's rookie-year explosion came during Wilson's injury absence last season. Shortly after Wilson returned, Moore was done for the year. Most of Wilson's attention - at least when New York had its supporting cast intact early last season - was focused on Davis.
Moore continues to lead the team in routes run each week (a league-high 189), but the ball continues to find other receivers instead. One of those "other receivers" in Zach Wilson's season debut last week was Davis, who ran fewer routes (29) than both Moore (37) and Garrett Wilson (36) but saw more targets. Perhaps we should write it off as a one-time occurrence in Wilson's return to game action and allow ourselves to believe that matchups dictated Davis should get the ball in that game. That is more than possible. The problem is we know Zach Wilson and Davis have history. It often takes some time for a quarterback and/or offensive coordinator to delete the older and more familiar file for one that fosters more productivity. It feels like that is what is happening here.
New York made it quite clear with its selection of Garrett Wilson this spring that he will be heavily involved. Based primarily on the amount of playing time Moore is receiving, it is clear the coaching staff has little to no problem with him despite his relative lack of production. Thus, I cannot buy Davis as a consistent asset moving forward even if I can recommend him as a decent WR3 until the transition happens. It should be interesting in the coming weeks, as the Jets face the Dolphins, Packers and Broncos. We already know based on comments earlier this season that Green Bay will probably not use Jaire Alexander to shadow, but the Packers' cornerbacks are good enough to force Wilson where they want him to go. Will Xavien Howard (Week 5) and/or Patrick Surtain II (Week 7) shadow Davis or Moore? (Wilson leads the team in slot snaps by a wide margin.) If the answer is Davis, Moore could be on the verge of an explosion similar to the one he enjoyed as a rookie. If the answer is Moore (and it probably is), Davis could have WR3 viability for a bit longer.
Zay Jones is the overall WR43.
Jones missed last week with an ankle injury, so it is pertinent to mention that he is the overall WR23 in terms of fantasy points per game right now. While it would have been nice to get an extra data point for his evaluation, it is beginning to appear as though he will have a big role in this offense. While many in deeper leagues may have dropped him after a 3-23-0 showing in Week 2 following a promising Week 1 (6-65-0), the former may have been the outlier due to how thoroughly the Jaguars dominated the Colts in that contest.
Through three games, Jones is fitting into a profile that should keep him in the WR3 conversation all season long. Among other favorable numbers, he is running exactly 40 percent of his routes from the slot and has an aDOT of 6.8. That means he is getting a free release regularly and being fed some of the easiest passes to catch possible. It should come as no surprise then that his catch rate is a sparkling 79.2 percent. Based on his early success this year, we can conclude that his relative lack of success in Buffalo and Las Vegas was due in part to those teams using him more as a vertical receiver (aDOT of at least 13 in three of those seasons).
Another positive to consider is that Jones was keeping pace with Christian Kirk in targets (27-24) and red zone targets (7-6) through three games before his DNP in Week 4. That is not to say that Kirk and Jones are on equal footing, but it is a clear sign there is and will continue to be enough at the table for both to eat.
Tight Ends
Tyler Higbee is the overall TE5.
What if I told you before the season that someone other than Travis Kelce or Mark Andrews was going to lead all tight ends in targets? How many guesses after Kyle Pitts and Zach Ertz would you have needed to get to Higbee?
In some ways, Higbee's heavy involvement in the offense this year encapsulates most of what is wrong with the Rams' offense so far. Higbee's aDOT is a mind-blowing 3.9 - more than two yards less than his previous career low. He has yet to score on 38 targets (26 catches). Matthew Stafford has been picked off three times throwing in his direction, contributing to Stafford's passer rating of 53.0 on those attempts. Most teams with struggling offensive lines keep their tight ends in to block (or at least chip). Not the Rams, at least not so far. Higbee has run a route on 91.3 percent of drop-backs and stayed in to block only 12 times (7.7 percent).
I will not pretend as though Higbee staying into block would solve all of the offensive line's shortcomings, but why not try to give a pair of $15 million receivers another half-second or so to work their magic? Going with max protection more often has to be better than what the Rams are trying right now. God forbid if Cooper Kupp gets hurt.
Los Angeles and HC Sean McVay deserve a bit of a reprieve, however; losing LG David Edwards, C Brian Allen, projected starting RG Logan Bruss and C/G Coleman Shelton and G/T Tremayne Anchrum over the last month or two has put the team in a compromising situation up front. Never mind that the Rams have also faced two elite defensive lines over the first four games in the Bills and 49ers. It will get better. When it does, there is a very good chance all the handwringing about Allen Robinson being "washed" will cease very quickly. When that happens, Higbee will almost certainly return to being the third option in this offense and give up his current role as Stafford's default second option.
Tyler Conklin is the overall TE8.
While partly a function of how much the Jets have thrown over the first month of the season and the game scripts they have encountered over that time, Conklin leads all tight ends in routes run (163). What is slightly amazing is that there is room for more involvement; he has run a route on a relatively low 84.9 percent of his team's drop-backs - a mark that is tied for 25th among the 44 tight ends with at least seven targets in 2022.
Thankfully, he is staying busy - for a tight end anyway - when he runs a route, attracting a target on 16 percent of his routes. That number would be even higher were it not for a 10-percent showing in Week 1. The fact he is doing this with Elijah Moore, Garrett Wilson and Corey Davis yet to miss a game suggests Conklin's involvement is here to stay. What is also clear is that Conklin's high target numbers were inflated by the pass-happy nature of the Jets' offense with Joe Flacco over the first three games. Last week's five targets seem much more in line with what we should expect moving forward than the eight he was averaging with Flacco.
Further working against Conklin is that he has only red zone target, which he converted for a 3-yard touchdown in the opener. With what appears to be a limited role in the red zone and dwindling volume overall in the passing game, fantasy managers would be advised to involve him in a 2-for-1 deal to a tight-end needy manager in the next few days if possible.
---
Doug Orth has written for FF Today since 2006 and been featured in USA Today's Fantasy Football Preview magazine since 2010. He hosted USA Today's hour-long, pre-kickoff fantasy football internet chat every Sunday in 2012-13 and appears as a guest analyst on a number of national sports radio shows, including Sirius XM's "Fantasy Drive". Doug is also a member of the Fantasy Sports Writers Association.