I would be remiss if I did not begin this week's contribution with America's most recent gun violence story, although this one appears to be on the way to a positive outcome. Brian Robinson Jr. was reportedly shot twice during a carjacking over the weekend, but all of his wounds are said to be non-life threatening. He could be discharged from the hospital shortly - assuming it has not happened by the time this article is published - so it appears he is on the road to recovery. Best of luck to Robinson.
As I promised last week, I want the focus of this particular piece to be on the players typically going after the top 100 in most drafts, even in the FFPC format.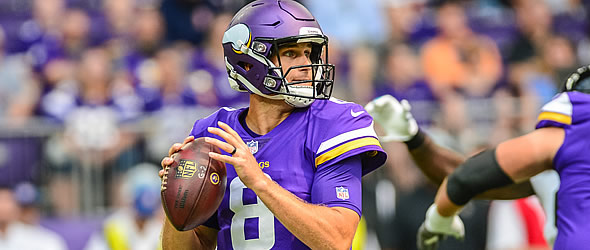 Quarterbacks
Quarterbacks are rarely discussed in this space because much of their fantasy impact relies so heavily on the players at the other positions that get discussed. With that said, I am going to change things up a little bit and talk about the quandary we face as fantasy managers this season. Starting somewhere around my QB10 (Trey Lance) and ending around QB15 (Derek Carr), we have about six quarterbacks more than capable of cracking the top five at the position. Aaron Rodgers has no business being on the doorstep of QB1 territory with his current supporting cast, but it is clear that he is just on a different level than most quarterbacks. However, my main reason for mentioning quarterbacks this week has more to do with the two signal-callers listed after him.
Kirk Cousins has a couple of 600 pass-attempt seasons under his belt - one of which almost resulted in 5,000 passing yards. He appears poised to add another. The Vikings are going to pass more often than they have at any other time in recent history under new HC Kevin O'Connell. The desire to pass is one thing, but what makes Cousins worth considering as a top 10 quarterback is that 2022 should give him his first opportunity to marry volume with extraordinary playmakers. Justin Jefferson may be the best receiver in football, Adam Thielen appears to be the preferred option in the red zone yet again, Irv Smith should be healthy by the opener and Dalvin Cook is widely expected to be as active as he has ever been in the passing game. Cousins often gets knocked for his ability to deliver in big spots, but should we be surprised - assuming he maintains his recent level of play - if he tops 5,000 passing yards and throws for at least 35 TDs?
If you thought ranking Cousins with his expected increase in volume at QB14 is crazy following last year's QB9 finish, then you are probably wondering how Derek Carr is down one spot from last year's QB14 finish following the addition of Davante Adams. First of all, keep in mind that four of the players listed in front of Carr above missed at least two games in 2021. The second thing to keep in mind is that among full-time starters last year, Carr finished 16th in fantasy points per game. We also need to account for the fact that Adams does tend to miss games and Darren Waller may or may not be dealing with a hamstring injury (it has been suggested his recent absences from practice are contract-related) after last year's injury-marred finish. However, if Hunter Renfrow, Adams and Waller stay healthy, then Carr is probably more likely than Cousins to join the 5,000-yard, 35-TD club.
Running Backs
Robinson's aforementioned unfortunate situation throws what we thought we knew about the Washington backfield into a different kind of chaos. It sounds as though Robinson has a real chance to return at some point this season - he has been ruled out indefinitely for now - which should bring Antonio Gibson and J.D. McKissic right back into the forefront, right? Maybe not. Will the Commanders add someone like Sony Michel to muddy the backfield further? HC Ron Rivera seems intent on getting a running back that can and will run it well inside the tackles (and hold onto the ball), which is why Gibson probably does not belong any higher than RB34 on the Big Board. McKissic would seem to be in line for a bump as well, but it is worth noting that the addition of another power back could force the Commanders to use Gibson in the role he should have had all along - as a part-time runner and part-time receiver in the Cordarrelle Patterson mold. Since the bulk of McKissic's value comes as a result of the passing game, he cannot afford Gibson infringing on his turf.
The Raiders may not have a great offensive line, but there is going to be some value coming from their backfield. While the odds are relatively strong that "value" will be split in at least three ways, it does not mean value cannot be had. The most consistent value should come from Ameer Abdullah in the event he handles most of the work on passing downs - as expected - in what should be a pass-heavy offense. Considering Las Vegas should play in its fair share of shootouts, it would be far from surprising if Abdullah hits in most games the Raiders are playing a division rival and/or favored to lose. Figuring out when Zamir White may be more difficult barring an injury to Josh Jacobs, but there is also a real chance he ends up splitting early-down work with him as well and is the preferred option at the goal line.
There is not much to discuss with my recommendation because he did not play at all last season due to a torn ACL. With that said, I am not sure there is a much better use of an IR spot in fantasy leagues (assuming your league has at least one) right now than Gus Edwards. While he will miss the first four weeks of the season on the PUP list, Mike Davis is not a threat to take Edwards' role in his absence. When fully healthy, Edwards should handle at least 40 percent of the carries that come out of the running back position in Baltimore - and that assumes J.K. Dobbins is fully healthy from his serious knee injury at some point in the near future. Edwards is the essence of "one-thing-needs-to-happen" guys I am targeting in the later rounds. It is at least a gamble worth taking considering Dobbins typically goes off the board around the fifth round and Edwards is available near the end of drafts.
Wide Receivers
Undersized receivers tend to get the shaft on draft day given the likelihood they will not have much opportunity to score near the goal line. While that is a reasonable assumption to make, it may not be wise to take that position with Isaiah McKenzie or Rondale Moore. We have already seen what the slot receiver can do in Buffalo (100-plus targets in three consecutive seasons). It is a role that McKenzie appears to have a firm grasp on now. He also offers Buffalo something Beasley did not: yards after the catch. McKenzie has had two opportunities in his pro career to prove what he can do with starter's snaps. His production in those games: 6-65-2 in Week 17 of the 2020 season and 11-125-1 in Week 16 last season. McKenzie's ability (or inability) to survive as a 173-pound slot receiver may be the only thing that keeps him from matching Beasley's 80-plus catches from the past two seasons.
It is relatively common for a running back to have an average depth of target (aDOT) at or around one yard. Good luck trying to find a receiver that falls into that group … unless your name is Rondale Moore. While there is no question Moore can also create after the catch, one has to wonder why HC Kliff Kingsbury decided it was better to keep his 4.28 speed at the line of scrimmage so often as opposed to having him stretch the field vertically. There is some thought that Arizona now sees Moore as a player that can replace what it is losing in Christian Kirk (heavy slot usage with the ability to get deep) but someone who can also continue to make something out of manufactured touches as well.
There are at least four other receivers - listed after two more players I like in George Pickens and Romeo Doubs - that fantasy managers should be thrilled to land in the last few rounds, not including Julio Jones (who is looking like a better fantasy investment by the day given Russell Gage and Chris Godwin's current health). Those four receivers are Jahan Dotson, Kyle Philips, K.J. Osborn and Josh Palmer.
Dotson - The rookie's placement at WR58 is not an indictment of his talent but rather his situation. (My rookie profile on him should serve as evidence that I love the talent.) Terry McLaurin's presence on the roster blocks whatever alpha appeal Dotson could have, first and foremost. Carson Wentz's presence on the roster almost ensures Dotson will not have the same percentage of on-target throws that some of his other contemporaries might have. Curtis Samuel is also not a slouch and Logan Thomas should be ready no later than Week 2 or 3. Perhaps just as important as all of those factors is that Washington figures to remain an offense determined to run the ball. With that said, numerous camp reports suggested the chemistry between Wentz's chemistry with Dotson was better than that of any other Commanders' wideout. I am not sure that means he will exceed 60 catches in 2022, but I have a good feeling that he would be the primary target in Washington's offense if McLaurin misses time at some point this season.
Philips - It is hard to imagine Tennessee going away from 12 personnel as one of its primary packages, but the rookie may end up forcing the Titans to consider going three-wide more often. Robert Woods may not have the kind of stranglehold on alpha duties that McLaurin does in Washington, but his spot as the primary target in Tennessee should be secure for at least 2022. If and when Treylon Burks is ready to make an impact, it will likely come at the expense of Nick Westbrook-Ikhine. Philips should be locked into slot duties, although it is not out of the question he occasionally serves as Woods' tag-team partner in two-wide sets. Philips' size (5-11, 189) may end up being the thing that keeps him from being a full-time option this year, but he is going to steal snaps (and presumably targets) from Burks. There is a fair amount of Hunter Renfrow to his game.
Palmer - The receiver from this foursome with the most upside is Palmer. The good news is his floor is not too bad. Being stuck behind Keenan Allen and Mike Williams - and having another target monster in the backfield in Austin Ekeler - is not ideal, but Justin Herbert is one of maybe a handful of quarterbacks capable of keeping three or more pass-catchers viable in fantasy. No one should draft Palmer with the expectation he will be anything more than a hit-or-miss WR5 out of the gate, but it should come as no surprise if he goes from last year's 49 targets to about 80 in 2022. If Allen and/or Williams miss time - remember, Williams' contested-catch game opens him up for injury and Allen is 30 years old - Palmer would be considered an easy start in three-receiver leagues.
Osborn - At worst, Osborn fills the Van Jefferson role in O'Connell's Ram-inspired offense. That is why he is ranked where he is above. His upside comes into play if/when Adam Thielen suffers another injury. Despite playing in last year's run-centric offense, Osborn was the overall WR21 from Weeks 14-18 - a stretch during which Thielen missed four games. Let us also keep in mind that even with Thielen playing 13 games and finishing as the WR28 AND Justin Jefferson establishing himself as perhaps the most impossible receiver to cover in the league right now, Osborn still finished as the WR39. While some of that was due to the absence of Irv Smith, the Vikings should be able to replace whatever targets Osborn loses to Smith with the increased volume that O'Connell's offense should provide.
Tight Ends
Not every fantasy manager is going to get their hands on Travis Kelce or Kyle Pitts. It is even hard to feel good about the options after Mark Andrews, especially with Darren Waller fighting a hamstring injury all month long. George Kittle's place in the pecking order in San Fran is in some question with the change at quarterback. Even Zach Ertz has some question marks, namely how much the addition of Marquise Brown and the expected usage increase of Rondale Moore will factor into his targets during DeAndre Hopkins' suspension AND how much the return of Hopkins will change that. With that said, two of my favorite TE2 options with TE1 upside are David Njoku and Brevin Jordan. Both players are highly athletic and capable of working out of the slot. Another key hurdle for tight ends is running a route on roughly 80-plus percent of the team's pass plays. Both players did that during their time with the starters on their respective teams during preseason action. While preseason action is not always a great indication of what is about to come, it just so happens that Cleveland and Houston both need the aforementioned tight ends to break out.
The Browns have already made their intentions clear with Njoku after signing him to a four-year contract worth $54.75 million earlier this offseason. While David Bell and Donovan Peoples-Jones should be fine players in time, it seems unlikely Jacoby Brissett will bring out the best in either one. The offense figures to be quite conservative and use a heavy dose of 12 personnel (one running back and two tight ends), so that figures to make both receivers part-time options anyway opposite Amari Cooper. While Cooper is the clear alpha in Cleveland, he will be hard-pressed to attract more than eight targets per week on a team that will throw at least 30 times per game. Even Brissett's history suggests he will lean on his tight ends. Put it all together and Njoku seems poised to at least match the career year he had in 2018 (56 receptions, 639 yards and four touchdowns on 88 targets).
Jordan is a more interesting case in that he does not have a Njoku-sized contract to back up his expected rise. With that said, he may have a clearer path. Jordan is more of an oversized slot than in-line tight end, which should serve him well in 2022. The Texans drafted John Metchie in the third round this spring in hopes he would be the primary slot option, but he will not play this year following last month's announcement that he is dealing with leukemia. Jordan should have the inside track to serve as his replacement on what should be an improved Texans' offense, albeit one that will still find itself in negative game script more often than not. Brandin Cooks and Nico Collins should open up the middle of the field for Jordan, who teased his upside over the second half of last season once Houston finally decided to unleash him in Week 8.