Tuesday was a pretty good one for me. Almost perfect.

No, I didn't win the Powerball lottery. No, I didn't materialize into the body of Russell Wilson and spend the day with Ciara. And no, I wasn't Tom Brady either (Why would I want to be 42-year-old, six-time Super Bowl winner with a supermodel wife?).

My day was better than that. Tuesday was spent playing golf, eating food that wasn't good for me and finally we had our annual fantasy draft.

It wasn't a perfect day, however. I didn't have a hole-in-one. And as the defending champion with the last pick in a 10-team draft, the other owners didn't let Saquon Barkley fall to me. That would obviously be unrealistic and I always laugh when people tell me how they got Barkley and Kamara in their draft.

I have been in this league for over 25 years, with the same core of guys, so I respect their thoughts. Here are a few impressions from the draft that may help you.

Note: this is a two-quarterback league which has two distinct seasons … the regular season and the playoffs. Not the fantasy playoffs, but the real playoffs. Our league plays through the Super Bowl. We have a regular season head-to-head champion and then we use the same players to fill out as much of the lineup as possible in a rotisserie playoff through the Super Bowl in February. So a decision between two equal players usually goes to the guy on a Super Bowl contender. It's also a "position-less" league in that a lineup consists of seven starting "field" players, with no minimum or maximum required for running backs, wide receivers or tight ends. You could start seven tight ends or none. It allows complete flexibility.

They believe that Ezekiel Elliott is going to sign a lot sooner than Melvin Gordon. Zeke still went in the first round (though the owner did select Tony Pollard later on in the 13th round) while Gordon was chosen in the fifth round.

We don't trust David Johnson as much as those who create the ADP (5.8 in a non-PPR league). Johnson went in the middle of the second round. Apparently we don't think he can reproduce his "career year" of 2016 (293-1,239-16 and 80-879-4). Perhaps what we don't trust is the new "Air Raid offense" because of the Cardinals' poor offensive line, rookie quarterback and mediocre receivers.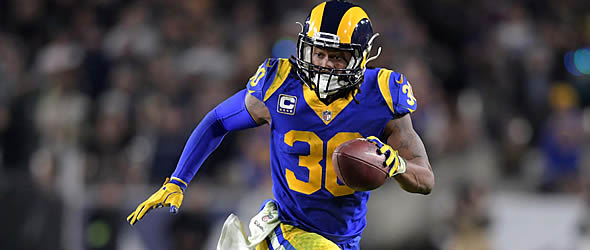 At least one owner wasn't scared of Todd Gurley despite all the arthritic knee talk (and Malcolm Brown or Darrell Henderson). Gurley went in the second half of the first round.
There is geographical bias in almost every league and ours was no exception. Eight of the 10 owners live in the Philadelphia area and Carson Wentz was the fourth QB selected. He was chosen before Matt Ryan and Baker Mayfield. Which brings a factor to the surface you must recognize. Know your other fantasy owners. Unless it's an online draft with owners from around the nation, understand that local players will be chosen earlier than they probably should.
In a similar vein, Miles Sanders went three rounds before Jordan Howard. Sanders has looked great this preseason and is the future for the Eagles while Howard is on the last year of a contract and will be running elsewhere next year. Or knowing GM Howie Roseman as we do living here in the Delaware Valley, perhaps this year … maybe in Houston? You must respect the "local" knowledge.
All the recent talk of an RBBC in Kansas City sent Damien Williams value plummeting. That and fantasy owners finally realized that Williams has a total of 183 career NFL rushes and probably isn't a "workhorse" back. Even in his two seasons at Oklahoma, he never ran the ball more than 176 times. His ADP showed him to be the 12th-ranked RB, but he was the 15th back chosen off our board behind Leonard Fournette, Kerryon Johnson and Aaron Jones. Fournette finally looks healthy and quicker. Johnson won't have LeGarrette Blount stealing red zone touchdowns this season and it appears the Packers will run the ball more in the Matt LaFleur offense.
The residual effect of the Andrew Luck retirement, saw T.Y. Hilton (ADP 52.5) sink to the seventh round and Eric Ebron (13 TDs in 2018) wasn't selected at all. Ebron was already a candidate for regression before the Luck retirement. Jimmy Graham (159.7) and Greg Olsen (152.4) were picked, but not Ebron (113.6). Jacoby Brissett is no Luck.
There is still no expectation that the Bucs will have a running game. Ronald Jones and Peyton Barber were selected in the 15th and 16th rounds, respectively. That note speaks for itself. A starting running back didn't go in the top 140 players.
I selected "free agent" Rob Gronkowski in the 18th round. As I stated, this league goes through the playoffs and if there is a chance that the retired "Gronk" answers the phone call from Tom Brady who says he needs another "clutch" receiver for the run to the Super Bowl, it's a small gamble at that point in the draft. Low risk, high reward is always worth it.
When you have a 20-round draft, there will be a few names you probably won't recognize. Wide receiver Damion Willis (Cincinnati) and running back Jeremy McNichols (Tennessee) were chosen. It's OK to say "who?"