If you survived the mayhem from last weekend's six-bye disaster, then Week 8 should be a piece of cake … unless your quarterback is Lamar Jackson or your top receiver is Davante Adams. Be concerned if you start Aaron Rodgers or Aaron Jones who shared a huddle with the aforementioned Covid-19 positive Adams and make preparations in case they suddenly can't play Thursday night too. Just in … Allen Lazard also placed on the Covid-19 list.

Byes: Baltimore, Las Vegas

Truths

"It is a very lonely life that a man leads, who becomes aware of truths before their times." – Thomas Brackett Reed
1) There is no way any Bears' quarterback could be successful in 2021 given what management has done to the offensive line.
True. The Bears lead the league in sacks allowed and the primary reason can be directly attributed to a horrible offensive line. Over the offseason Chicago didn't resign their RT Bobby Massie, and then cut LT Charles Leno. The result was predictable with 26 sacks and 84 pressures on just 229 drop backs. While Justin Fields is obviously not ready to be a starting NFL quarterback, he's not getting much help from the team and management. It would have been a much better plan to let Andy Dalton suffer through all of 2021 and allow Fields to learn from the sidelines. Don't quit on Fields in dynasty leagues, just stash him.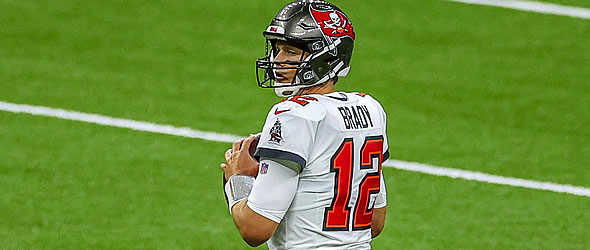 2) Bill Belichick held Tom Brady back from being "the best he could be."
Apparently. Brady has thrown four-or-more touchdown passes in 8-of-23 regular season games under head coach Bruce Arians (34.8%) and threw four touchdowns 29 times in 285 games under Belichick (10.2%). Could it be that "GM Bill" doesn't know how to put together a wide receiver corps (except for perhaps 2007)? The Tampa Bay pass catchers; Mike Evans, Chris Godwin, Antonio Brown and tight end Rob Gronkowski might be the best group ever and two of them came to Florida at the express direction for TB12.
3) The most efficient running back in PPR fantasy is Austin Ekeler.
Fact. Ekeler averages 1.29 fantasy points every time he touches the ball. He is one of just six backs who average at least one point-per-touch (Kareem Hunt, D'Andre Swift, Jonathan Taylor, Aaron Jones and James Robinson). If you see any of these guys getting more touches due to a change in offensive strategy or injuries to their primary backups, then they should be elite options for DFS or trade targets even at a premium price.
4) Did we finally see head coach Sean Payton remember why Alvin Kamara is an elite back?
Yes. It started in Week 5 against Washington, but was most evident Monday night in Seattle. Kamara saw eight targets against the WFT and 11 targets against the Seahawks. Something obviously changed after a zero-target game against the Giants in Week 4. Fantasy players can now breathe easier that Kamara will be the guy they drafted. That was in doubt after four games this season where he averaged just 3.5 targets and 14.5 FPts/G.
5) Roberts Woods will not be the "1B" to Cooper Kupp's "1A".
This is Kupp's year and Woods isn't going to rebound to be an equal for fantasy players. And it has nothing to do with talent. It's just that Matthew Stafford is a different quarterback from Jared Goff and sees the field differently. Under Goff, the pair were almost exactly equal with Kupp producing 481.2 fantasy points and Woods 480.0 points over the two years from 2019-20 (each played 31 games). This season has been all Kupp who has scored 30-or-more points in four of seven games while Woods has just one game above 15 fantasy points (27 points in Week 5). If you followed Stafford's career in Detroit, he always had one primary receiver, not two equals. Think Calvin Johnson and Kenny Golladay.

Lies

"Alternative facts." - Kellyanne Conway
1) The Eagles' Jalen Hurts is the "King" of fourth-quarter garbage time.
Close, but no. He's actually No. 2 in fourth-quarter scoring. No. 1 is Patrick Mahomes. The two of them have separated themselves from the rest of the league as the chart below will show. Interesting that 10 of the 14 top fourth-quarter producers come from teams with losing records. This is where fantasy separates from real life. In fantasy, its better if your quarterback is playing from behind.
2) Tua Tagovailoa is ranked 23rd in fantasy points and is therefore not a fantasy-worthy option.
False. The numbers are lying to you if you just look at his 20.2 FPts/G average. In fact, he was injured early on in the game against Buffalo. If you take the three games he started and completed, he's averaging 26.8 FPts/G and that would rank him eighth overall. Whether he can withstand a season of pounding is another story, but if he's healthy, he's fantasy-worthy.
3) "I can't find a tight end to replace idle Mark Andrews and Darren Waller."
You must not be looking very hard. There is the Bengals' C.J. Uzomah (ranked ninth over the past three games and rostered in just 20% of all leagues) averaging 12.7 FPts/G and Ricky Seals-Jones (53% rostered) averaging 12.0 FPts/G over the last trio of games.
4) Justin Tucker is not the most consistent placekicker in fantasy history.
He may not be the best each year, but he will never hurt you. In fact, in his nine previous seasons he's produced between 8.0-8.8 FPts/G in every season. Guess what? In 2021 he's averaging 8.1 FPts/G. He's Mr. Consistency. If you need a kicker because if injury, bye or ineptitude try the Vikings' Greg Joseph (9% rostered) who has double digits in three of his last four games and already had his bye weekend.
5) The Texans' Tyrod Taylor is finally due back from injury, but on a bad Texans' team he's not fantasy-worthy.
Alternate facts. Taylor is averaging 8.1 fantasy points per quarter this season. He produced 26.6 fantasy points in his first game this season and had 17.8 fantasy points halfway through the second quarter of game two before a hamstring injury on a touchdown run sidelined him. The Texans figure to be behind with a defense yielding 29 PPG (ranked 27th). They have very little running game with Mark Ingram, David Johnson and Phillip Lindsay all averaging below 4.0 ypc. Therefore it will be up to Taylor to produce points and as the chart from "the first lie" shows, being behind is usually good for fantasy quarterbacks.