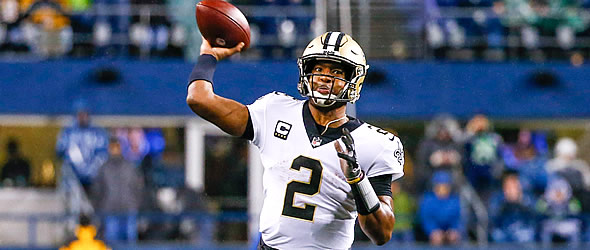 Accumulating fantasy points as a quarterback has a pretty direct correlation to playing time. The more you play the higher you rise on the Total Fantasy Points list. But accumulating fantasy points in an efficient manner tells us much more about a quarterbackís real performance.

In 2021, the most efficient quarterback in the NFL was not Josh Allen, Patrick Mahomes or Lamar Jackson. No, according to my calculations it was Ö Jameis Winston! Apparently, rumors of his fantasy death have been greatly exaggerated.

Winston scored 137.1 fantasy points while touching the ball just 193 times over seven games before a left ACL injury ended his season. Thatís scoring a league-high .710 points every time he either threw or ran the ball. Maybe watching Drew Brees and learning under Sean Payton really did him some good. More about Winston later on.

There are a few more interesting facts which can be deduced from the chart below of almost all of the 2021 quarterbacks who took the field.


For those quarterbacks who managed to play a full season of games, Joe Burrow was the ďmost efficient.Ē This probably isnít surprising as he threw 34 touchdown passes and 4611 yards against just 14 INTs and also rushed for a pair of scores though running isnít really part of his game. He also managed these numbers despite an offensive line which yielded the third-most sacks (55) and second-worst sack percentage (9%). With Bengals management making a concerted effort in the off-season to improve the OL (added Laíel Collins, Alex Cappa and Ted Karras in free agency), Burrow could be even better in 2022. Donít sleep on Burrows and be blinded by ďbiggerĒ name quarterbacks.

Russell Wilson didnít get a lot of love during the 2021 season but most of his issues were injury related complaints. Before his finger injury Wilson completed 90-for-125 (72%) for 1196 yards, 10 touchdowns and just one interception. His new receivers in Denver may not be Tyler Lockett and DK Metcalf, but beware of underestimating how Jerry Jeudy, Courtland Sutton and Tim Patrick will improve with the arrival of Wilson and help keep Wilson playing at a very high level.

The league had already caught up to Patrick Mahomes before this season and the loss of Tyreek Hill will only emphasize this fact. Beware of overvaluing the Chiefsí signal caller. This isnít 2018, itís 2022.
Patrick Mahomes
Year
Efficiency
2021
0.607
2020
0.664
2019
0.644
2018
0.772
Itís difficult to have faith in Derek Carr even with the addition of All-Pro Davante Adams. Heís not very efficient and he doesnít add anything with his legs. Sure, his numbers should improve with a receiving corps of Adams, Hunter Renfrow and Darren Waller, but donít expect top-five. Heís never thrown for more than 32 touchdowns and never averaged more than 21.6 FPts/G. Even his 4,804 passing yards in 2021 was bolstered by three OT games to start the season when he averaged 401 ypg. He averaged just 257 passing yards the final 14 games. Low end QB1 is your goal if you draft Carr.
Matt Ryan isnít a fantasy star anymore and the shift to run-centric Indianapolis isnít suddenly going to change that. The Colts may win more under Ryan than Wentz, but they arenít suddenly going to change their spots and throw the ball all around the yard. As with Mahomes, this isnít 2018 when Ryan averaged 26 FPts/G and his efficiency rated out at .650.
Mac Jones led all rookies who saw significant playing time (Trey Lanceís 109 touches arenít significant enough to qualify), but none produced a top-25 season. There were just too many factors blocking their way. The OL in Chicago for Justin Fields, the receiving corps in New England for Jones, the offensive scheme for the Jets and Zach Wilson and the complete disarray of the Jacksonville franchise for No.1 overall pick Trevor Lawrence. I see the Jetsí and Jaguarsí second-year quarterbacks making the most significant improvements from this group of young QBs.
You can see why Ben Roethlisberger retired. He couldnít play anymore despite skill position players which the above rookies would have been dying to have on their roster (Diontae Johnson, Chase Claypool, JuJu Smith-Schuster, tight end Pat Freiermuth and running back Najee Harris).
Ben Roethlisberger
Year
Efficiency
2021
0.450
2020
0.511
2019
Injury
2018
0.595
How is Mike Glennon on an NFL roster?
Now back to our most efficient quarterback of 2021 Ė Winston. Iím a bit concerned that he wonít be ready to play opening day after hearing he was still limping around during last weekís OTAs. Also, the retirement of Sean Payton should not be underestimated. Even though Pete Carmichael is still the OC under new coach Dennis Allen (formerly the DC), it was Payton who directed this offense. And the Michael Thomas saga continues. This is the longest running ankle injury in the history of sports. Without a healthy Thomas to go along with new additions Jarvis Landry and rookie Chris Olave, itís hard to see the passing game clicking. There are just too many questions for me to put my 2022 season in Winstonís hands. I would, however, be willing to take a flyer on him as my backup at his current ADP (156.8).