Each week we'll review some interesting data points related to player usage; information I consider to be among the most predictive and actionable in fantasy football. The truth doesn't always lie in the stats but usage tells the story of how a coaching staff intends to utilize a player.

Here are some of the most important usage statistics for Week 11: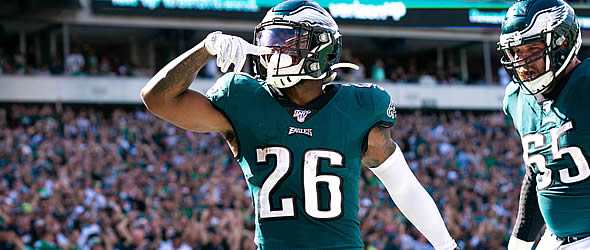 Running Back
Kenyan Drake continues to be the starting running back for the Cardinals, despite David Johnson apparently being healthy. Drake played on 88% of snaps in Week 11, while David Johnson played on only 13%. It is a very unfortunate turn for Johnson owners, while Drake owners should ride him for as long as it lasts. He didn't score in Week 11, but did run for 4.2 ypc (16-67) and had 6 receptions.
In the absence of Jordan Howard, Miles Sanders was the workhorse as expected. He played 85% of snaps, but had a hard time producing against a stout Patriots defense (11-38, 2-9). If it had been a better matchup he might have excelled, but if Howard returns in Week 12 Sanders should go back to a change-of-pace role.
Todd Gurley played on 75% of snaps and also saw heavier usage than normal. He received 28 touches and produced 133 yards and a touchdown. He was also vultured by Malcolm Brown on another touchdown. If the Rams choose to go back to relying on Gurley as the weather gets cold, he could be a top fantasy option down the stretch.
Devin Singletary saw his highest snap share of the season at 74%, and received 16 touches. While he didn't get in the end zone, he did average 5 ypc (15-75), which doubled Frank Gore's ypc of 2.5. He should continue to see big usage down the stretch and eventually will produce a big fantasy day as a result.
The Broncos coaching staff was telling the truth when they said they wanted to lean on Phillip Lindsay a bit more, and he played on 64% of the snaps (he had been in the 40s for the previous 6 games). He had 16 carries to Freeman's 8, and produced nicely with 67 rushing yards against a stout Vikings rush defense. (Freeman saw his lowest snap share of the season, at 30%). If Lindsay continues to get the majority of the carries he too could carry some teams in the fantasy playoffs. He plays the Chiefs and Lions in the fantasy finals (Weeks 15 & 16).
The Saints coaches made an effort to get Latavius Murray more snaps, and his snap count rose from 25% to 41%. Correspondingly, Kamara saw his snap share fall from 78% to 61%. Kamara received 13 carries (75 yards) and Murray received 10 carries (27 yards). Kamara saw 10 targets to Murray's 3. If the split continues, Murray could have flex value down the stretch.
Tarik Cohen's snap share has risen each of the past few weeks (21%-36%-53%-59%). He has been the more effective player than David Montgomery, and in Week 11 he rushed for 4.3 ypc to Montgomery's 2.2. He also caught 5 passes for 35 yards and a score. While no Bears offensive players are easy to count on, he is a flex option in the right matchups, particularly if his snap shares continue to rise. With Montgomery's snaps decreasing each of the past three weeks, he should be benched until he starts producing.
Kareem Hunt played on 55% of the snaps in Week 11. He received 6 carries and had 6 receptions. While Chubb played on 71% and received 27 carries, it was Hunt who scored more in PPR due to his receiving prowess. He is a PPR flex option for the rest of the season.
After Mack was hurt, Jonathan Williams played virtually all of the snaps except for the passing downs where Nyheim Hines came in. Williams totaled 46% of the snaps for the entire game. He also produced nicely (13-116, 1-31). If you have FAAB left, he's worth an add, but note Jordan Wilkins (ankle) could be back for Week 12.
Jaylen Samuels, even with Conner out for the majority of the game, saw his snap share decrease again (to 34%). The coaching staff doesn't view him as a run between the tackles guy making him nothing but a dart-throw flex play in PPR leagues.
After a week where many thought he had broken out, Ronald Jones played on only 31% of the snaps and received only 4 carries. He also had 4 targets but only caught 2. He is not worth owning given the Bucs refuse to commit to the run.
Once again we see that all Lions backs should be avoided at all costs. A week after seeing 70% of the snaps, J.D. McKissic received 23%, for no apparent reason. Instead, newly signed Bo Scarbrough received 14 carries. Next week it is likely to be a different player just signed off the street.

Wide Receiver
Tight ends