Each week we'll review some interesting data points related to player usage; information I consider to be among the most predictive and actionable in fantasy football. The truth doesn't always lie in the stats but usage tells the story of how a coaching staff intends to utilize a player.

Here are some of the most important usage statistics for Week 13: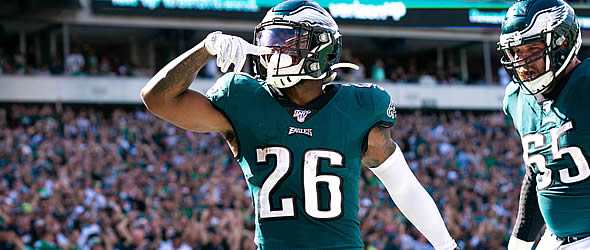 Running Back
With Jordan Howard out, Miles Sanders started and again played the vast majority of snaps (87%). This time he was very productive, albeit in a loss (17-83, 5-22-1). It is unknown what the situation will be when Howard returns, but until that happens you should ride Sanders as one of the few full-time backs in the league.
Kenyan Drake (80% of snaps) started over and played more than David Johnson even though neither produced against the Rams. Both will be difficult to trust in the last few games of the fantasy season, as they play the Steelers, Browns, and Seahawks.
James White saw his snap share shoot up in Week 13 to 78% (30% in Week 12). He also produced like it was 2018 (14-79, 8-98-2), winning the week for those who had the guts to start him. He might see a similar game script against the Chiefs in Week 14.
Raheem Mostert saw his highest snap share (74%) of the season by far. Tevin Coleman (18%) wasn't injured, but Shanahan elected to ride Mostert's hot hand. It will be impossible to predict which running back will get the most weekly touches moving forward, making any of them dart throws with upside.
Duke Johnson also played his highest percentage of snaps on the season (68%) in Week 13. He also was far more effective on 9 carries than Hyde was on 10 carries (36 to 17 yards). Johnson also saw 6 targets in the passing game and went 5-54-1. If this trend continues, Johnson could be a very usable player in the fantasy playoffs.
Kareem Hunt played on 65% of snaps in Week 13, to Chubb's 59%. Though he had only 7 carries to Chubb's 16, he was more effective on the ground, going for 6.6 ypc to Chubb's 3.6. He also had 5 receptions for 19 yards and a score. This is very concerning for Chubb owners moving forward, but quite encouraging for Hunt owners. Both are risky plays down the stretch, though you likely be starting Chubb if you have him.
Patrick Laird played on 60% of the snaps for the Dolphins. He was ineffective on the ground just like Ballage has been (10-5), but he did catch 4 passes for 43 yards. He is a low-upside desperation play for playoff teams who have lost a running back.
Aaron Jones saw 58% of the snaps in Week 13, but could do nothing against the Giants. He rushed 11 timers for 18 yards (Jamaal Williams ran it 10 times for 41 yards), and had 4 receptions for 13 yards (Williams went 4-26). This timeshare is trending in the wrong direction for Jones owners, who are left very confused about how to move forward during these next few playoff weeks.
Phillip Lindsay is now officially on a downward trend. His snap share went from 64% in Week 11 to 54% in Week 12 to 44% in Week 13. Royce Freeman has played on 56% of snaps the past two weeks. However, Lindsay did get 20 touches to Freeman's 9, and was more effective (62 yards to Freeman's 24). This is another backfield to avoid if possible.
Jaylen Samuels saw his snap share increase to 55% in Week 13 (up from 30% in Week 12). Although Benny Snell received 16 carries to Samuels' 7, Samuels did get 2 receptions. They simply trust Snell more between the tackles, and see Samuels more as a passing-down specialist.
Jordan Wilkins spoiled the Jonathan Williams party in Week 13, playing on 44% of snaps and receiving 3 more carries. He was also more effective (11-47, 2-9). Until Marlon Mack returns it is anyone's guess how the carries will be split.
Lesson number 13 in why all Tampa Bay backs should be avoided: Peyton Barber received 39% of snaps and got the most touches, Ogunbowale received 30%, and supposed starter Ronald Jones received 28%. If you are considering starting any of them in the fantasy playoffs, read this entry three more times.
Another backfield that is extremely confusing is in Washington. Peterson played on 36% of snaps, Thompson 36%, and Guice on 30%. Making things more confusing, both Peterson (13-99-1) and Guice (10-129-2) were very effective on the ground. It seems likely the coaching staff will continue to split carries, even though it would make sense to allow Guice to get hot heading into next season. Neither is easy to trust, although you likely have to ride them if you have them.
Darrel Williams went down with a knee injury in the Chiefs-Raiders game, leaving McCoy and rookie Darwin Thompson to man the backfield. With the Chiefs way ahead, Reid chose to give Thompson his first real work, and he finished with 11-44-1. If Darrel and/or Damien Williams missing Week 14, there is a chance Thompson could be useful, but it is such a muddled backfield that all should probably be avoided.
Wide Receiver
Tight ends