Each week we'll review some interesting data points related to player usage; information I consider to be among the most predictive and actionable in fantasy football. The truth doesn't always lie in the stats but usage tells the story of how a coaching staff intends to utilize a player.

Here are some of the most important usage statistics for Week 15: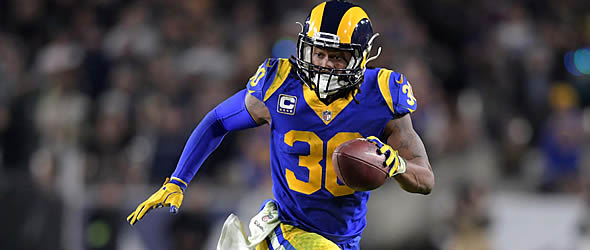 Running Back
Wide Receiver
Robby Anderson played on 100% of the snaps and finished with 4-66, but was playing against a very solid Ravens secondary. He is a potential flex play in Week 16 against the Steelers.
Emmanuel Sanders played on 95% of the snaps but only received 4 targets (2-9). The Falcons had a great plan but against the Rams in Week 16, Sanders should find a bit more room.
Anthony Miller's climb continues, as he played on a season-high 94% of the snaps and produced 9-118-1. He has become an excellent complement to Allen Robinson and his usage should remain high for the rest of the season. Against the Chiefs' stingy pass defense in Week 16, Miller is a tough start. But he is an option due to his upward trajectory.
Devante Parker returned from his concussion and was not eased in. He played on 94% of the snaps and scored twice. He is officially in must-start territory, and is a great play in championship week against the Bengals.
Will Fuller returned (again) and played on 94% of the snaps. He received 7 targets and produced 5-61. He gets to face the hapless Bucs secondary in Week 16, making him an intriguing boom-bust play.
With D.J. Chark out, Dede Westbrook played on a season-high 93% of the snaps, but struggled to produce against the Raiders (2-14 on 4 targets). The whole offense struggled, but Westbrook's poor showing with Minshew at the helm makes him a very poor play in Week 16.
Cooper Kupp, after playing on only 29% of snaps in Week 14, played on 92% in Week 15. He caught all 6 of his targets for 41 yards and a score. Since the Rams must win out to make the playoffs, Kupp is a worthwhile play in Week 16.
With Mike Evans out, it was Breshad Perriman who picked up the slack for the Bucs, playing on 89% of the snaps and producing 5-113-3. Since Godwin also was knocked out of the game, both Perriman and Justin Watson are interesting plays against the Texans in Week 16.
With Calvin Ridley out, Julio Jones played on a season-high 88% of the snaps and received a whopping 20 targets! He caught 13 for 134 yards and 2 touchdowns. He is a must-start option against the Jags in Week 16.
With Marvin Jones out, Danny Amendola played on a season-high 86% of the snaps and received a team-high 13 targets. He produced 8-102. He has a tough matchup in Week 16 against the Broncos on the road, but he can be started if you need a wide receiver.
Mohamed Sanu's snaps jumped up to 86% in Week 15, but he caught only 2 of his 8 targets. He and Brady do not appear to be on the same page, which will have to change fast if the Pats are going to make another postseason run.
Albert Wilson looks healthy and played on 80% of the snaps for the Dolphins. He received a team-high 8 targets and produced 5-59. He is worthy of consideration for a Week 16 matchup with the Bengals, if you're desperate.
Marquise Brown continues to trend upward in usage, playing on 75% of the snaps in Week 15. He caught all 4 of his targets for 45 yards and a touchdown. He could easily catch a long touchdown in Week 16 against the Browns, but the Ravens prefer to be run-heavy making him a risky play.
Cole Beasley saw his snap share fall from 97% in Week 14 to 69% in Week 15, and he barely figured in the box score despite 6 targets (1-6). The Steelers' defense stopped the Bills from getting going in this game, although John Brown did record 7 catches for 99 yards. Beasley will have a hard time bouncing back in Week 16 against the Patriots, meaning he is only a desperation play.
Julian Edelman's snaps were scaled back in Week 15, possibly due to his ongoing injuries. He played on only 62% of snaps and only recorded two receptions. It will be tough sledding again in Week 16 against the Bills, but in a must-win game I anticipate he will get more action.
Adam Thielen played on 51% of snaps in his return. The Vikings controlled the game throughout, so the passing game wasn't a priority. He did catch all three of his targets, so I anticipate he will get much more action in Week 16 against the Packers.

Tight ends
Kaden Smith of the Giants played on 100% of the snaps. He caught all three of his targets for 38 yards, and has been a decent replacement for Evan Engram.
George Kittle played on 95% of the snaps and received an outlandish 17 targets (13-134). He is always a smart start, and Week 16 against the Rams is no different.
Travis Kelce (91%) similarly received an amazing 13 targets (11-142). He is the most consistent tight end in the league, and Andy Reid has shown he will not pull his starters until very late in the regular season, so he can be trusted in Week 16.
Darren Waller (88%) has become a top-five fantasy tight end due to his weekly involvement in the game plan. In Week 15 he caught 8-122 on 10 targets, and in Week 16 he gets the Chargers.
Gerald Everett was out again for the Rams, and Tyler Higbee continues to ball out in his absence. After his third straight huge game (12-111 on 14 targets), it will be difficult to take Higbee out of the game plan. He looks like a Travis Kelce type, with game-breaking after-the-catch ability. Watch for Everett's status, but either way Higbee is a worthy play.
With the Eagles still short on wide receivers, Dallas Goedert played on 84% of the snaps and produced 5-55. He is a solid TE option for Week 16 against the Cowboys.
Austin Hooper seems to be back to full health and played on 82% of the snaps. However, he only had 3 receptions for 20 yards. Still, in this tight end landscape he is a good play for championship week.
Jonnu Smith (81% of snaps) finally was a part of the game plan in Week 15, and caught all 5 of his targets for 60 yards. He also had a rushing attempt that went for 57 yards. It is very tough to trust him with the way the Titans depend on the run, but they may need to pass to stay close in Week 16 against the Saints.