Planning For The Postseason




11/18/10



Aggressiveness is a characteristic that tends to reward fantasy owners more times than not. In the NFL, an offensive line will sometimes hold up long enough to give the quarterback enough time to beat man coverage down the field and make the defense look foolish against a fierce pass rush. More often than not, though, when a defense brings the heat and forces the action, crisis management becomes the name of the game for the opposing team.

In that same vein, I hope to apply that same kind of pressure to the owners in all of my leagues by beating my opponents to the punch in regards to personnel moves. Sometimes, reaching a conclusion about a player too quickly is much like trying to blitz Peyton Manning – dangerous and painful. However, coming to a correct conclusion two weeks or two minutes quicker than your opponents is considered foresight. Fantasy owners can be a uneasy lot, knowing that one two-or-three-game losing streak can wreak irreparable damage to his/her team's chances to make a visit to the fantasy postseason. But just as it is in the NFL and in life, it's hard to land the big prize by playing scared. Thus, I will strive each week to help each of you become a smart blitzer, so to speak.
---
With the bye weeks now in the background, fantasy teams are as close to 100% "healthy" as they are going to be this season. As owners embark on the third portion of the fantasy football schedule, only one concept should be at the forefront of their minds: setting their team up to finish out the regular season strong.
With that in mind, lineup decisions become all that much more critical in determining who wins and loses each week. This is in large part why I recommend trading quantity for quality each year because, in my opinion, it is much easier to live with yourself when Steve Breaston outperforms Roddy White than it is when the choice is between Jeremy Maclin and Michael Crabtree. If you own both Breaston and White, start White and lose a close game in which Breaston could have won it for you, there is a natural tendency to feel as if that was a bad-luck occurrence. On the other hand, choosing between Maclin and Crabtree leaves an owner in limbo from the time he/she sets the lineup until the time the games are finished for that week. The likelihood that the owner nails the right option during all three weeks of the fantasy playoffs are fairly small and could easily result in a crushing defeat in any given week.
The best athletes learn from both wins and losses and fantasy owners should too. However, it seems that losses spur more immediate changes and sometimes that is exactly what is needed. (I can still recall a painful loss in the fantasy championship from 2006 when I went against my instincts and played Willie Parker vs. a powerful Ravens defense over Ron Dayne vs. a wretched Colts run defense. But I digress…) That loss in particular led to what has become my Preseason Schedule Analysis series, which has typically allowed me to avoid the Ravens-like defenses in the postseason and land on more Colts-like matchups.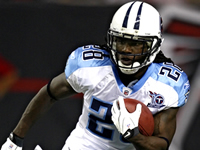 "Green means go" for Chris Johnson and the Titans' offense.
Just about every week, I spend a significant part of the Blitz talking about looking ahead and giving your fantasy players (and team) the path of least resistance. It's not exactly a new concept in the fantasy world, but in most highly competitive leagues, acquiring highly skilled players with favorable schedules must be done either at the draft or in the first month of the season because other owners also want those "soft" matchups for their teams as well. Therefore, short of lining up a who's who team of fantasy all-stars with matchups against the Colts' run defense or Texans' passing defense, we must make the best of what we have available to us on our roster, on the waiver wire or via trade (for all of you lucky people who still have the ability to trade in your leagues). While I cannot be your personal trade assistant, I can devote a column – like I will this week – to identifying the best matchups for each team going forward.
This week, I will post each team's remaining schedule – road games will be highlighted in gray – each defense's fantasy points/game (FPPG) allowed vs. the position and a short opinion as to what it means for the key players on that team. A green highlight represents a top 10 matchup for the position, a red one represents a bottom 10 matchup and no highlight represents the middle 12 teams.

ARI | ATL | BAL | BUF | CAR | CHI | CIN | CLE | DAL | DEN | DET | GB | HOU | IND | JAX | KC
MIA | MIN | NE | NO | NYG | NYJ | OAK | PHI | PIT | SD | SEA | SF | STL | TB | TEN | WAS


Arizona Cardinals
11
12
13
14
15
16
KC
SF
STL
DEN
CAR
DAL
vs. QB
19.9
18.7
15.6
22
15.9
22.9
vs. RB
25.9
22.3
21.5
27.9
23.7
21.5
vs. WR
32.6
33.3
30.4
33.1
26.2
41
vs. TE
9.7
10.5
10.2
12.3
15.6
9.9
Hopefully, your fantasy fortunes don't ride directly on Derek Anderson. It's bad enough his arm is a big part of the equation that feeds the numbers of Larry Fitzgerald and Steve Breaston. The running game isn't doing much better, so while the rest of the schedule looks fairly promising, it has gotten to the point where relying on any kind of production from Chris Wells or Tim Hightower has become pointless. The lone bright spots for Arizona in terms of fantasy production the rest of the way figure to be Fitzgerald and Breaston, although neither player can be expected to perform at anything better than a WR2 level in 2010 given the poor QB and offensive line play. Only two teams have less relevant TEs in fantasy (Denver and Buffalo), so don't consider an Arizona TE.
Atlanta Falcons
11
12
13
14
15
16
STL
GB
TB
CAR
SEA
NO
vs. QB
15.6
14.9
15.5
15.9
17.9
10.7
vs. RB
21.5
17.4
26
23.7
25.8
22.7
vs. WR
30.4
30.2
31.8
26.2
37.4
16.6
vs. TE
10.2
12
10.4
15.6
8.9
12.3
The road to fantasy glory looks pretty treacherous for Matt Ryan, but some of its bark is worse than its bite. The Falcons have already faced two of the four red QB opponents and Ryan has done just fine (23.7 fantasy points in New Orleans, 15.9 vs. Tampa Bay). Still, there is enough red for Ryan above that expectations to maintain his status as a top 10 fantasy QB should be tempered just a bit. The same cannot be said about Roddy White, who has become about as matchup-proof as any WR in recent memory. Outside of a knee injury that sidelined him for parts of Week 9, White has posted at least 14.3 fantasy points in PPR in every other game and has two 37-point games over his last three contests. Michael Turner's owners will need to survive over the next two weeks with a better-than-expected Rams' defense (especially at home) and the Packers, but Weeks 13-16 look quite appealing for the Falcons' running game. Tony Gonzalez has clearly fallen well behind White in the passing game pecking order, but after a slow start (Weeks 1-2), Gonzo has rebounded to be the fourth-best fantasy TE since (12.8 FPPG). He needs to be in starting lineups each week.
Baltimore Ravens
11
12
13
14
15
16
CAR
TB
PIT
HOU
NO
CLE
vs. QB
15.9
15.5
16.3
26.6
10.7
19.9
vs. RB
23.7
26
16.4
25.3
22.7
19.6
vs. WR
26.2
31.8
36.4
40.4
16.6
36.3
vs. TE
15.6
10.4
13.3
20
12.3
13.6
As I have suggested for most of the season, Ray Rice – for the most part – has an envious second-half schedule. However, for most of the season, OC Cam Cameron has decided that his offense will live and die mostly with the passing game. Rice's 22.1 touches/game is the seventh-best mark among RBs in the league, but he isn't even getting many chances inside the 10 to run for a score (2-for-6). In case you might be thinking that Willis McGahee is doing significantly better, he's just 3-for-11 converting runs into touchdowns inside the 10. (The combined total is 5-for-17; to put that into some perspective, Chris Johnson is 5-for-16 on such runs this season.) But the toughest pill to swallow for Rice owners may be in Week 13 (the Steelers have surrendered just three TDs to RBs) and in Week 16 (the Browns have allowed just two RB scores). Owners of Joe Flacco, Anquan Boldin and Derrick Mason may need to consider other options in Week 15 against the league's No. 1 defense vs. opposing QBs and WRs. (In fact, the Saints' 16.6 FPPG allowed to opposing WRs is the lowest average I can find dating back to 2000.) The Steelers' numbers vs. opposing WRs is somewhat misleading based on the past three weeks, but Pittsburgh can be exploited in the passing game this year more so than previous years. Otherwise, the Ravens' trio should be counted on for their usual numbers in the other four contests. However, the schedule suggests that Todd Heap may be in for a second half to remember. With four TDs in his last three games against defenses he should have exploited, he did. Now, over the last six contests, he faces just one defense that ranks in the bottom half of fantasy points allowed to opposing TEs.
Buffalo Bills
11
12
13
14
15
16
CIN
PIT
MIN
CLE
MIA
NE
vs. QB
13.2
16.3
16.4
19.9
16.7
21.8
vs. RB
22.2
16.4
22.1
19.6
22
27.7
vs. WR
31.3
36.4
30.8
36.3
29.6
38.7
vs. TE
11.2
13.3
10.5
13.6
9.7
12.5
Even though Week 16 jumps off the page for fantasy owners who love to play the matchup, expecting a scoring explosion for a late December game in northern New York seems a bit hopeful. Outside of that, there doesn't figure to be another game on the schedule in which Ryan Fitzpatrick will attempt just 24 passes again (like he did in Week 10), so there is nothing here that suggests that anyone in the Bills' passing game should be riding your bench for the stretch run. Thus, Fitzpatrick, Steve Johnson and Lee Evans should all be strong options going forward (weather permitting – particularly strong wind). No team ignores the TE position more than Buffalo this season, so the chances that quality numbers come from that position at any point are very slim despite the three green matchups. As Fred Jackson showed last week, he can exploit a good matchup when given the opportunity. So, as long as C.J. Spiller remains sidelined, Jackson may be worth consideration as a RB2 when the matchup allows. Given the struggles of the Bengals and Vikings, two of the next three weeks may qualify.
Carolina Panthers
11
12
13
14
15
16
BAL
CLE
SEA
ATL
ARI
PIT
vs. QB
15.2
19.9
17.9
18.4
18.6
16.3
vs. RB
18.8
19.6
25.8
18.6
29.3
16.4
vs. WR
36.4
36.3
37.4
39.6
37.8
36.4
vs. TE
7.9
13.6
8.9
11.8
12.3
13.3
When Matt Moore went down for the season, the Panthers lost pretty much whatever little fantasy value they had left. It's not that Moore was usable in fantasy, but at least his presence gave Steve Smith owners some immediate hope; something that cannot be said about the combination of Jimmy Clausen and Tony Pike. With that said, Smith's owners need to hold on to him given his combination of talent and his upcoming schedule. Even with the QB play he has been getting, one has to think that Smith can exploit at least two of five green matchups. As for the running game, only Arizona in Week 15 appears to be a plus matchup as Seattle is a different defense at home. Otherwise, the other four matchups are against defenses that rank in the top seven in terms of surrendering fantasy points to opposing RBs.
Chicago Bears
11
12
13
14
15
16
MIA
PHI
DET
NE
MIN
NYJ
vs. QB
16.7
17.4
17.8
21.8
16.4
19
vs. RB
22
25.2
29
27.7
22.1
12.3
vs. WR
29.6
29
30.4
38.7
30.8
34.6
vs. TE
9.7
14.5
8.8
12.5
10.5
9.9
Despite the presence of several green matchups, I have a hard time believing that I want my fantasy fortunes resting on the Bears (outside of their defense). Chicago has started to lean on its running game over the past couple of weeks (likely as a means to rest its defense and keep Jay Cutler from shooting himself in the foot), but it still has just one individual rushing performance over 50 yards all season long and a combined 3.56 YPC among the RBs. Matt Forte and/or Chester Taylor MAY be able to take advantage of Detroit in Week 13, but that is far from a given and the rest of the schedule is good enough to recognize or shut down a one-dimensional offensive attack. Cutler may be worth using in fantasy in Weeks 13 and 15, but he really needs to be benched in just about every other matchup. Johnny Knox is the one player from Chicago who I would play according to the matchups as they are colored above, with the exception of Week 16 where he will be hard-pressed to take advantage of Darrelle Revis or Antonio Cromartie. Otherwise, if you have been using him as a WR3 to this point, he should continue to play at that level in PPR leagues. Greg Olsen should be avoided in Weeks 11, 13 and 16 for sure, but he could be an option for desperate owners in the non-red matchups.
Cincinnati Bengals
11
12
13
14
15
16
BUF
NYJ
NO
PIT
CLE
SD
vs. QB
20.5
19
10.7
16.3
19.9
11.8
vs. RB
26.9
12.3
22.7
16.4
19.6
19.8
vs. WR
28.5
34.6
16.6
36.4
36.3
21.4
vs. TE
17.6
9.9
12.3
13.3
13.6
14.8
For owners (and football fans in general) who wonder why so much changes from year to year in the NFL, no look further than a team like the Bengals. Game after game, Cincinnati manages to dig itself a hole on the scoreboard by fumbling an opening kickoff, throwing a mind-numbing first-quarter interception or just failing to execute the most basic of plays. Among many other things, all this is to say that Cincinnati cannot be counted on to give fantasy owners four quarters worth of production because it usually spends the first half tripping over its own feet. Perhaps that last expression is a good transition for the Bengals' running game over the final six games of the season. The Jets possess the league's stingiest defense vs. opposing RBs while the fantasy playoffs feature three opponents who are among the top eight at shutting down fantasy RBs, so Week 12 likely represents the last time Cedric Benson should be used. As for the passing game, I find it nearly impossible to recommend Carson Palmer despite six straight games of 2+ TD passes. Counting on the "garbage-time" stats each and every week is a dangerous proposition, especially against the likes of the Jets, Saints, Steelers and Chargers. Feel free to use Palmer or Chad Ochocinco at your own risk in those games while Terrell Owens has more than earned every-week starter status. Still, expectations for all three should be tempered considering the competition going forward. The one player who does deserve a mention for a "soft" schedule is Jermaine Gresham. While his 40 catches this season speaks to his ability as a receiver (and incredible potential), the fact that a downfield threat like him is averaging 7.4 YPC speaks as to why I stated in an earlier Blitz why OC Bob Bratkowski needs to go. With that said, no other TE in fantasy this year has three top-10 matchups during the fantasy playoffs, so maybe Coach "Brat" can earn a bit of respect with his usage of his rookie over the final six contests.
Cleveland Browns
11
12
13
14
15
16
JAX
CAR
MIA
BUF
CIN
BAL
vs. QB
23.7
15.9
16.7
20.5
13.2
15.2
vs. RB
23
23.7
22
26.9
22.2
18.8
vs. WR
44.1
26.2
29.6
28.5
31.3
36.4
vs. TE
12.8
15.6
9.7
17.6
11.2
7.9
As much as I like to see the potential in every fantasy property, only two players should even be considered in Cleveland the rest of the way– Peyton Hillis and Benjamin Watson. One could argue that WRs like Mohamed Massaquoi, Chansi Stuckey or Joshua Cribbs could be useful in Week 11 vs. Jacksonville, but with the bye weeks over, no Browns receiver should be considered in 12-team, three-WR leagues. As for Hillis, he once again showed in Week 10 why he has become matchup-proof, so his upcoming schedule does nothing but lend credence to the notion he should be counted upon to produce RB1 numbers the rest of the way. Watson is a bit more of a matchup play for aggressive owners, but he definitely deserves consideration in his listed green games. I'd be leery of using him in Weeks 13, 15 and 16.
Dallas Cowboys
11
12
13
14
15
16
DET
NO
IND
PHI
WAS
ARI
vs. QB
17.8
10.7
16.5
17.4
24.5
18.6
vs. RB
29
22.7
25.8
25.2
25.5
29.3
vs. WR
30.4
16.6
33.1
29
45.4
37.8
vs. TE
8.8
12.3
7.9
14.5
10.2
12.3
My, my…how one game changes perceptions for a (now) 2-7 team. All kidding aside, the schedule shapes up nicely for Felix Jones. With Marion Barber no longer a threat for double-digit touches and Tashard Choice still the best unused RB3 in the league, Jones should have 15+ opportunities every week to put his 0.81 points/touch to good use. I wouldn't be crazy about using him as a RB2 in Weeks 12 and 14, but he could explode in any or all of the other weeks. Despite the Cowboys' offensive explosion against the Giants, I'd be hard-pressed to count on Jon Kitna, Dez Bryant and/or Miles Austin in matchups against the Saints or Eagles as well as a road game against the Colts, but the Lions, Redskins and Cardinals could all lead to huge numbers for all three players. Remaining fantasy's most-targeted TE despite two down weeks, Jason Witten is a solid bet (especially in PPR) the rest of the way despite three red matchups.
Denver Broncos
11
12
13
14
15
16
SD
STL
KC
ARI
OAK
HOU
vs. QB
11.8
15.6
19.9
18.6
17.7
26.6
vs. RB
19.8
21.5
25.9
29.3
25.5
25.3
vs. WR
21.4
30.4
32.6
37.8
24.3
40.4
vs. TE
14.8
10.2
9.7
12.3
12.3
20
In case you needed confirmation about how important Knowshon Moreno may be during the fantasy playoffs, this should provide it. With HC Josh McDaniels apparently ready to give his second-year RB the full load, Moreno could tear apart four straight opponents to end the season – all of which allow at least 25 fantasy points to the RB position. Only the Chargers this week (or a reoccurrence of his hamstring problems) look to slow down what should be a great finish to Moreno's season as the Rams defense isn't nearly as good away from home. In regards to the passing game, Kyle Orton's owners (as well as the owners of Brandon Lloyd and Jabar Gaffney) have to be drooling at what is possible if their fantasy team makes it to Week 16 against the horrid Texans' pass defense. I'm not crazy about Denver's prospects on the road against the Chargers this week or in a Week 13 rematch at Arrowhead Stadium against the Chiefs, but Arizona, Oakland and Houston have shown no ability whatsoever to stop elite passing attacks, which is exactly what Denver has become. The one downside, though, is the possibility of another demolition like the one Oakland put on the Broncos in Week 7. Both the Raiders and Texans have the running game necessary to pound the Broncos' defense all day long and keep Orton & Co. off the field.
Detroit Lions
11
12
13
14
15
16
DAL
NE
CHI
GB
TB
MIA
vs. QB
17.8
21.8
9.8
14.9
15.5
16.7
vs. RB
21.5
27.7
21.1
17.4
26
22
vs. WR
41
38.7
30.3
30.2
31.8
29.6
vs. TE
9.9
12.5
11.3
12
10.4
9.7
Fantasy owners hoping to maximize their time with Shaun Hill should consider him over the next two weeks and bench him for the rest of the way if the Lions' game at Buffalo was any indication of what Detroit will do going forward. The secondaries of the Cowboys and Patriots should be ripe for the picking when one considers the offensive arsenal the Lions have, but I wouldn't want to tempt fate by using Hill against the top fantasy defense vs. opposing QBs (Chicago) or the top scoring defense in the league (Green Bay) in Weeks 13 or 14. Calvin Johnson must play regardless of the opponent while Nate Burleson's return to the lineup has essentially made Tony Scheffler a non-factor in recent weeks. The upside to Burleson, however, is that he should be productive enough to serve as a quality WR3 most weeks when Johnson is playing like "Megatron" and should excel in the weeks when defenses make stopping Johnson their top priority. Since returning from injury back in Week 5, Burleson has been the 23rd-best WR in PPR leagues (FPPG), ahead of the likes of Santana Moss and Reggie Wayne. Since I have realized Burleson has essentially stolen Scheffler's role in the offense, I have come around on Brandon Pettigrew as the preferred "short" option in the Lions' passing attack. Because he excels as a run blocker as well, he rarely comes off the field, which is a big part of why he is performing so well this season. As for the running game, it might be time to find a spot on your bench for Jahvid Best for the rest of this season (although I am thrilled about his long-term potential in this offense). His pass-catching prowess continues to allow him to be usable in PPR, but since his huge Week 2 performance vs. Philly, Best is averaging 11.3 FPPG. That mark is worse than such other notable flex backs such as Felix Jones, Danny Woodhead and Fred Jackson. The upcoming schedule just doesn't allow for much optimism, nor does the fact that Kevin Smith is eating into his workload.
Green Bay Packers
11
12
13
14
15
16
MIN
ATL
SF
DET
NE
NYG
vs. QB
16.4
18.4
18.7
17.8
21.8
14.8
vs. RB
22.1
18.6
22.3
29
27.7
16.6
vs. WR
30.8
39.6
33.3
30.4
38.7
28.9
vs. TE
10.5
11.8
10.5
8.8
12.5
10.4
All things considered, the owners of Aaron Rodgers are probably happy with their quarterback's remaining schedule. Outside of a windy 9-0 victory against the Jets in Week 9 where he failed to get the Packers in the end zone, Rodgers has been about as consistent as can be, posting only two games with less than two scores through nine contests. The Giants have shown some vulnerability this season against talented passing attacks, so the little bit of red that exists on Green Bay's schedule above should not be all that alarming. As a result, Greg Jennings and James Jones (or Donald Driver, based on the seriousness of his injury) should continue to be strong plays for the remainder of the season. Brandon Jackson has been far from an exciting option in PPR formats, but since starting the season off slow, he has managed three games of at least 19 fantasy points out of his last five. He isn't likely to dominate the remaining schedule, but needs to be starting in fantasy regardless.
Houston Texans
11
12
13
14
15
16
NYJ
TEN
PHI
BAL
TEN
DEN
vs. QB
19
15.7
17.4
15.2
15.7
22
vs. RB
12.3
25
25.2
18.8
25
27.9
vs. WR
34.6
32.9
29
36.4
32.9
33.1
vs. TE
9.9
12.7
14.5
7.9
12.7
12.3
It's no mystery that Matt Schaub has been a slight disappointment for those owners who drafted him in the fourth or fifth round with the idea he would match the likes of Philip Rivers. The fact of the matter is that once Arian Foster got off to such an incredible start, there wasn't a huge need for Schaub to relive 2009. With that said, Andre Johnson's ankle and Owen Daniels' knee/hamstring have been the biggest reasons for Schaub's somewhat disappointing year. Since the Texans don't have the luxury of resting players such as Johnson, it is conceivable that the WR will not be a strong play in any of the next three weeks. And although the fantasy playoffs do appear to line up nicely for him, a less-than-100% Johnson would be a tough play vs. Cortland Finnegan and Champ Bailey in Weeks 15 and 16, respectively. In other words, hope for strong WR1 numbers and expect something closer to top-end WR2 stats the rest of the way. If Daniels can ever get completely healthy, he has a chance to change the fortunes of both Schaub and Johnson as well as finish the season among the top second-half TEs. If he is on the waiver wire in a deep league and you have a roster spot available, I strongly advise grabbing him. Foster has been simply amazing all season long and has proven to be nearly matchup-proof. I don't expect great things vs. the Jets this week, but each of the averages provided above for the RB position are reasonable expectations for Foster to hit in each of the remaining games. Most of those contests figure to be fairly high scoring and it's a pretty safe bet Foster will not see his 22.7 touch/game workload drop anytime soon.
Indianapolis Colts
11
12
13
14
15
16
NE
SD
DAL
TEN
JAX
OAK
vs. QB
21.8
11.8
22.9
15.7
23.7
17.7
vs. RB
27.7
19.8
21.5
25
23
25.5
vs. WR
38.7
21.4
41
32.9
44.1
24.3
vs. TE
12.5
14.8
9.9
12.7
12.8
12.3
Despite being held without a score in Week 10, you aren't benching Peyton Manning or Reggie Wayne for the remainder of the season. Assuming his back holds up, the same goes for Jacob Tamme, who figures to benefit from one of the softer TE schedules. And, assuming Austin Collie can return from his concussion this week, he also cannot be benched. Thus, we are left to figure out what to do with Pierre Garcon – one of the least efficient Colts' receivers during the Manning era – and whatever Colts' RBs are healthy enough to play. The simple truth is that Garcon should be viewed as nothing more than a WR3 in fantasy despite the fact he has the league's best QB throwing him the ball on target on almost every play. (It's no coincidence Wayne's numbers have suffered since Collie has been hurt, teams simply don't have to respect a receiver like Garcon when he catches just 47% of Manning's offerings.) Joseph Addai, when he is able to return, should be inserted back into fantasy lineups immediately, but his injury is one that has to concern his owners due to the likelihood that he could re-aggravate it. Mike Hart may have overtaken Donald Brown for the right to back up Addai, but there's a small chance Javarris James may have stolen goal-line duties from everyone.
Jacksonville Jaguars
11
12
13
14
15
16
CLE
NYG
TEN
OAK
IND
WAS
vs. QB
19.9
14.8
15.7
17.7
16.5
24.5
vs. RB
19.6
16.6
25
25.5
25.8
25.5
vs. WR
36.3
28.9
32.9
24.3
33.1
45.4
vs. TE
13.6
10.4
12.7
12.3
7.9
10.2
Much like the fantasy owners of Knowshon Moreno, it appears the owners of Maurice Jones-Drew need only survive the next two weeks in order to reap the rewards they have earned for being patient with MJD this season. The only changes that have been made over the past few weeks that relate to his resurgence have been the absence of RT Eben Britton (a solid run blocker) and LG Vince Manuwai overtaking Justin Smiley. Whether that is the cause for Jones-Drew's 4.6 YPC over the last two games (as opposed 3.8 up to that point) or whether it is because Jacksonville is calling more outside runs – like it did last week – is up for debate, but MJD is quickly gaining steam again after a dreadful first half by his standards. Still, his owners need to be prepared for 2-3 down weeks before the fantasy postseason begins. David Garrard has succeeded greatly when he was supposed to this season (Denver, Buffalo, Dallas and Houston are all among the 10 worst teams in stopping fantasy QBs) and failed miserably when he was supposed to (San Diego, Philadelphia and Tennessee are all in the bottom half of fantasy points allowed to opposing QBs). If this trend continues, feel free to ride Garrard in Weeks 11 and 14-16 but bench him the other two weeks. Likewise, the same can probably be said for Mike Thomas and Mike Sims-Walker. As one would expect, Marcedes Lewis has pretty much excelled each game Garrard has this season. Fortunately, no remaining matchup here is too daunting (Lewis posted a decent 10.2 fantasy-point total vs. Indy earlier this season), so Lewis should be considered an every-week play from here on out.
Kansas City Chiefs
11
12
13
14
15
16
ARI
SEA
DEN
SD
STL
TEN
vs. QB
18.6
17.9
22
11.8
15.6
15.7
vs. RB
29.3
25.8
27.9
19.8
21.5
25
vs. WR
37.8
37.4
33.1
21.4
30.4
32.9
vs. TE
12.3
8.9
12.3
14.8
10.2
12.7
Matt Cassel and Dwayne Bowe have spent most of the last 1 ½ months making me look like a fool. Still, I cannot shake the feeling of impending doom for the duo when the fantasy playoffs begin and the chart above may show why I feel that way. Both players should be quite productive against the mediocre pass defenses of the Cardinals and Seahawks, but because the Chiefs are such a productive running team, the Cassel-Bowe connection may not be needed as much. My inclination this entire season has been that Tony Moeaki would steal the show in Kansas City's tougher games while Bowe would star in the softer matchups. As we know, the Chiefs have played a long string of soft pass defenses. Still, I'd be foolish to tell you not to keep going with a player who has scored eight touchdowns over the last five weeks, so ride him for as long as possible. Cassel, on the other hand, should probably not see the light of your fantasy lineup after Week 13. Unfortunately, it appears that KC can only support one decent fantasy passing game option each week, so Moeaki probably is better left on the bench until he is able to find the end zone for the first time since Week 3. Thomas Jones has tailed off badly in recent weeks despite what should have been plus-matchups for him. With his fantasy value tied up so much into his ability to score touchdowns, it may be worth benching him despite a soft upcoming pre-playoff schedule. On the other hand, Jamaal Charles has not missed a beat and emerged as a top-ten fantasy RB in PPR leagues. He should be trusted to produce like a low-end RB1 the rest of the way.
Miami Dolphins
11
12
13
14
15
16
CHI
OAK
CLE
NYJ
BUF
DET
vs. QB
9.8
17.7
19.9
19
20.5
17.8
vs. RB
21.1
25.5
19.6
12.3
26.9
29
vs. WR
30.3
24.3
36.3
34.6
28.5
30.4
vs. TE
11.3
12.3
13.6
9.9
17.6
8.8
Interestingly, the schedule does not feature one single green matchup for Brandon Marshall, Davone Bess or Brian Hartline, but whichever QB can go the rest of the way (right now, that QB is Tyler Thigpen) has three and maybe four with Detroit's defense far from a shutdown unit. I feel the move to Thigpen will increase the numbers of each WR as well as Anthony Fasano given his ability to extend plays with his mobility, a trait neither Chad Pennington nor Chad Henne possess. It should be noted that Fasano was the target for three of Thigpen's six passes in Week 10, so don't discount the Dolphins' TE down the stretch. As for the running game, the matchups that looked good in August and September during the fantasy playoffs still look good now. It has been widely speculated the Dolphins will turn more to the "Wildcat" while Thigpen is taking snaps, which means the running game will be emphasized even more than it has been lately. That should mean both Ronnie Brown and Ricky Williams are good options in Week 12, 15 and 16 (and given their recent history vs. the Jets, they may be a good option in Week 14 as well).
Minnesota Vikings
11
12
13
14
15
16
GB
WAS
BUF
NYG
CHI
PHI
vs. QB
14.9
24.5
20.5
14.8
9.8
17.4
vs. RB
17.4
25.5
26.9
16.6
21.1
25.2
vs. WR
30.2
45.4
28.5
28.9
30.3
29
vs. TE
12
10.2
17.6
10.4
11.3
14.5
The same schedule that made me skeptical of Adrian Peterson this summer still looks quite menacing now, but he's a lock as an every-week start. So while his numbers could fall off a bit given how much attention he will draw due to the below-average passing game, his 25.2 touch/game workload is simply too much to lower our expectations for him. Whether or not Sidney Rice comes back this season is still up in the air, but he cannot be expected to return to his 2009 form this season. Percy Harvin will continue to be an every-week start despite the nightmarish schedule the Vikings WRs face as long as Brett Favre can still put on a uniform, but as with Peterson, expectations should be tempered a bit. Unlike his teammates, Visanthe Shiancoe is set up for a nice stretch run and should be viewed as a low-end TE1 with Favre under center. As far as Favre is concerned, I can't recommend him as anything more than a matchup play the rest of the way. With his numerous maladies and the total disarray of this team, feel fortunate if he can post three more fantasy starter-caliber performances.
New England Patriots
11
12
13
14
15
16
IND
DET
NYJ
CHI
GB
BUF
vs. QB
16.5
17.8
19
9.8
14.9
20.5
vs. RB
25.8
29
12.9
21.1
17.4
26.9
vs. WR
33.1
30.4
34.6
30.3
30.2
28.5
vs. TE
7.9
8.8
9.9
11.3
12
17.6
The burning question coming out of this game seems to be why Aaron Hernandez was shut out of the gameplan in Week 10. It's a fair question, but the Pats understand the key to beating the Steelers' defense is by going with two TEs or spreading the field out in four- or five-receiver formations and throwing short passes. Since the emphasis on the heavy TE set is on blocking (and the Pats feature solid blockers in Alge Crumpler and Rob Gronkowski), Hernandez was not needed for a passing attack that wasn't trying to get downfield. Green Bay is the only other team on the schedule that plays a Steeler-style of defense, so Hernandez should be a solid play in every other game this season. I don't feel the same can be said about Tom Brady, who posted his first 250-yard, two-TD game since the Randy Moss trade prior to Week 5. I don't see Brady, Deion Branch or Wes Welker thriving in Weeks 13-15, so there are only three remaining games in which that trio should be counted on going forward. The running game poses a potentially interesting dilemma as Fred Taylor is due back at some point this season. How that will affect BenJarvus Green-Ellis or Danny Woodhead remains to be seen, although I maintain that Woodhead is the more consistent play going forward while the "Law Firm" has the greater upside. I suspect Taylor will hurt Green-Ellis' stock more than he will Woodhead's, although Taylor could end up making all three backs waiver-wire fodder.
New Orleans Saints
11
12
13
14
15
16
SEA
DAL
CIN
STL
BAL
ATL
vs. QB
17.9
22.9
13.2
15.6
15.2
18.4
vs. RB
25.8
21.5
22.2
21.5
18.8
18.6
vs. WR
37.4
41
31.3
30.4
36.4
39.6
vs. TE
8.9
9.9
11.2
10.2
7.9
11.8
As far as I can tell, no group of receivers has it easier the rest of the way than the Saints. Because fantasy owners are well aware by now that New Orleans is an equal-opportunity passing offense, this means that Drew Brees' owners should benefit more than any one receiver will, although Marques Colston should be able to post better numbers than any of his teammates will, as one would expect. The eventual returns of Pierre Thomas and Reggie Bush will do more to damage the value Jeremy Shockey has gained this season than the schedule will, although it is the latter reason why it will be hard to trust any Saints' TE for the rest of the season. Thomas and Bush will find themselves in the same boat as Shockey schedule-wise, but because so much of their fantasy value is wrapped up in the passing game, it is hard to discount them in any matchup, no matter how stout the opposition.
New York Giants
11
12
13
14
15
16
PHI
JAX
WAS
MIN
PHI
GB
vs. QB
17.4
23.7
24.5
16.4
17.4
14.9
vs. RB
25.2
23
25.5
22.1
25.2
17.4
vs. WR
29
44.1
45.4
30.8
29
30.2
vs. TE
14.5
12.8
10.2
10.5
14.5
12
Lost in the reshuffling that has taken place recently atop the fantasy QB leaderboard is the fact that Eli Manning has emerged as a top-five player at his position so far this season, one spot ahead of his brother Peyton. Granted, Eli has bested his big brother so far thanks in large part to the injuries that have ravaged the Colts' offense. Still, it is hard to ignore Eli's 13 picks through nine games, a pace that would leave him with 23 interceptions after 16 games. Thus, look for a much more controlled passing game from this point on. However, don't mistake "controlled" for "unproductive", Eli will still be a strong start from now until a potential bad-weather game in Green Bay in Week 16. Another under-the-radar TE that might be looking at a strong finish to the season is Kevin Boss, who the Giants are reportedly trying to get more involved. In large part because the Giants are scoring most of their TDs through the air, Hakeem Nicks figures to remain a top-five WR for the rest of the season and Steve Smith a top-15 option when he returns in early December. Until then, expect Smith-like production from Mario Manningham with New York's decimated WR corps. At RB, there is no reason to jump off the Ahmad Bradshaw bandwagon now. His workload has actually increased over the last four games as it appears he has taken back goal-line work from Brandon Jacobs and with a soft enough remaining schedule, he should be able to dominate. Because he is such a strong contributor in the passing game as well, he is emerging as a matchup-proof RB, if he isn't already there.
New York Jets
11
12
13
14
15
16
HOU
CIN
NE
MIA
PIT
CHI
vs. QB
26.6
13.2
21.8
16.7
16.3
9.8
vs. RB
25.3
22.2
27.7
22
16.4
21.1
vs. WR
40.4
31.3
38.7
29.6
36.4
30.3
vs. TE
20
11.2
12.5
9.7
13.3
11.3
Despite Mark Sanchez's 13th-place ranking in total points among QBs, I find it hard to trust him as a fantasy player. Still, he has taken advantage of the two most recent matchups he should have been expected to perform well in, so owners needing to play matchups at QB should feel safe in using him vs. Houston this week and New England in Week 13, with Week 14 vs. Miami also a possibility. Santonio Holmes appears to have moved ahead of Braylon Edwards in terms of the best WR play from this passing game and has moved into top-end fantasy WR3 or low-end WR2 consideration. Despite the green highlight in Week 15, I'd be hesitant to use any Jets WR during the fantasy playoffs, so get your money's worth from them over the next three weeks. Despite Dustin Keller's fourth-place ranking at the TE position this season in PPR scoring, over two-thirds of his fantasy production this season came in Weeks 2-4. Since Holmes started playing in Week 5, Keller has struggled to even post low-end TE2 production in PPR (7.1 FPPG). As we discussed last week, the Jets have made getting Shonn Greene his carries a priority. This obviously decreases the value of LaDainian Tomlinson, although he is still the better play in both PPR and non-PPR because he is the better receiver and is the more trusted RB in blitz pickup. Both players should be strong RB2 options until Weeks 15-16, where one could make the case that both backs should be avoided if their owners have the depth at RB to turn to another option in those final weeks.
Oakland Raiders
11
12
13
14
15
16
PIT
MIA
SD
JAX
DEN
IND
vs. QB
16.3
16.7
11.8
23.7
22
16.5
vs. RB
16.4
22
19.8
23
27.9
25.8
vs. WR
36.4
29.6
21.4
44.1
33.1
33.1
vs. TE
13.3
9.7
14.8
12.8
12.3
7.9
As much as Louis Murphy has impressed me in the past and Jacoby Ford impressed me in Week 9, fantasy owners should not want to use anyone else in a Raiders uniform except for Darren McFadden or Zach Miller for the remainder of the season. (Week 14 is the lone exception as Oakland WRs could have a field day against the Jags.) Assuming Miller's foot is good to go after two full weeks of rest, he faces a slate of games in which he could be the top second-half TE in fantasy considering his talent, role in the offense and how often his QBs look to him in the red zone.) Likewise, McFadden faces a daunting task this week in Pittsburgh, but has an envious stretch to finish out the fantasy regular season. Oakland has already shown the ability to run on the Chargers and Broncos, while neither the Jags nor Colts have been particularly good at stopping the run all season long. Miami has a shot to bottle him up in Week 12, but McFadden (or Michael Bush if McFadden cannot stay healthy) has the look of a fantasy playoff all-star to me.
Philadelphia Eagles
11
12
13
14
15
16
NYG
CHI
HOU
DAL
NYG
MIN
vs. QB
14.8
9.8
26.6
22.9
14.8
16.4
vs. RB
16.6
21.1
25.5
21.5
16.6
22.1
vs. WR
28.9
30.3
40.4
41
28.9
30.8
vs. TE
10.4
11.3
20
9.9
10.4
10.5
Michael Vick deserves all the praise he is receiving this week for the magical performance he put together vs. Washington on Monday. But his owners need to understand the Redskins entered the game as one of the worst pass defenses, something the Eagles will not have the benefit of facing on a weekly basis. Therefore, his owners need to be prepared for a small dose of reality as the Giants and Bears each have the scheme, talent, pass rush and discipline to minimize the damage Vick can create, although I'd be lying if I said I didn't think he'll still exploit one of those three red matchups. Outside of that, owners have to be salivating at a Week 13 matchup vs. Houston and two solid matchups in Weeks 14 and 16. Everything I just said about Vick also applies to DeSean Jackson and Jeremy Maclin, who should be able to post fantasy WR1 and WR2 numbers, respectively, the rest of the way. Brent Celek has become an afterthought in this offense as he is being used as a blocker much more often this season as Philadelphia has smartly gone to more max protection schemes to make Vick even more lethal. LeSean McCoy has quickly emerged as another matchup-proof RB given his contributions in the passing game. With the quality of the competition he is about to face, he can't be expected to explode (outside of Week 13) but he should be a consistent 15-20 FPPG scorer the rest of the way.
Pittsburgh Steelers
11
12
13
14
15
16
OAK
BUF
BAL
CIN
NYJ
CAR
vs. QB
17.7
20.5
15.2
13.2
19
15.9
vs. RB
25.5
26.9
18.8
22.2
12.3
23.7
vs. WR
24.3
28.5
36.4
31.3
34.6
26.2
vs. TE
12.3
17.6
7.9
11.2
9.9
15.6
Rashard Mendenhall hasn't exactly thrived in the time since Ben Roethlisberger rejoined the starting lineup in Week 6, but a significant part of that small disappointment can be attributed to the erosion of his offensive line and the slightly increased role that Mewelde Moore has accepted over the last month. What is going unnoticed, however, is how well Mendenhall is running the ball despite the chaos that has taken place around him. In large part due to his role and ever-improving ability as an all-around back, his remaining schedule is not enough reason to sit him, although he may not finish out the season as a fantasy stalwart following soft matchups in Weeks 11 and 12. Despite a reasonable showing in Week 10, Heath Miller is being asked to play the same role that Brent Celek– which is to block for an offensive line that needs the help – so he should not be trusted in fantasy until next season. It's not exactly easy to watch Roethlisberger play quarterback sometimes in a less than artistic manner, but his brand of "streetball" is the same kind of spontaneity that makes the Eagles' offense hard to defend (although Vick and Big Ben do it in much different ways). Much like DeSean Jackson, Mike Wallace is nearly impossible to guard when Big Ben is buying time in the pocket, which only enhances Wallace's chances of overcoming any difficult matchup. But despite Wallace's arrival as a fantasy standout, Roethlisberger still trust Hines Ward the most. While the second-year wideout is probably the better consistent fantasy play from here on out, Ward should not be benched given his ability to post a 7-9 catch game in any contest.
San Diego Chargers
11
12
13
14
15
16
DEN
IND
OAK
KC
SF
CIN
vs. QB
11.8
16.5
17.7
19.9
18.7
13.2
vs. RB
27.9
25.8
25.5
25.9
22.3
22.2
vs. WR
33.1
33.1
24.3
32.6
33.3
31.3
vs. TE
12.3
7.9
12.3
9.7
10.5
11.2
Given the incredible production of the passing game, it's hard not to like the relative lack of red matchups for the QBs or WRs. The remaining opponents have either already succumbed to Philip Rivers' statistical explosion already or been exposed by much weaker competition. So, considering that he has yet to post a TD-less game and is on pace to break Dan Marino's single-season yardage mark, Rivers and Antonio Gates are starting every week regardless of the matchup. With Rivers averaging 327 passing yards/game, it probably goes without saying that his starting WRs must be in fantasy lineups as well every week. Vincent Jackson is due back next week, but it is anyone's guess if he will do so without missing a beat. Nevertheless, both Jackson and Malcom Floyd represent strong WR3 plays in this offense. Based on the strength of a league-high 73 receptions by their RBs, the Chargers could be considered matchup-proof at the position if only Mike Tolbert or Ryan Mathews could just run away with the job. However, Darren Sproles, Tolbert and Mathews must all be viewed with a critical eye at this point of the season despite a soft upcoming schedule. Tolbert is probably a decent flex option (with top RB2 upside when the rookie cannot go) while Mathews should be started only in an emergency until he can put together consecutive 15-touch games without getting hurt. Sproles is in much the same boat as Mathews, only to be trusted in games like Week 12 in which the game should be a shootout.
Seattle Seahawks
11
12
13
14
15
16
NO
KC
CAR
SF
ATL
TB
vs. QB
10.7
19.9
15.9
18.7
18.4
15.5
vs. RB
22.7
25.9
23.7
22.3
18.6
26
vs. WR
16.6
32.6
26.2
33.3
39.6
31.8
vs. TE
12.3
9.7
15.6
10.5
11.8
10.4
With any luck, the fantasy fortunes of less than 1-2% of the population are tied directly into the performances of Matt Hasselbeck and John Carlson. Deon Butler has been replaced in the lineup by career special teamer Ben Obomanu, meaning the only players worth even considering in the near future are Mike Williams, Marshawn Lynch and Justin Forsett. And given the way Lynch has performed of late, even that is a stretch. Lynch is a usable flex play in Week 16 only (maybe in Week 12 for truly desperate owners). Otherwise, both RBs need to be benched for the remainder of the season – or at least until one of them can beat up on a team besides the Cardinals. Williams, to his credit, has at least established himself as a matchup play in fantasy recently (again, thanks to the Cardinals). In games in which he should have been expected to perform poorly, he has (Raiders, Giants). Thus, I expect Big Mike to disappoint over the next three weeks, but to be a fairly strong WR3 during the fantasy playoffs.
San Francisco 49ers
11
12
13
14
15
16
TB
ARI
GB
SEA
SD
STL
vs. QB
15.5
18.6
14.9
17.9
11.8
15.6
vs. RB
26
29.3
17.4
25.8
19.8
21.5
vs. WR
31.8
37.8
30.2
37.4
21.4
30.4
vs. TE
10.4
12.3
12
8.9
14.8
10.2
Due in large part to his heavy workload, Frank Gore has re-established himself as a top-flight, matchup-proof RB. Despite just five total TDs, Gore's low PPR games this season are a pair of 14-point totals in Weeks 1 and 6, thanks primarily to his contributions in the passing game (41 receptions). Thus, view his remaining green matchups as potentially huge games and the red matchups as neutral simply because hasn't posted less than 22 touches in a single game all season long. The same peace-of-mind sentiment can almost be applied to Vernon Davis, who has registered just one single-digit PPR game in which he finished the contest (he left early due to injury in Week 8). He hasn't shown the same ability to dominate as he did in 2009, but his consistency has not gone unnoticed. Michael Crabtree hasn't exactly enjoyed the huge season predicted of him in 2010, but he has scored in two straight contests (both with Troy Smith as his QB) and four of his last five. He is an example of a player who should follow the matchup board, with down numbers likely to come in Weeks 13 and 15 and solid-to-excellent numbers in the other four games. The same cannot be said for Smith, who should be started in only the deepest of leagues. His play has provided a breath of fresh air to the entire offense, but he cannot be considered anything more than a desperate matchup play yet. And as the chart above reveals, he doesn't have that going in his favor the rest of the way.
St. Louis Rams
11
12
13
14
15
16
ATL
DEN
ARI
NO
KC
SF
vs. QB
18.4
22
18.6
10.7
19.9
18.7
vs. RB
18.6
27.9
29.3
22.7
25.9
22.3
vs. WR
39.6
33.1
37.8
16.6
32.6
33.3
vs. TE
11.8
12.3
12.3
12.3
9.7
10.5
As one of Steven Jackson's biggest fans, it will be nice to see him face a relatively easy schedule on a team in which he will not automatically draw eight- or nine-man fronts. The odds that he'll give his owners huge numbers in any single game are not great given the fact he has scored just three times in 2010, but the matchups do suggest a huge second half is possible. Jackson's injury history is well known, but he has shown the ability to play with pain over the last two seasons, even gutting out his lone single-digit PPR game in Week 8 with a broken finger that would have sidelined a number of other backs. Whether or not fantasy owners will have the pleasure of playing Daniel Fells or Michael Hoomanawanui this season depends on the size of your league, but the likelihood that either player will be fantasy relevant in more than one game apiece is slim at best. Sam Bradford has shown himself to be quite the solid matchup play in his rookie season, so the only game in which he should be avoided at all costs is in New Orleans. Still, trusting the young gun is probably not the best idea in the fantasy playoffs. All of this brings us to the Rams' WRs, who may provide us with a deep sleeper or two over the final few weeks. We already know about Bradford's main target, Danny Amendola, but what about Brandon Gibson and Laurent Robinson? The latter reportedly felt the best he has felt all season after the Week 9 bye, so whether he can overtake Gibson depends on his ability to stay healthy. And let's not forget Danario Alexander, who impressed in his one-game audition back in Week 6. A healthy return by the undrafted free agent could render both Gibson and Robinson meaningless in fantasy.
Tampa Bay Buccaneers
11
12
13
14
15
16
SF
BAL
ATL
WAS
DET
SEA
vs. QB
18.7
15.2
18.4
24.5
17.8
17.9
vs. RB
22.3
18.8
18.6
25.5
29
25.8
vs. WR
33.3
36.4
39.6
45.4
30.4
37.4
vs. TE
10.5
7.9
11.8
10.2
8.8
8.9
Along with the Saints' WRs, the Bucs have it pretty easy the rest of the way. Because Arrelious Benn and Michael Spurlock don't appear ready for a featured role quite yet, that means big numbers for Mike Williams, who has accounted for 52% of the fantasy WR production in Tampa Bay so far (using PPR scoring). With two green matchups (and three solid ones) during the fantasy playoffs, the rookie is primed to help his owners take home their league title. The same could be said for LeGarrette Blount, who could have the softest fantasy matchups of any RB the rest of the way. His only knock is a lack of production as a receiver, but 80 yards rushing and a TD should be the expectation for just about every game in Weeks 14-16. It'll be interesting to see if Tampa Bay follows through on its promise to involve Kellen Winslow on a more regular basis. The veteran TE had been almost invisible from the gameplan in recent weeks, but caught all six of his targets in Week 10. The upcoming game vs. San Francisco should provide some insight as to the Bucs' commitment to Winslow, but it will be hard to like him come crunch time with four red matchups over the Bucs' final five games. Josh Freeman has surpassed even the most optimistic projections this season and currently stands 12th in overall scoring among fantasy QBs. Only Baltimore appears to be a defense that Freeman may struggle against, so for those owners who have been playing matchups at the QB position for most of the season, it may be time to commit to Freeman.
Tennessee Titans
11
12
13
14
15
16
WAS
HOU
JAX
IND
HOU
KC
vs. QB
24.5
26.6
23.7
16.5
26.6
19.9
vs. RB
25.5
25.3
23
25.8
25.3
25.9
vs. WR
45.4
40.4
44.1
33.1
40.4
32.6
vs. TE
10.2
20
12.8
7.9
20
9.7
Are you looking for some unlikely late-season fantasy heroes at QB or WR? The plethora of green highlights on this schedule should speak for itself. The addition of Randy Moss was bound to increase the efficiency of the passing game, but one look at this slate reveals that Vince Young and Moss would be severely underachieving if they don't dominate fantasy football over the final six games of the fantasy season. The schedule is so soft that Nate Washington warrants WR3 consideration until Kenny Britt can return. Bo Scaife figures to see his role decrease even more with the explosive playmakers surrounding him, so look elsewhere for a sleeper TE. As for Chris Johnson, it is hard to believe that he will not explode over the final six games given the respect opponents will need to show the passing game.
Washington Redskins
11
12
13
14
15
16
TEN
MIN
NYG
TB
DAL
JAX
vs. QB
15.7
16.4
14.8
15.5
22.9
23.7
vs. RB
25
22.1
16.6
26
21.5
23
vs. WR
32.9
30.8
28.9
31.8
41
44.1
vs. TE
12.7
10.5
10.4
10.4
9.9
12.8
Donovan McNabb may not be setting the world on fire yet, but his owners may just want to hold on to him for the fantasy playoffs if they lack an elite QB option. Otherwise, he needs to be on fantasy benches until that point. Santana Moss is an every-week starter in just about every league, but his owners should be giddy about the potential he has in Weeks 15-16. Chris Cooley has slowed significantly following a fast start. Since his targets have not fallen off, it is safe to assume McNabb's accuracy with passes in his direction has. Still, it is hard to find many TEs who are safe bets for 4-5 catches each week and the occasional score, so despite his recent numbers, there isn't a matchup on the Redskins' schedule that Cooley should be benched for as long as he is healthy. The backfield, as is usually the case with HC Mike Shanahan, is a fluid situation. I'm convinced James Davis will become a factor at some point, but he'll need Week 10 fantasy stud Keiland Williams to go down with an injury in much the same manner Clinton Portis and Ryan Torain did. I expect Williams to get the full complement of snaps vs. the Titans before Torain and Portis make this backfield a mess in Week 12. Unless a definitive starter is named in Washington (especially once everyone gets healthy), Redskins RBs should probably be avoided.
Suggestions, comments, musings about the article or fantasy football in general? e-mail me.